Are you looking for some fun activities to keep the kids entertained on Valentine's Day? These 13 Creative Valentine's Day Crafts for Kids are surprisingly a little silly, but sure to delight your little sweeties. They're also cute and dainty and may become your family's favorite keepsake memory. What's not to love? I hope you like them!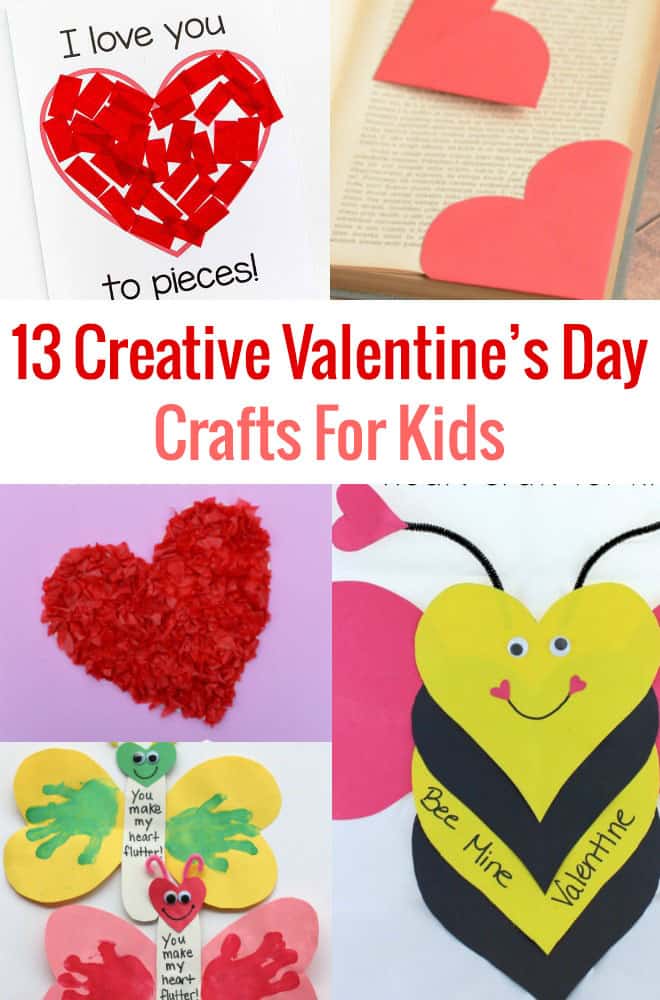 13 Creative Valentine's Day Crafts for Kids
These small bookmarks are perfect for bookworms! Mark your page with a little bit of love.
Grab bubble gum and these free printables for a yummy Valentine's snack, expressing "you blow my heart up!"
Make this Valentine's Day themed paper bag book as an easy way to list the reasons why you love someone.
This free printable makes it easy to create your own "I love you to pieces" Valentine's day card. Use tissue paper or construction paper for this craft.
If you love animals this is for you. These bird feeders are easy to make and a way to feed the birds.
Stick this tissue paper heart on a card, a canvas, or hang it like a wreath. This craft can be as complex as you want it to be, making it ideal for multiple age groups.
Make Valentine's trees by "blowing" paint with a straw. Get creative with this artsy project.
Make these rockets from scraps of tissue paper! They're great for making individually, or to give away as party favors.
This craft is especially easy for toddlers and PreK. Use their small handprints for the butterfly's wings in this memorable craft.
Turn a boring pipe cleaner into a heart shaped ring!
Make Rolo candy into a rocket. Perfect for Boys.
Everyone needs something to write with. Create these heart shaped pencil toppers, which are great for favors or to add a Valentine's Day flare to your classroom.
Filled with hearts galore, this Valentine is a great way to "bee mine" this Valentine's season.
I hope you have enjoyed these 13 Creative Valentine's Day Crafts for Kids as much as I do! And if you are looking for even more V-day inspired crafts and activities, be sure to check out the fun posts below. Better yet, if you decide to make any of these gift giving ideas found on our blog – be sure to snap a picture and share it with us on our Facebook page. We look forward to seeing all your awesome creations!
Happy Crafting!
Jilleen