Don't you just love the feel and smell of fall? There's something so comforting about all the fall colors and decorations this time of year, that it brings a sense of warmness to my heart. As soon as the first leaf hits the ground, I'm ready for warm sweaters, pumpkin spice lattes and Friday night lights at the local football game. But enough about me and my love for fall! Instead, I want to share with you this amazing list of 15 Not So Scary Scarecrow Crafts For Kids that are perfect for fall crafting.
What I like most this list is that there's such a wide variety of crafts that anyone can make them, from small children all the way up to adults. However, the target age is toddlers, preschoolers and early elementary sshool tudents. So without further ado, please sit back, grab a cup of apple cider, and enjoy crafting with your kids. You'll be thankful you did!
15 Not So Scary Scarecrow Crafts
Cute Foam Scarecrow – Kids Craft Room
All you need is some basic craft supplies like foam, raffia, ribbon, flowers, scissors, and a few other items. These adorably easy scarecrows are a blast for kids to put together.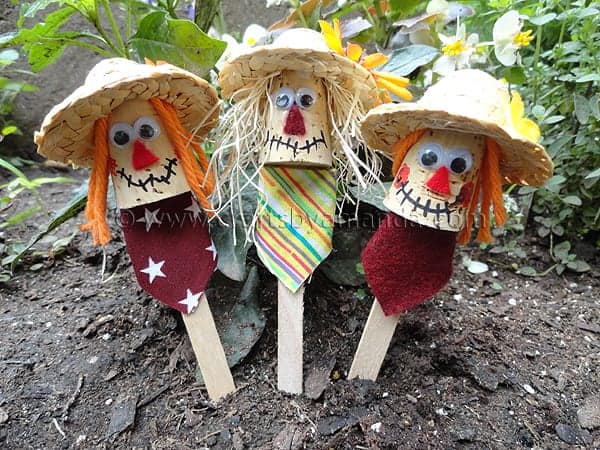 Craft Stick Scarecrows – Crafts By Amanda
It's impossible not to giggle when you see these sweet & cute scarecrows. Simple to make too. Be prepared to make several because they are so much fun.
Scarecrow Popsicle Craft – A Cultivated Nest
What better excuse to eat popsicles than crafting with the sticks! Okay, so you can buy popsicle sticks without the popsicles but eating them is half the fun.
Footprint Scarecrow – Sweet And Lovely Crafts
Sometimes you just need to get a little messy when you are crafting. Kids will love to have their feet painted, and you will love seeing their new artwork. It's a win-win!
Easy Toilet Paper Roll Scarecrow – Red Ted Art
This simple project is geared towards preschoolers, but kids a little older will enjoy making them too. Aren't they so darling?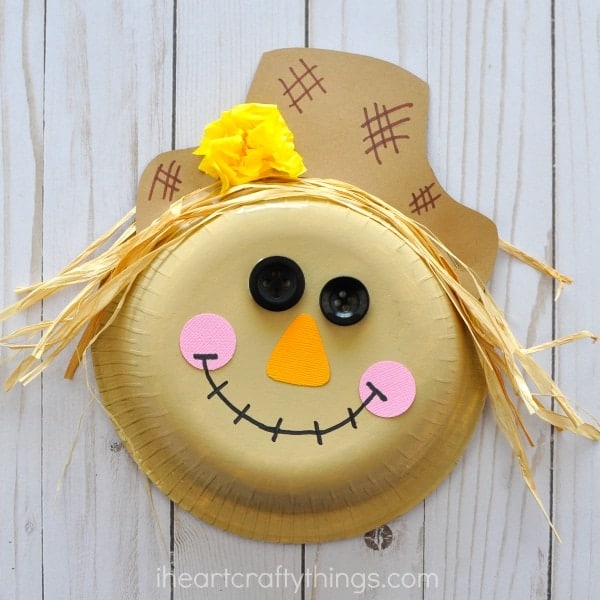 Paper Bowl Scarecrow Craft – I Heart Crafty Things
Perfect for toddlers, preschoolers, and younger elementary-aged children. Each kiddo is going to be so proud of their new scarecrow friend.
More Fall Crafts For Kids
Fun Express – Scarecrow Head Magnet CK-12 for Fall – Craft Kits – Stationary Craft Kits – Magnet – Fall – 12 Pieces
Fun Express Harvest Inspirations Bible Verse Luke 10:2 Sign (Makes 12) Fall Religious Craft Kits
Baker Ross Leaf Wooden Windchimes for Children to Design Make and Display – Creative Autumn Craft Set for Kids (Pack of 4)
Scarecrow Magnet Foam Craft Kit-Makes 12
Fun Express – Scarecrow Craft Stick Banner CK- 12 for Fall – Craft Kits – Hanging Decor Craft Kits – Sign Decoration Craft Kits – Fall – 12 Pieces
DIY Wine Glass Scarecrow Craft – Premeditated Leftovers
Hit up your local thrift store, yard sale, or dig through your storage for glasses or wine glasses you could use. These charming scarecrows are great for older kids.
Scarecrow Paper Plate Lacing Activity – My Home Based Life
This is a fall craft idea that is also a learning experience too. Kids can work on their fine motor skills while having a great time too.
Paper Bag Scarecrow – Crafts By Amanda
Kids of all ages will love making these fantastic paper bag scarecrows. They are super easy to make and look lovely as yard decorations too.
Dingle Dangle Scarecrow Puppet – My Little 3 And Me
No-sewing required for this loveable scarecrow project! This is a great time to visit with your kiddos about emotions too.
Scarecrow Mason Jar Craft – Simple In The Country
Older kids will go crazy for these terrific mason jar scarecrows. They are easy to make, and they can add in some personality while they are decorating theirs.
Scarecrow Puppet Printable – Red Ted Art
Color and assemble a printable scarecrow puppet. Such an adorable idea and your children will love it so much!
Popsicle Stick Scarecrow Magnet – Today's Creative Ideas
Decorate your fridge with several of these lovely scarecrows and your kids will go wild. They will be so excited to make their own scarecrow masterpiece.
Scarecrow Paper Craft For Kids – Meaningful Mama
It's impossible not to smile when you are making these charming little scarecrows. You kids will be so pleased with the end result; they may want to make more.
Handprint Scarecrow Art – Arts & Crackers
I don't know who's going to love this project more, the kids or adults. These scarecrows are so adorable you can't help but be enchanted by them.
Feel like working on even more crafts? If so, I've posted a few other crafts for you to try out below. And don't forget! We love seeing your finished projects, so if you complete any of these 15 Not So Scary Scarecrow Crafts For Kids, please take a photo and share it with us on our Facebook page.
Happy Crafting!
Jilleen