Oh, fall…how I love thee! Fall is a season with beautiful autumn leaves, cooler weather and Thanksgiving greetings! There are also a number of wonderful fall crafts that you can do with children that will help bring those gorgeous autumn colors indoors.
From painting with leaves to creating leaf monsters to making autumn luminaries, there is bound to be at least one craft at you will "fall" in love with this season. Check out this roundup of 25 Easy Fall Leaf Crafts for Kids for further inspiration!
25 Easy Fall Leaf Crafts for Kids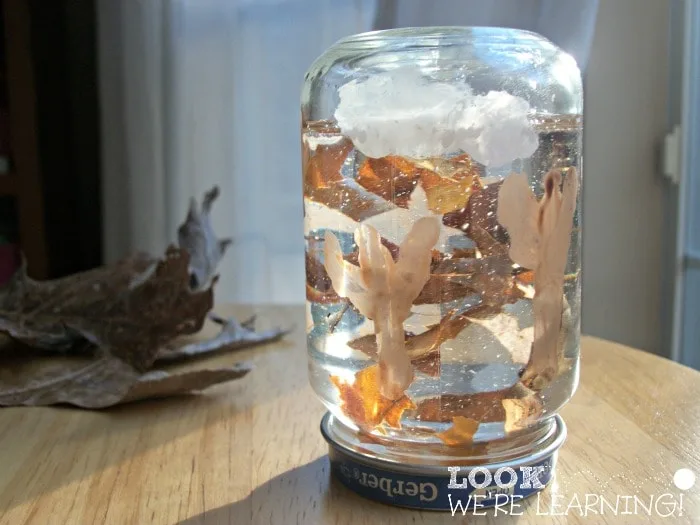 Easy Fall Snow Globe Craft for Kids – Look! We're Learning
A snow globe is fascinating no matter what your age is. Children of all ages will love making and watching their new snow globes. Fun idea!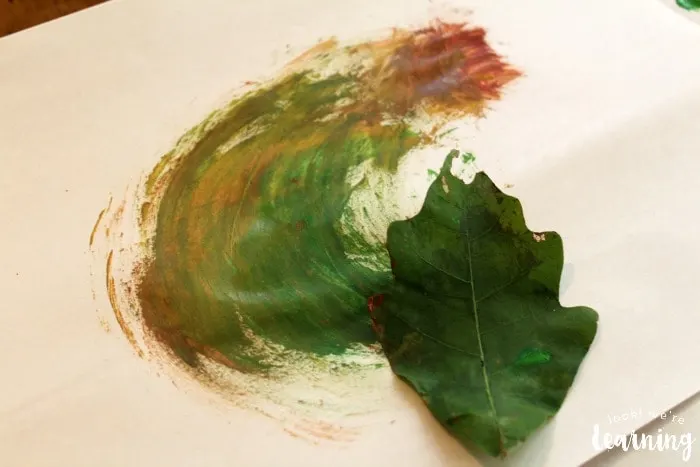 Easy Nature Art: Leaf Painting for Kids – Look! We're Learning
Teaching children to paint with leaves is educational and a blast too. They can use their imaginations and create all sorts of art pieces.
Make A Leaf Family: An Easy Preschool Craft – Homeschool Preschool
To make this adorable leaf family, you will just need some leaves, glue, googly eyes, craft sticks, and a marker. Aren't they the cutest?
Colorful DIY Fall Wreath Craft for Kids – Mommy's Bundle
Kids love to make these wreaths, especially when using items from nature. It's fun to hunt for supplies and then transform them into a wreath that can be enjoyed for years to come.
More Leaf Crafts For Kids
Supla Tree of Thanks Foam Craft Kit DIY Bulletin Board Set Fall Tree with 60 Pcs Maple Oak Autumn Leave Stickers Self Adhesive for Kids Crafts Thanksgiving Family Activitie 15.7″ Tall 60 Pcs Leaves
Fun Express Colorful Magic Color Scratch Fall Leaves. (24 Leaves, 12 Scratching Tools 24 Satin Cords per Unit);
Agirlgle Creative Wood Building Blocks Tree Set for Kids Children Men Preschool Boys and Girls DIY Learning Educational 3D Wooden Assembled Toys Tile Game —Home Office Decor (Four Colors Leaves)
S&S Worldwide Wood Leaves Craft Kit (Pack of 48)
Supla 2 Kits 3D Glitter Foam Fall Leaf Wreath Craft Kit DIY Thanksgiving Wreath with Glitter Maple Leaves Artificial Foam Pumpkins for Kids Crafts Fall Thanksgiving Seasonal Decoration
Marbled Leaves – Simple Fun For Kids
This marbling technique is appealing to kids because they are trying to understand what's going on. The result is lovely too.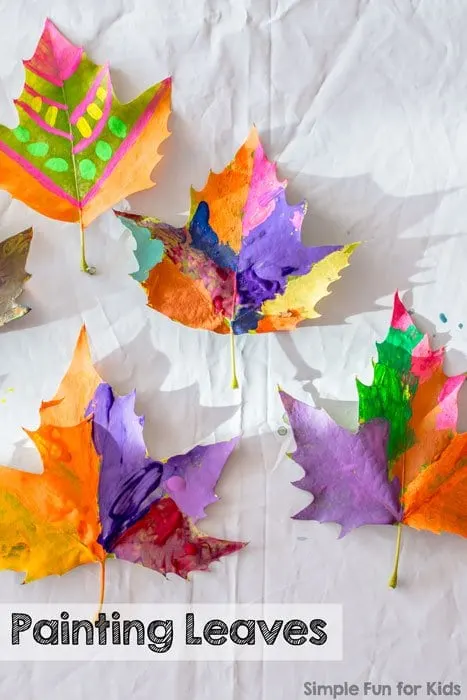 Painting Leaves – Simple Fun For Kids
We have covered that you can paint with leaves, but you can also paint the leaves themselves. They look fabulous too!
Leaf Creatures: A Fun Fall Leaf Craft – There's Just One Mommy
The options are endless when it comes to creating leaf creatures. Let the children go wild and make whatever they can think of. You will be surprised by their incredible imaginations.
Printable Autumn Crown for Fall Dress Up – Twitchetts
Playing dress-up is always fun, but it's extra special when you get to help make part of your costume! These crowns are super cute.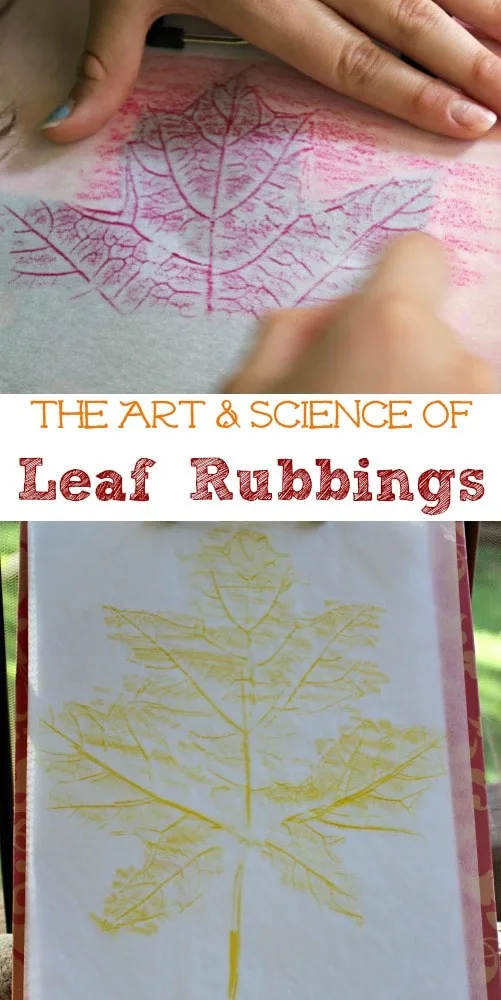 The Art & Science of Leaf Rubbing for Kids – Edventures with Kids
Leaf rubbing is not only a fantastic way to teach kids about art, but it's also super relaxing. This is an excellent craft to help kids burn off some steam too.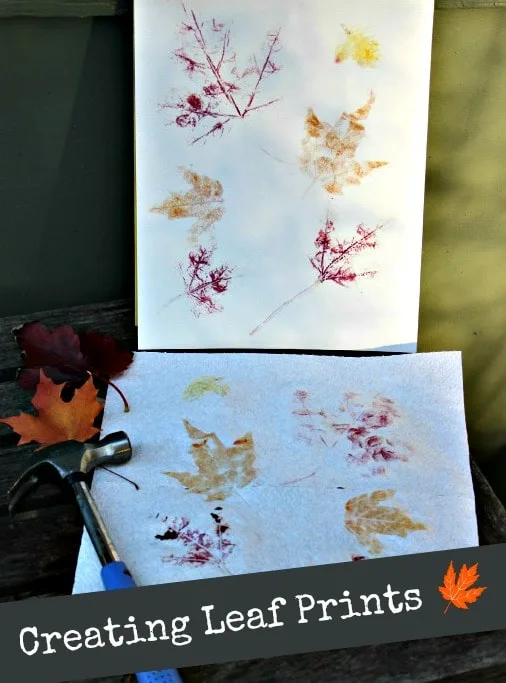 How to Make Leaf Prints: Fall Crafts for Kids – Edventures with Kids
Start your adventure by going on a hunt to collect lots of leaves. Try to find several colors along the way. Break out the hammers and start crafting. Kids LOVE playing with hammers, so don't say I didn't warn you. 🙂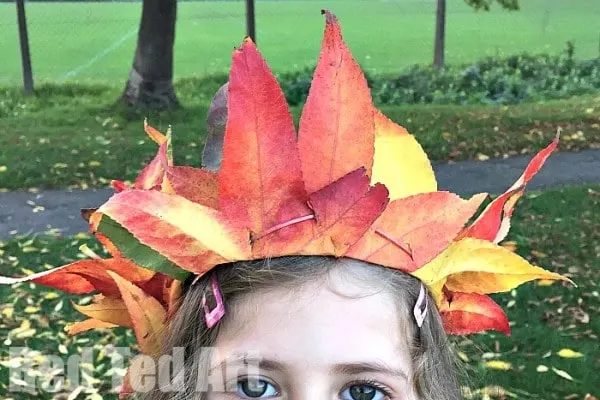 Kids Crafts: Leaf Crown – Red Ted Art
A leaf crown can be worn any day, and the children will love getting to make their own. Each masterpiece will be completely different.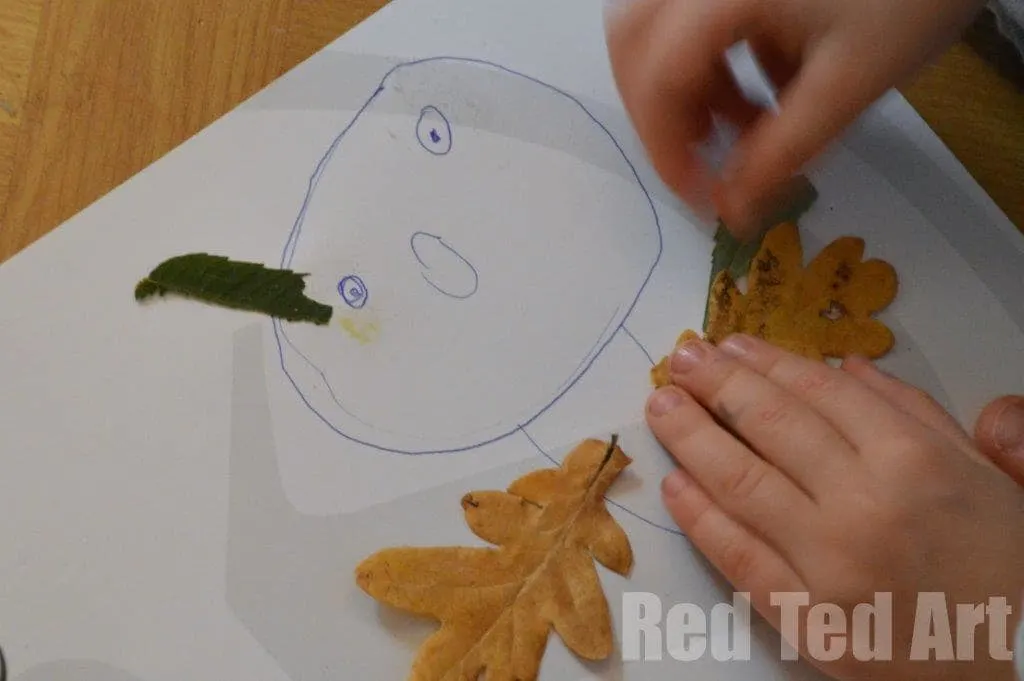 Daily Creativity: Leaf Collages – Red Ted Art
Get the creative juices flowing with these autumn leaf collages. They are so pretty and loads of entertainment for you and the children.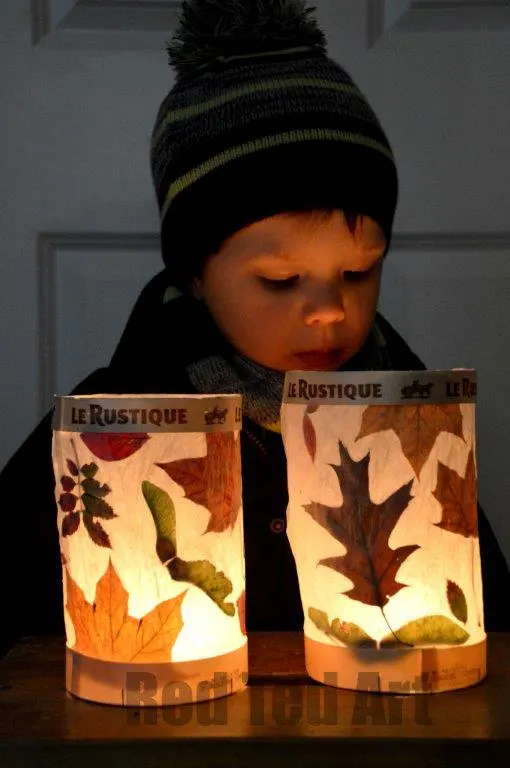 Leaf Lanterns – Red Ted Art
Take advantage of your children working on art because you can use these leaf lanterns as decorations too. They look so amazing too.
Invitation to Draw Fall Leaves – Munchkins and Moms
Drawing fall leaves is a fun way to relax and enhance your art skills too. Great for toddlers or older kids too.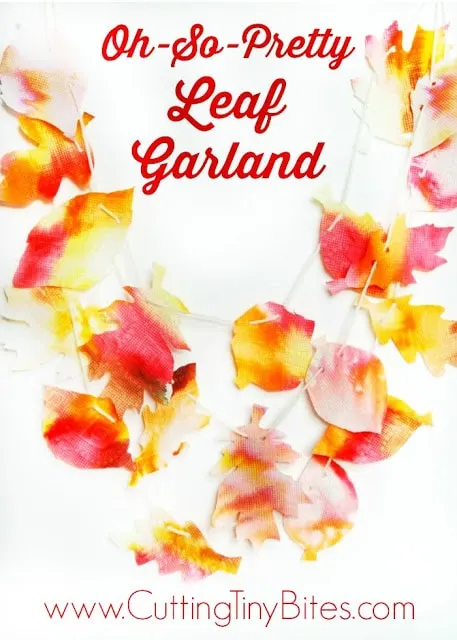 Oh So Pretty Leaf Garland – Cutting Tiny Bites
This garland will look delightful on your mantle or even just hanging on the wall. The kids will appreciate showing off their hard work too.
Autumn Leaf Suncatchers – Clare's Little Tots
Suncatchers with fall leaves look amazing and will keep the kids entertained for a while. You can even go in your yard to grab the leaves if you don't have time to hit a hiking trail or park.
Rolling Pin Fall Leaf Painting – Fantastic Fun and Learning
Whether you are working with small kids or older kids, they will all enjoy this project. You will need a rolling pin, plastic wrap, and foam autumn leaves.
Leaf People Fall Art – Fantastic Fun and Learning
This project is going to have everyone laughing like crazy. These leaf people are amusing and hilarious all at the same time.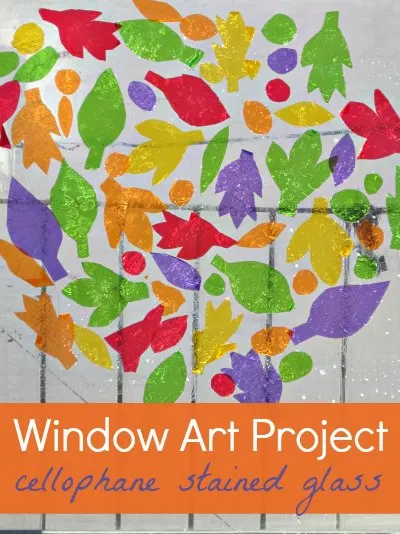 Cellophane Leaf Stained Glass – What Do We Do All Day?
Stained glass is gorgeous, and it's even better when your kids make it themselves. What's better than showing off your artwork for all to see?
Foil Leaf Art – Kidz Activities
There is so much more you can do with aluminum foil besides covering food with it! This foil leaf art is a perfect example of how you can use it to create art.
Handprint Tree and Leaf Canvas Art Tutorial – Arts & Crackers
These adorable handprint trees are sure to bring a smile to everyone's face this fall season. It's impossible not to smile when you look at how cute they are.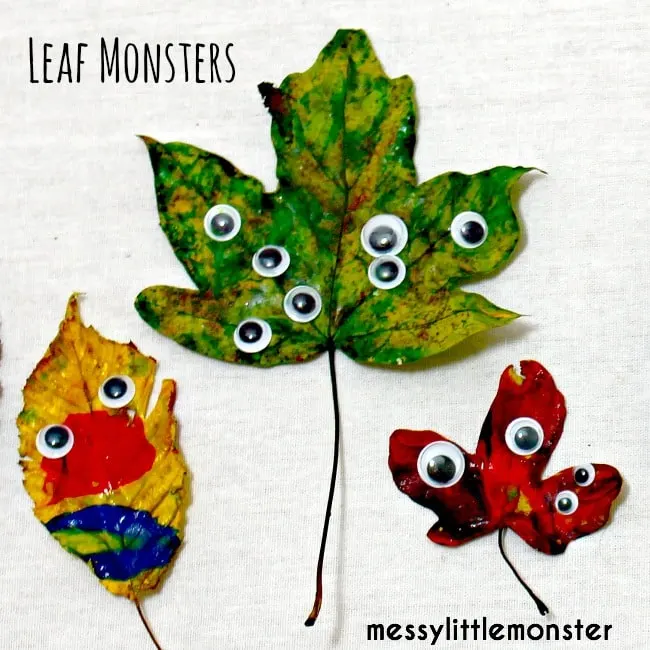 Painted Leaf Monsters – Messy Little Monster
Leaves can be used in all sorts of ways when it comes to kids crafts. These little monsters are so adorable; I am sure that the kids will want several of them.
Fall Tree Leaves Painting – 3 Dinosaurs
These paintings are a fantastic way to document your children growing up. You can have them make this art year after year and see how they progress along the way.
Melted Crayon Leaf Suncatchers – Fireflies & Mud Pies
Everyone loves playing with melted crayons, no matter how old you are. Older kids especially will enjoy these melted crayon leaf suncatchers.
Leaf Print Activity for Kids – Preschool Powol Packets
Look no further; here is an adorable craft for your kiddos. Enjoy painting and learning about the leaf prints along the way.
If you are looking for even more leaf themed kid crafts, be sure to check out the fun posts below. And if you decide to make any of these 25 Easy Leaf Crafts For Kids or any of our inspiring crafts found on the blog – be sure to share a picture on our Facebook page for all of us to see!
Happy Crafting!
Jilleen