If you're a parent, it's likely your child has asked you more than once – "how many stars are in the sky?", "how big is the moon?" and several other space related questions. Sometimes I will look up the answers on the internet and we will read them together, while other times I will take my kids on a virtual field trip or visit our local space museum to explore some more.
At home, I will set up a craft or STEM project for my kids to engage in. That's the magic of STEM – you can choose to teach your children about any subject you want any way you want. The more hands-on the better!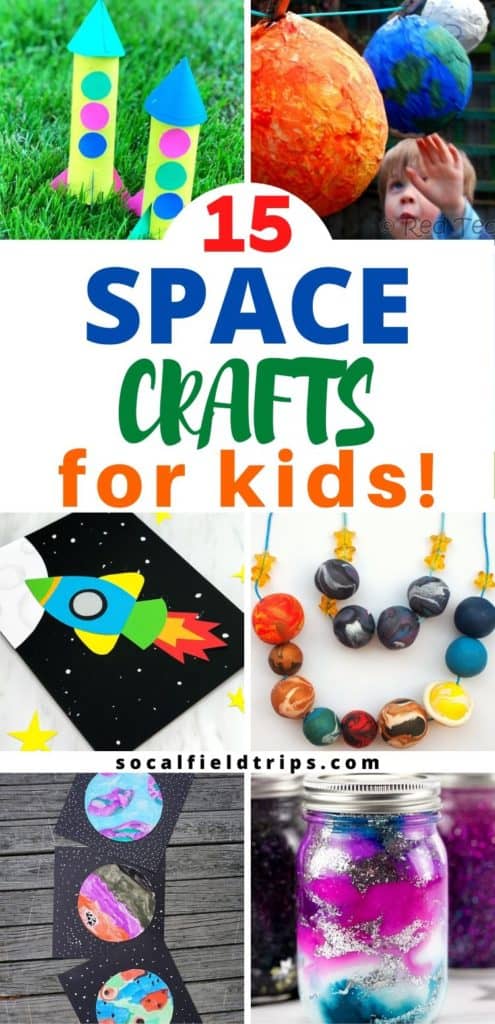 With these 15 Out of This World Space Crafts For Kids, your children can learn about the stars, the solar system or the planets without ever leaving your home! With your help, they can make a mighty impressive jar of midnight galaxy slime, paint the planets with beautiful watercolors or blast off to outer space in their new paper roll rocket!
The opportunity to explore and dream with these wildly fun space crafts are endless! They are also perfect for Show and Tell and Summer Craft Projects!
15 Out of This World Space Crafts For Kids
Simple & Fun Rocket Craft For Kids from Simple Every Day Mom
This is a great art project for kindergarten or elementary aged kids and fits perfectly in with space unit themes.
Watercolor Planets from Rainy Day Mum
These watercolor planets are fun for kids to make, and perfect for exploring the solar system.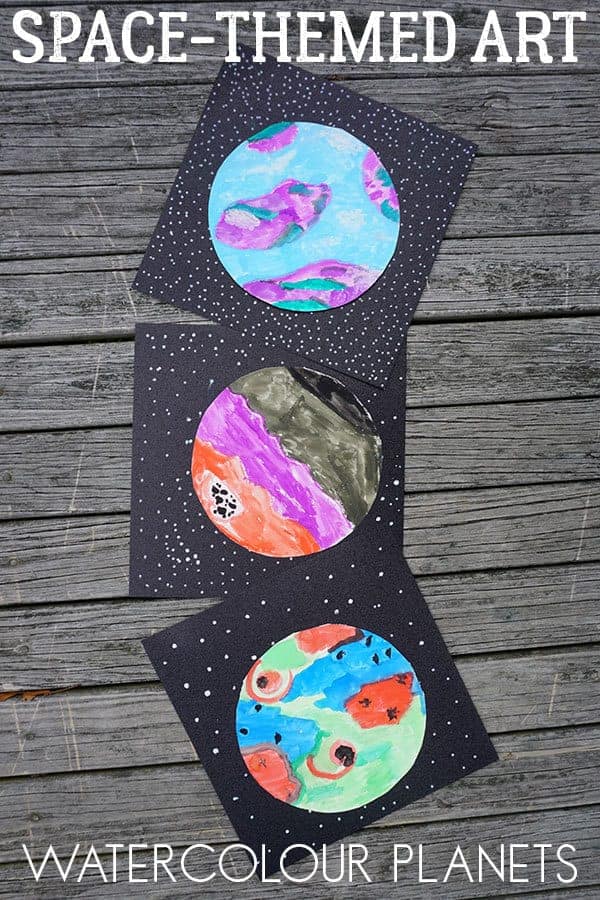 Galaxy Glitter Jars from Fireflies and Mud Pies
Making a calming glitter jar is a beautiful, easy, and fun activity for kids, and these Galaxy Glitter Jars may be my favorite yet!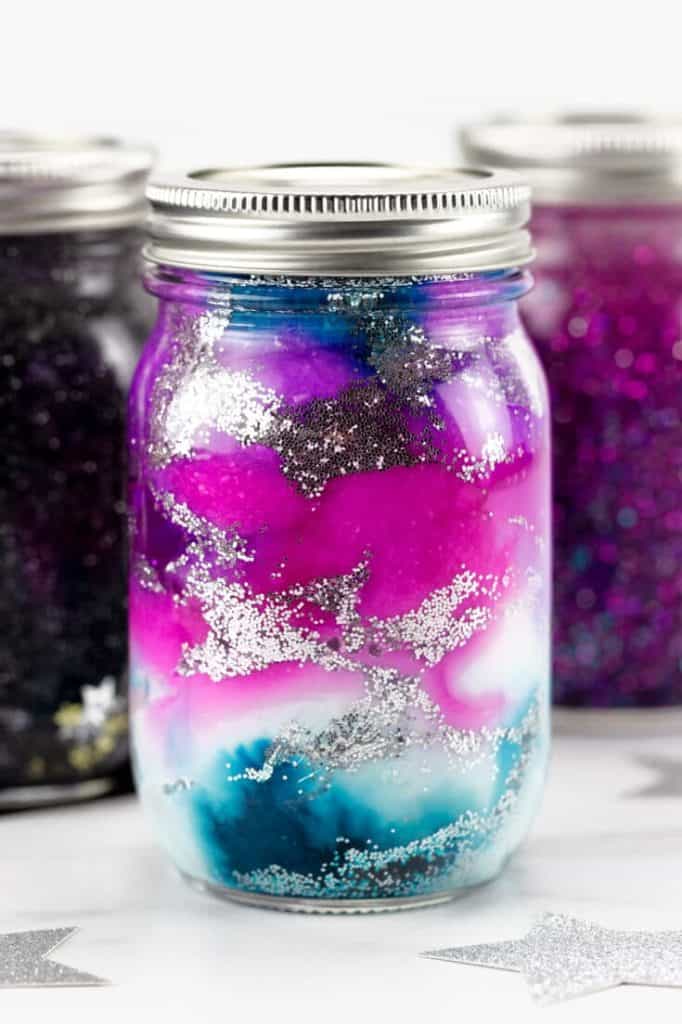 Paper Quilled Solar System Model from Steam Powered Family
Quilled crafting is such fun, and this quilled solar system craft is a great way to get creative while learning about the solar system.
Paper Alien Spaceship Craft from Artsy Craftsy Mom
This cute paper alien spaceship craft is just what your little alien friend needs to come visit you! Easily made with craft paper and quilling strips.
Spinning paper earth craft from The Craft Train
Create a spinning paper earth craft using a printable template. This is a fun craft idea for Earth Day, or for learning more about our planet.
Easy Paper Roll Rocket Craft for Kids from Look We're Learning
A simple project that you can make with the kids in just a few minutes. And, if you're studying space, it'd be a perfect fit for a solar system unit study!
Marbled Planet Artwork from I Heart Crafty Things
Use the marbled shaving cream painting method to replicate the look of the marbled planets and then set them on a black background with gold glitter "stars" to create this fun craft!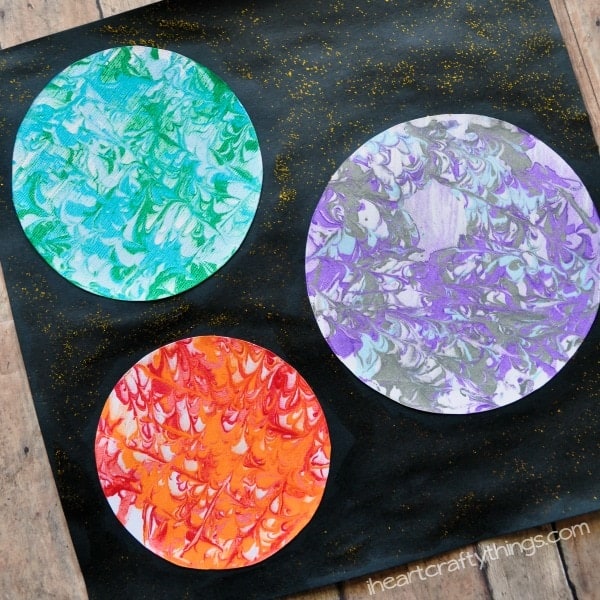 Easy Galaxy Spin Painting Art Project for Kids from Projects with Kids
This galaxy spin painting art project is so fun! Spin painting is such a fun process art technique that kids will want to do over and over again.
Midnight Galaxy Slime Recipe from The Soccer Mom Blog
Making your own slime is super easy to do, and the kids will love the glitter and shine in this midnight galaxy slime.
Kids Crafts: Solar System from Red Ted Art
Paper mache is such fun, and this solar system craft is all about it! Grab some flour, water and strips of paper to get started on this messy fun craft projects!
Fingerprint Earth Day Craft for Preschoolers from Crafts On Sea
This fun fingerprint craft is a great way to get preschoolers involved in painting. Grab the free printable Earth template to get started.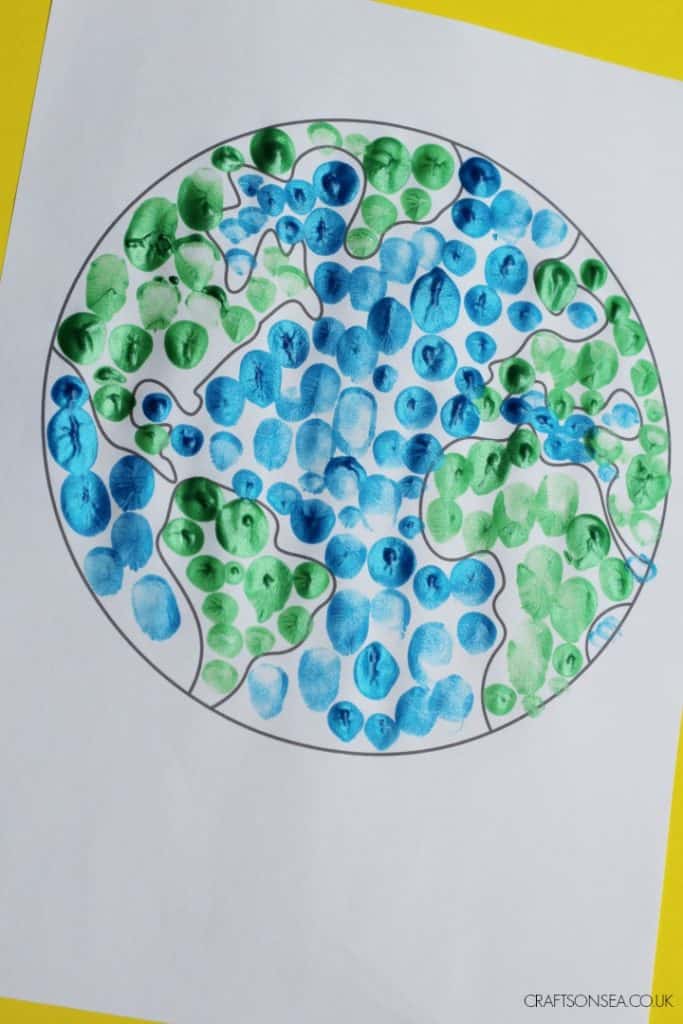 Love Your Planet! Clay Hearts Solar System Project from Steamsational
This clay heart solar system project shows how much you love our planets and would be the perfect showcase in any science fair or space day at school! Kids will love making this simple solar system mobile and displaying it in their bedroom or classroom.
Fingerprint Solar System Craft Activity for Kids from Darcy and Brian
The fingerprint solar system craft is a fun way to help kids remember the order of the planets, and it's super adorable, too!