Calling all Space Cadets!  10, 9, 8, 7, 6, 5, 4, 3, 2, 1……BLAST OFF!
Southern California is home to numerous Space Field Trips for Kids, where children can learn and explore our outer universe!  Whether playing at Moon Park in Costa Mesa to watching the night sky at the Palomar Observatory, children have the opportunity to go more in depth with this topic.
So pick a place and take your child on one of these 19 Space Field Trips for Kids today!
Discover Your Next Adventure with SoCal Field Trips
California Science Center, Los Angeles –  The Space Shuttle Endeavour can be viewed in the Samuel Oschin Pavilion.  Guests who come to see Endeavour begin their experience in Endeavour: The California Story, a companion exhibit featuring images and artifacts that relate the shuttle program to California, where the orbiters were built.
Following their visit to The California Story, guests are directed to the Samuel Oschin Pavilion to see the Endeavour.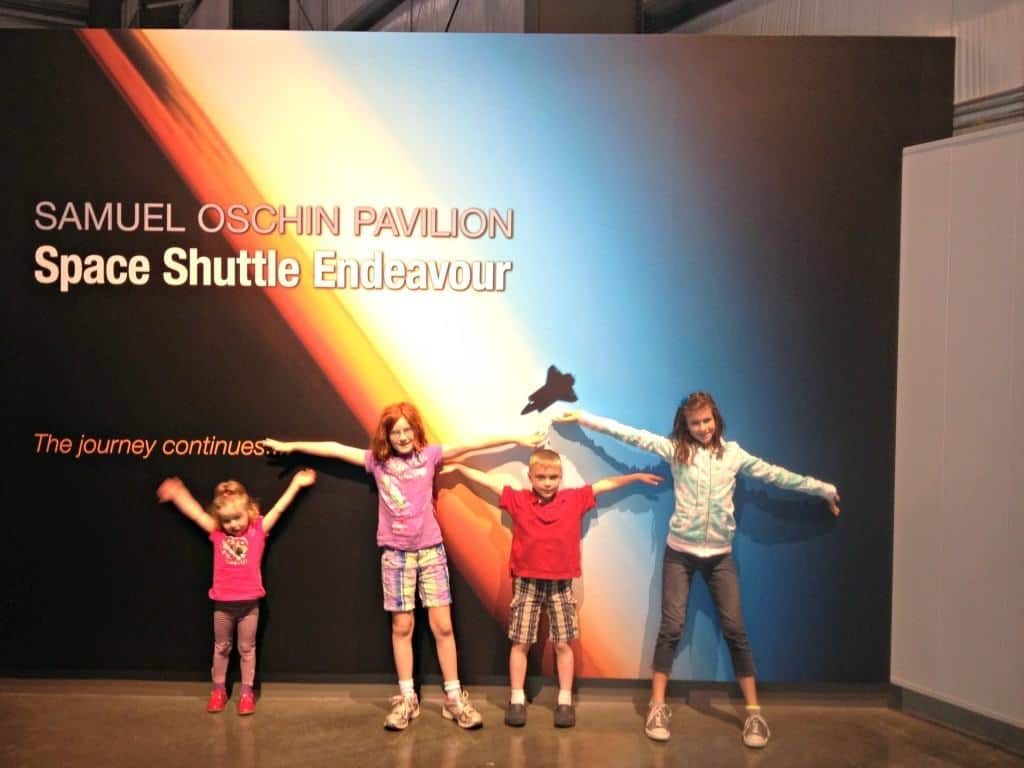 You can also see the movie IMAX Hubble 3D which takes movie watchers on a journey through distant galaxies and accompany space-walking astronauts as they attempt the most difficult and important tasks in NASA's history.
Columbia Space Memorial Center, Downey – The Columbia Memorial Space Center is the only space science learning center in the Los Angeles area dedicated to hands-on robotics and boasts LA's only Challenger Learning Center.  During your visit, you will learn about Downey's place in the exploration of space flight, from the Apollo capsules to the Space Shuttle Orbiters.
For 5th grade and up, the center offers a field trip to their Challenger Learning Center.  Here students are transformed into scientists, engineers, and researchers on a simulated space mission, complete with mission control and spacecraft.  Advance reservations are required for groups of 16-36 participants per mission.
The center also hosts a cool club called Columbia Astronomers for kids that meets the third Saturday of every month at 7 pm.  Kids and parents are invited to expand their knowledge of the universe, share their love for the night sky, and talk all things astronomy.  Following every monthly club meeting, telescope viewing is set up in front of the Columbia Memorial Space Center.
Discovery Science Cube OC, Santa Ana – We have been the Cube on numerous occasions.  One of my daughter's favorite exhibits is the Planetary Research Center.  Here students can view the earth on a suspended, animated globe from a completely unique vantage point.  Explore weather patterns, observe historic storms and relive catastrophic earthquakes.
Discovery Science Cube LA, Sylmar – Similar to the Cube in Orange County, the Cube in Los Angeles has a Planetary Research Station too.
Donald E. Bianchi Planetarium @ CSUN, Northridge – The Donald E. Bianchi Planetarium provides bi-weekly star shows and other programs for the many communities of the San Fernando Valley and surrounding areas.  At the heart of the 100-seat star theater lies the Spitz-512 Star Projector, capable of recreating the night sky on our 40-foot dome with accuracy and brilliance.
El Camino College Planetarium, Torrance – This fun planetarium has GOTO Chronos planetarium projector with star plate technology that projects 8,500 stars (down to magnitude 6.5), planets, and the Milky Way.  Thirteen of the brightest stars in the sky are projected in their natural colors.  In addition to stars, the Chronos projector can accurately display 26 of the most popular celestial objects like the Adromeda Galaxy and the Orion Nebula with dedicated projectors for the Magellanic clouds.  They host regular public viewings and school groups.
George F. Beattie Planetarium, San Bernardino – The 57-seat Planetarium features a star projector that can provide views from the North Pole to the South Pole, showing all the stars that can be seen with the un-aided eye on the darkest and clearest nights.  All public shows are at 7 p.m. on Friday nights.  One of the most popular shows is "The Christmas Star,'' which is presented three times in December.
Griffith Observatory, Hollywood – At Southern California's most popular observatory, visitors can look through telescopes, explore exhibits, see live shows in the Samuel Oschin Planetarium, and enjoy spectacular views of Los Angeles and the Hollywood Sign.  Admission is FREE.
Jet Propulsion Laboratory, Pasadena – JPL's educational tours are designed for schools and educational groups of 20 people or more.  The tour is specifically geared for children in 3rd grade and up for comprehension of information.  However, we had younger children in our group when we went and it was fine.  First, we saw a short multimedia presentation about JPL entitled "Journey to the Planets and Beyond," which provides an overview of the Laboratory's activities and accomplishments.  Next we visited the von Karman Visitor Center, the Space Flight Operations Facility, and the Spacecraft Assembly Facility.
Moon Park, Costa Mesa – Moon Park commemorates the July 20, 1969 Moon landing.  The 30-foot cratered gray concrete dome, which simulates the lunar surface, is a prominent feature of the park.  The park is located at 3337 California Street, Costa Mesa.
Robert T. Dixon Planetarium @ Riverside Community College, Riverside – This planetarium hosts monthly public showings that start at 7 pm.  To schedule a field trip your home or school group, please call their Community Education Department at 951-222-8090.
Tessman Planetarium @ the Santa Ana Junior College, Santa Ana – Families can see one of the planetarium's 75 minutes interactive astronomy shows and discover the wonders of the universe.  All of their shows contain information about the latest discoveries in astronomy and science.  Field trips are aligned with the K-12 State of California Science Content Standards.  Every December they present a special Holiday show called "The Star of Bethlehem" that takes a trip through time to see how the sky looked 2000 years ago.
Palomar College Planetarium, San Marcos –  This specific planetarium is the 5th largest planetarium in California.  The theater has 138 seats that sit under a 50-foot Astrotec dome.  The planetarium hosts field trips for area schools each Tuesday & Thursday morning all year long.  At the planetarium students are given a brief tour of current constellations and the night sky. The students are then taken on an informative virtual journey through the Solar System
Palomar Observatory, Palmor Mountain – Palomar Observatory is owned and operated by the California Institute of Technology.  The Observatory is a popular destination in Southern California and receives tens of thousands of visitors a year from all over the world.  Most come to see the famous 200-inch (5.1-meter) Hale Telescope — for decades the largest effective telescope in operation.  They also offer guided tours of the facility.
Reuben H. Fleet Science Center, San Diego – Join the Science Center on the first Wednesday of each month at 7 p.m. or 8:15 p.m. for a special program called The Sky Mountain, a tour of the solar system narrated by the Fleet's astronomer.  For optimal viewing, each show is limited to 250 attendees. Avoid sold-out shows by purchasing tickets in advance.  For ages 5+.  FREE telescope viewing with the San Diego Astronomy Association  available outside after the shows, weather permitting.
The John Drescher Planetarium @ Santa Monica College, Santa Monica – At its heart of this planetariums is the Evans & Sutherland Digistar II planetarium projector, which was the first of its kind on the West Coast.  Using digital technology, audiences can fly beyond the solar system and soar among the stars.  They are open to the public every Friday night, offering public planetarium shows designed for the whole family, and provide weekday special shows for schools and other groups.
UCLA Planetarium and Telescope Shows, Los Angeles – Public planetarium shows (FREE and suitable for all ages) are given by current astronomy and astrophysics graduate students.  Content varies with presenters, but commonly includes discussion about the current night sky, constellations, astronomical phenomena, and more.  Every Wednesday night at 7 pm they host a show for the public!  See website for show listings.
Victor Valley College Planetarium, Victor Valley – The planetarium has a regular schedule of shows open to the public for a small fee in the evenings.  All seating is on a first-come, first-served basis.  Seating is limited to 50 persons per show.  Reservations are not normally accepted, but groups of six or more may call in advance with their name, date of attendance, and size of party.
Do you know of any places that host Space Field Trips for Kids in Southern California?  Please let us know and we will be happy to add it to the list.  Thank you!
Happy Field Tripping,
Jilleen
Disclosure: This post is for informational purposes only.  All points of view are my own.  Sources of information came from each individual company's website.