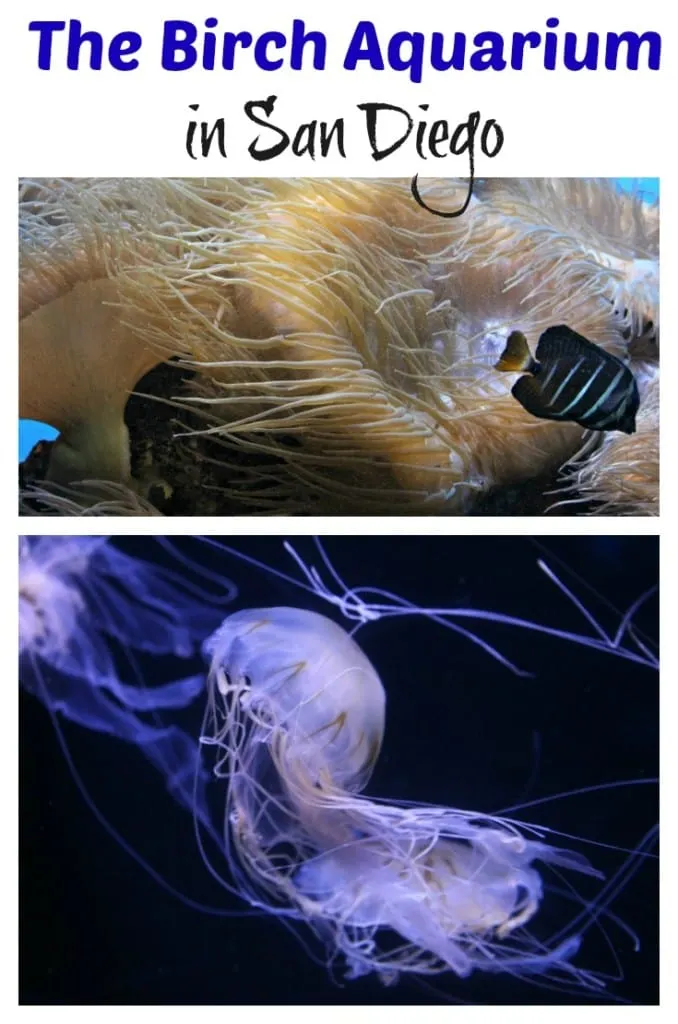 Last March, over spring break, I took my kids to visit the Birch Aquarium in San Diego, California. It was our first time to this quaint aquarium that sits on top of a hillside and provides panoramic views of the Pacific Ocean. Birch Aquarium at Scripps (sometimes referred to as Scripps Aquarium or Birch Aquarium) is the public outreach center for Scripps Institution of Oceanography at the University of California, San Diego. Visitors are invited year round to enjoy this royal gem.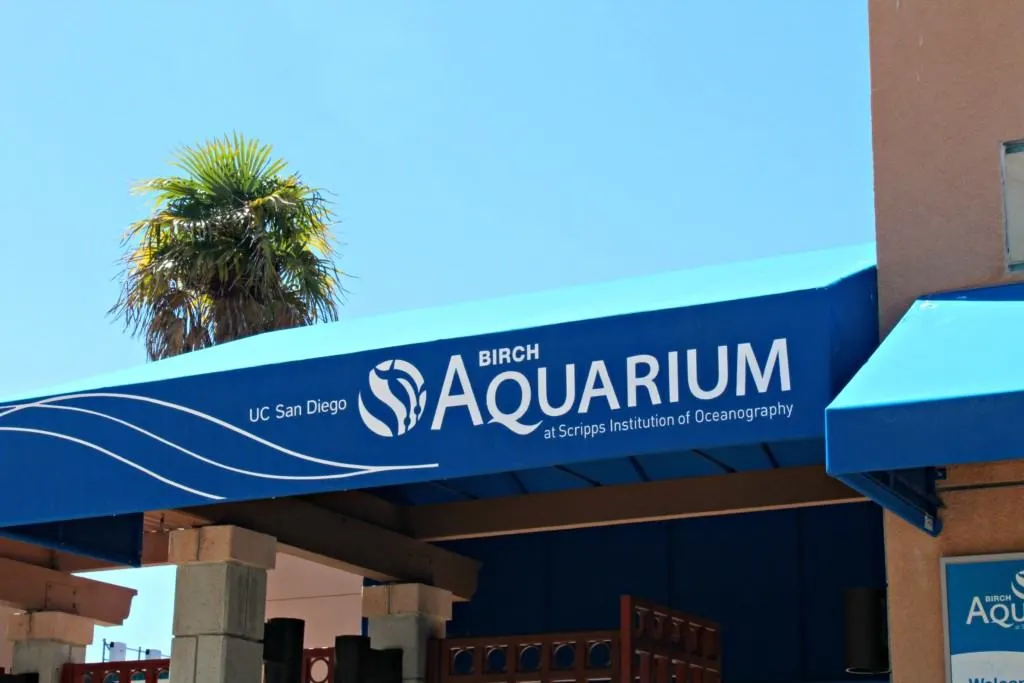 Birch Aquarium is home to more than 3,000 animals representing 380 species. In particular, The Hall of Fishes features more than 60 tanks of Pacific fishes and invertebrates from the cold waters of the Pacific Northwest to the tropical waters of Mexico and the Caribbean.
The highlight of Birch Aquarium is the Kelp Forest, with over 70,000 gallons of water. With such a wide variety of unique fish and sharks swimming about, you can literally sit on the stairs for hours and watch them go by. The Kelp Forest also has a Kelp Cam that streams live on the internet. You can tune into their weekly dive shows at 12:30 p.m. on Tuesdays and Thursdays, 2 p.m. on Saturdays and 10:30 a.m. on Sundays.
Another interesting exhibit, Feeling the Heat: The Climate Challenge, presents the science of global climate change, backed by a half century of groundbreaking research from Scripps Institution of Oceanography. The exhibit invites guests to broadcast California's weather report in their 2050 television newsroom, learn how scientists track temperature across centuries and test their knowledge of which everyday items hurt or help the planet.
Outside there are other activities for kids too. The Tide-Pool Plaza has three living tide pools where visitors can touch and learn about tide-pool animals with docents. Windows in the area provide up-close views of starfish, hermit crabs, sea cucumbers, lobsters, and other animals local to San Diego's tide pools. During the winter months, Birch Aquarium also offers tidepooling excursions.
Another favorite area of ours was the "boundless energy" outdoor playground that celebrates the innovative ways we use natural forces to power our lives. This particular play area has stationary bikes, hand cranks and a seesaw that encourages children to use their own strength to power up a whimsical water sculpture. It is pretty neat!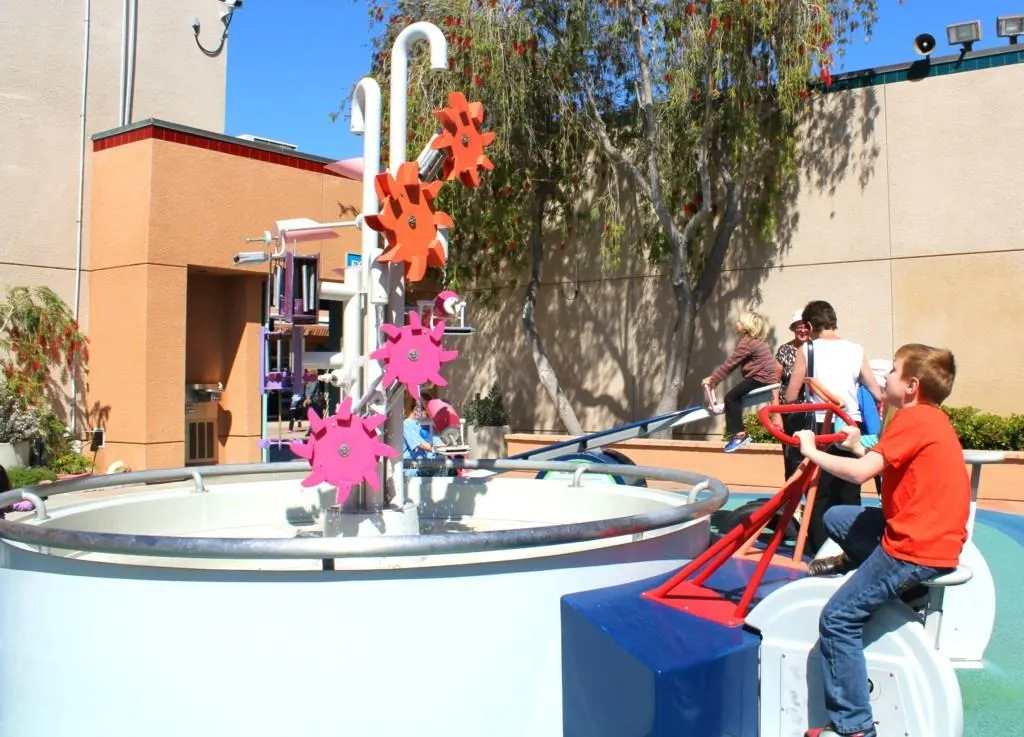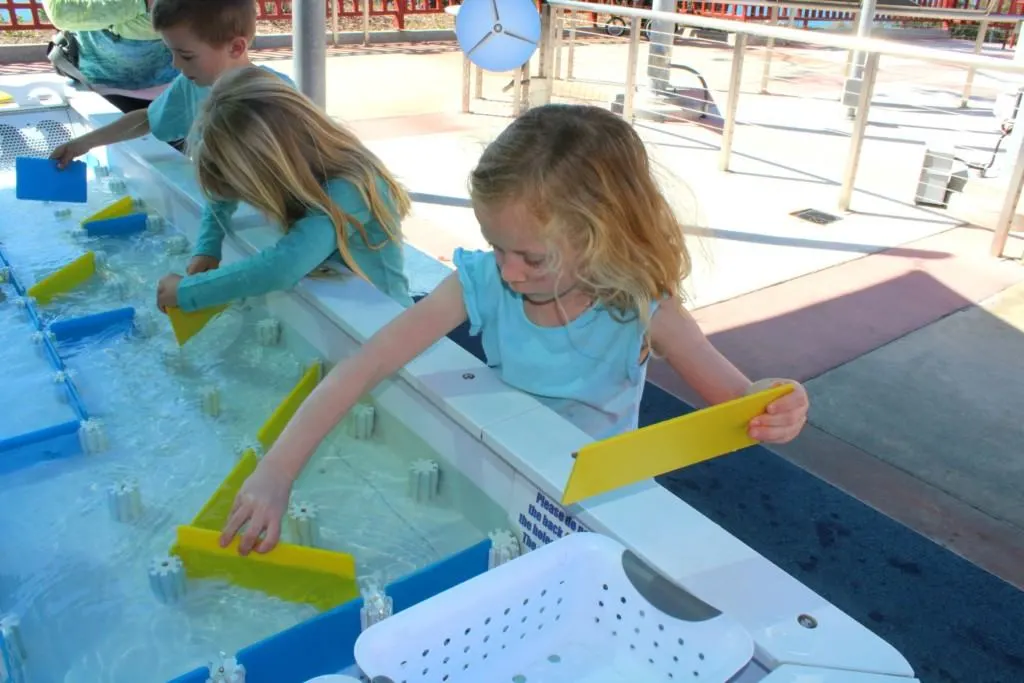 You can easily walk through the entire aquarium in under 3 hours. Plus if you're hungry, you can grab a bite to eat at the outdoor Splash Cafe by The French Gourmet. There is also outdoor seating available if you want to bring a picnic lunch and enjoy the ambiance of the whale fountain.
Birch Aquarium School Programs & Field Trips
Did you know that over 40,000 children visit Birch Aquarium every year? The aquarium is dedicated to providing students with interactive and hands on programming that connects them to the ocean, our earth, and atmosphere. They offer both on-site and off-site programming for early childhood to adult audiences. From individual aquarium classes to beach programs to self guided tours, there is bound to be at least one program that suits your needs. Prices range from $7 to $12 per student.
Birch Aquarium Admission Prices
The price of admission to visit Birch Aquarium is:
Adults (18+): $17
Teens (13-17): $14
Youth (3-12): $12.50
Children under 2: Free
Seniors 60+: $13
Birch Aquarium at Scripps is located 2300 Expedition Way, San Diego, California 92037. Hours of operation are Monday -Sunday, 9 am – 5 pm.
Happy Field Tripping!
Jilleen
More Things To Do With Kids in San Diego:
75 Places To Explore in San Diego with Kids
Living Coast Discovery Center is one of San Diego's Best Family Attractions
The Best Time To Visit The Flower Fields in Carlsbad
A Visit to the Museum of Making Music in Carlsbad