In February, my children and I took a day and traveled to the South Bay for two field trips. First, we stopped by the Western Museum of Flight in Torrance. Then we jotted over to San Pedro to visit the Cabrillo Marine Aquarium.
It was our first time visiting the aquarium and we were enthralled with everything we could see and touch. Children are welcome to touch and explore almost every sea creature Cabrillo Marine Aquarium. This is very different from other aquariums we have visited in the past.
Cabrillo Marine Aquarium is located adjacent to the Cabrillo Beach Coastal park and Port of Los Angeles. It is best known for its marine science education and displays the largest collection of Southern California marine life in the world.
Cabrillo Marine Aquarium has been welcoming and educating the Southern California community since 1935. It is the oldest aquarium in the area as well.
How much does it cost to visit Cabrillo Marine Aquarium in San Pedro?
Admission to the Cabrillo Marine Aquarium is a suggested donation of $7.00 adults / $3.00 children and seniors. Plus if you have a Los Angeles Zoo membership, the price to get into CMA is free!
CMA is also a lot less crowded than other aquariums in the area. Therefore, you have more time to explore the exhibits. My children and I spent a little over two hours at the aquarium exploring all of CMA's different Southern California Marine Habit Halls including the Kelp Forests, Rocky Shores, Mudflats, Open Ocean and Sandy Beaches.
My personal favorite part of the aquarium was the Aquatic Nursery. The nursery is a real time working laboratory where we got to see active scientific research in progress and talk with the various CMA's scientists-in-training.
My children especially enjoyed CMA's Exploration Center. Inside they got to "crawl in" an aquarium and be surrounded by ocean life such as flatfish, sting rays, octopuses and other creatures – and they never got wet! They also tried on various marine life costumes in the Discovery Center.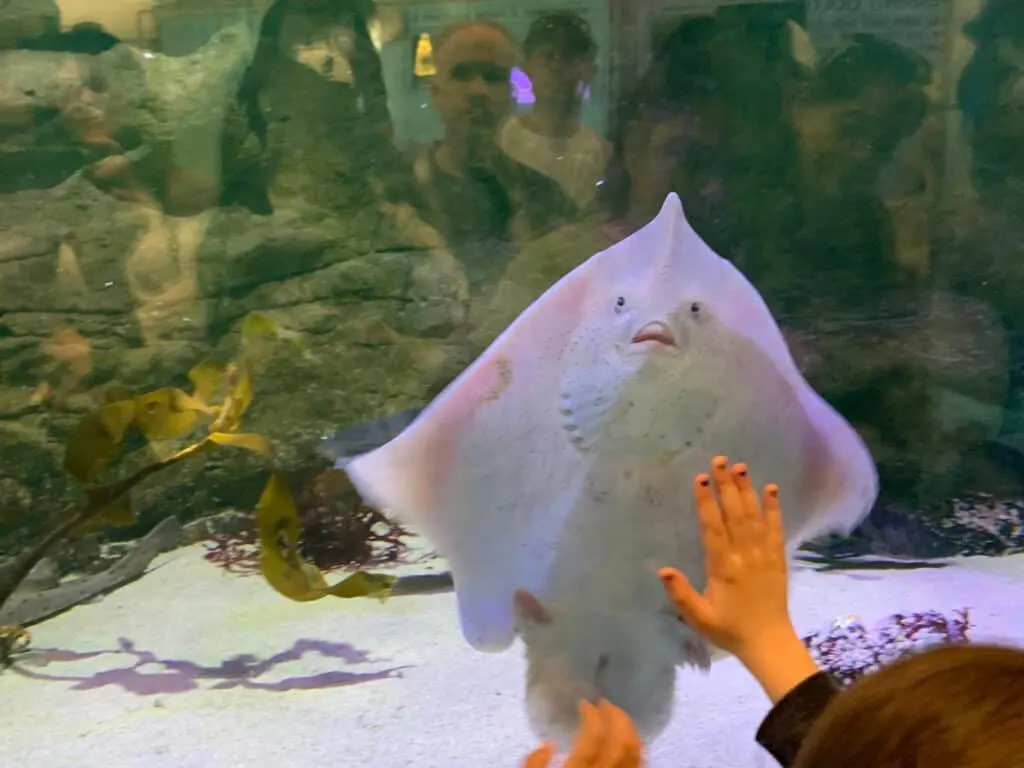 What types of field trips does Cabrillo Marine Aquarium offer?
The Cabrillo Marine Aquarium offers one of the most extensive list of field trips in the Los Angeles area.
Hands-on programs include everything from hatching grunion to the ancient Japanese art of Gyotaku. Lectures by noted scientists and authors offer an in-depth look at an array of topics from extreme waves to bioluminescence and to marine biology workshops teach subjects from Ichthyology to Animal Behavior to spark an interest in science at any age. On a side note for homeschoolers, CMA only offers age specific field trips. They do not offer field trips for mixed age groups.
Where is Cabrillo Marine Aquarium located?
The Cabrillo Marine Aquarium is located at 3720 Stephen M. White Drive in San Pedro. They are open Tuesday through Friday – 12 noon to 5 pm / Saturday and Sunday – 10 am to 5 pm.
Plus while you are in the South Bay, make a day of it and visit the tide pools and the Korean Friendship Bell too.
Happy Field Tripping!
Jilleen