This post may contain an affiliate link.
It was the second week of July when my family's vacation plans couldn't have arrived at a better time. Since it was scalding hot in Orange County, we were eager to head up the mountain to Lake Arrowhead to take in some cooler weather, enjoy our much-anticipated visit to SkyPark at Santa's Village and stay at the dreamy Arrowhead Pine Rose Cabins.
Arrowhead Pine Rose Cabins is a rustic cabin resort nestled within the San Bernardino Mountains near Twin Peaks, California. Located four miles from Lake Arrowhead and a few miles from SkyPark at Santa's Village, the wooded Pine Rose campus is the perfect site for an adventurous family vacation.
From Orange County it took us approximately one hour and forty five minutes to reach our destination in Twin Peaks, a small town nearly 6000 feet in elevation and surrounded by trees. It was as though we were instantly transported into the Sierra Nevadas.
Upon checking in to Arrowhead Pine Rose Cabins, we were greeted by a friendly gentleman at the front desk who welcomed us and provided a run-down on the property's amenities. He also had a fresh pot of coffee brewing in the background, bonus for dad! Then we we grabbed our bags and made our way to our cabin. The kids were so excited to have a "camp out" as they called it!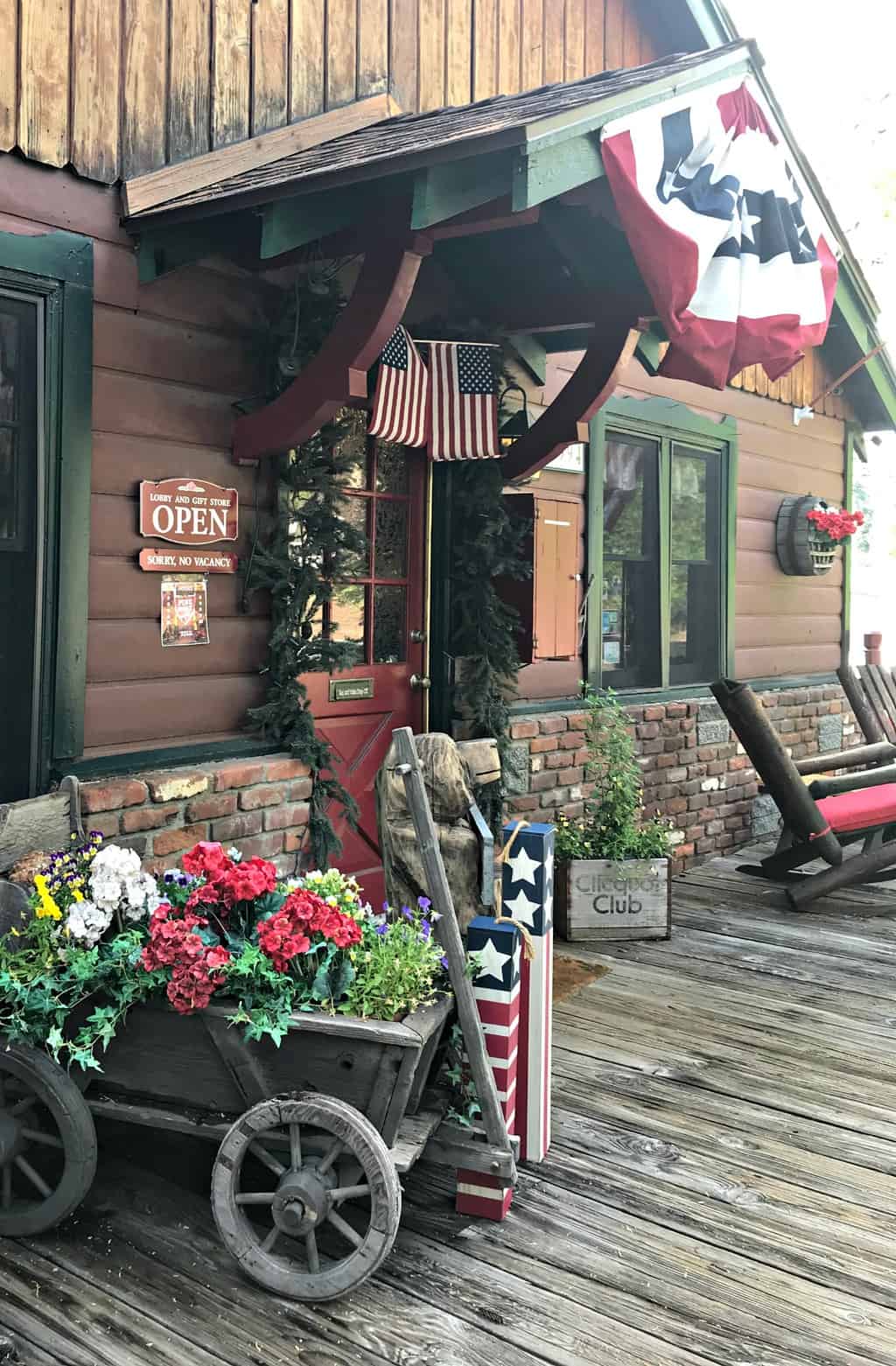 The History of Arrowhead Pine Rose Cabins
My husband and I were intrigued by the rich history of Arrowhead Pine Rose Cabins. The cabins have been in existence since the early 1900's, built at the time by Forest Rangers for the US Forest Service. The cabins became a resort in 1948 and were named Arrowhead Road Resort, since it was off the main roadway, Highway 189.
Now named Arrowhead Pine Rose Cabins, the resort consists of 20 beautifully rustic cabins, ranging from quaint studio cabins to 4+ bedroom lodges for large get-togethers. Pets are also welcome, and they can join in on the fun!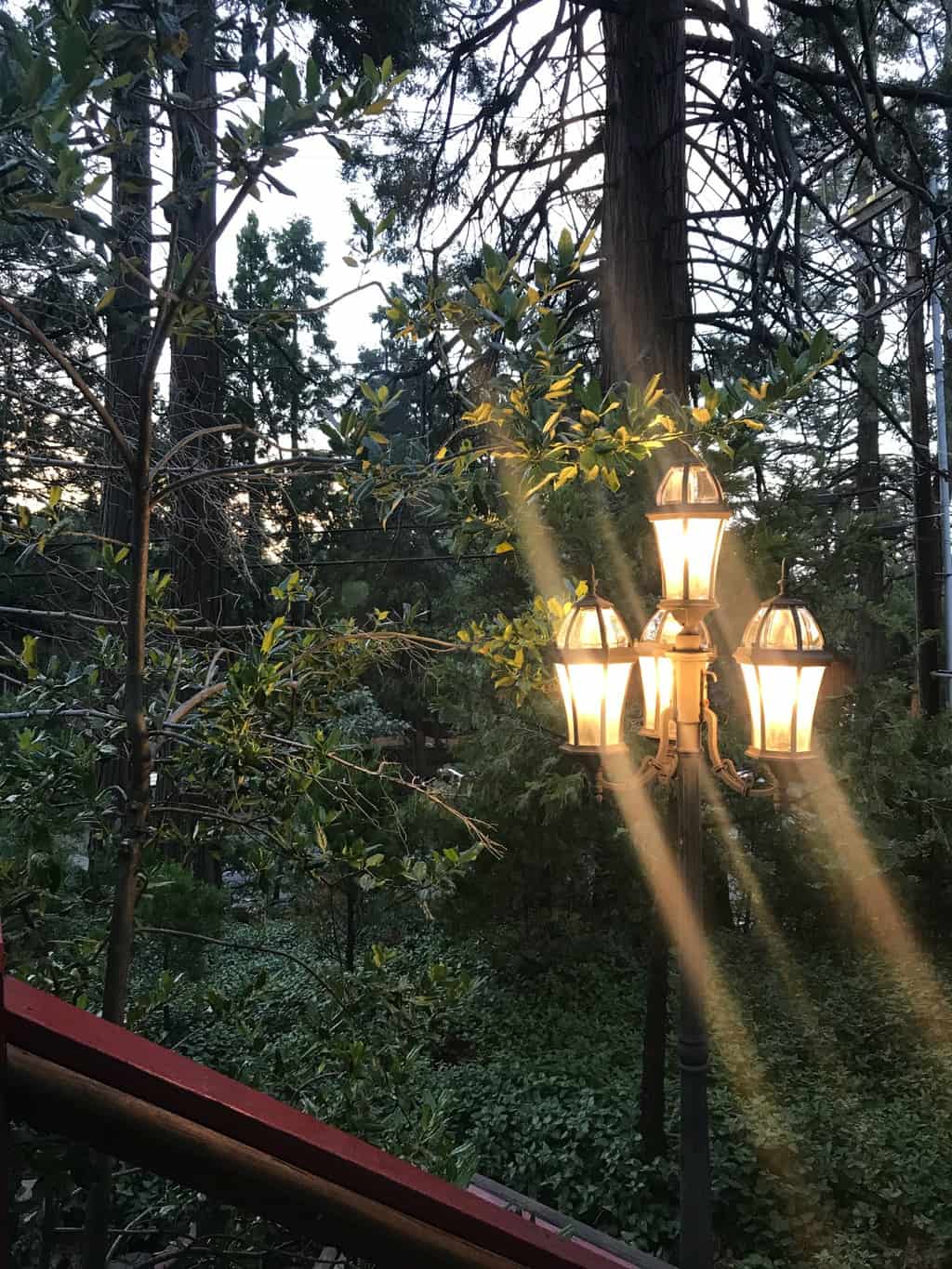 Arrowhead Pine Rose Cabins Reservations
Arrowhead Pine Rose Cabins was gracious enough to put us up in the Ponderosa Lodge. The rustic cabin was decorated with accents of nature, cozy furniture, and featured three beautiful rock wood-­burning fireplaces.
It came with a spacious kitchen and all the standard amenities you need to prepare tasty meals with a banquet sized dining table that can seat over 10 quests. And just for the fun of it, the dining table also converts into a pool table. The family room provides ample seating and comes with a fireplace, along with a good selection of board games. Oh, and if you want to have a sing-along, they have a piano at your disposal!
Ponderosa Lodge comes complete with 4 large bedrooms that can accommodate up to 15 people which includes 4 queen beds, 2 double beds, 1 twin bunk bed, 1 regular twin bed and 3 full size bathrooms.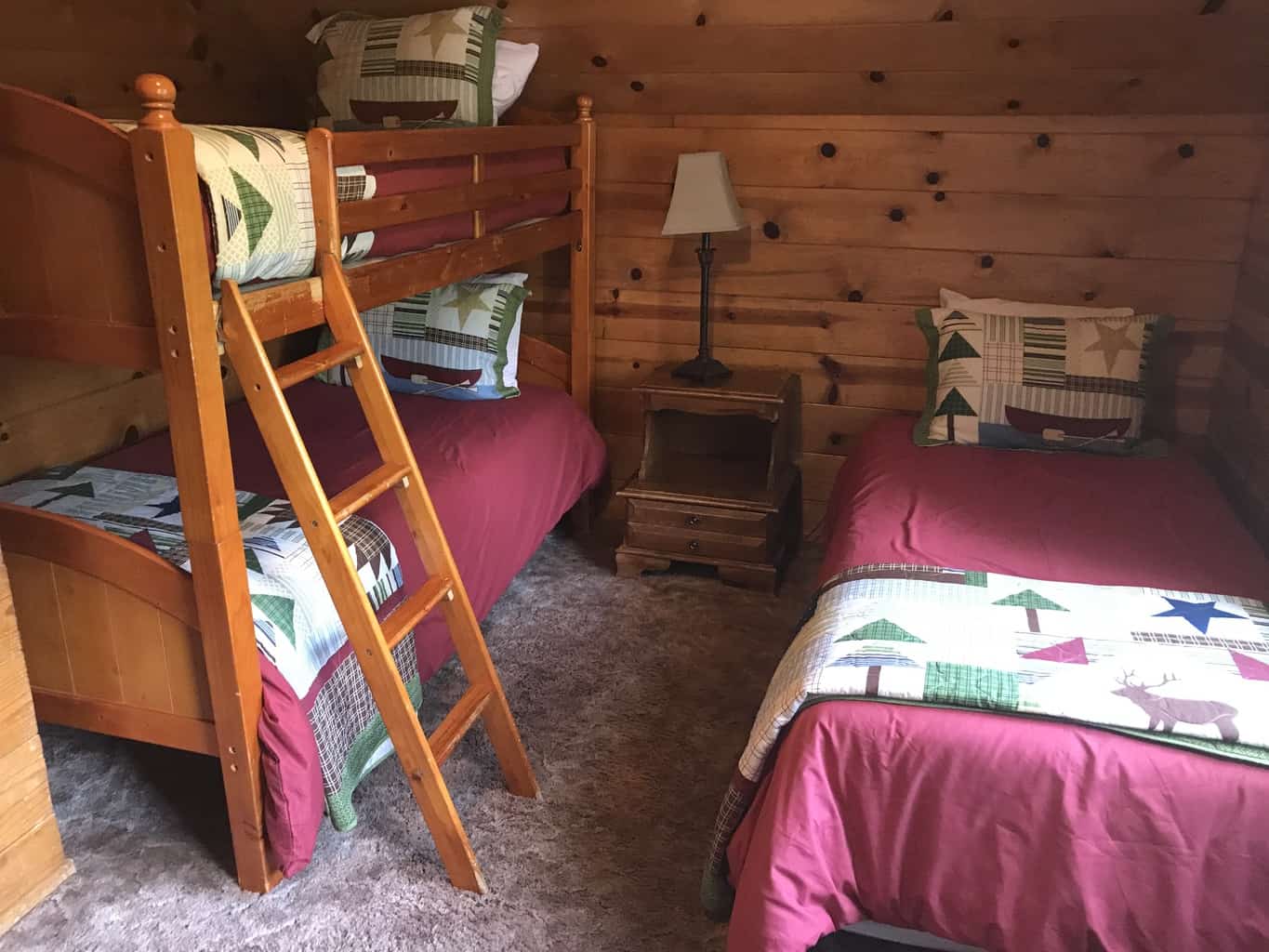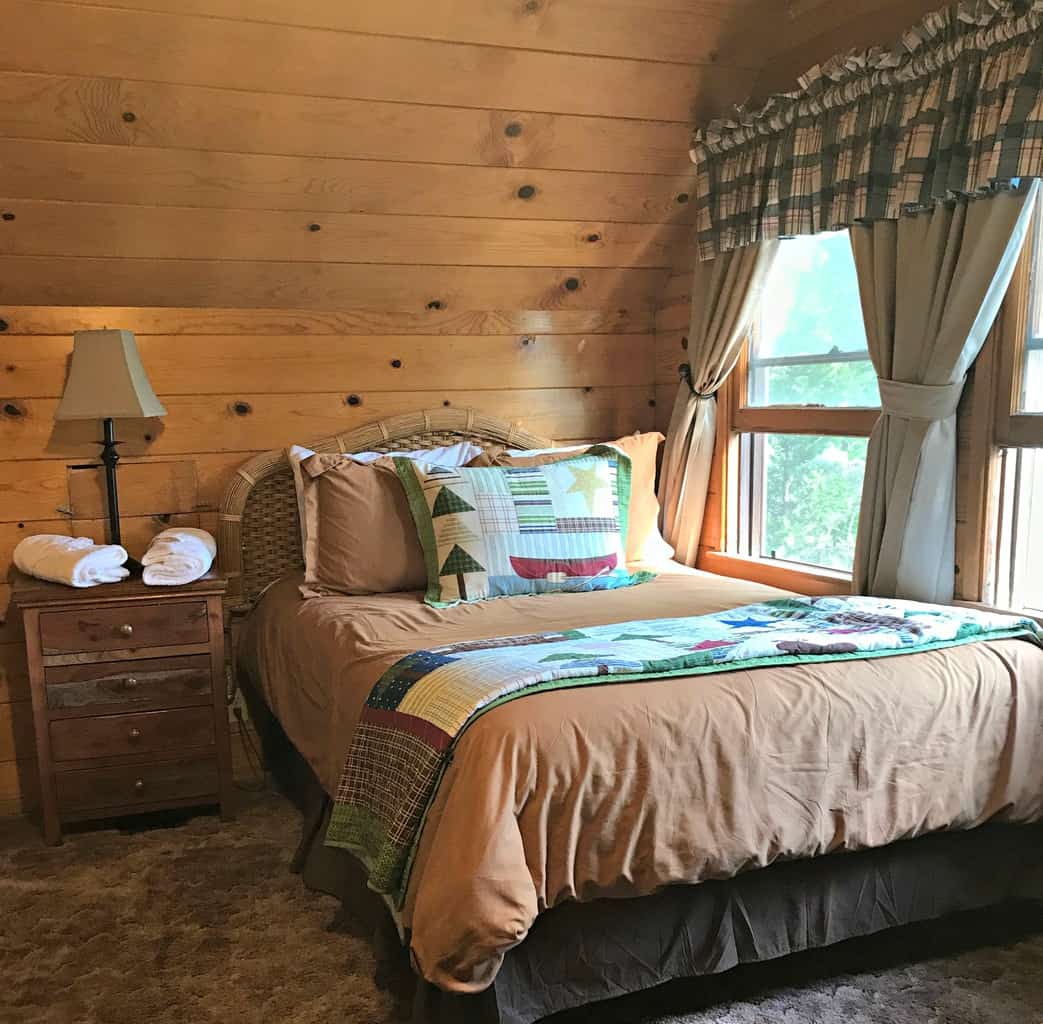 Personally, I would have spent all my time in the master suite if my husband let me! I admired the 2 queen beds, the stone fireplace, the flat screen TV, the vaulted ceilings with sky lights, the private outdoor deck and the cabin's very own jetted bathtub!
Arrowhead Pine Rose Cabins Amenities
Ponderosa Lodge also had plenty of outdoor space for a BBQ, playing games together, running around with the kids and creating lifetime memories. Furthermore, all of Arrowhead Pine Rose Cabins have access to their seasonal pool, year around outdoor jacuzzi, playground, and hiking trails in and around the ponds and streams.
Things To Do At Arrowhead Pine Rose Cabins
One strong suggestion is to make time to go on a hike and visit the Koi ponds and feed the fish. My kids had an absolute blast feeding the Koi with the fish food that we purchased at the front office. The knotted wooden deck surrounding the Koa pond is also stunningly picturesque to walk through. A lot of weddings take place here.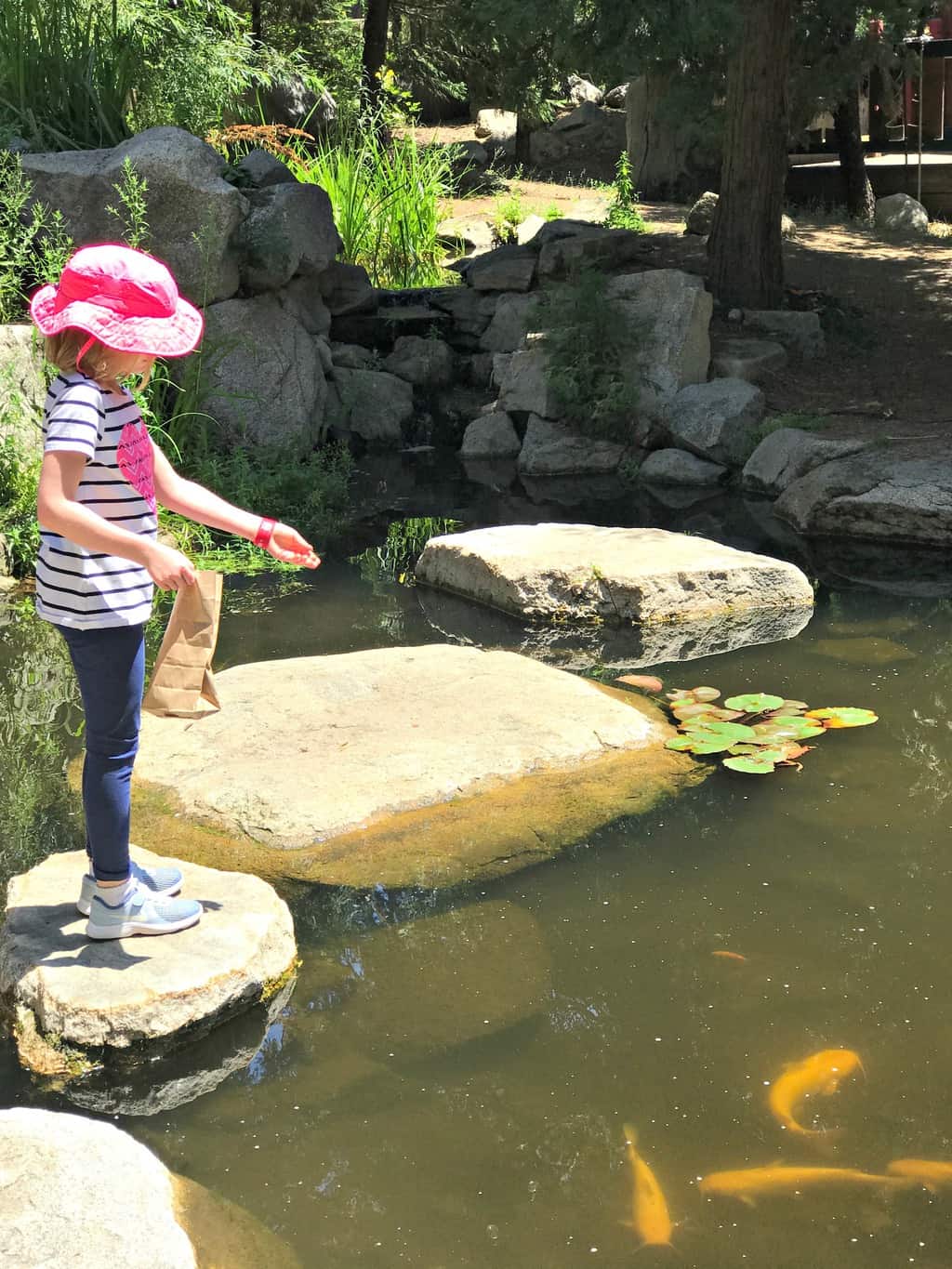 So, on your next family get away to the mountains, vacation in style and comfort at Arrowhead Pine Rose Cabins. Whether it be a studio cabin or a 15-person lodge, take your pick, because you'll have the time of your life and make some fantastic memories!
Happy Field Tripping!
Jilleen
More Things To Do Near Lake Arrowhead
Visit Skypark at Santa's Village All Year Round
Best Places To See Wildflowers in The Inland Empire
Best Places To Explore in The Inland Empire