Written by guest blog contributor Windi Eklund.
Last week we raced over to the grand opening of Hot Wheels: Race to Win at the Discovery Cube OC in Santa Ana!  Discovery Cube OC's newest touring exhibition is sure to please both Hot Wheels and real-life race fans alike.
I don't think it is possible to live in a home with children and not find at least one Hot Wheels car lurking around.  A belief backed-up by Mattel's assertion that they have sold more than 4 billion of them since their introduction in 1968.
Hot Wheels beloved status over the last 45 years is why family members of all ages will find something to explore and treasure at the Hot Wheels: Race to Win exhibit at the Cube that runs from September 19, 2015 – January 3, 2016 at the Cube.
Hot Wheels: Race to Win Features:
A behind-the-scenes look at the thrilling world of racing, including the scientific process for designing fast cars.
Compete in the Pit Stop Challenge, by racing against the clock to change tires and refuel your race car.
Test theories regarding the science of racing by experimenting with a six lane downhill speed track, booster power track, adjustable angles track and timing track.
See and learn about real race car parts, authentic artifacts, and captivating memorabilia.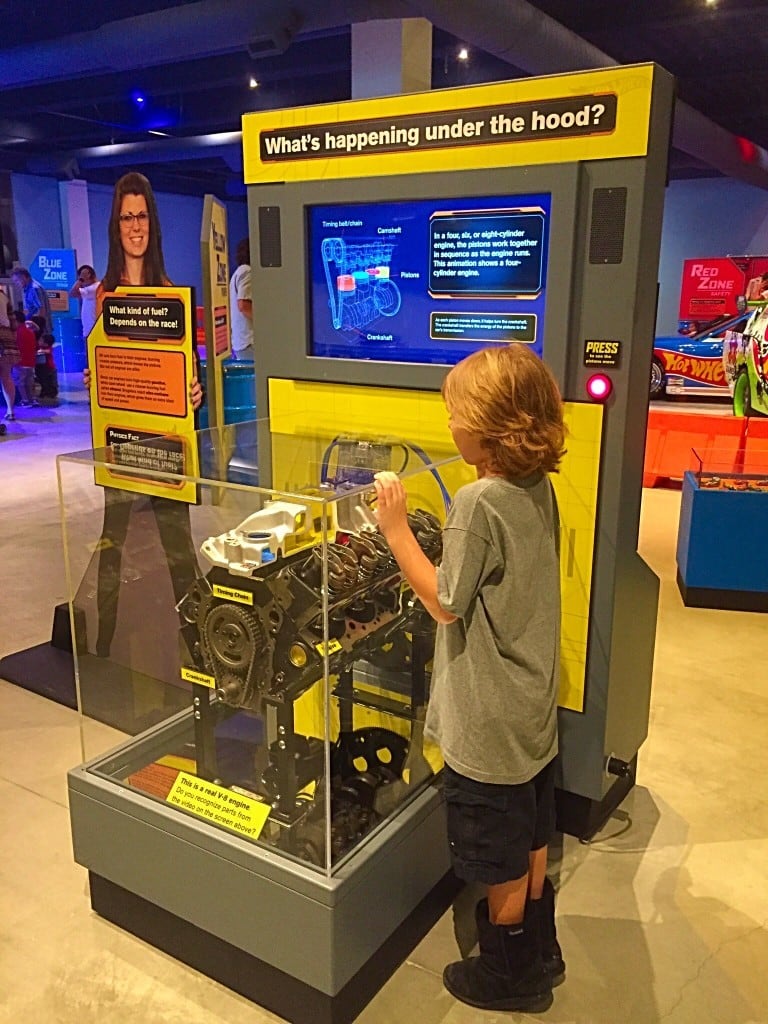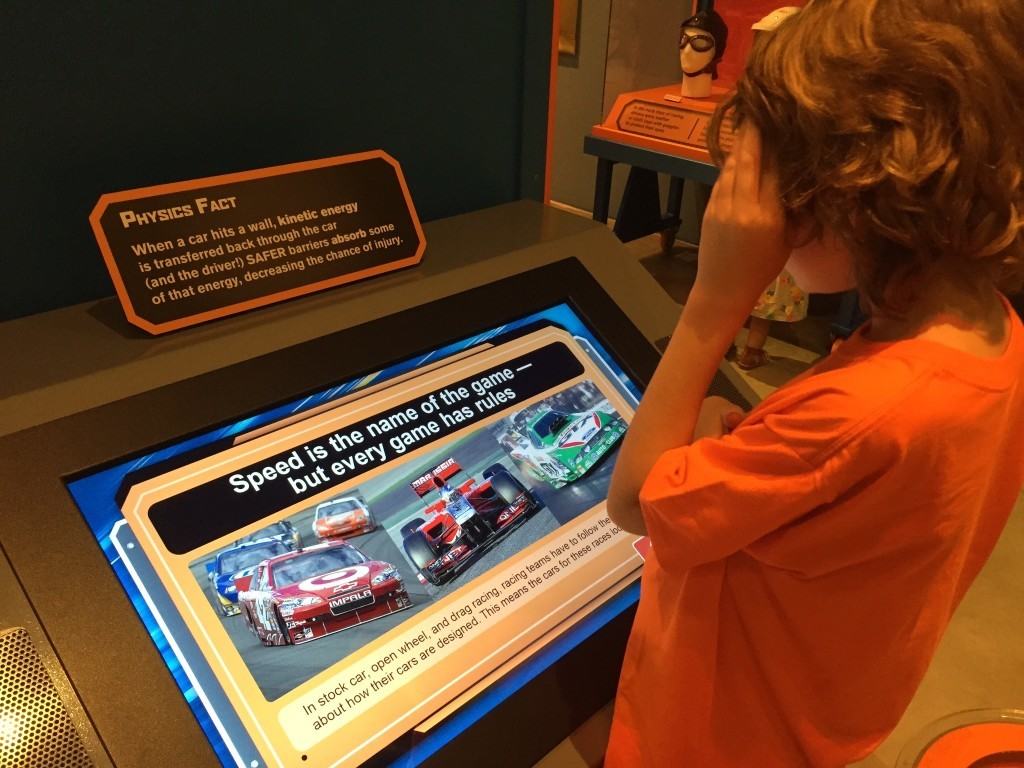 My kids were immediately drawn to the 6 lane downhill speed track!  Several races between the three of them, using various cars, produced a variety of wining racer/car combinations.  It's not often that my 2-year-old daughter can compete equally against my 12-year-old son!
Families with budding tinkerers will also love the booster power, adjustable angles and timing tracks.  Kids can tweak the tracks, see the results and have fun while learning a few things about cars and physics.
Hot Wheels: Race to Win Pit Stop Challenge
I have to say that our favorite part of the Hot Wheels: Race to Win exhibit was the Pit Stop Challenge.  Featuring a full size mock-up of a race car, families team up to try to do the fastest pit stop they can complete with jacking up the car, swapping out tires and filling up the gas tank.  The exhibit is cleverly designed, so that it gives you the feeling of what you imagine it would really be like while still enabling small children to effortlessly take part.  It's a lot of fun and makes for great family teamwork.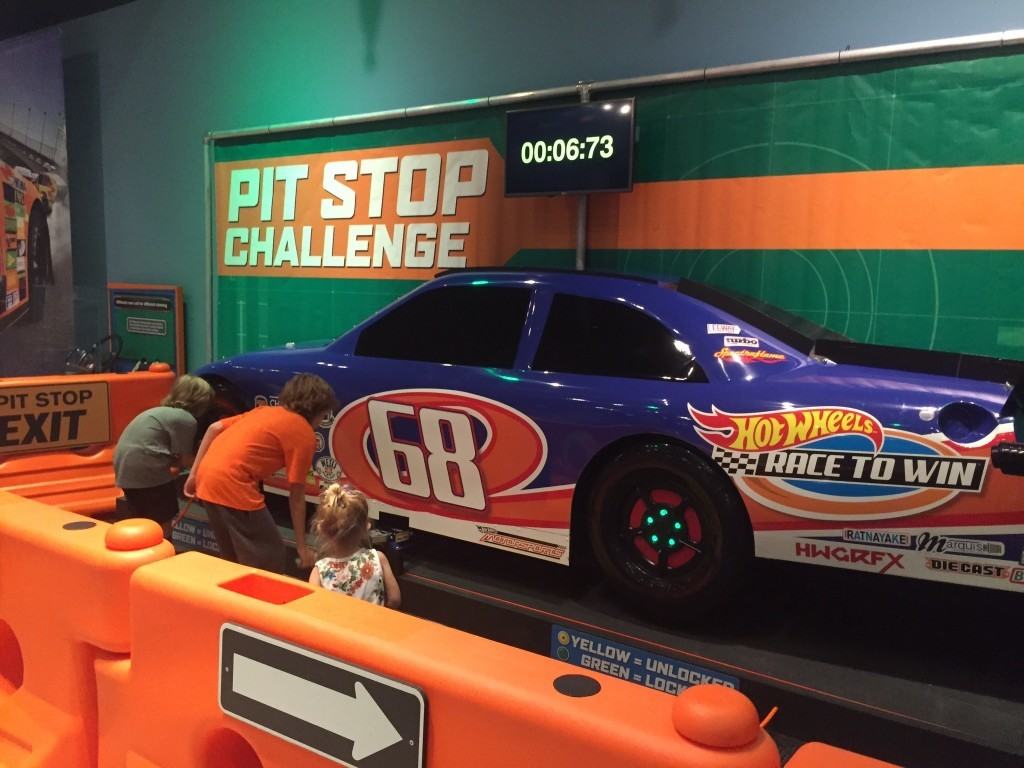 While at the Cube, we also got to meet Hot Wheels' Head Designer Alton as he led a Mattel Design Class.  Alton taught us how to draw our very own Hot Wheels car!
The checkered flag comes down on the Hot Wheels: Race to Win exhibit on January 3, 2016.  So put the petal to the metal and head over to Discovery Cube OC quickly!
Enter to Win Tickets To The Discovery Cube OC
Now enter to win a family 4 pack of tickets to check out the new Hot Wheels: Race to Win yourself!
US Residents Only.  No purchase necessary to enter.  One winner will be randomly selected via RaffleCopter and notified via email.  Winner must respond within 48 hours to claim the prize or a new winner will be chosen via RaffleCopter.  The prize will be fulfilled and shipped by the sponsor.
Happy Field Tripping!
Windi
Disclosure: SoCal Field Trips was invited to attend a media event at the Cube to help facilitate this post.  All points of view and opinions are my own.