While people in the mid west are dreaming about spring, residents of Southern California are enjoying the perks of living in a warm climate. We are thrilled to have warm weather and beautiful beaches almost year round. There are many places in Southern California to enjoy the snow, but instead of heading to the mountains to go snow sledding, why not go to the beach and go sand sledding with your family!
Sand sledding can be fun with just the right gear and condition. In fact, it is exhilarating! The proper position for sledding is to sit or lay on your back on the top of the sled, with your feet pointing downhill. While the dune sand is soft, the area at the base of the dune is hard, which makes for the perfect ride.
Kids who are ready for an adventure can surf down the slope, while other kids can dive on to their boogie boards head first. Just be careful and make sure to explain the rules of sand sledding ahead of time with your children.
7 Places To Go Sand Sledding in Los Angeles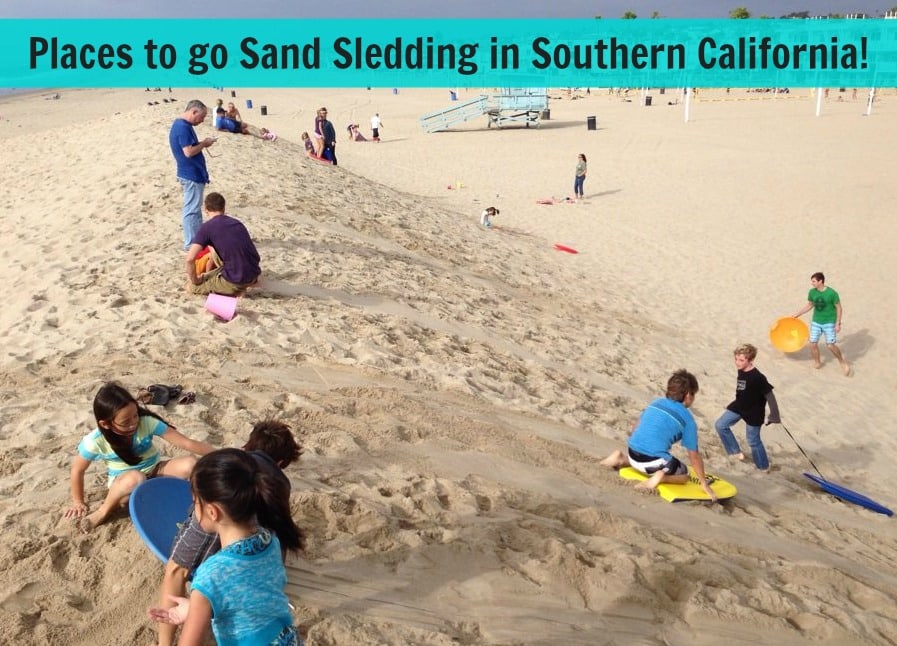 Every winter a few area beaches get their annual sand berms, which are designed to protect against winter storms and violent surf. They can even be as high as 15 feet! But for us SoCal natives, we see these sand berms as ripe for sand sledding!
Venice Beach Sand Sledding
The most well-known slopes for beach sledding are at Venice Beach, located near the life guard station. The city generally erects them towards the end of October and the building lasts approximately a week or two. The Venice Beach sand berm stretches from the pier all along the length of the south parking lot, and they are known to be some of the biggest berms on the west coast. Paid parking is available onsite.
Hermosa Beach Sand Sledding
Every year the city of Hermosa Beach builds a sand hill by the boardwalk at the end of Pier Ave (pass the Strand). The Hermosa Beach sand berms stretch out from both sides of the Hermosa Pier and are a little less steep making them the best spot for the youngest or more cautious sledders.
It is free to the public and you can bring your kids and their boogie boards or round saucers along to play. The closest places to park are the two public metered lots on Hermosa Avenue at 11th and 13th Street.
Zuma Beach Sand Berms
For bigger ones, check out the sand berms at Zuma Beach in Malibu. The berms here are long and much less trafficked than Venice and Hermosa, which also means they aren't as smooth and slick. So, they better for using your snowboard on. Parking is located across the street in the paid parking lot. [Read more…]