This  post may contain an affiliate link.
The shimmering display of lights is back at the LA Zoo to dazzle us all.  Last weekend, my family and I had a memorable evening walking around the zoo and enjoying the displays of thousands of lights.
Even though the resident animals are asleep during the LA Zoo Lights, it's a great way to spend an evening with your kids while walking around with hot cocoa in your hands or going on a date night with your spouse or having a girl's night out.  We've visited Zoo Lights since its debut in 2014 and every year it brings new wonder.
Quick Link: Discount Tickets to LA Zoo Lights
Activities at the LA Zoo Lights
Here's a run down of what you will enjoy at this year's LA Zoo Lights:
Live Reindeers
A herd of reindeer has settled in their "reindeer habitat village" at the zoo.  We saw six reindeers in all.  A zoo guide walked by with fallen antlers in his hand to teach visitors a few fun facts about reindeers.  
For example, in most deer species, only the male grows antlers, but that's not true for most reindeer!  Although the females in certain populations do not have antlers, many do.  Male reindeers lose their antlers in the winter or spring, while females shed theirs in the summer.  Females antlers are also significantly smaller than the males.  It was an educational moment for everyone.
Discover Your Next Adventure with SoCal Field Trips
The LAIR
Apart from the reindeers, the amphibians at the LAIR are the only animals you will get the see while visiting the zoo at night.  During Zoo Lights, the LAIR is decorated with black-insects and orbs, turning it into a psychedelic rainforest.
Shadowbox Op
A few years ago, LA Zoo Lights set up a wall of white backdrops called the Shadowbox Op for guests to have fun and play with their shadows.  Accessories such as wings, frames and reindeers hats are on hand to create fun effects, distorted monsters or to simply do the floss!  The kids had a great time playing and refused to leave the area!
Pictures with Santa
For an additional fee, you can have your picture taken with Santa on select dates in a glittering North Pole setting.
Entertainment
As you walk around, you will hear music playing all throughout the zoo.  At the intersection where you get to the LAIR, disco balls are hung in the trees and upbeat music is blasting so you can't help but get your groove on!  Elephant statues are used as screens to project images moving to the beat of the music.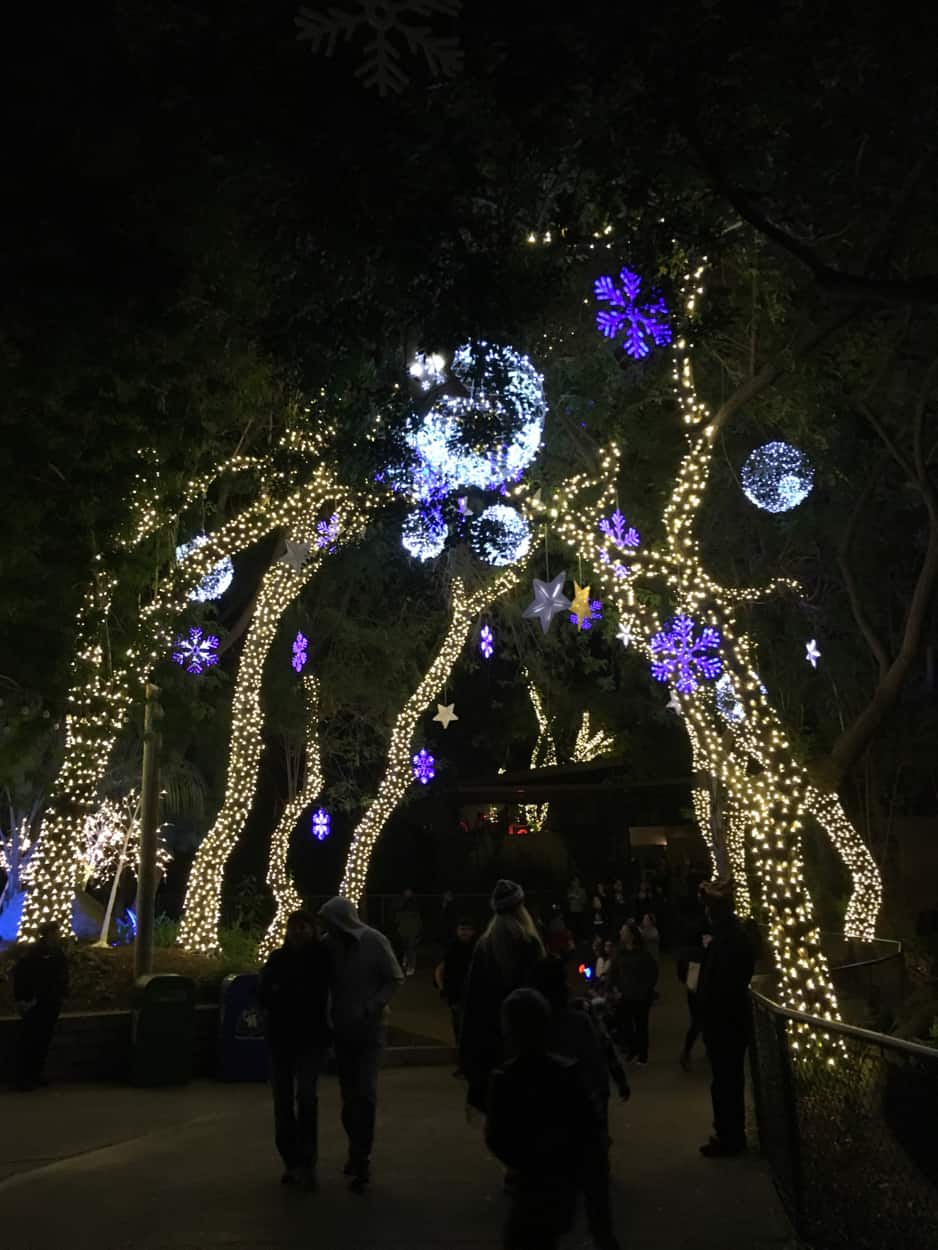 The Carousel
The Tom Mankiewicz Conservation Carousel is glowing with thousand of lights at night and adds up to the atmosphere of the ZOO Lights evening.  For $3 per ride, the kids with enjoy climbing on top of the vintage animal and turn and turn in the merry-go-round.  Right next to the carousel, a backdrop of shimmering silver christmas trees was set up for a photo op.
The Lights
The festive holiday lights sparkle everywhere you go!  Round lights on the Christmas tree at the entrance, strings lights on the trees for a Starlight Safari, a disco ball forest, an animated "Northern Lights" projection with glittering animal constellations, lights on the water with a new spectacular Water and Light Show, lights on the buildings and lights in the shape of meerkats.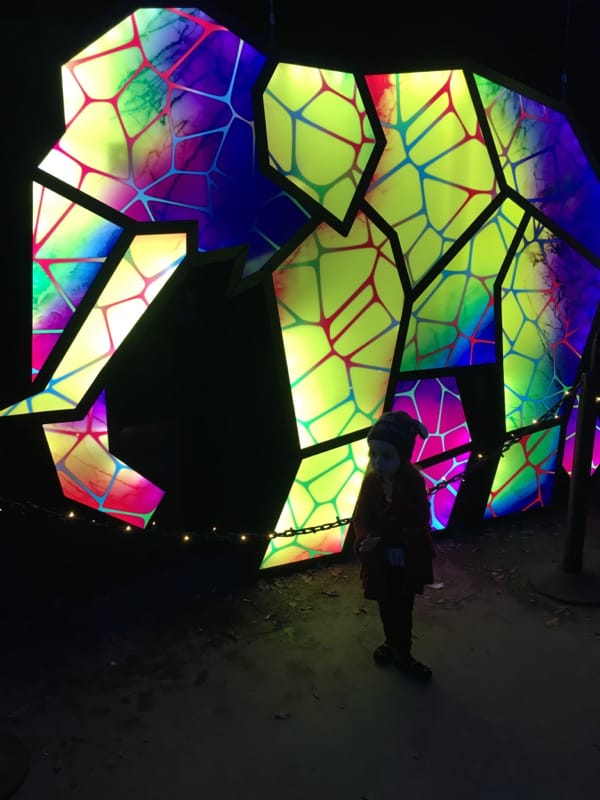 Since it was a warm evening in Southern California we didn't need our jackets.  But, please make sure to check the weather before you go.  You may just need that hot cocoa after all!
LA Zoo Lights Discount Tickets
L.A. Zoo Lights Spectacular takes place every night, November 16 – January 6, from 6:00 – 10:00 pm.
Right now you can get discount tickets to attend LA Zoo Lights for only $11.50 per person through Goldstar.com (a small service applies).
The L.A. Zoo is located at 5333 Zoo Drive, Los Angeles, CA 90027.
Happy Holiday Field Tripping!
Fran Sawyer
SoCal Field Trips Blog Contributor
More Holiday Events in Southern California:
Discount Tickets to Enchanted Forest at Descanso Gardens
Discount Tickets to Knott's Merry Farm