Descanso Gardens, one of my all-time favorite public gardens in Southern California, is hosting Enchanted Forest of Light from November 19 – January 7. For the past several years, my family and I had the opportunity to attend a special media preview of Enchanted Forest of Light before it opened to the general public. The light display is not only enchanting, but truly magical.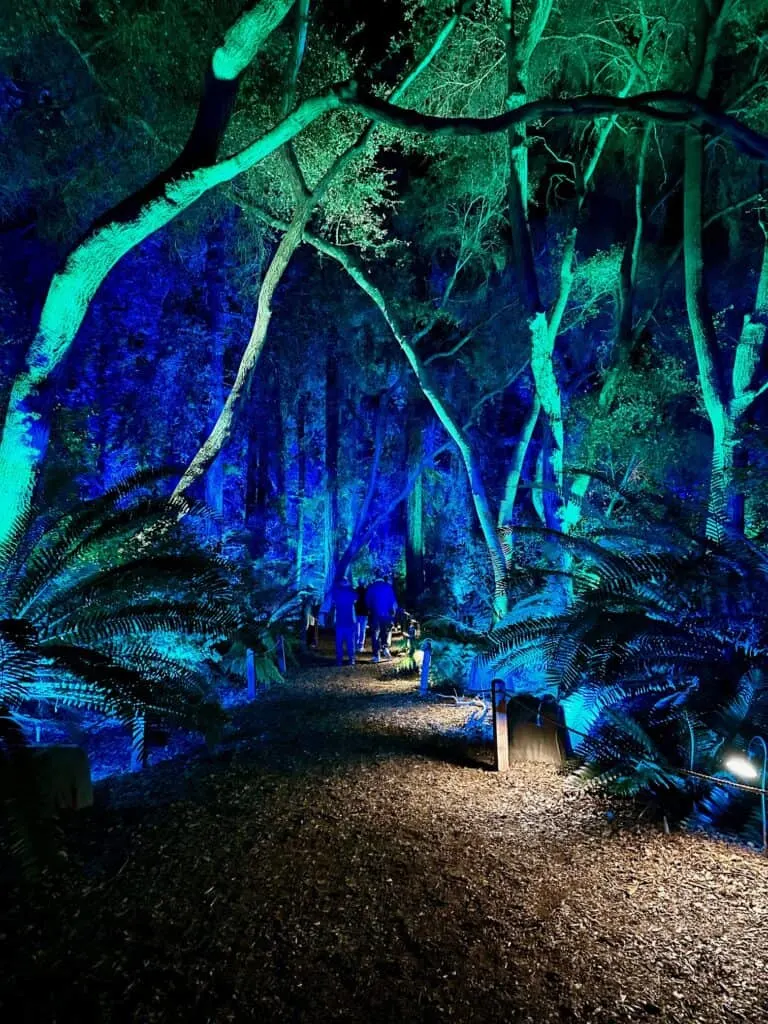 About Enchanted Forest of Light at Descanso Gardens
As the sun set, Descanso Gardens transforms into an Enchanted Forest of Light right before your very eyes. The interactive, nighttime display is unlike anything else you have ever seen in Los Angeles. It is simply mesmerizing! Some other words that come to mind to describe the light display are captivating, riveting and and amazingly beautiful.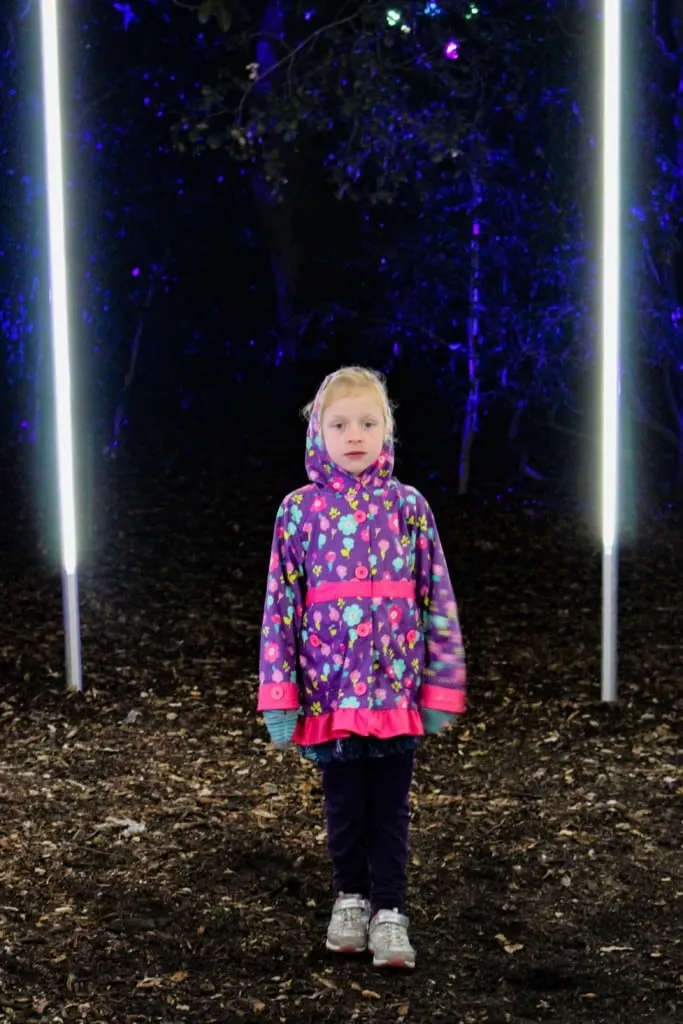 Normally during the day, Descanso Gardens is a 160-acre outdoor wonderland, featuring the Camellia Forest and floral displays in the International Rosarium, natural growth in the world-famous Japanese garden and Oak Woodland. With the Enchanted Forest of Light, these sights are now even more magical.
At night, during the one-mile walk, we passed through 8 distinct lighting displays in some of the most beloved areas of the gardens including the Oak Grove and the Camellia Forest. We were given an experience guide / map upon entering, which helped us make our way along the route in numerical order, 1-8. This year there are 10 stations in all. There are also staff members throughout the garden that helped direct us with their flashlights.
Each section is filled with stunning neon colors and luminous hues that blend in perfectly with nature. From the charming Flower Power display, to the plants and trees in the Fantasy & Ancient Forests, to the Luminous Lawn and then the red lanterns in the Japanese Garden of Good Fortune, I couldn't get enough of all the sights and sounds.
Furthermore, three of the displays are interactive, which allows visitors to manipulate the lights and sounds for themselves. It makes for a fun experience for the entire family.
In particular, my kids enjoyed jumping on the "lily pads" as they liked to call them. Ever so often, when the lights changed color, my children were enticed to jump to the next pad. It was a nice energy release for them too.
Enchanted Forest of Light Tickets
Enchanted Forest of Light, a multi-generational experience designed to delight all ages, is presented daily from November 19 – January 7. Hours are 5:30 pm to 10:00 pm.
Tickets to Enchanted Forest of Light are timed and must be purchased in advance. Children 2 and under are free.
Enchanted Forest of Light Visitor Tips
Enchanted is a rain or shine event.
Tickets have timed entry and must be purchased in advance.
Allow yourself at least 45 minutes to walk through the entire experience. It took us approximately an hour.
Onsite parking is free.
The walkway is wheelchair and stroller friendly.
The temperature can drop dramatically in the evening, so make sure to dress in warm layers.
Comfortable shoes are recommended.
Descanso Gardens is located at 1418 Descanso Drive, La Cañada Flintridge, CA 91011.
Happy Field Tripping!
Jilleen
More Family Holiday Events in Southern California:
14 Holiday Boat Parades in Southern California
50+ Nutcracker Performances in Southern California