Sponsored by Crystal Bridges Museum.
Located in the quaint, blustling small town of Bentonville, Arkansas resides the Crystal Bridges Museum of American Art. Founded in 2005 by Alice Walton, heir to the Walmart fortune, Crystal Bridges is home to more than 50,000 square feet of gallery space and a collection worth hundreds of millions of dollars. Not only is the museum an epic center of art and culture that draws over 60,000 visitors per year, it also serves as a beacon of economic growth and stability for the region.
Crystal Bridges Museum of American Art
The mission of Crystal Bridges Museum of American Art is to welcome all to celebrate the American spirit in a setting that unites the power of art with the beauty of nature. The land on which the museum sits was once part of the Walton family property in Bentonville, where Ms. Walton's father, Sam Walton, opened his first five-and-dime in 1951.
Decades later, Mrs. Walton hired Boston architect Moshe Safdie to design Crystal Bridges Museum up against the backdrop of a beautiful narrow steep-sided valley and stream of running water called Crystal Spring, from whence the name.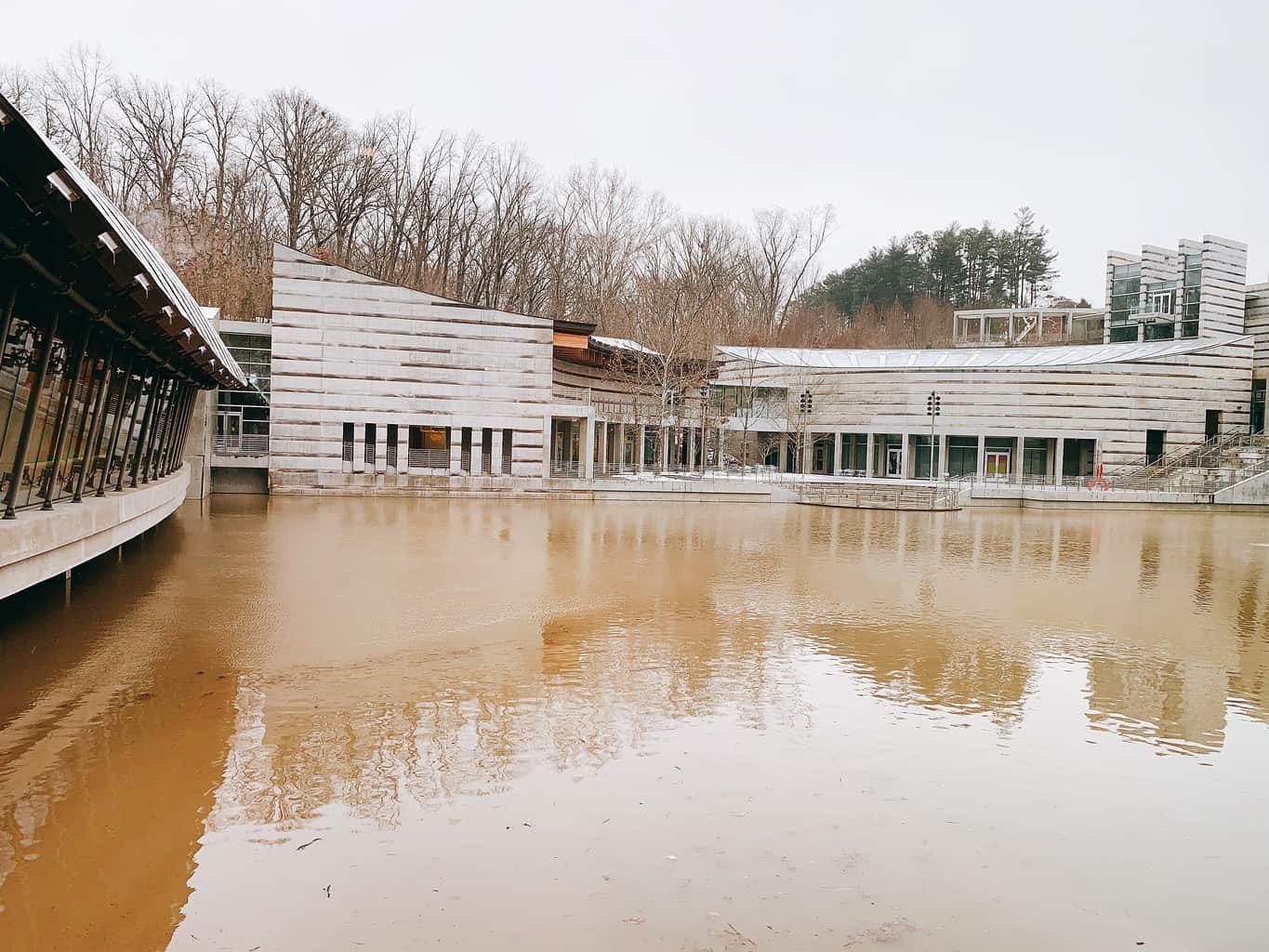 Crystal Bridges Trails
Today, more than 3.5 miles of trails wind through the museum's 120-acre site, providing guests with access to the beautiful Ozark landscape. The trails help guests form connections to the land and its history, as well as enjoy outdoor artworks. The trails are open year round and are free to explore. They are especially beautiful after a fresh blanket of snow has graced the area.
Crystal Bridges Exhibitions
Crystal Bridges' art collection spans five centuries of American art, featuring masterworks by artists from Colonial times through today. As I walked throughout the galleries, it was intriguing to view the artwork in chronological order and learn about the different types of paintings from a variety of American artists unbeknownst to me.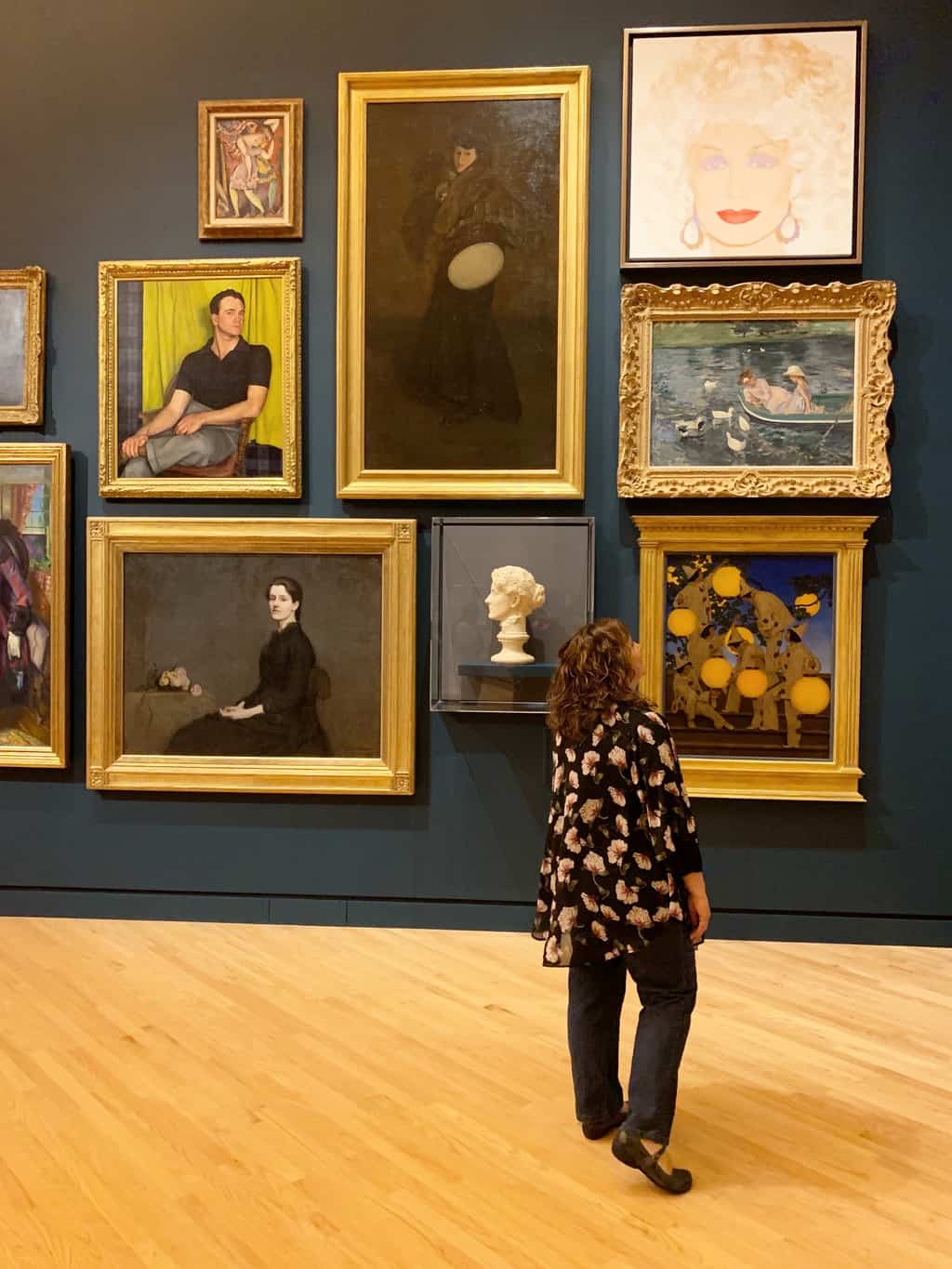 It was a journey through American history that began with the introduction of a portrait of George Washington (ca. 1780-1782, oil on canvas) by Charles Wilson Peale. The portrait was commissioned by John Hancock — president of the Continental Congress and a Bostonian — in gratitude for liberating Boston in March 1776.
Another piece of artwork that struck my interest was Jessica Penn in Black White Plumes (1908, oil on canvas) by Robert Henri. According to Google Arts & Culture, "Robert Henri introduced American audiences to a radical new mode of portraiture characterized by a dark palette, gestural brushwork, and spare compositions that focused intensely on the subject's face." He mastered the art of painting black on black.
Each exhibition has it's own focus and tone. The Museum's permanent collection galleries are refreshed regularly, with new acquisitions and works from the Museum's vaults displayed on a rotating basis in addition to familiar guest favorites and a changing array of special focus groupings and temporary installations of light-sensitive works.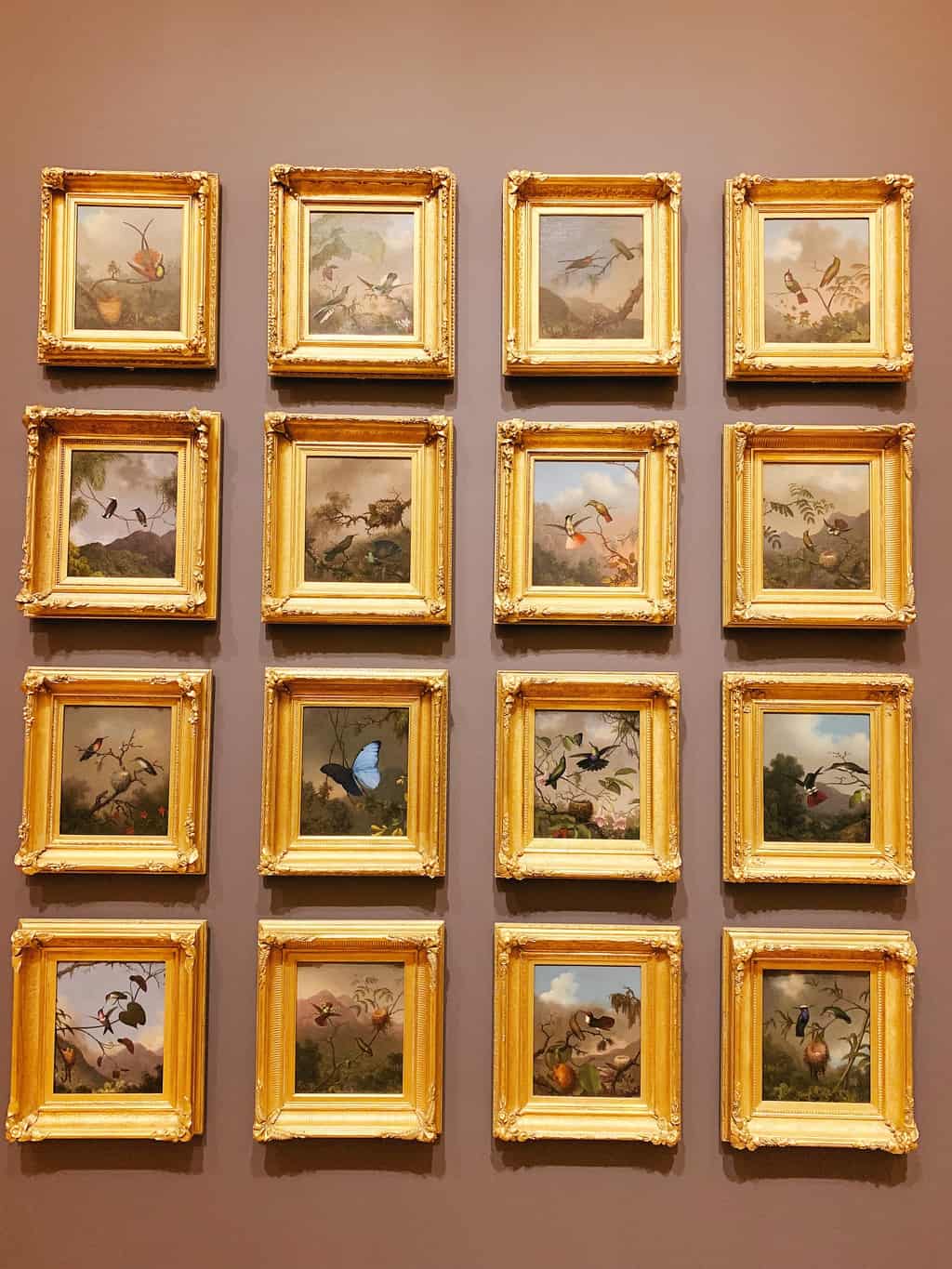 Crystal Bridges Contempory Artwork
Crystal Bridges is committed to exploring the unfolding story of America by introducing you to contemporary artists who are pushing boundaries and inspiring us to discover new ideas. As an admirer of contemporary art, this was my favorite part of the museum. I spent well over an hour reading about each individual art piece.
Crystal Bridges also has a free app, available on both Apple and Android devices, that features audio tours of current and past exhibitions, and many of the Museum's lectures and gallery talks.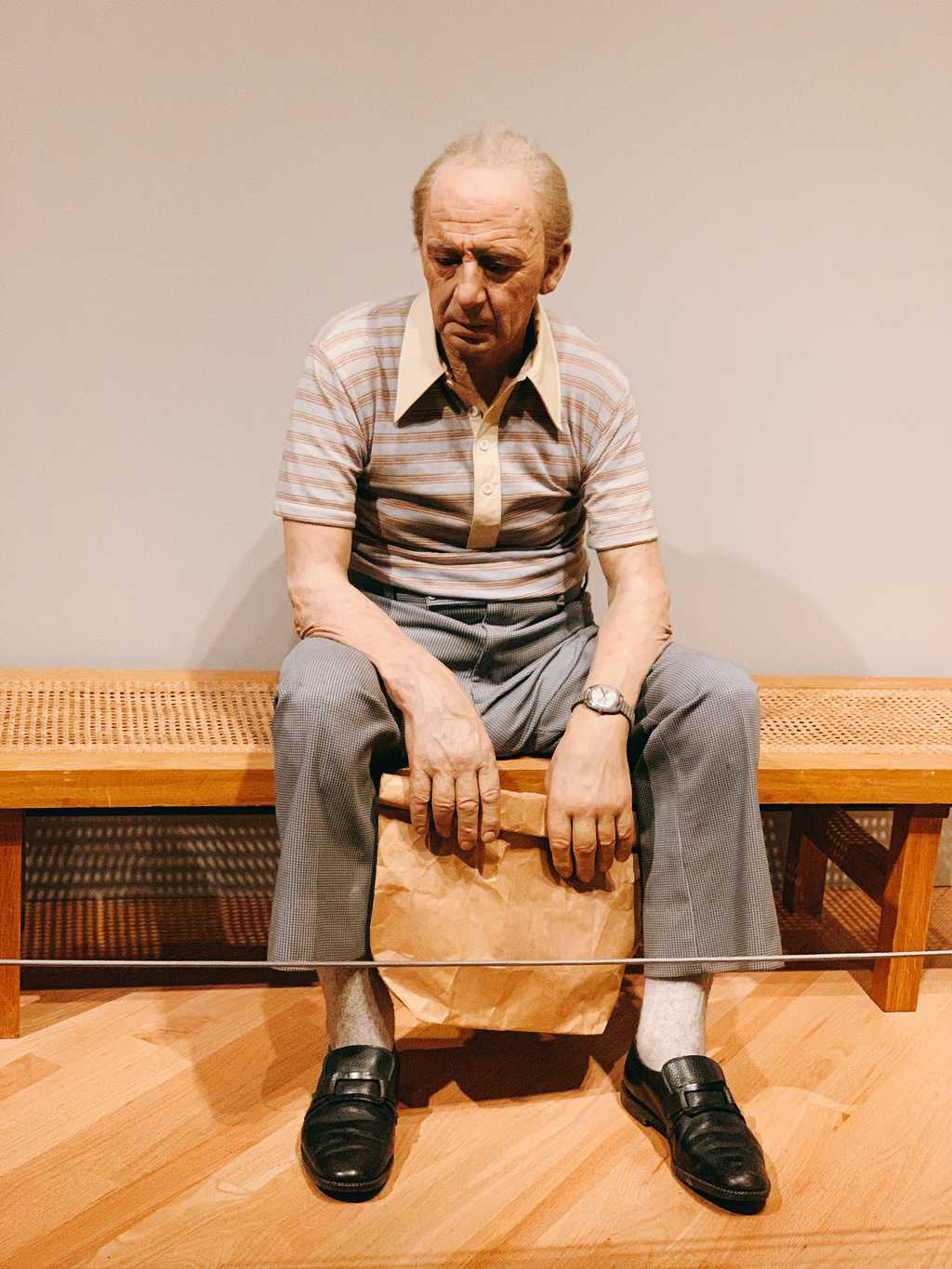 Crystal Bridges Education
As a strong believer in field trips and hands-on learning for students, I was very impressed with Crystal Bridges Education program. Crystal Bridges provides year-round programming for all ages, including lectures, performances, classes, and continuing education for K-12 teachers. More than 45,000 schoolchildren visit the Museum each year as part of the Willard and Pat Walker School Visit Program, which offers schools reimbursement for out-of-pocket expenses associated with a school field trip, including transportation costs, substitute teachers, and lunch.
For those that live in other parts of the country and around the world, Crystal Bridges is working on a new initiative to develop high-quality distance learning opportunities for students and teachers. I can't wait to watch them at home with my children in California.
Crystal Bridges Virtual Reality Experiences
Crystal Bridges is also known for using cutting edge technology like virtual reality to immerse visitors into the stories of American art and architecture. Their highly innovative tech team has developed a series of virtual reality videos for select works of art like the Frank Lloyd Wright House and Fly's Eye Dome so visitors can interact with the museum like never before.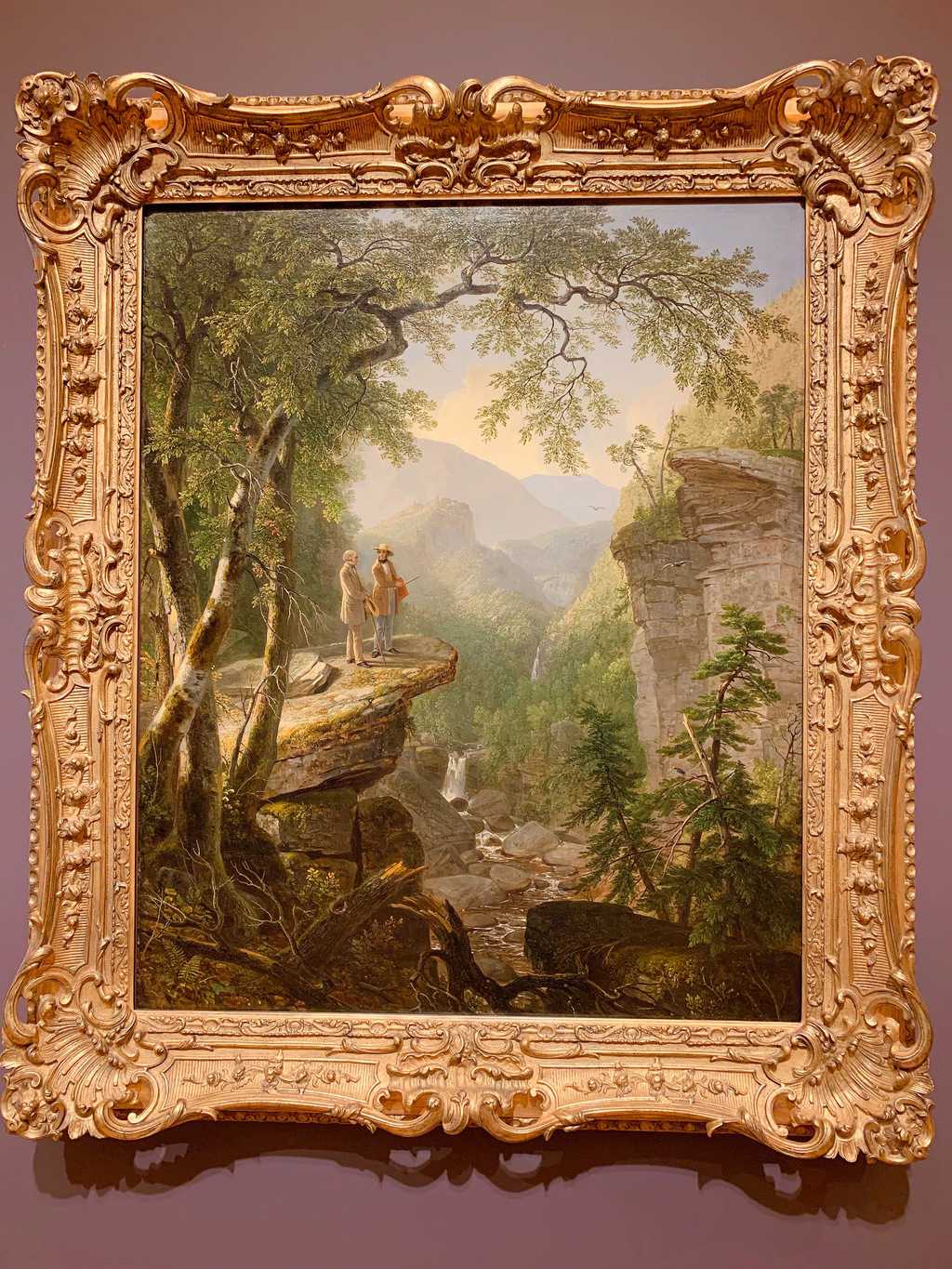 During my visit to the museum, I had the opportunity to step into the world of Asher B. Durand's acclaimed painting Kindred Spirits (1849, oil on canvas). Thanks to the museum's CBRV viewer, I was able to observe the Hudson River Valley landscape and American wilderness from all different angles. It was breathtaking! Take a look for yourself, here!
Man of Steel, Women of Wonder
This coming February, a new exhibition titled Man of Steel, Women of Wonder will make its debut at Crystal Bridges. Developed by Crystal Bridges Assistant Curator Alejo Benedetti, the comic inspired exhibition will examine art-world responses to Superman and Wonder Woman ranging from their Depression-era origins to today's contemporary artist interpretations. Topics such as national identity, American values, social politics, and the concept of humanity can be seen through the lense of 70 paintings, photographs, installations, videos and more by over 50 artists.
I was lucky enough to get a sneak peak of the exhibition while touring the museum with a group of travel bloggers from around the country. We also witnessed Men of Steel, Women of Wonder artist Robert Pruitt send an original artwork into space during a special launch party on the museum grounds. It was a great time had by all!
Men of Steel, Women of Wonder will open to the public on Feb. 9. Tickets are $12 or free for members and youth ages 18 and younger. To learn more about upcoming events and new exhibitions at Crystal Bridges Museum of American Art, visit crystalbridges.org.
Happy Field Tripping!
Jilleen