This past November, my family and I had a wonderful time on our weekend get away to Santa Barbara, the American Riviera.  We planned our weekend so that we could hit up as many places as possible in the few days of our stay.  We looked into many Santa Barbara hotels on the beach, but ideally wanted to stay at a resort that had first class accommodations and was located near all the activities the city had to offer.
Upon our search for a well-rated hotel, we came across the Hyatt Centric Santa Barbara.  You can't find a better situated hotel than this one, which is a stone's throw from the beach and a few minutes' walk to downtown.  The Hyatt Centric is also just a brief drive from the Santa Barbara Zoo, Santa Barbara Natural History Museum and MOXI Museum.
Santa Barbara Hotels On The Beach
Hyatt Centric Santa Barbara has all the amenities you would expect for a great vacation.  The hotel has a sizeable pool and a jacuzzi replete with a firepit for those balmy evenings.  From the pool area, the hotel offers a magnificent view of the ocean and an extraordinary vantage point to witness a beautiful sunset.  Our family got to witness that sunset sitting by the firepit, while mom and dad enjoyed some wine and the kiddos a cup of hot chocolate.
Hyatt Centric Santa Barbara is an elegant historic hotel that was built over 88 years ago.  It is of old Spanish colonial style lined with magnificent dark wooden celling's and beams of far reaching archways filled with the ocean's breeze.
The hotel was then named The Mar Monte Hotel and Hyatt Centric Santa Barbara has meticulously maintained the original essence of this historic Santa Barbara landmark.  There are pictures of the hotel from the 1930's lining the hallways that reveal its rich history as a premier hotel in the American Riviera.
Hyatt Centric Santa Barbara
Our family was graciously invited by Hyatt Centric Santa Barbara to stay in their Santa Maria Suite.  What a marvelous treat!  We were welcomed with a spread of cookies and other goodies.  The suite was graciously appointed with a dining table, a living room area with a wrap-around couch and two 42' flat screen televisions to enjoy a movie with the family.  Overall, the suite was quite spacious at 586 sq. ft and offered a view of the ocean from every window.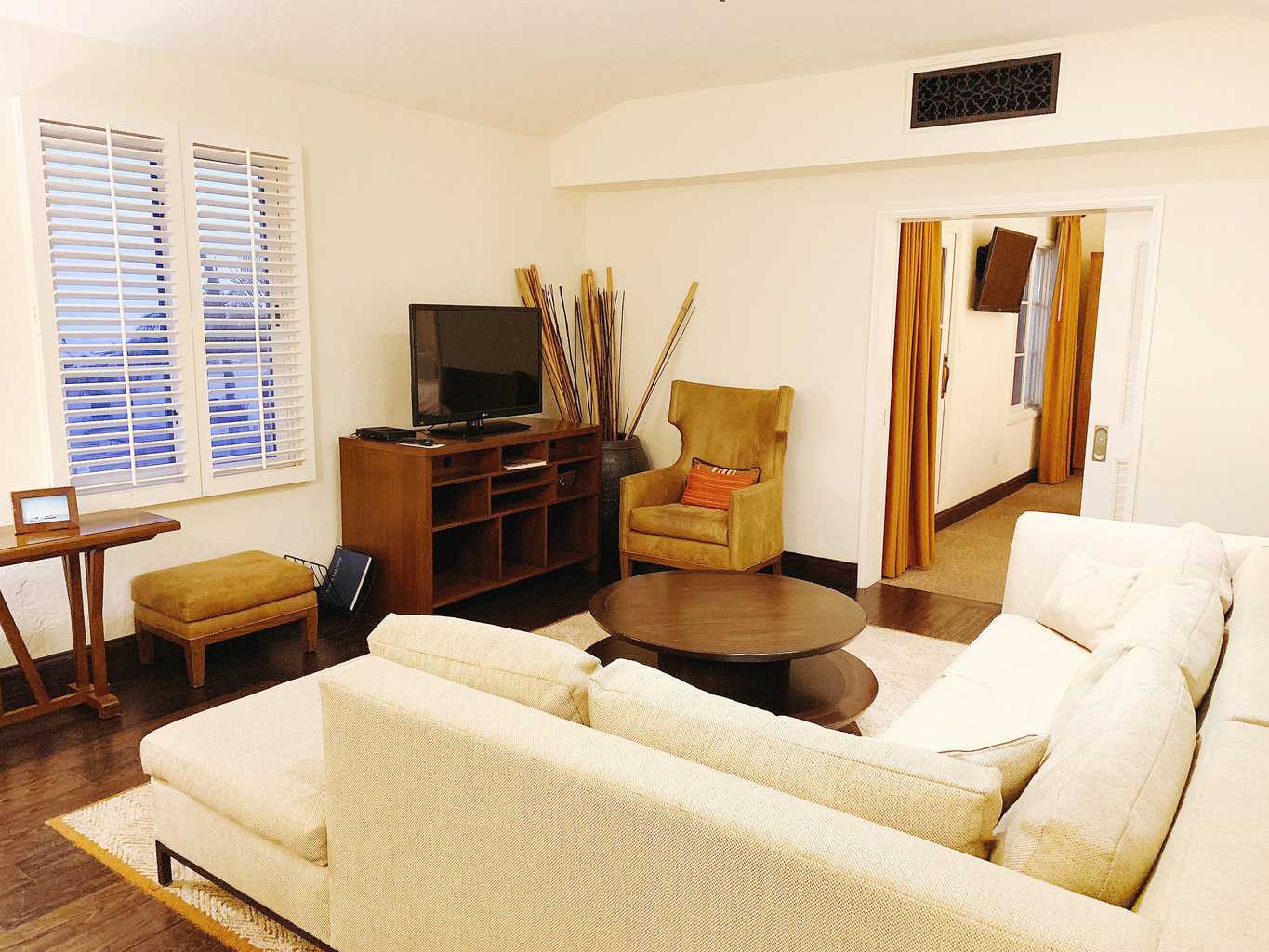 In the master bathroom, the suite had double sinks along with a sizable bathtub and a spacious shower bringing down the action from a fixture in the ceiling and the wall.  My wife could have spent all day in the bathtub.
The master bedroom had a massively comfortable bed and ample closet space, along with a balcony to take in the beach-side scenery while lounging on the patio chairs enjoying some of the region's fine wines.  My kids decided to test out the bed for mom and dad before we went to sleep.
We were appreciative of the other amenities in the room too, such as stashing away our left-overs in the refrigerator and having a coffee machine nearby.  Especially since I'm the coffee junkie in our family!
Hyatt Centric Santa Barbara Dining
The next morning, we headed downstairs for a nice breakfast at Marbella Restaurant.  Here, we were graciously welcomed and quickly seated.  There's something special about have a nice strong cup of coffee along with a cool ocean breeze.  Open daily for breakfast, lunch and dinner, Marbella specializes in innovative California coastal cuisine.  The menu draws on the bounty of the sea, and dishes are complimented by fresh, sustainable local produce and vintages from nearby wineries.
I decided to go with the regional standard, Huevos Rancheros, over easy.  It was one of the best Huevos Rancheros plates I've ever had.  I highly recommend it.  My wife, on the other hand, ordered the classic Avocado Toast served with two fresh eggs, tomatoes, sprouts and avocado served on sprouted whole wheat bread.
My children ordered the delicious Vanilla Malted Waffle served with warm honey pecan butter, fresh berries and vanilla wipped cream.  My daughter said it was divine.  That's a big statement for a nine-year-old!
Hyatt Centric Santa Barbara Reservations
In summary, I must say, the Hyatt Centric Santa Barbara was a great choice for our family vacation along the American Riviera.  The staff was warm and welcoming and the kids had a fantastic time, especially by the pool and around the outdoor fire pit.  Mom and dad were able to relax and make some incredible memories too.  So, when planning your next visit to Santa Barbara, book a room at the Hyatt Centric.  I guarantee you'll be well taken care of and have a wonderful time.
Happy Travels!
Andrew Butler
SoCal Field Trips Blog Contributor
More Things To Do With Kids in Santa Barbara
Vist the MOXI in Santa Barbara
Go Horseback Riding at Circle Barb B Dude Ranch
Go Whale Watching in Santa Barbara