Travel Partner
Traveling, in general, leads to fatigue.  The long days, though full of adventure and fun, cause exhaustion and the desire to just rest your head on a pillow.
Recently, I attended a blogging conference in Charleston, South Carolina where the same effect took over my body.  I desperately needed a place to stay and recharge for the night, which is why I booked a room at Extended Stay America – Charleston – Mt. Pleasant.
Extended Stay America Business Travel Review
The hotel was conveniently located off the freeway and only 10 minutes away from historic downtown Charleston.  The fact that the hotel was centrally located to downtown, also took away the extra frustration of having to find parking in an unfamiliar city.
Extended Stay America – Charleston – Mt. Pleasant offers free parking onsite.  Normally, parking in downtown Charleston can be very expensive and limited in the city.  So, taking advantage of such an amenity as free parking is a must have for business travelers like myself.  Furthermore, I took Uber and Lyft into the city, which also saved me a lot of time and money.
When I got back to the hotel, after the first night of the conference, I was pleasantly greeted by the hotel staff who issued me a key and brought a set of cooking supplies to my room.  The mid size studio came fully equipped with a queen size bed, small kitchenette, a desk for working on, cable TV and free wifi.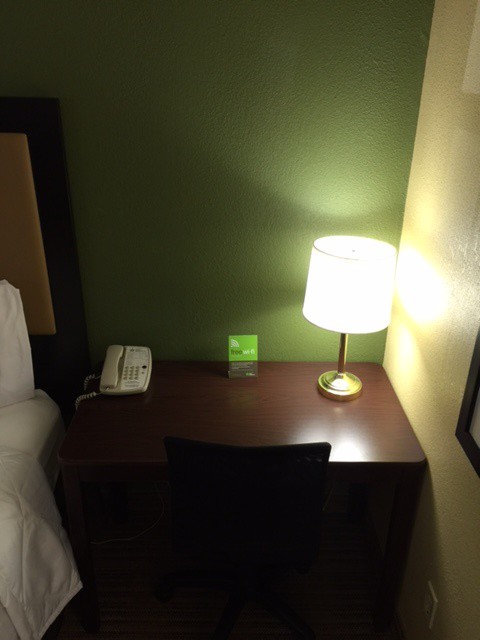 After unpacking my luggage, I decided to make myself some tea and relax in the fresh linens and watch my favorite shows as a presleep way to wind down.  It worked like a charm.  I was out within minutes!
Furthermore, Extended Stay America – Charleston – Mt. Pleasant has a convenient laundry facility onsite and offers a free continental breakfast in the morning from 6:00 – 10:00 am.
Overall, Extended Stay America – Charleston – Mt. Pleasant is a prime hotel for business travelers and designed especially for longer stays.   Extended Stay America – Charleston – Mt. Pleasant is located at 304 Wingo Way, Mt. Pleasant, SC 29464.
To book your next stay at any Extended Stay America, visit www.extendedstayamerica.com.
Happy Traveling!
Jilleen
More Extended Stay America Offers
Stay More, Save More at Extended Stay America
Maximize your stay without maxing out your budget with Extended Stay America's affordable weekly, biweekly and monthly rates.  Whether you're on assignment, between homes, relocating or just want to extend your vacation a wee bit more, they understand that night after night in a hotel can add up.  With this discount, the longer you stay, the more you save off of your nightly rate.
Extended Stay America loves pets!  A maximum of two pets are allowed in each suite.  Height and length restrictions apply.
Military Rates at Extended Stay America
If you're in the government or military and need lodging for a longer period of time due to relocation, reassignment, or BRAC, extended stay suites are the answer.  Hundreds of their hotels offer both government TDY and PCS rates and give you the advantages of a studio apartment with none of the hassles.  All hotels are registered with CCR as a U.S. government contractor and are FEMA-approved.  Hundreds of hotel rates are available at or below per diem, with nightly, weekly, and monthly rates.
Seniors can enjoy the comfort and convenience of an Extended Stay America suite at a special rate.  Guests 55 years of age and older qualify for our Seniors rates, available at all Extended Stay America locations in the United States and Canada.  Just book through this page using the booking link above, and select Seniors from the rate menu.