This post may contain an affiliate link.
Last year, I had the pleasure of attending the opening night of L.A. Zoo Lights at the Los Angeles Zoo and Botanical Gardens with my family.  It was a dazzling event, to say the least!  Athough we were already familiar with the Griffith Park light displays (which are no longer there), this was the first time we had attended L.A. Zoo Lights exhibit.
Upon arrival, we were greeted by the enchanting music of Cirque du soleil's Kurios on the esplanade.  It was a great way to bring in the holiday spirit.  Plus with the cold weather outside, we were reminded that even though we were in California, winter had settled in.  Then we took a leisurely stroll throughout the zoo and enjoyed the various light displays, which were aplenty.
The zoo animals were asleep at the time, but various light shows welcomed visitors along the path and inside some of the enclosures.  The stars of the show, reindeers aptly named Belle, Jingle, Noel and Velve, were located in the Reindeer Romp Holiday Celebration area.  They were quite sleepy on the night that we visited, but then again, they did need to get their beautfy rest before having to deliver Christmas presents on Christmas Eve.  Santa Claus is also available to take holiday photos with your kids on the weekends at the zoo.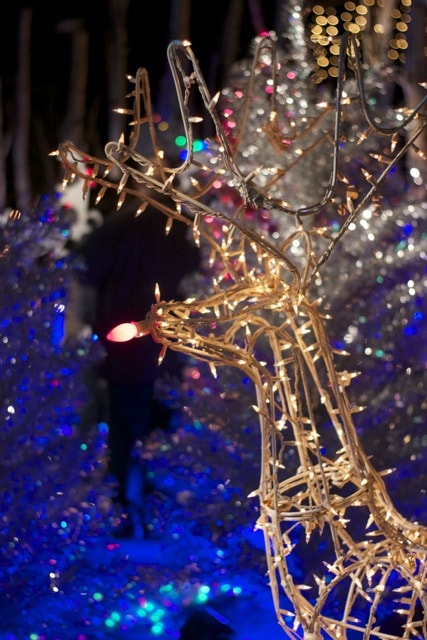 Now, a few words of advice before you venture into the wild world of the L.A. Zoo Lights.  Make sure to bundle up beforehand!  Baby, it's cold outside!  I recommend that you wear several layers of clothes and bring gloves (our hands were freezing as we forgot this minor detail) and blankets for smaller children who like to sit in strollers.  For your information, no outside food or thermos with warm drinks are allowed inside, but they do serve hot chocolate for a small fee.
The line outside to get into the zoo looks fairly long, but thanks to timed entries, it moves pretty fast.  You will also not be able to see the zoo animals during L.A. Zoo Lights.  The zoo is simply a welcoming background for the light displays.  In fact, most of the animals are asleep, the enclosures are closed and the staff asks you to respect the animals by remaining quiet in certain areas of the zoo.
LA Zoo Lights Discount Offer
See you at the light show!
Fran
SoCal Field Trips Blog Contributor
More Family Holiday Events in Southern California:
Discount Tickets to Enchanted Forest at Descanso Gardens
Discount Tickets to Winter Fest at The OC Fair & Event Center
100 + Family Festival Holiday Events in Orange County
$25 Discount Tickets to Knott's Merry Farm