Affiliate link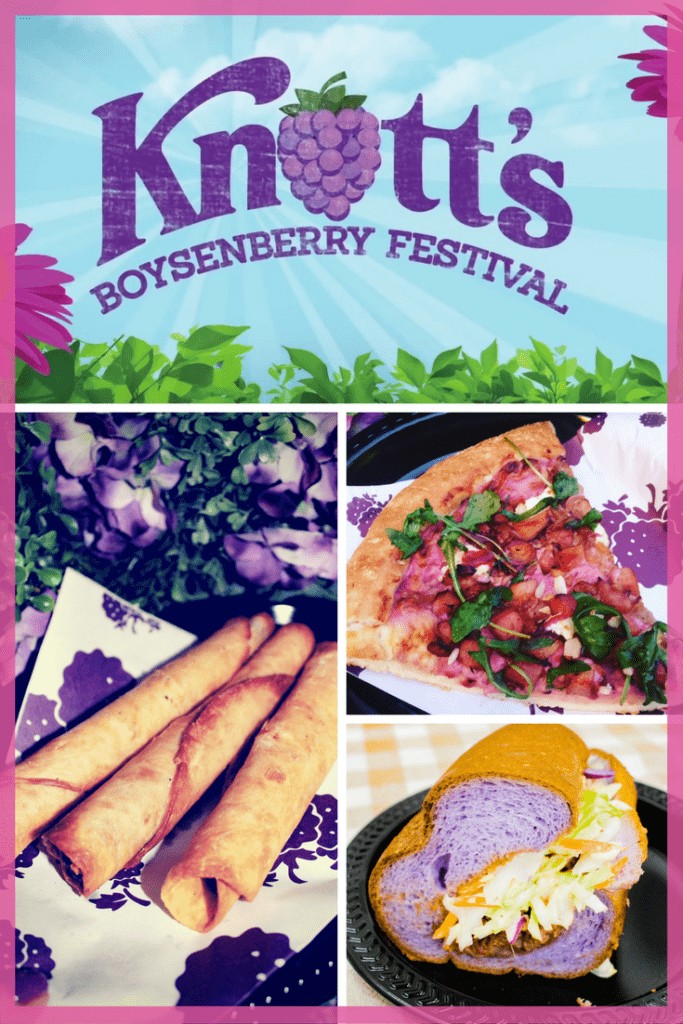 The Knott's Boysenberry Festival in Buena Park, California returns this spring from April 1-23. The annual celebration of "all things boysenberry" features over 70 unique boysenberry dishes, drinks, desserts and more!
Did you know that the boysenberry is Knott's founding fruit? Knott's Boysenberry Festival celebrates this precious fruit, which is a cross between a blackberry, raspberry and loganberry. It was originally created by Walter Knott and Rudolph Boysen. During Knott's Boysenberry Festival, the highly acclaimed purple berry is put up on a pedestal and showcased in unimaginable ways.
Recently, I had the opportunity to attend a media tasting at Knott's to sample the 2017 line up of mouthwatering boysenberry inspired dishes for the annual festival. First up, and new this year to the menu, was the irresistible boysenberry pizza made with dark arugula and fresh goat cheese. The pizza had a sweet aroma about it thanks to the pineaapple and boysenberry sauce on top.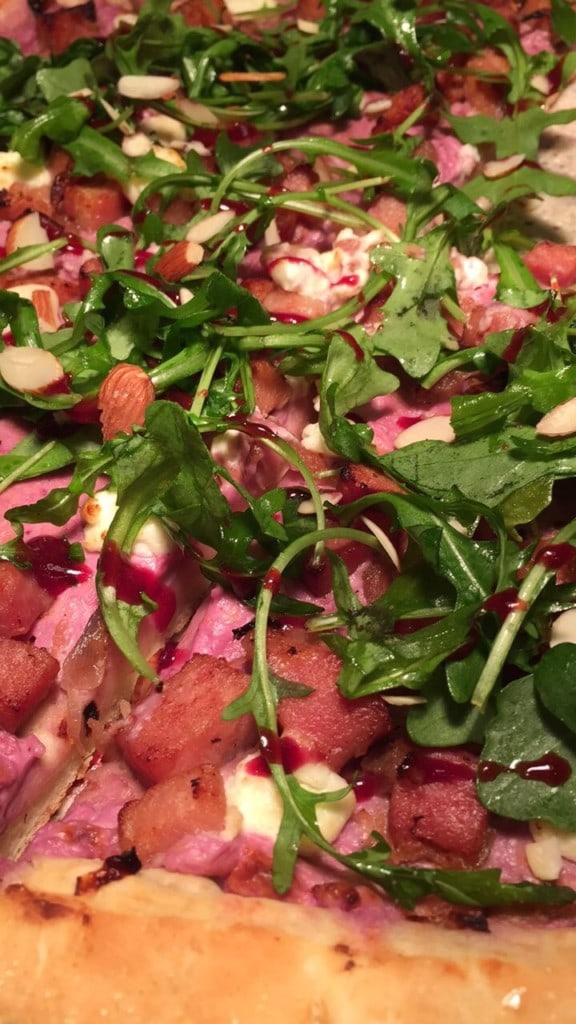 Up next, was the unforgettable and delicious new ravioli dish packed with boysenberry flavors, the freshly-baked boysenberry fry bread and lip-smacking corn on the cob with boysenberry butter and mayo. Just be careful handling the corn on the cob though. It is steaming hot!
Each dish left me wanting more of that sweet boysenberry taste. Other must try classic items included crispy deep fried alligator bites paired with farm-made zesty boysenberry aioli, finger-lickin boysenberry BBQ wings, savory boysenberry meatballs, sweet boysenberry cream soda, creamy chocolate covered boysenberry cheesecake on a stick and many more delicious treats.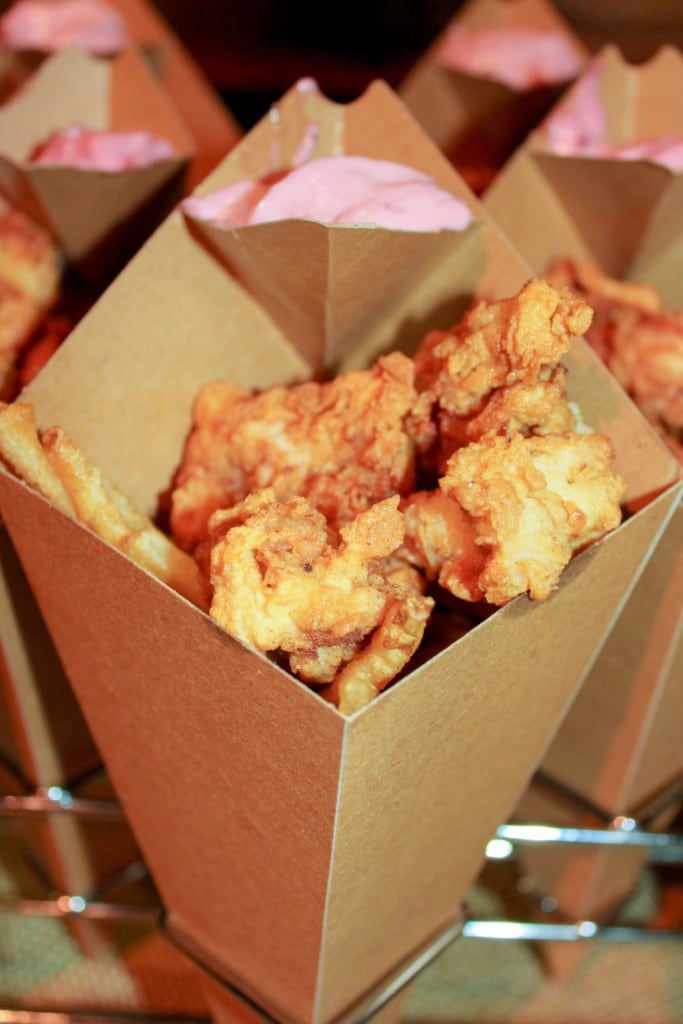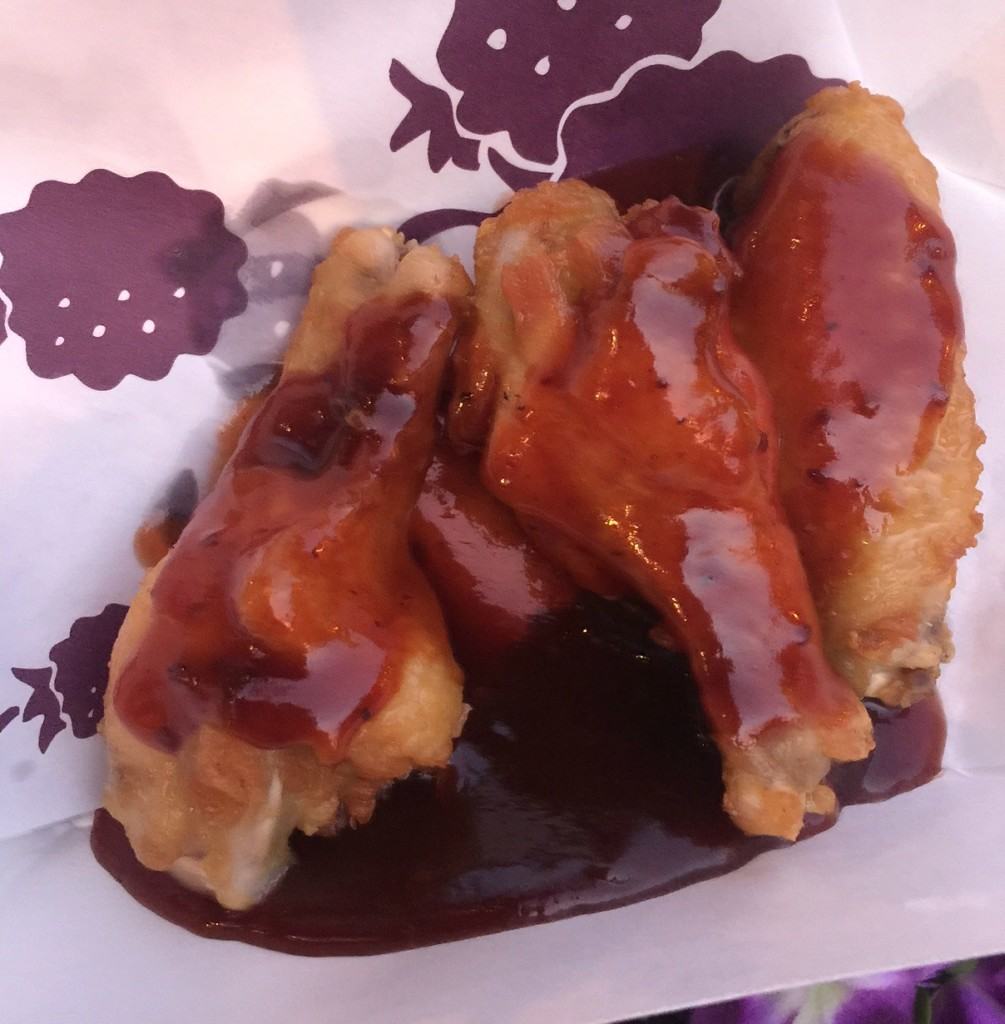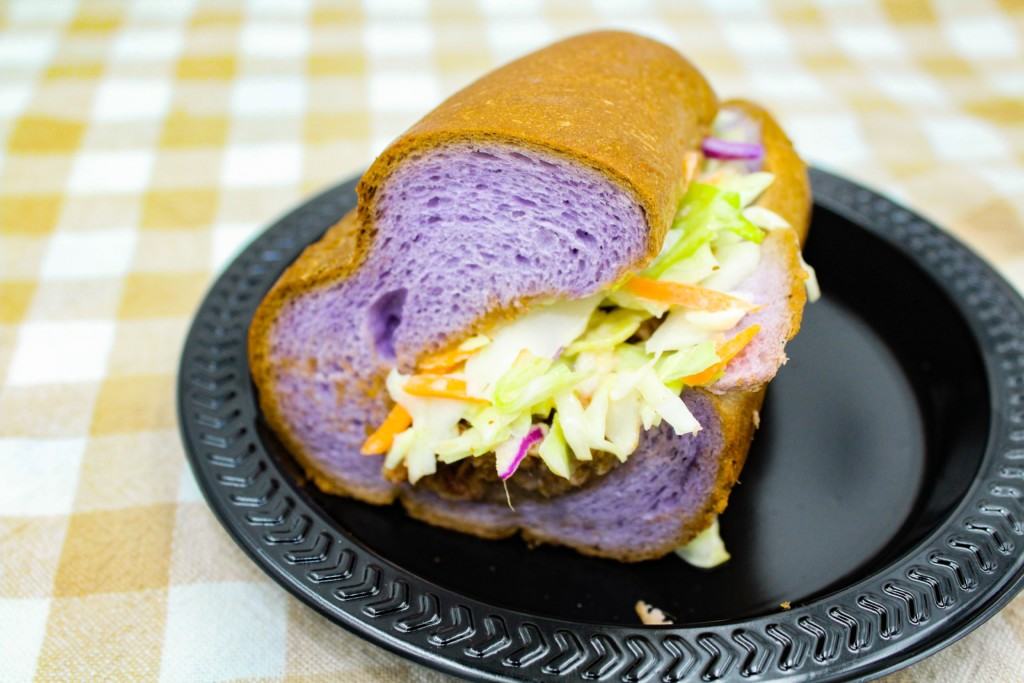 Guests who want to take home the exquisite Boysenberry BBQ sauce, Boysenberry Butter, Boysenberry Dressing and Boysenberry Chipotle Sauce can do so by stopping by the Berry Market located in the California MarketPlace and General Store located in Ghost Town. Select items are also available on the online Berry Market store.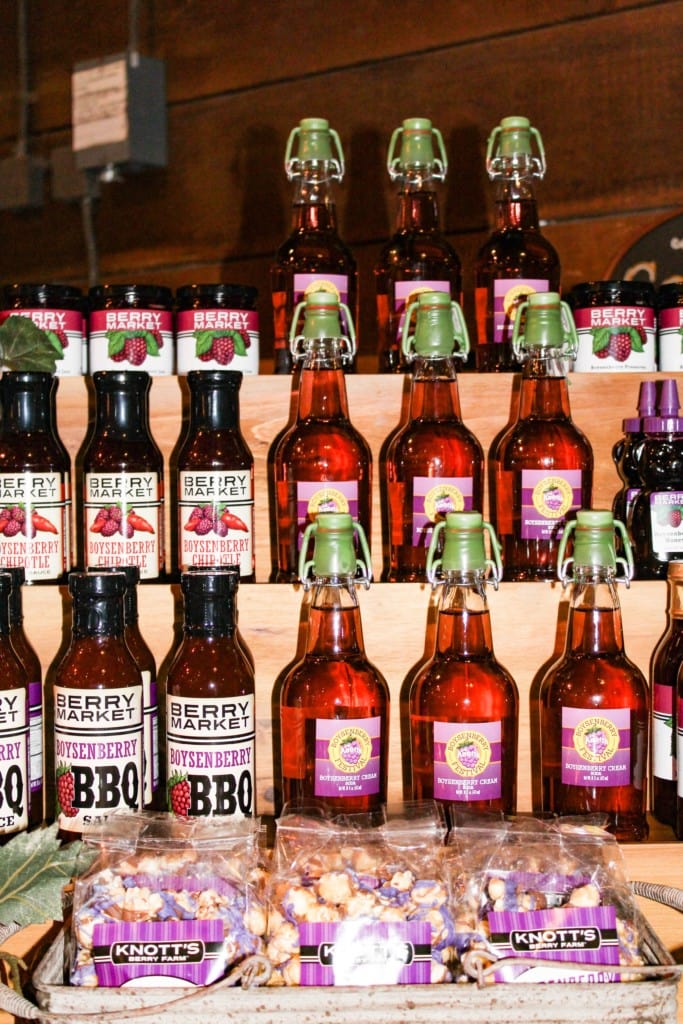 How To Purchase A Knott's Boysenberry Festival Tasting Card
There is an additional cost to experience the Boysenberry Festival. Knott's offers Boysenberry Festival tasting cards for just $25 each. You can either purchase the tasting cards online or at the theme park. One card is sufficient enough to feed two people. Unless of course you are a boysenberry connoisseur, then you will need more cards!
Inside the park, the Boysenberry Festival tasting card can be purchased at Sutters Grill, Pemmican Pickle, the Calico Saloon, the Churro Factory, the Berry Stand at the entrance of Ghost Town, the Ghost Town Bakery and at the Gold Trails Hotel. One card is sufficient enough to feed two people. Unless of course you are a boysenberry connoisseur, then you will need more!
Knott's Boysenberry Festival Entertainment
While enjoying your boysenberry delights, don't forget to also take in some good old-fashioned hillbilly music in the Calico Saloon or watch the Berry Jamboree at Birdcage Square.
Knott's Berry Farm is located at 8039 Beach Blvd, Buena Park, CA 90620. Parking is $17.00 for the day. To learn more about the Knott's Boysenberry Festival, visit www.knotts.com.
Best Places To Stay in Buena Park California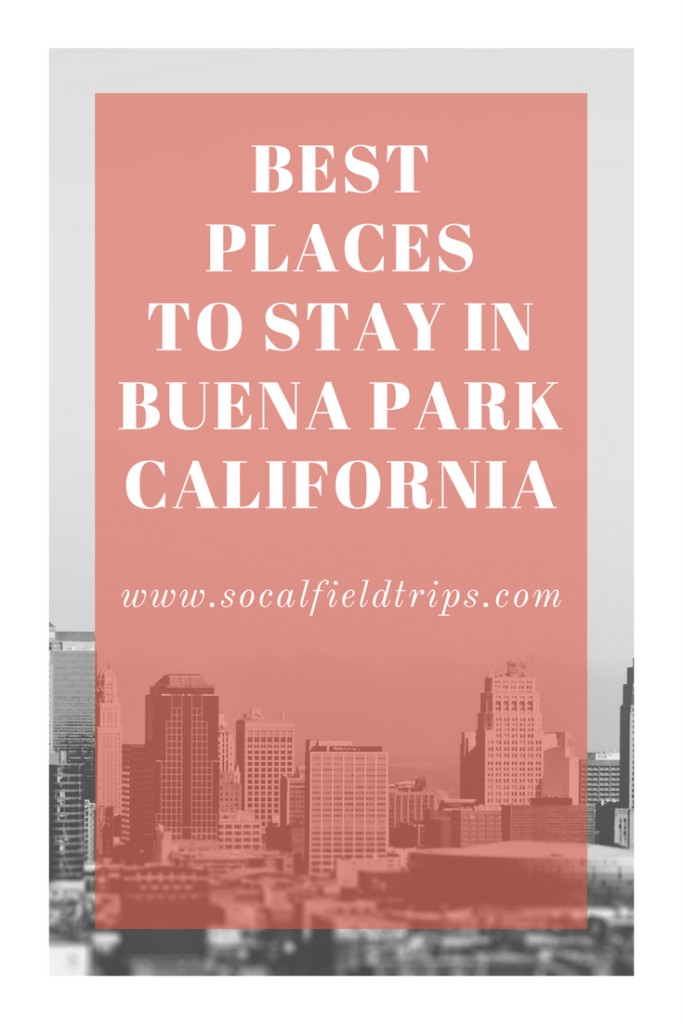 While in town, you might be interested in booking a hotel that is located close to Knott's Berry Farm. Here are a few of my top suggestions.
Next to Knott's Berry Farm Amusement Park, this hotel offers free shuttle service to Disneyland Theme Park, 6 miles away. It features a restaurant and spacious rooms with free Wi-Fi. Every guest room at Knott's Berry Farm Hotel comes with cable TV and coffee maker. All rooms are warmly decorated with carpet floors and include a safe and air conditioning. Guests of this hotel have free access to recreational activities, including an outdoor pool, a hot tub and a sauna. A sports court for basketball and tennis is available, along with a small gym. A daily breakfast buffet is available for an additional charge at the Knott's Berry Farm Hotel. Amber Waves Restaurant and Bar serves American cuisine all day and features a daily visit from the character Snoopy.
One of our bestsellers in Buena Park!Located less than 2 miles from Knott's Berry Farm Amusement Park, this hotel offers comfortable accommodation, friendly service, and is located between motorway I-5 and I-9. The Good Nite Inn Buena Park ideally places guests moments from many popular points of interest. Disneyland, Soak City Water Park and the Pirates Dinner Theater are a short drive away. Guests at the Buena Park Good Nite can start the morning with coffee or tea at the lobby area or visit the hotel's concierge desk to find information about the surrounding area.
Fairfield Inn & Suites Anaheim North/Buena Park
Only 1 miles from Knott's Berry Farm and Soak City, this Buena Park hotel features an outdoor pool and free Wi-Fi. Disneyland Theme Park and California Adventure Park are 6 miles away. A flat-screen TV, microwave, fridge and coffee maker are provided in all rooms at the Fairfield Inn & Suites Anaheim Buena Park/Disney North. Each room is decorated in bold colors and includes a work desk and sitting area. Free access to the fitness room and the outdoor hot tub is provided to all guests. The front desk staff is available 24/7. The Anaheim Buena Park/Disney North Fairfield Inn & Suites have a continental breakfast each morning. Knott's Berry Farm theme park is just over one mile from this hotel, and La Mirada Golf Course is 4 miles away. The John Wayne Airport is a 20-minute drive from the hotel.
Featuring free shuttles to Disneyland theme parks and only minutes from Knott's Berry Farm amusement park, this hotel provides on-site dining options and spacious rooms with free wireless internet. Every stay at the Holiday Inn Buena Park is sure to be enjoyable with amenities such as a spacious outdoor pool and modern fitness facilities. In addition to in-room coffeemakers, the hotel also serves breakfast, lunch and dinner at Ventanas restaurant. With on-site car rental services, guests at the Buena Park Holiday Inn can easily discover nearby attractions such as Soak City water park, the Anaheim Convention Center and beautiful beaches. The completely non-smoking hotel also offers free shuttle service within a 5 miles radius.
Located a 5 minute walk from Knott's Berry Farm, this hotel features a year-round sparkling outdoor pool and a daily hot breakfast. Free Wi-Fi and free guest parking are also provided. A 40-inch flat-screen cable satellite TV with DirecTV channels is provided in each air-conditioned guest room at Best Host Inn. For convenience, rooms include a microwave, a small refrigerator and a coffee machine. A 24-hour front desk greets guests at the Best Host. Offering Disneyland tickets, a virtual tour desk is on site. A guest laundromat is available. Free shuttle services to Disneyland and the Anaheim Convention Center are available. Soak City Water Park is a 4-minute walk from this hotel. Disneyland is 8 miles away.
Happy Field Tripping!
Jilleen
More Things To Do In Buena Park California
A Knott's Berry Farm Passes Offers No Black Out Dates
Ride The New HangTime Roller Coaster at Knott's
Visit Ghost Town Alive at Knott's Berry Farm
A Field Trip to Medieval Times in Buena Park