By now, you know that Knott's Berry Farm is the ultimate place to step back in time and immerse yourself in the Wild Wild West! But did you also know that you can immerse yourself even further by playing a role in the new Ghost Town Alive! experience? SoCal Field Trips was invited last weekend to personally check it out and we survived to tell the tale!
2019 Ghost Town Alive!
Ghost Town Alive! offers guests a firsthand experience to play an important part in the unfolding story of the wild west, with specific tasks and activities and an essential role as an honorary citizen of Calico. The main storyline unfolds throughout the day with scheduled events. Various other storylines also take place from the perspective of different characters in town which often trigger special quests and events.
Discover Your Next Adventure with SoCal Field Trips
During Ghost Town Alive, you have a choice as to which team you want to be on, either the good guys or the bad guys. We decided to be on Team Mayfield Gang and were handed black bandanas and stray hats to play our part..
Sheriff Wheeler Team members were handed white bandanas so they could easily tell us apart. As the story goes, Team Mayfield Gang thought they inherited the town and all they wanted to do was claim what was allegedly theirs. They weren't really the bad guys…at least they thought!
Ghost Town Alive invited us at noon to the prison cell for the first part of the interactive experience. Here the sheriff welcomed the good citizens of the town and invited them to follow him to the train station where Tiny Mayfield was expected to arrive.
Tiny Mayfield arrived under the cheers of the black-bandana-wearing Mayfield supporters and the boos of the Sheriff helpers. Then he was led to the Town Hall where his lawyer asked for a trial.
After agreeing to wait an hour for the lawyer to prepare his case, Tiny was sent to prison. This ended Part One of the experience that continued to unfold throughout the remainder of the day.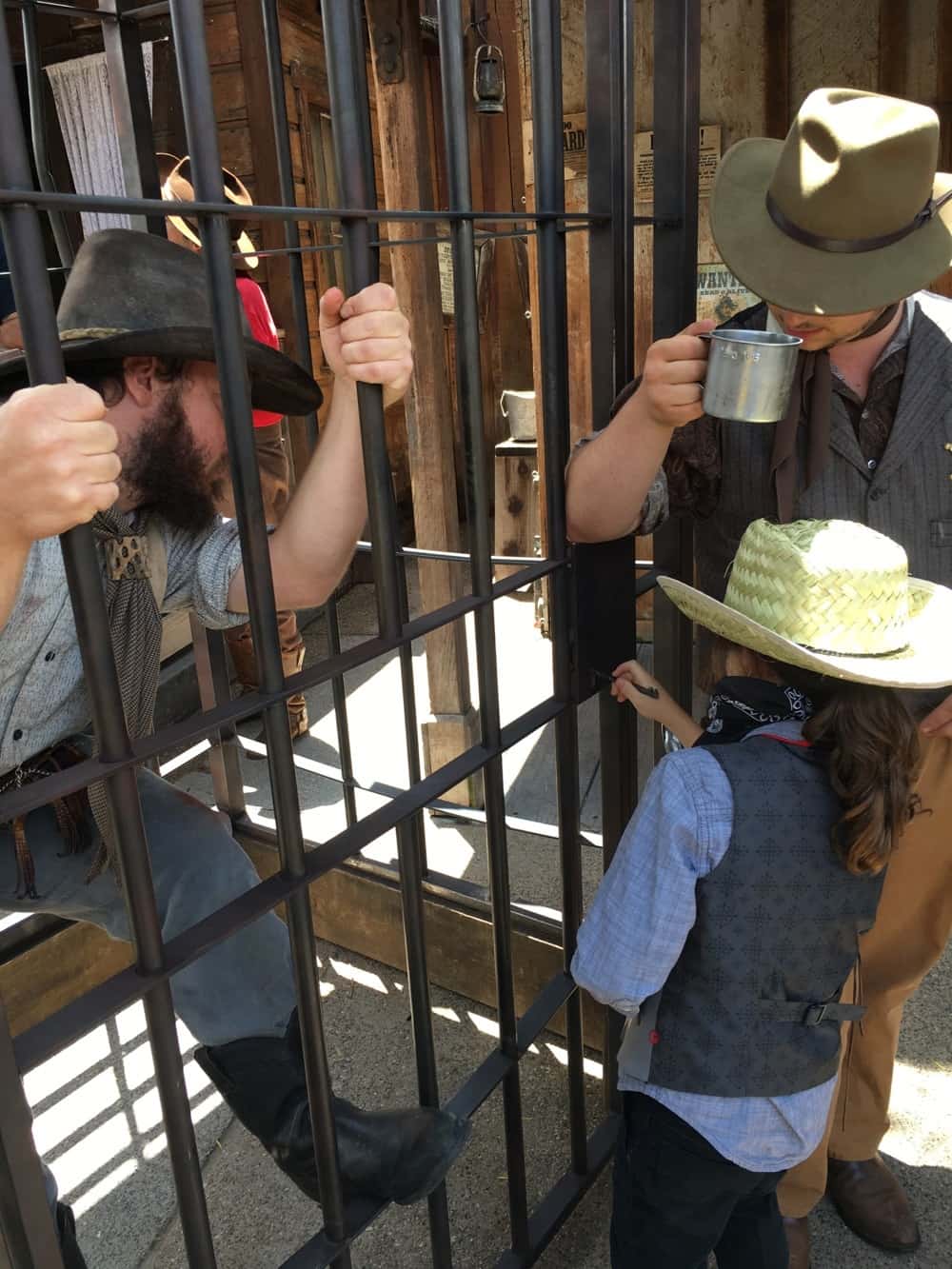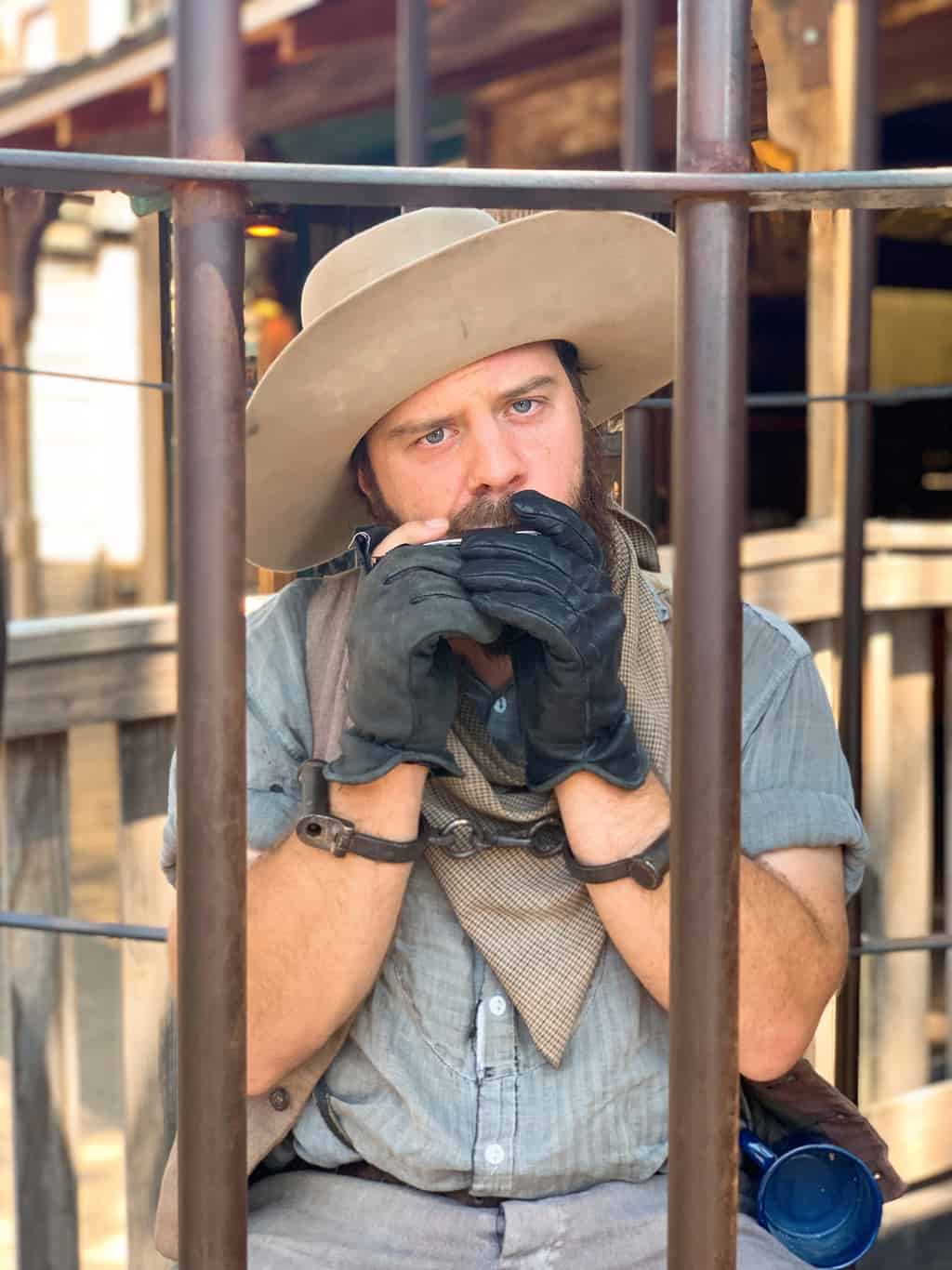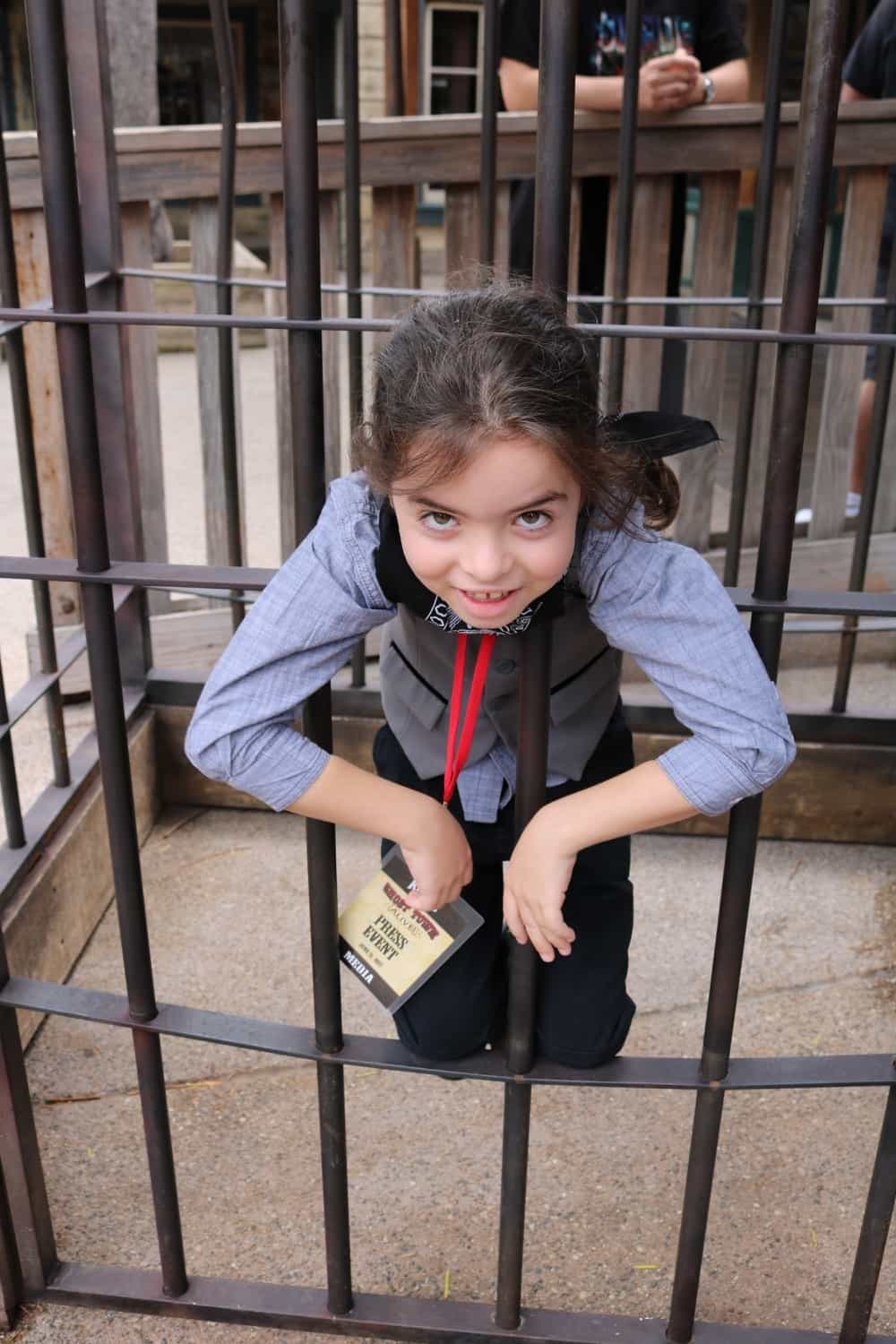 Ghost Town Alive Storyline
During 2019's storyline, you will find yourself right in the middle of a dispute between the Calvary and the Mayor at City Hall about the safety of Calico. That's how you'll really learn what's going at Ghost Town Alive. Besides some pre-set activities, everything happens in real-time and at random. In some cases, you may be lucky enough to find a schedule written on some notecards, but even then, The Mayfields like to play tricks on you and change up the schedule!
New Charaters At Ghost Town Alive
New to character line up this year are Calico River Rapids-based explorers, Potts and Colter, who are central to some of the larger "quests" for you can do. I spotted the duo at Colter Town Hall handing out guides to the legendary creatures of Calico. The guide has descriptions of both creatures and the various trail markings you'll find around Ghost Town. The creatures are rather clever and you'll find evidence of their whereabouts, like different footprints scattered about and noises they make coming small boxes placed accordingly around town.
Other times, while walking around, you'll find different characters interacting with guests in a variety of different ways. During our visit, Deputy Travis McCance was playing a card game, while the Doctor asked if my daughter needed to have a tooth pulled. The more you keep coming back, the more storylines you will uncover!
Ghost Town Alive Hoedown
All citizens at the end of the day are invited to Town Hall to vote on a very important issue. We returned to learn the fate of Tiny Mayfield and cast our vote for a new sheriff in town. We were glad that our candidate won. In spite of the down turn, the citizens agreed to make this the best Founder's Day ever! The Founder's Day Celebration is observed with special shows and events including Colonel Hawkins Feats of Wonders Stunt Show, Calico's Mountain Jamboree, The Hoe Down, and other competitions and contests.
Knott's Berry Farm Ticket Giveaway
Now, here's your chance to attend both Ghost Town Alive and Knott's Summer Nights with your family this summer! Enter our giveaway to win a HUGE Prize Package valued at $836.00 thanks to our generous host Knott's Berry Farm! Good luck!
The Knott's Berry Farm Prize Package includes:
4 pack of general admission tickets (value: $84 each)
4 pack of single day Fast Lane wristbands (value: $85 each)
4 pack of Summer Nights Tasting Cards (value: $35 each)
1 Parking Pass (value: $20)
Cheap Knott's Berry Farm Tickets
I have even more good news for you! Right now you can get discount tickets to Knott's Berry Farm starting at only $44 on Goldstar.com! What a deal! Ghost Town Alive runs on select days now through September 2 at Knott's Berry Farm in Buena Park. I look forward to seeing you on the farm!
Happy Field Tripping!
Jilleen
More Things To Do With Kids in Buena Park
A Knott's Berry Farm Season Pass Offers No Black Out Dates
Ride The New HangTime at Knott's Berry Farm
Knott's Soak City Travel Guide
A Field Trip to Medieval Times in Buena Park