This post may contain an affiliate link.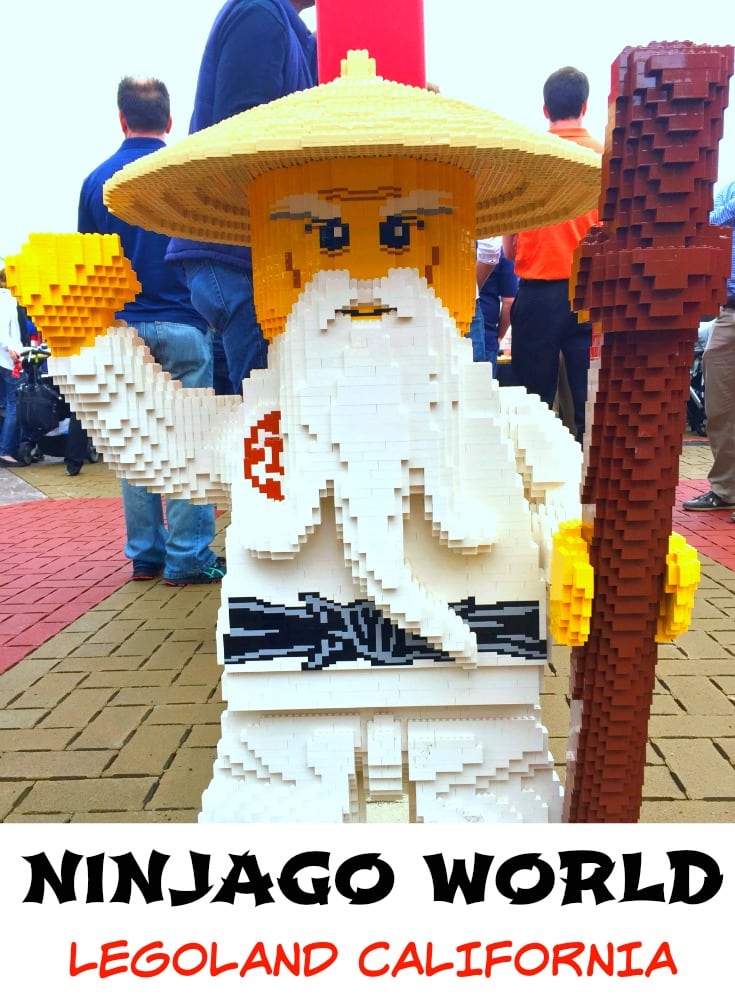 Ninja warriors unite! Your ninja fighting skills are in great demand and a real tool to succeed in battle on the new NINJAGO The Ride at LEGOLAND California Resort. In April, SoCal Field Trips was invited to be among the first guests to visit NINJAGO World and experience the new interactive 4D ride – NINJAGO The Ride – which is the first in North America to enable guests to control the outcome of their adventure just by using their hands. I invited along some family friends (AKA Ninja Boy and Ninja Girl) to join me on the adventure.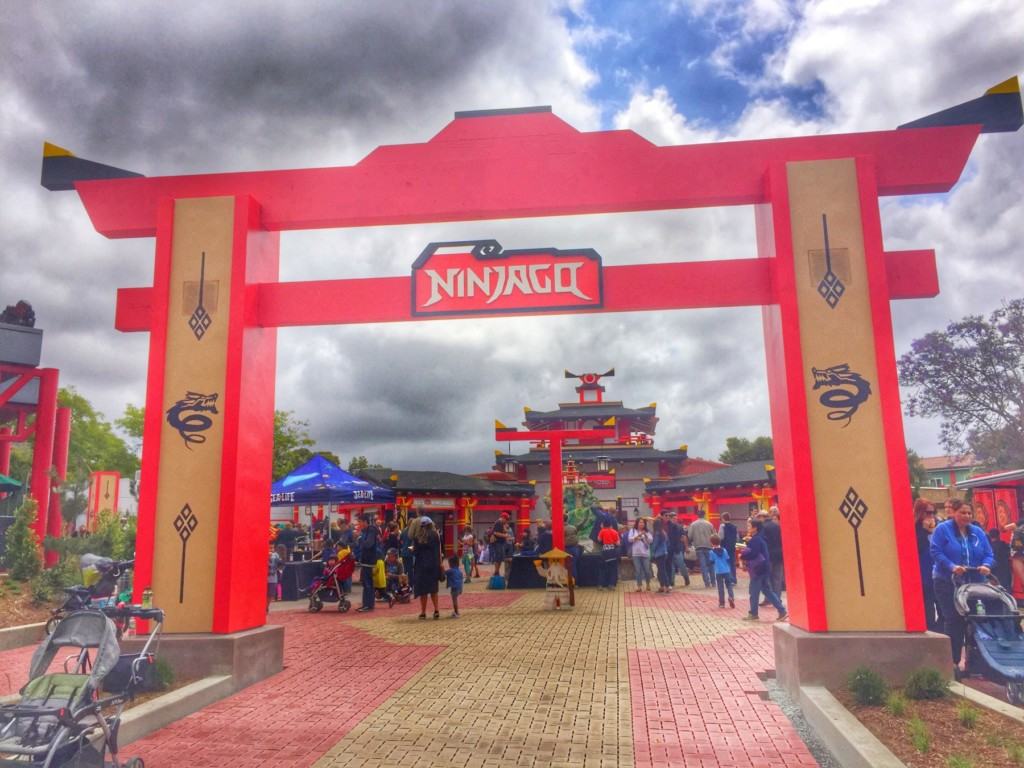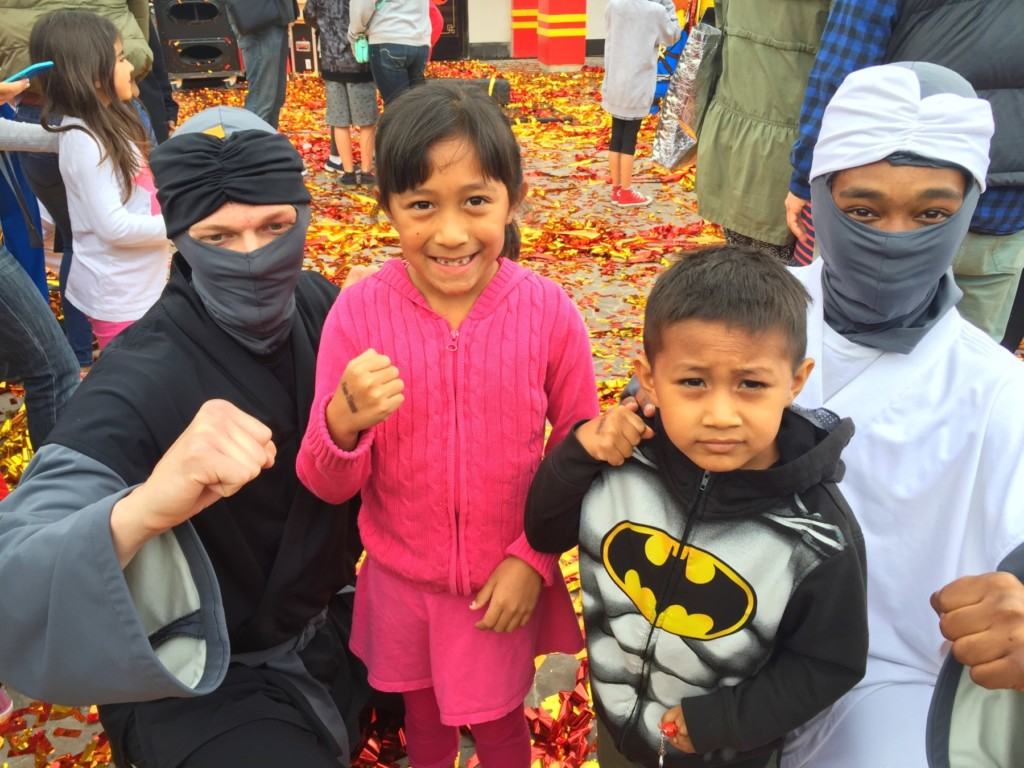 NINJAGO World Attraction
NINJAGO World features five attractions all designed to test guests balance, agility, speed and creativity: Zane's Temple Build, Kai's Spinners, Cole's Rock Climb, Jay's Lightning Drill and NINJAGO The Ride.
At Zane's Temple Build, guests can free build with LEGO bricks around an ornate LEGO Monastery created out of 859,554 LEGO bricks that stands nine-feet high in the center of the courtyard. Next to the monastery stands a 500 pound LEGO model of ninjas Nya and Zane created out of 73,600 LEGO bricks that took four Model Builders 550 hours to build. The model depicts Nya (ninja of water) hurling water at Zane (ninja of ice) who turns the water to ice in midair as part of their training.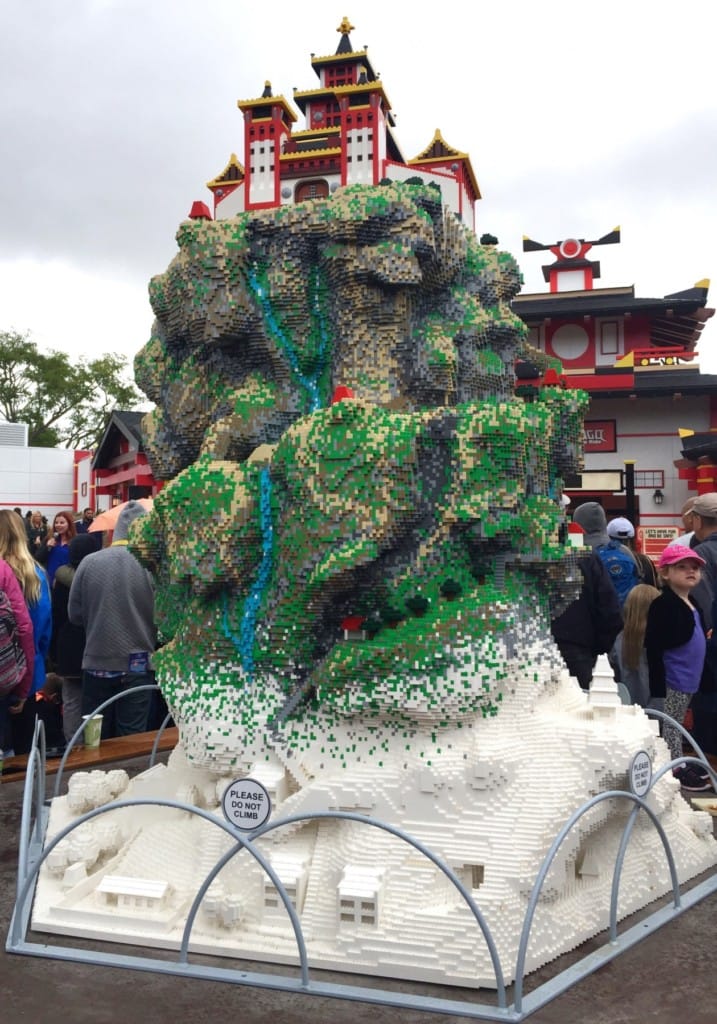 At Kai's Spinners, guests can test their balance as they stand on a spinning platform and twirl. At Cole's Rock Climb, kids can test their agility as they scale a rock wall built alongside the main temple. And guests can test their speed by pushing the lit up buttons in a timed speed cage at Jay's Lightning Drill. All of this training prepares them for the ultimate ninja experience…NINJAGO The Ride!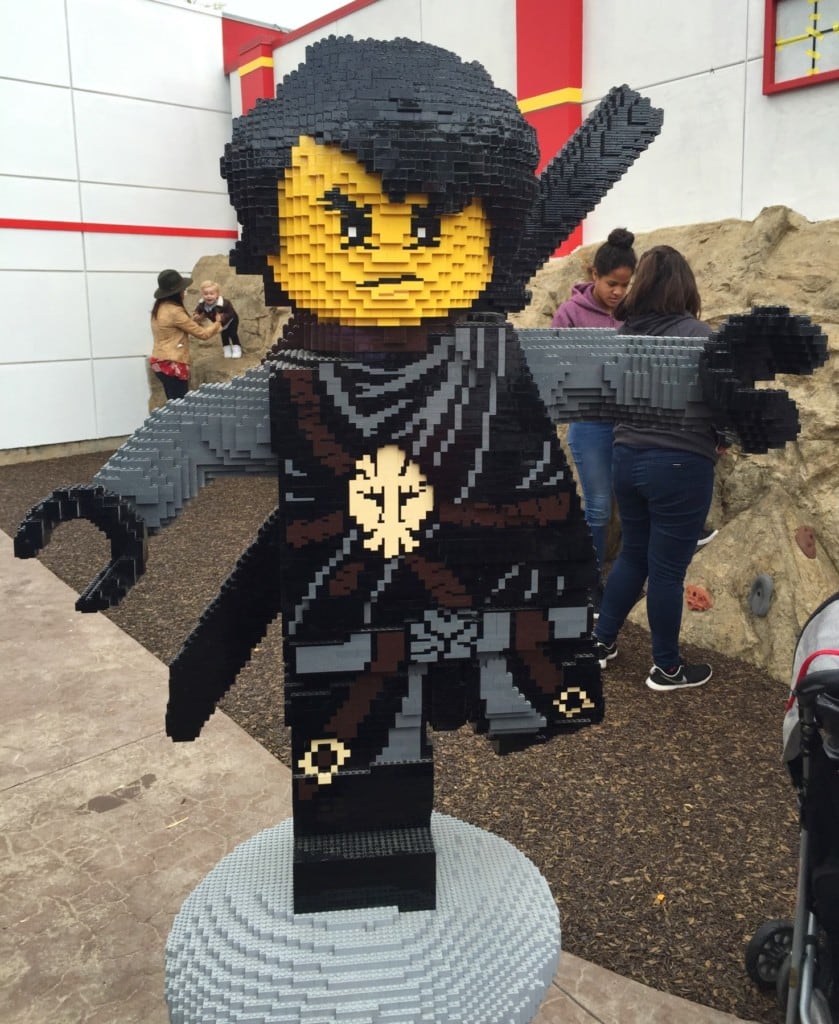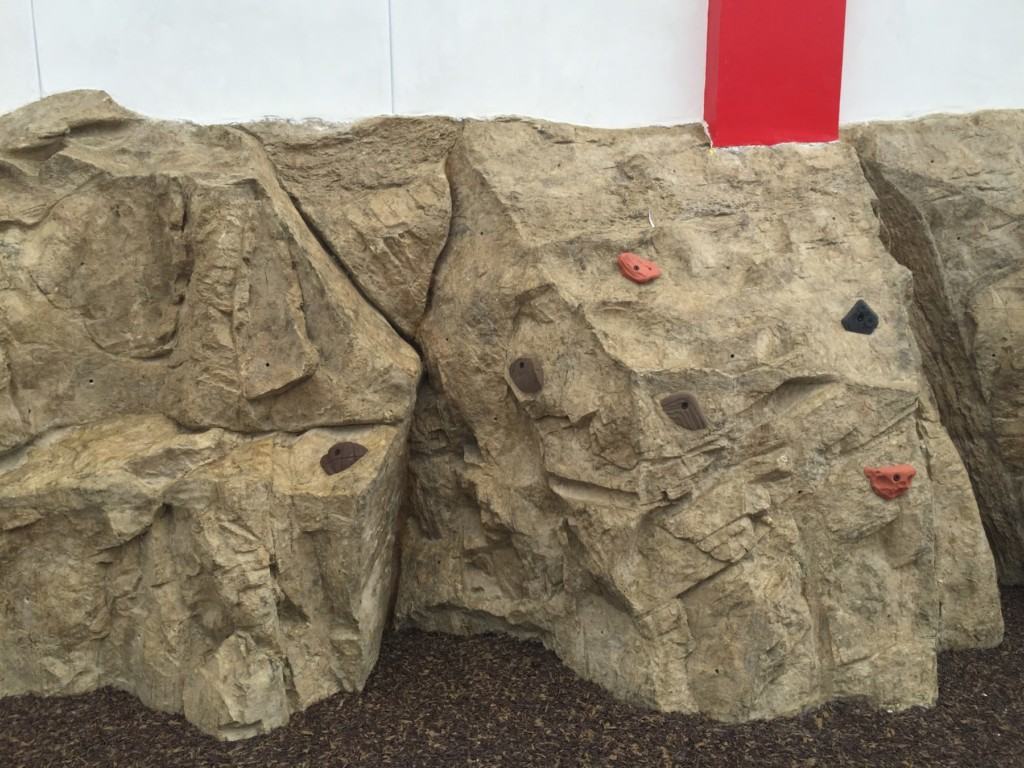 And of course, the new land means more LEGO models; 22 new LEGO models can be found in NINJAGO World including two five-foot guardian dragons protecting the entrance built from 77,280 LEGO bricks, models of Master Wu, ninjas Jay, Lloyd and Kai plus swords of the four elements.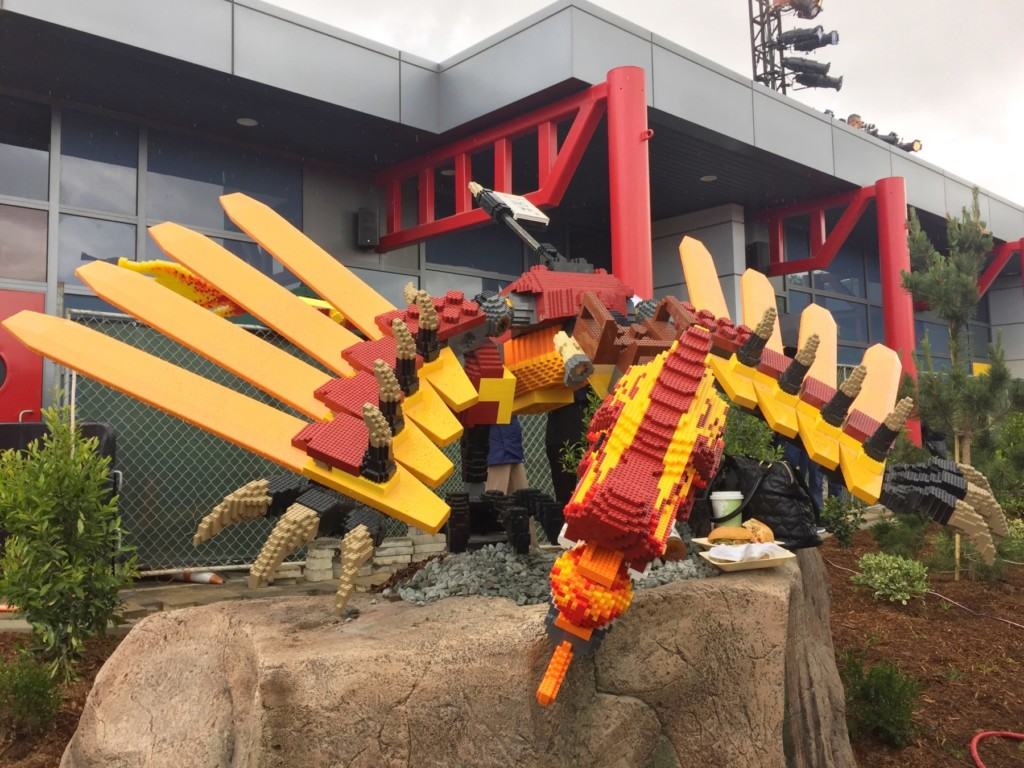 After exploring NINJAGO World, LEGOLAND treated us to a catered lunch hosted by Ninja Kitchen, a new restaurant within the park. We were served Bánh Mì Vietnamese sandwiches on fresh baked baguettes filled with either crispy pork belly, lemongrass chicken and baked sweet chili tofu.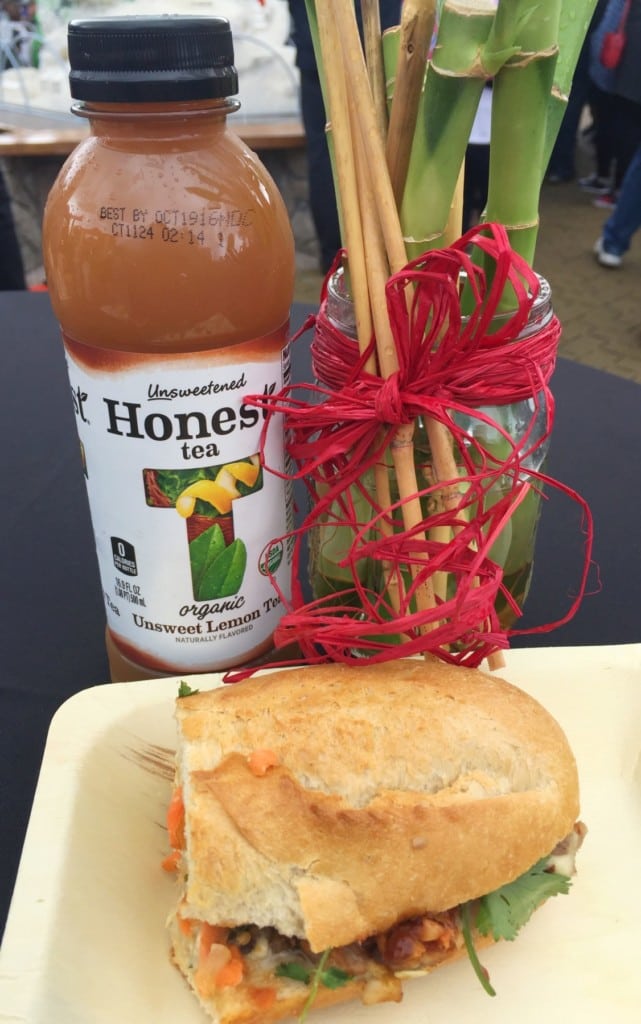 The media preview of LEGO NINJAGO WORLD was complete with pomp and circumstance! The celebration kicked off with a professional taiko drumming group serenading us with magical beats and rhythms.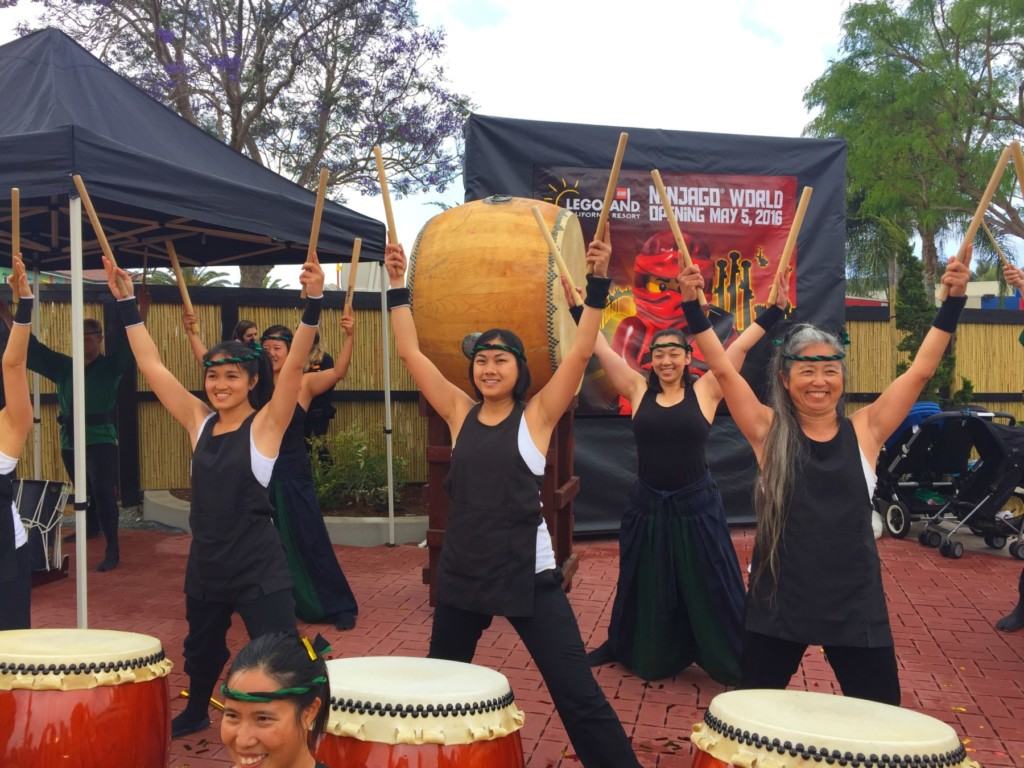 Next a Sensei introduced the four main ninja the area is created around: Kai, Jay, Cole and Zane, and they each entered the Asian themed courtyard representing each of their elements: fire, lightning, earth and ice.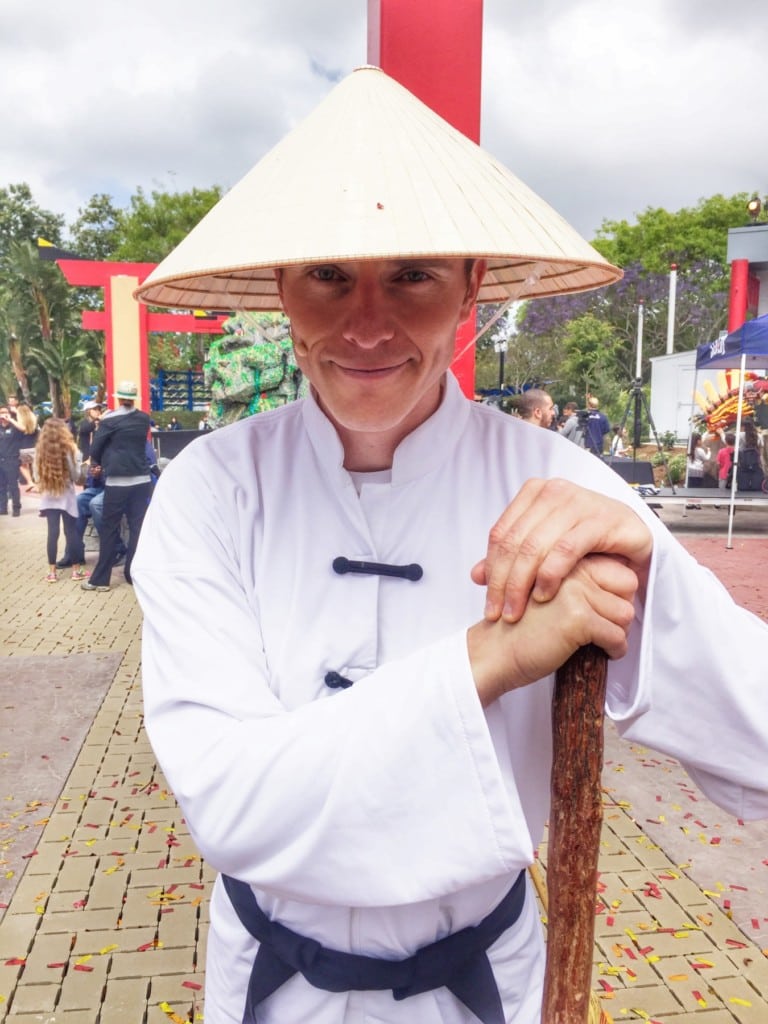 As the grand finale concluded, giant canons shot out red and yellow confetti out over the crowd, as the people roared with excitement. Ninja Boy and Ninja Girl were definitely besides themselves at this point!
NINJAGO The Ride Features
Next we were invited to be among the first guests to ride the new NINJAGO The Ride. NINJAGO The Ride enables guests to demonstrate ninja skills by simply using their hands instead of a hand-held device. The Maestro hand gesture technology enables guests to throw fire balls, shock waves, ice and lightning to defeat villains.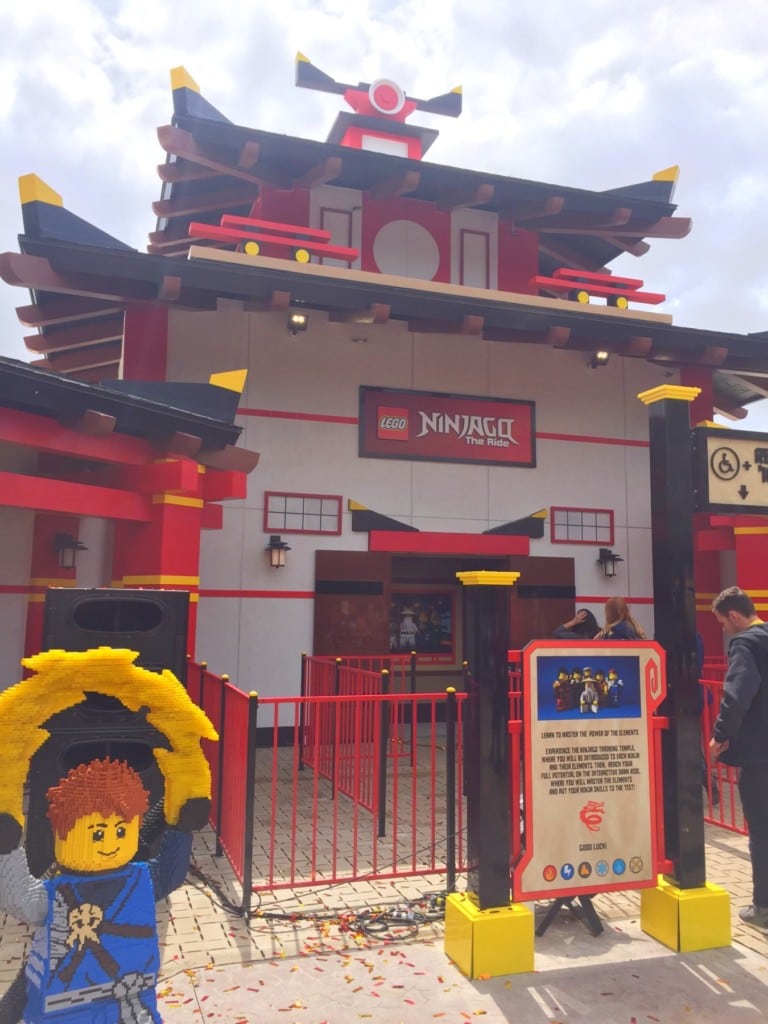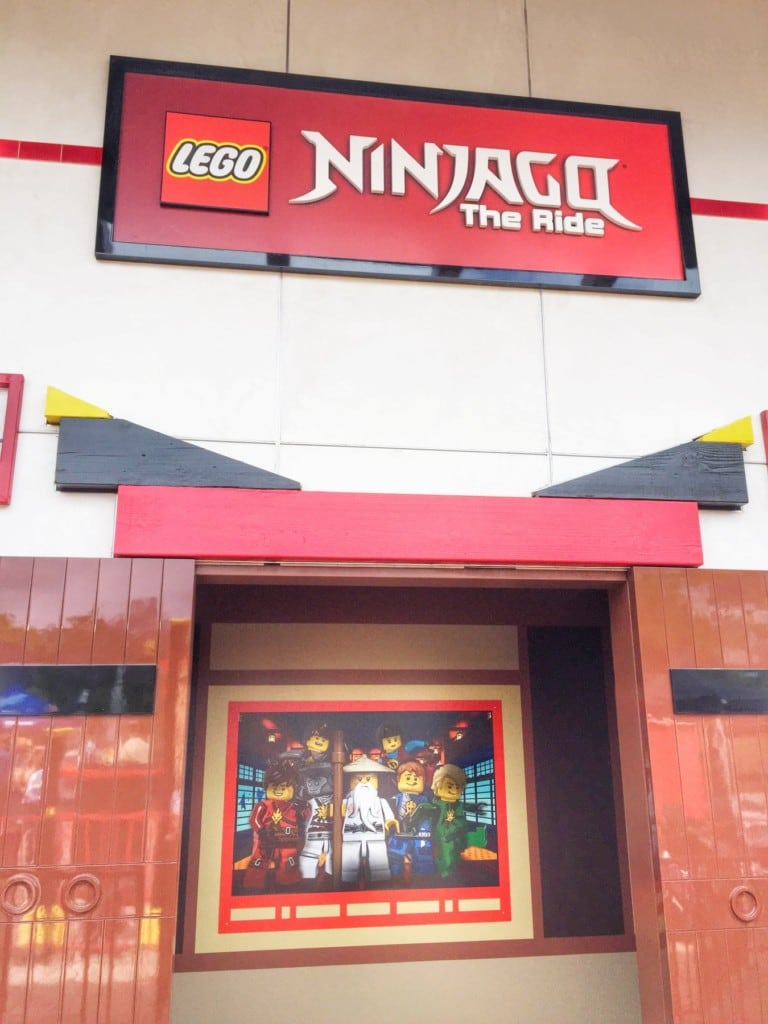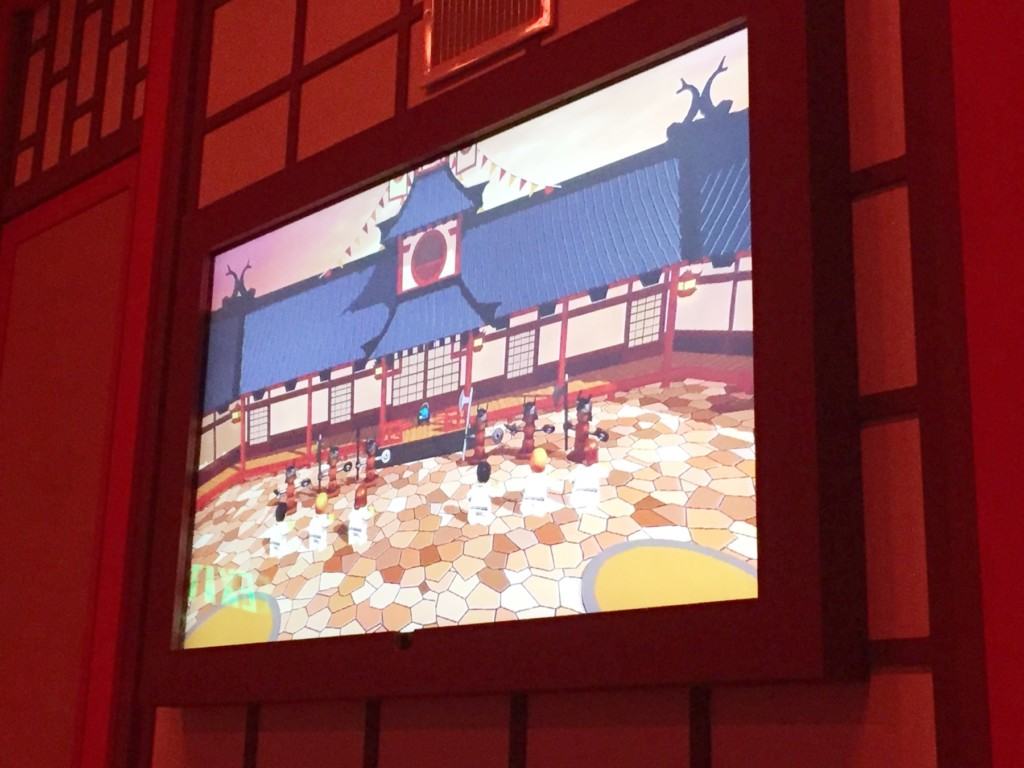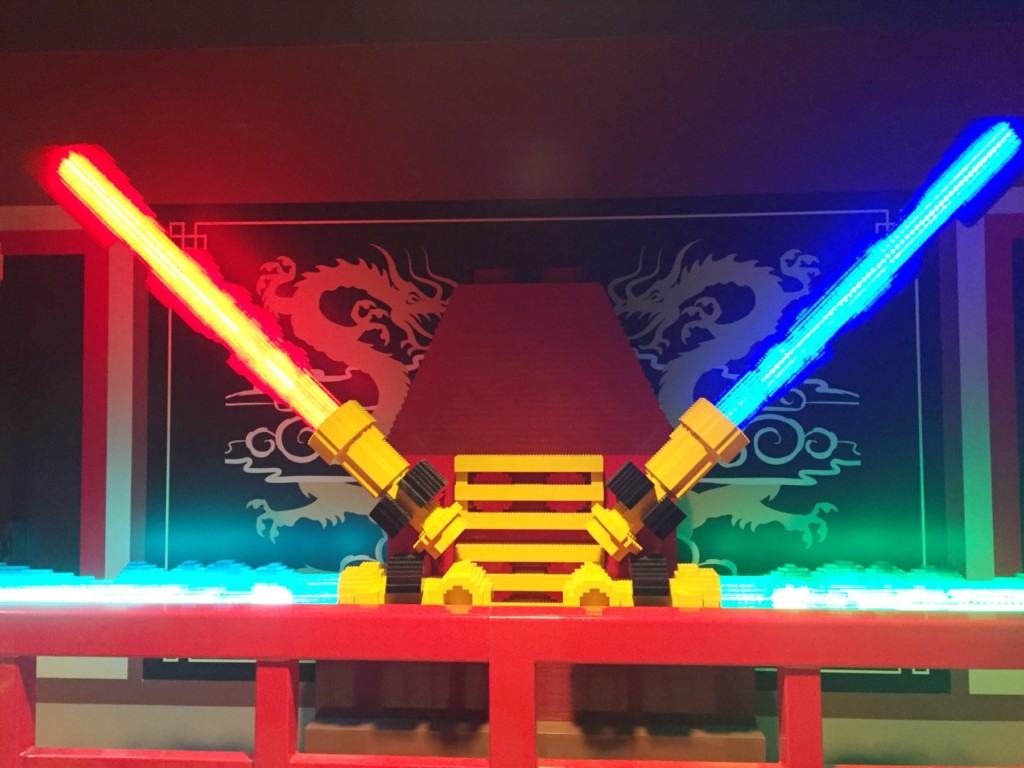 Riders collect points for their training and battle efforts throughout the ride and scores are displayed when their quest is completed. Effects such as heat, smoke and wind are incorporated throughout the adventure, giving guests the ultimate interactive 4D experience.
Up to four guests sit in each ride vehicle and are guided through 13 different scenes beginning with a quick introduction by Master Wu who welcomes guests to his training dojo and gives instructions on how to practice and prepare to battle together, using the elements and only using their hands to launch them at the enemies.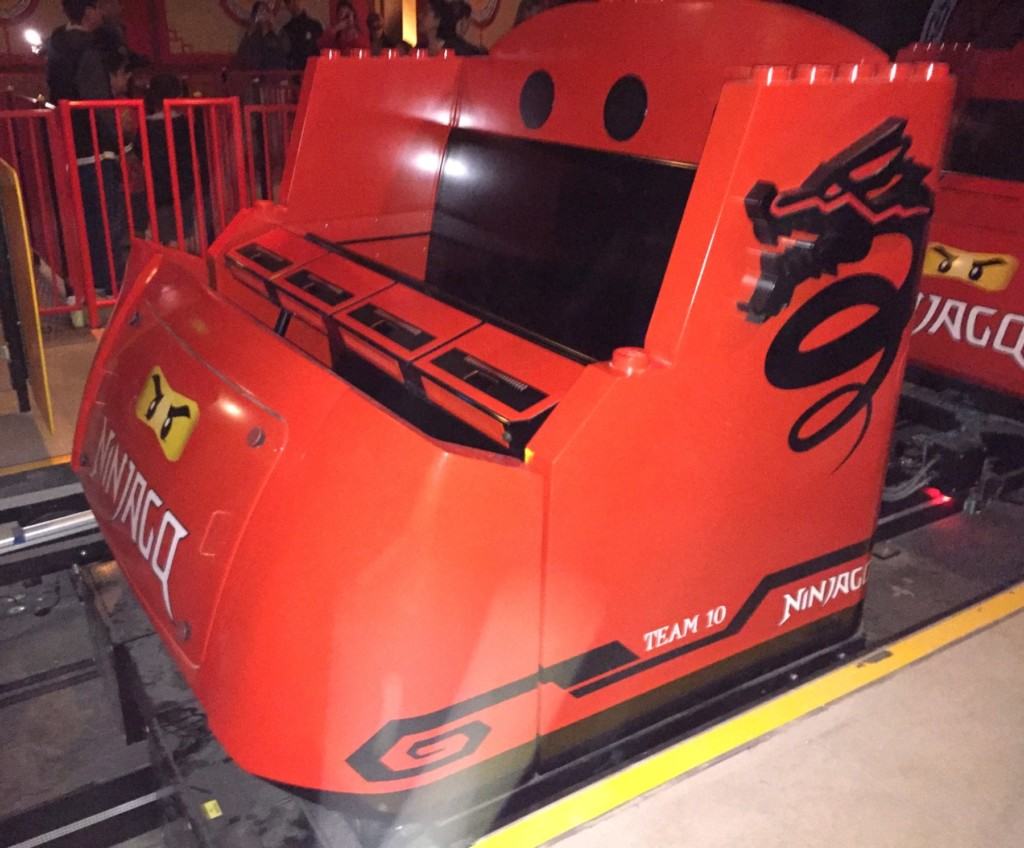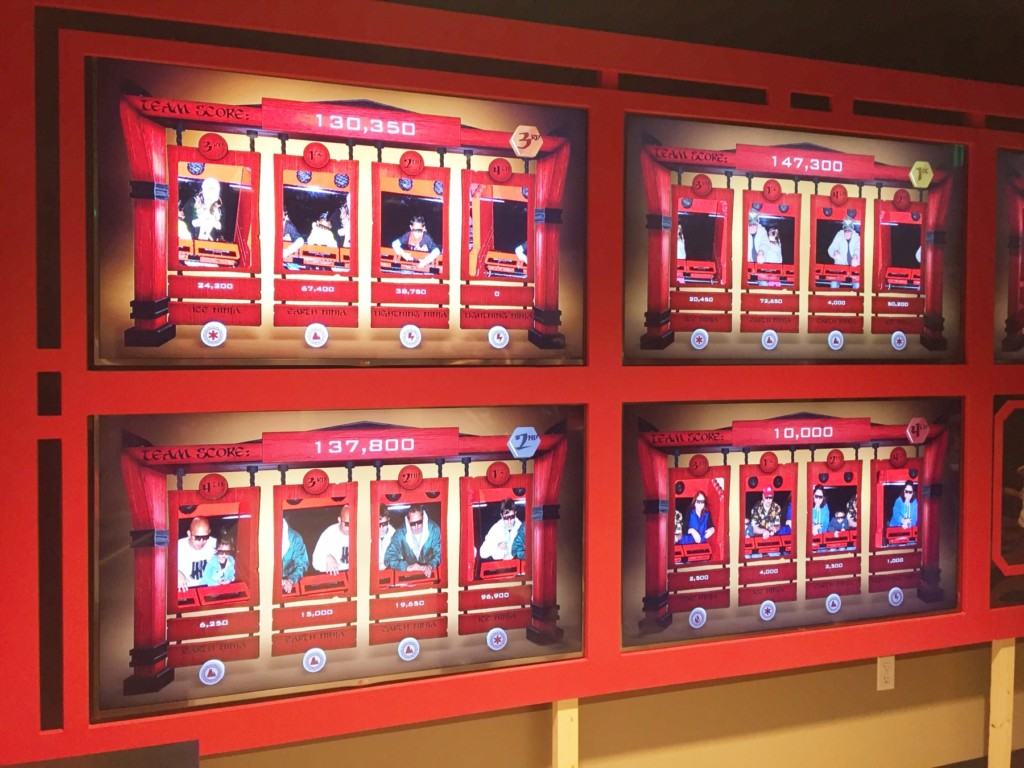 The enemies encountered in the next scenes include snake tribes, skeletons, ghosts, Lord Garmaddon (king of the Skulkuns) and ultimately, The Great Devourer…a giant serpent who can only be defeated by all of the ninja riders working together and using all the elements.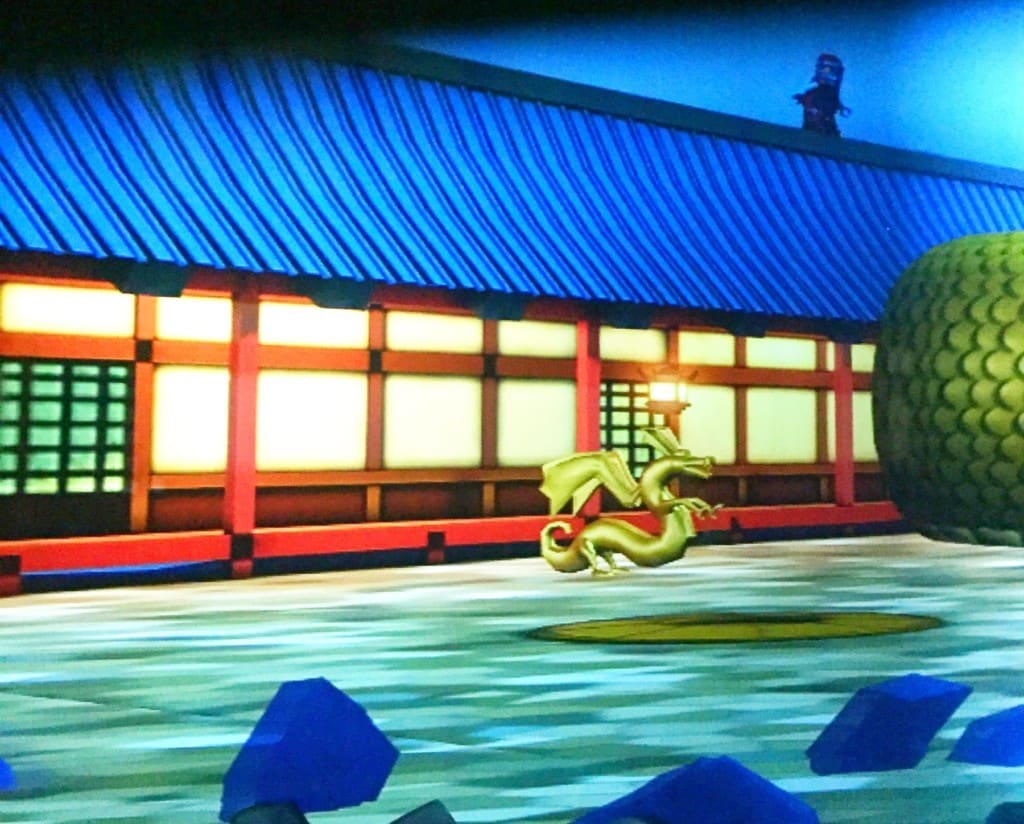 After exiting NINJAGO The Ride, guests can stop by LEGOLAND'S new retail outlet called Wu's Warehouse. Inside the store you can find all sorts of LEGO Ninjago toys!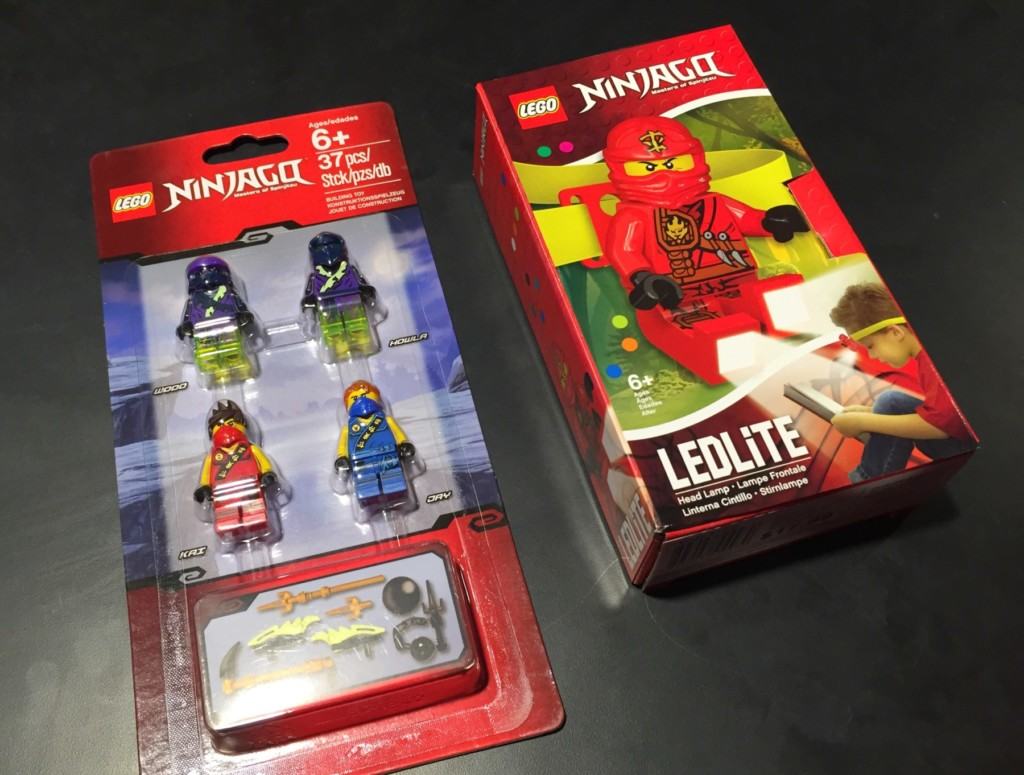 LEGOLAND Discount Tickets
NINJAGO World is included in the price admission to LEGOLAND California Resort. But if you are looking for a LEGOLAND ticket discount I recommend checking out the Go San Diego Card or Southern California City Pass. Both are great deals for families!
For more information about NINJAGO World and NINJAGO The Ride, log onto www.LEGOLAND.com.
Happy Field Tripping!
Jilleen
More San Diego Activities for Families
75 Places To Explore in San Diego with Kids
Living Coast Discovery Center is one of San Diego's Best Family Attractions
The Best Time To Visit The Flower Fields in Carlsbad
A Visit to the Museum of Making Music in Carlsbad