This post may contain an affiliate link for Brick Fest Live discount tickets.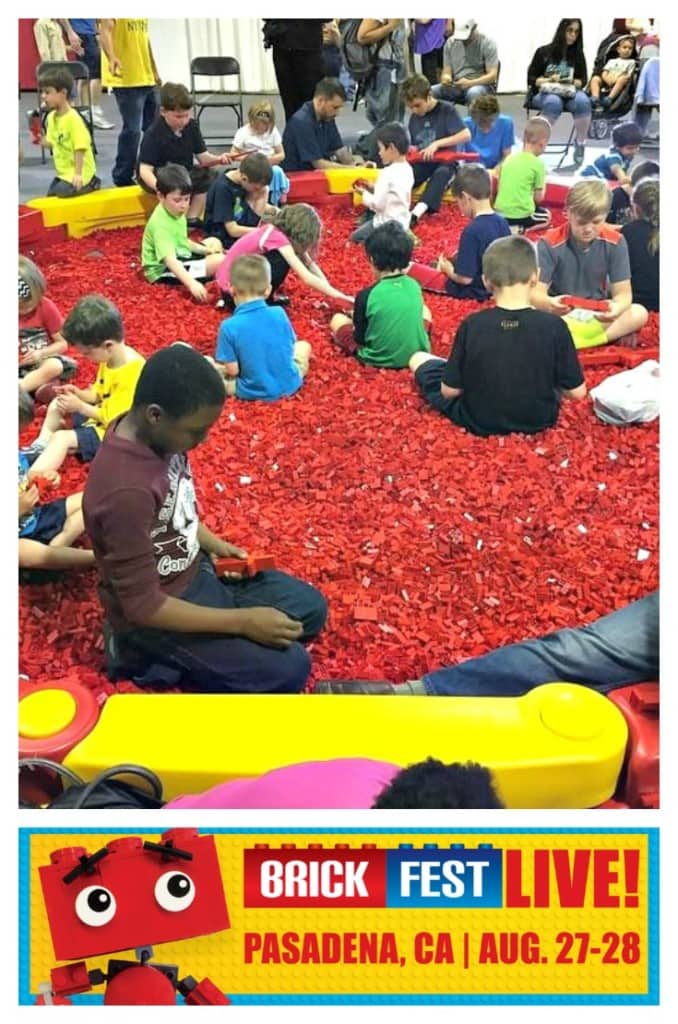 Brick Fest Live LEGO Fan Festival is coming to Pasadena in August and our Field Trip Family is super excited! My kids love LEGOS. In fact, I think most kids love LEGOS.
Anytime Field Trip Girl or Field Trip Boy get a chance to play with LEGOS all is well. There is no sibling rivalry or fighting. Instead just the sweet sound of young children working together to build a new LEGO sculpture. This stunning event may only last 15 minutes, but those "15 minutes" are golden in my eyes!
For many, the fascination with LEGO bricks begins in childhood and endures into adulthood. The inspiration and education behind the custom creations and constructions merely increase in size along with the person.
Brick Fest Live LEGO Fan Festival provides a venue for LEGO lovers of all sizes to come celebrate their mutual affection, build new creations, and see some truly mind-blowing LEGO sculptures to help set the imagination free. Visiting vendors also sell new, vintage, and custom LEGO accessories only available at Brick Fest Live events.
Brick Fest LIVE Attractions
The Brick Show Experience: Meet popular YouTube LEGO show hosts from The Brick Show and be featured in an upcoming video.
Video Game Arena: Have a favorite LEGO video game? Come challenge your family or make new friends in the Brick Fest Gaming Arena playing your favorite LEGO title head to head.
Brick Fest Derby: Build and race your custom built LEGO derby car down one of our 35-foot long timed tracks!
Collaborative Building Activities: Contribute to large-scale mystery floor mosaic.
Inspiration Stations: Add to existing LEGO cities and make them your own by building custom creations.
Brick Fest Theater Trivia & Entertainment: Participate in LEGO trivia all while taking a break from what will be an overwhelming amount of awesome!
Mosaics: Using a colorful variety of 1×1 LEGO bricks, build a piece of art to proudly display for other attendees.
Mini Golf: A miniature golf course built to inspire! Take your game to the next level on the Brick-Links.
Shopping: Find new, vintage, rare, and custom LEGO sets and merchandise from one of the many merchants in attendance.
Brick Fest Live Discount Tickets
Right now there is a great deal for Brick Fest Live LEGO Fan Festival on Living Social! For $20 per person, you get a single-session admission to Brick Fest Live at the Pasadena Convention Center for either Saturday, August 27 or Sunday, August 28, 2016.
Admission grants you access to an amazing LEGO world where you can marvel at giant creations and even build some of your own. Your ticket also includes one Brick Builders Club LEGO Idea E-Book Download and entrance into the Kids' LEGO bricks building area. Kids 2 and under are free.
Brick Fest Live is located at the Pasadena Convention Center, 300 East Green Street, Pasadena, CA 91101.
Happy Field Tripping!
Jilleen
More Los Angeles Activities for Families
40 LA Museums to Explore with Kids
Behind The Scenes Hippo Encounter at The LA Zoo
How To See A Free Concert at The Hollywood Bowl
Best Places for a Tea Party in Southern California
Explore the Back to the Future Car at The Petersen Automotive Museum