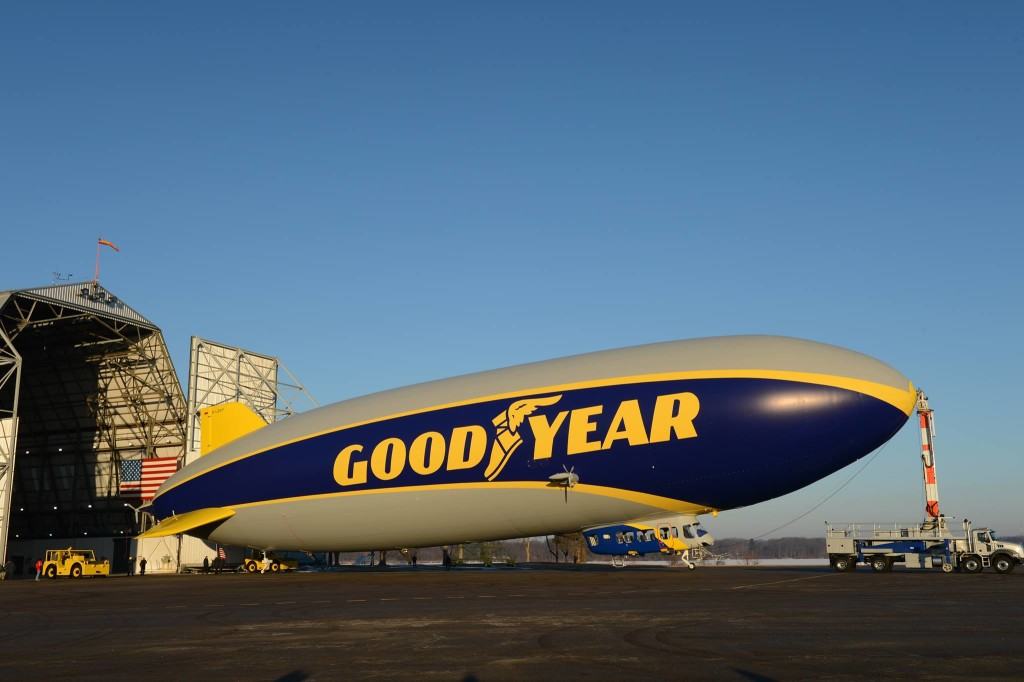 The Spirit of Innovation Goodyear Blimb will officially retire on Sunday, March 5 in Carson and you are invited to the party!
Goodyear's GZ-20 model was first introduced to the Goodyear Blimp fleet in 1969. The model type was the flagship design of Goodyear Airship Operations program for almost 50 years. Goodyear Blimps have covered half a century of Rose Bowls and Rose Parades; 33 Super Bowl weeks; 48 college football seasons, multiple NBA Finals; the 1984 and 2012 Olympic games; numerous red carpet events, including the Oscars, Grammys, Emmys and Golden Globes; among countless other most-watched live broadcast television events.
Free Ground Tours of The Goodyear Blimp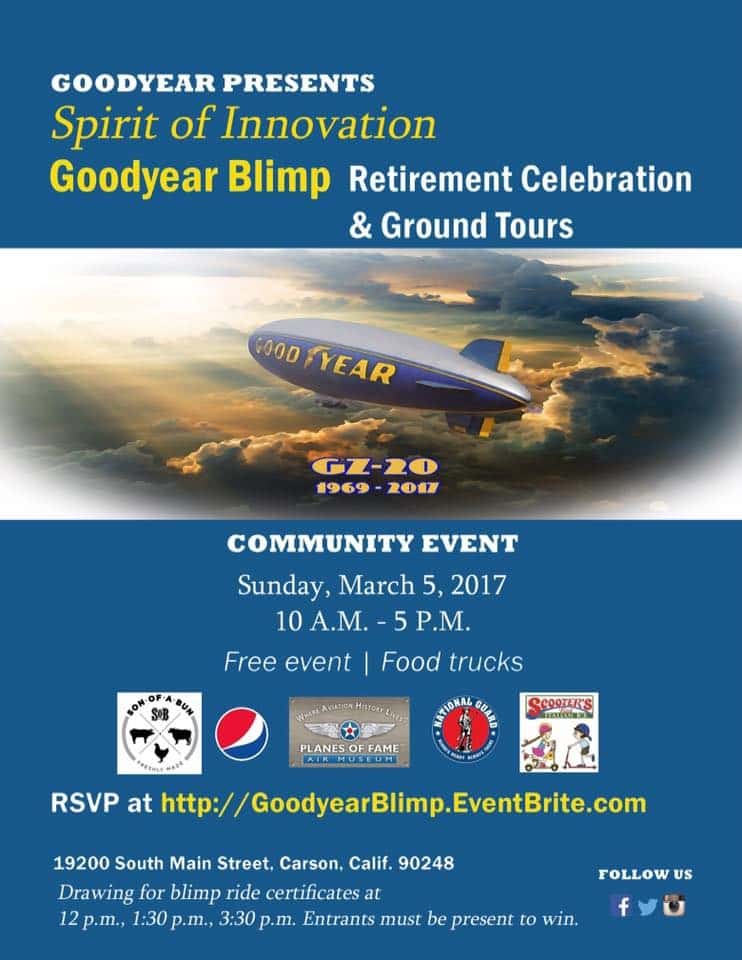 Goodyear is retiring The Spirit of Innovation to pave the way for the future: an entirely new airship design featuring quieter engines, faster speeds, enhanced passenger experience and state of the art avionics.
In celebration of this transition, Goodyear is opening their base to the public for FREE ground tours on Saturday, March 5 from 10 am – 5 pm.
The day will feature your chance to get up close and personal with the blimp through ground tours guided by Goodyear Blimp pilots and crew. Advance reservations are required and tickets will sell out quickly. So mark your calendar and reserve your tickets now at http://goodyearblimp.eventbrite.com/
Complimentary parking and shuttle transportation isavailable at Stub Hub Center Gate A, Lot 10 – 18400 Avalon Blvd., Carson.
Goodyear Blimp Ride Opportunity
Goodyear will also be giving away three ride certificates for two (2) guests aboard the newest airship Wingfoot Two when it arrives at the end of 2017, but attendees must be present at the drawings held at 12 p.m., 1:30 p.m. and 3:30 p.m. on the day of the March 5 event to be eligible.
The Goodyear Blimp is located at 19200 S. Main Street, Carson, CA 90248.
Happy Field Tripping!
Jilleen
More Things To Do With Kids in Southern California
Vist a Wolf Sanctuary in Southern California
40 LA Museums To Explore With Kids
60+ Places To Explore With Kids in Orange County
75+ Splash Pads in Southern California