The great thing about living in Southern California is that there are numerous places where you can go to escape the heat. Some are free like these 75+ Splash Pads in Southern California, while others cost some. Typically, a water park features a water play area for kids, a variety of water slides to go down depending upon your height, a lazy river and a wave pool.
Best Water Parks in Southern California
Here is a list of 20+ Water Parks in Southern California where you can spend the day relaxing with friends and family. If you know of a place that is truly fun-worthy, please let us know. We are more than happy to add them to our list of summer destinations!
Water Parks in the Inland Empire
DryTown Water Park, Palmdale (Opening on May 29)
DryTown Water Park is the best place to visit with kids in the Antelope Valley, and the best place to go for wet and wild fun! With six beautifully landscaped acres of attractions, we offer family fun for everyone. Grab a tube and head down Big Rock River, or race for the win on the super-fast Dusty's Mineshaft Racer. Younger children will have a blast splashing around at Little Miner's Camp, while thrill seekers and mild riders will enjoy twisting and turning down DryTown's thrilling slides.
Palm Springs Surf Club, Palm Springs (Opening date TBD)
The Palm Springs Surf Club is set to open as a surf club in 2022. The main feature of the new surf club will be a three-million-gallon wave pool fitted with the latest technology to generate waves of different sizes and intensities.
While it will be open to the general public for recreational purposes, it will also be capable of producing conditions suitable for competition-level surfing. This is an especially interesting feature for American athletes as surfing is set to make its debut at the 2021 Olympics in Tokyo.
Pyrite Rapids Water Park, Fiesta Village Family Fun Park, Colton (Opening May 29)
Cool off this Summer at Pyrite Rapids Water Park in Colton featuring 3 amazing slides: For a wild adventure you can enjoy the Pyrite River Rapids…or double your fun with a friend in a double tube! For the thrill seeker, the 250 ft. Sidewinder Body Slide will give you the ride of your life. And for the ultimate rush, feel the exhilaration of hundreds of gallons of water shooting you into a high-speed plunge on the locals' favorite, Blast Off!
Water Park is open Saturday and Sunday from 1pm to 7pm.
DropZone Waterpark, Perris (Opening May 29)
DropZone Waterpark is equipped with 2 body flume slides, a mat racing slide, continuous lazy River, flowrider, spring pool, a splash pad, large kiddie area and an Olympic size pool.
Splashtopia at Omni Rancho Las Palmas, Rancho Mirage (Open – Hotel Reservations Required)
Surrounded by a 425-foot lazy river and featuring two 100-foot waterslides, Splashtopia, an on-site water park at Omni Rancho Las Palmas, is fun for adults and kids. There is so much to enjoy at this water park, including a cliff-side Jacuzzi, sandy beach and unique water-play zones with fountains and sprinklers for the kids.

The Cove Waterpark, Jurupa Valley (Opening May 29)
The Cove Waterpark in Jurupa Valley offers wade pools, tidal waves, racing slides, a treehouse structure and Adventure River.
Buccaneer at Castle Park, Riverside (Opening Date TBD)
Buccaneer Cove at Castle Park features four levels of family water play with dozens of interactive water elements, including 5 colorful water slides, interactive aqua domes, fun spray cannons, spray loops and cylinder spray fountains.
The waterpark is currently closed. Check back for updates.
Water Parks in Los Angeles
Raging Waters, San Dimas (Opening May 29)
Spend a day cooling off at California's largest water park, Raging Waters Los Angeles. With 50 beautifully landscaped acres of slides, attractions and its own sandy beach, Raging Waters has active entertainment options for everyone.
Feel the adrenaline rush on the all new Aqua Rocket, a four-person rocket style raft merging the excitement of a roller coaster and the thrills and spills of a water ride. Face thrillers like the Dr. Von Dark's Tunnel of Terror, which features both a 40-foot drop and 360-degree spins … in total darkness!
Make a splash at Wave Cove, a wave pool that simulates true tidal movements or just kick back and tube the quarter-mile-long lazy river known as Amazon Adventure.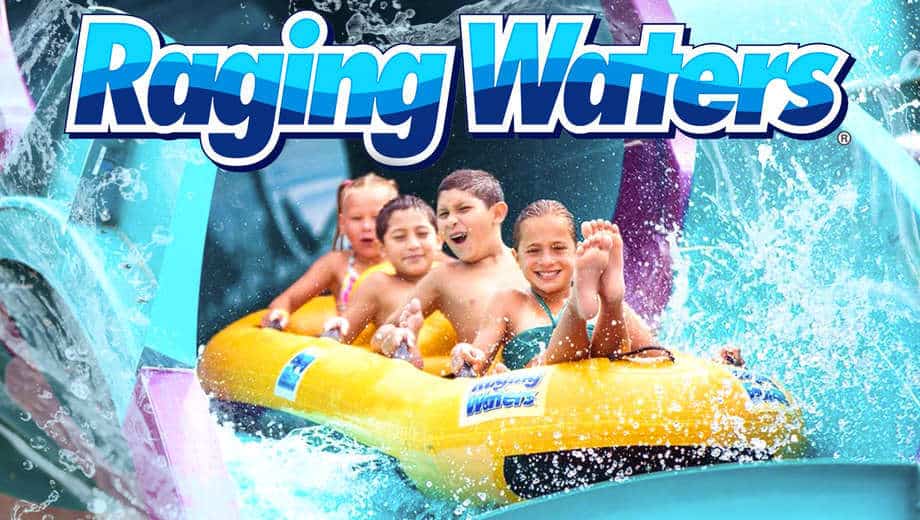 Santa Clarita Aquatics Center, Santa Clarita (Opening Date TBD)
The Santa Clarita Aquatic Center offers three pools, including a 50 meter competition pool with a competition timing system, a 25 meter dive pool, and an activity pool complete with water play equipment and a 160 foot water slide!
Six Flags Hurricane Harbor, Valencia (Opens on May 22)
Six Flags Hurricane Harbor in Valencia is open June to September. This water park boasts steep slides, a lazy river, wave pool and kids' area.
Water Parks in Orange County
Cast Away Cove at The Howard Johnson Hotel, Anaheim (Open – Hotel Reservations Required)
Kids young and old will love splashing around at Castaway Cove at The Howard Johnson Hotel in Anaheim. It is a watery pirate playground featuring slides, water cannons and a pirate ship with a splash! Little swashbucklers will love "Speedy's Sprayground" featuring Speedy, the turtle, splash fountains, and a toddler pool with beach-style entry.
Great Wolf Lodge Southern California, Garden Grove (Opening June 1 – Hotel Reservations Required)
Great Wolf Lodge Southern California is an amazingly popular 100,000-square-foot indoor water park. In addition to the usual water park suspects, such as a lazy river, wave pool, and water slides, the property features some signature attractions, including:
Howlin' Tornado – Riders soar up and down the sides of a huge funnel in four-passenger cloverleaf tubes.
River Canyon Run – Groups careen through a large, enclosed slide in the family raft ride.
Wolf Tail – Brave riders enter a launch pad and wait for the trap door in the floor to open. The thrill ride includes a 360-degree loop (although it does not send passengers completely upside down.
Wolf Rider Wipeout – Grab a boogie board and ride the surf.
The Monorail Pool at The Disneyland Hotel, Anaheim (Opening on July 2 – Hotel Reservations Required)
Soak up some thrills at The Disneyland Hotel's Monorail Pool and two winding waterslides that feature replicas of the original Mark 1 Monorail trains. Make a big splash from the approximate 25-foot-high, 180-foot-long Red Monorail slide or enjoy a more relaxing splashdown atop the 13-foot-high, 80-foot-long Yellow Monorail slide.
A 2-lane mini slide designed for smaller children also spills out into a small pool, while pop jets, fountains and a surging waterfall add to the fun. This nostalgic water play area is topped by a "Disneyland" sign reminiscent of the park's classic years.
Knott's Soak City, Buena Park (Opening May 29)
Knott's Soak City, Orange County's largest water park, boasts a total of 22 speed, tube and body slides plus a giant wave pool, lazy river and interactive kids area.
Slyders Water Playground at The Hyatt Regency, Huntington Beach (Open – Hotel Reservations Required)
Slyders Water Playground at The Hyatt Regency in Huntington Beach the features three water slides that lead to two splash pools, a ribbon-shaped main pool, a children's wading pool, a jacuzzi, poolside cafe and bar, and fire pits. Shubee's poolside cafe offers casual fare, fresh fruit smoothies and a full bar for adults.
Day passes may be available for non-resort guests during certain times of the year. Contact the Hyatt Regency to inquire about availability.
Boomer's Buccaneer Cove, Irvine (Opening TBD)
Buccaneer Cove at Boomer's in Irvine is a super-sized water play area that's five levels high with slippery slides, wet tunnels, spray loops and a huge splash bucket. Make the fun happen with spray cannons and the interactive Aqua Dome. This water play park includes over 1000 feet of water slides.
SPLASH, La Mirada Aquatics Regional Center, La Mirada (Opening May 29)
SPLASH at La Mirada Aquatics Regional Center in La Mirada offers families a fun-filled day with 3 two story waterslides, a zero depth play structure, a lazy river, warm water spa, and ample room to play and enjoy time with friends and family. The family-friendly waterpark welcomes people of all ages and helps provide a memorable day.
The Newport Dunes Resort, Newport Beach (Opening May 29)
Newport Dunes Waterfront Resort is a 110-acre resort located in Newport Beach, Orange County California at the entrance to the Back Bay Nature Preserve and the Newport Bay Conservancy. It's home to the premier beachfront RV Park and Marina in Southern California. Guests can enjoy a mile of the waveless back bay with swimming and a playground on the beach for the kids. Rent a kayak, stand-up paddleboard, sailboat, pedal boat, or electric boat.
Water Parks in San Diego
LEGOLAND Water Park, Carlsbad (CHIMA is currently open)
Get ready to slide, splash and build your way to fun at LEGOLAND Water Park. From the LEGO wave pool to the Build-A-Raft lazy river, tube slides, body slides and interactive water-play structures -Joker Soaker and DUPLO Safari – your kids will soak up tons of fun! To make your visit even more special, book a room at the Legoland Castle Hotel in Carlsbad.
Please note that until June 4, only CHIMA Water Park is open and the rest of LEGOLAND Water Park is temporarily closed.
Aquatica Waterpark, San Diego (Opening May 29)
In total, the Aquatica has over a dozen waterslides that appeal to all different age groups and thrill-seekers. Aquatica is like no other waterpark, combining high-speed thrills with the amenities of a beachside resort. From serene to extreme, experiences range from lounging on sandy beaches, to splashing and playing in heated pools, to journeying down high-speed water slides.
All this sun-powered fun takes place amongst a lushly landscaped, South Seas-themed, resort-style environment. Up-close encounters with Caribbean flamingos and freshwater turtles round out the experience, as only SeaWorld can.
The Wave Waterpark, Vista (Opening June 19)
In the middle of The Wave Waterpark, people lie upon colorful rafts that float gently down the lazy river. It's a serene way to soak up some rays and keep cool. But in the center of the lazy river, separated by raised concrete and a foot bridge, an adventure awaits: the Flow Rider. This simulated surfable ocean wave dares visitors to try and hang ten without falling off their boards into the safe, if rollicking waters.
These two attractions represent the broad spectrum of activity at The Wave, a family-friendly destination equally suited to mild-mannered relaxation, adventurous fun, or something in between. Other rides include a tangle of waterslides, such as the Slam Dunk, an enclosed-tunnel body slide with plenty of twists, and a kid-friendly playground gushing with fountains and waterfalls.
Water Parks in Ventura County
Ventura Aquatics Center, Ventura (Currently Closed)
The Ventura Aquatics Center is a beautiful state-of-the-art aquatic facility featuring a 50-meter competition pool, 25- meter recreation pool, activity pool, and 2 water slides!
The splash pad and water slides are currently closed. Check back for updated information.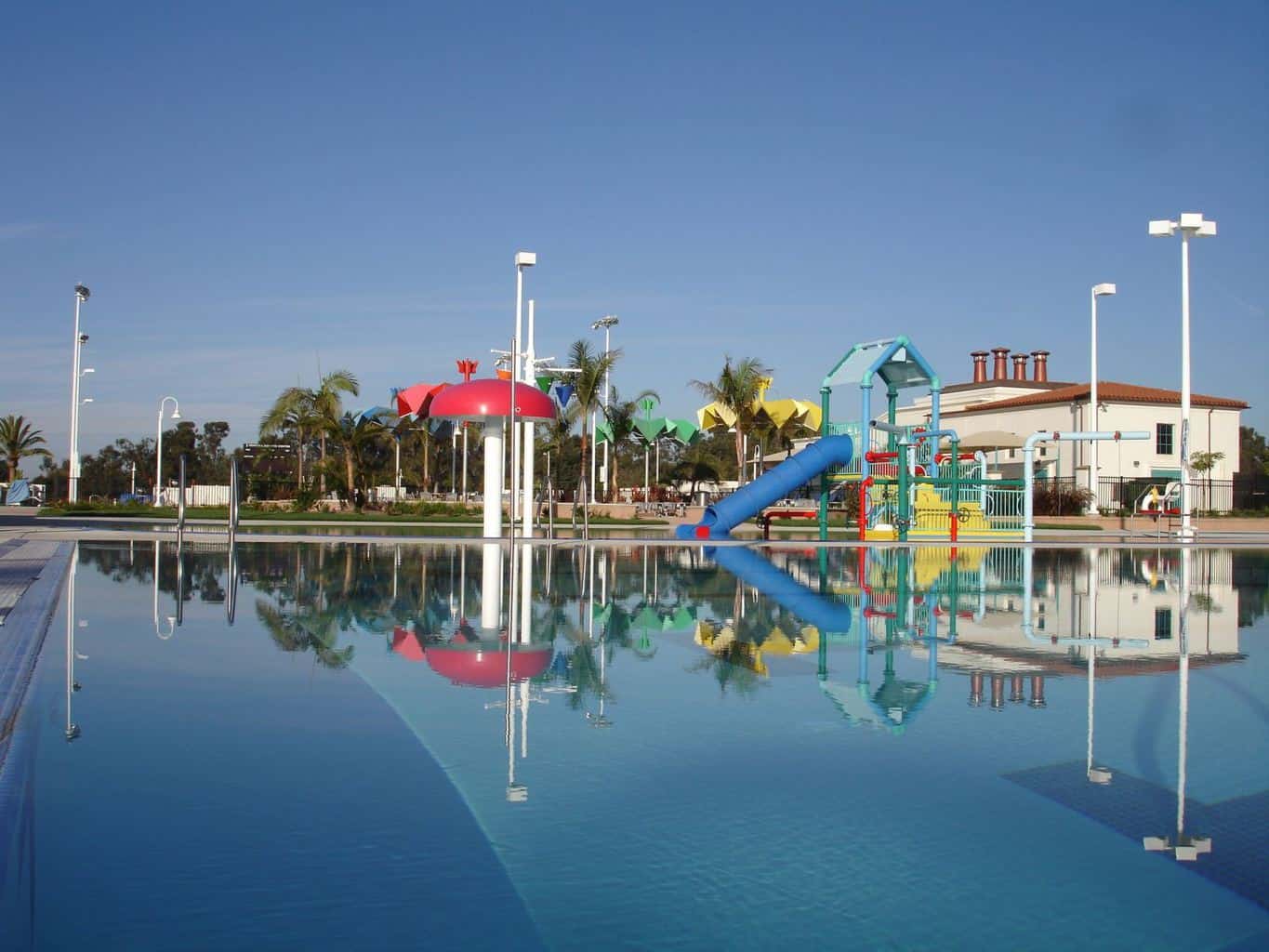 Casitas Water Adventure, Ventura (Currently Closed)
The Casitas Water Adventure is open throughout the summer months. Children and adults alike can enjoy two distinct water playgrounds. For the younger children, a multi-level jungle gym with waterfalls, bridges and slides in a lagoon with water up to 18″ deep. Parents can relax in a shady spot while the children play, or join their youngsters for a "splashing" good time.
For the whole family, the Lazy River offers a cool water ride on inner tubes along a scenic waterway featuring waterfalls, fog filled bridges and jet sprays. The inner tubes are available free of charge on a first come, first served basis. And for the smallest of tots, a zero-depth pool sprays water from all angles, providing a safe, fun play area. Shaded decks, lounge chairs, showers, restrooms and a snack bar are provided for comfort and convenience.
Where To Find Southern California Water Park Discount Tickets
1. Get a group together, plan a field trip and receive a group discount.
2. Visit websites such as Goldstar.com or Groupon to find special offers in your area.
3. Check your local mailer for coupons.
4. Pick up a local parenting magazine while you are out. They have discounts too.
5. Like a company on Facebook or Follow them on Twitter. Often times companies will offer exclusive deals on social media.
6. Purchase discount tickets to theme parks, movie theaters, etc. at Costco or Sam's Club.
Happy Summer Field Tripping!
Jilleen
More Summer Activities for Kids in Southern California:
75+ Splash Pads in Southern California
7 Free Disney Summer Movie Nights in Anaheim
Visit Newport Dunes Waterpark in Newport Beach
How to See A Free Concert Rehearsal at the Hollywood Bowl