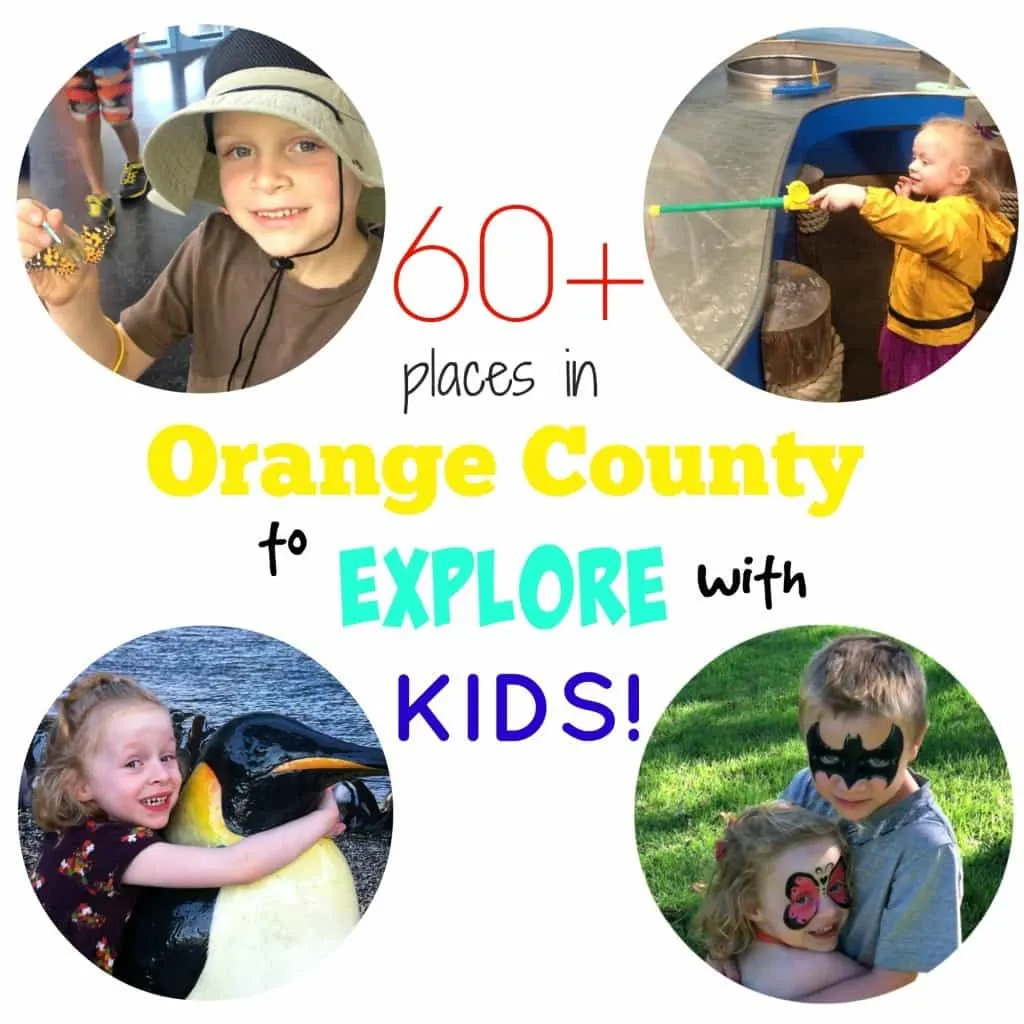 Often times I am asked by my readers "Where is the best place to take children in Orange County?" Of course Disneyland and Knott's Berry Farm are always on the top of my list. But what if you want something different? Something out of the ordinary? Something educational or even low key? Well, now I have the solution for you!
I have compiled a list of 60+ Places in Orange County to Explore with Kids! This is not meant to be an exhaustive list, but rather one that will continue to grow as my readers (that's you!) and I discover new places to explore. That's the fun part of living in Orange County! Adventures are everywhere.
Discover Your Next Adventure with SoCal Field Trips
60+ Places to Visit with Kids in Orange County
If you know of a place that should be added to the list, please send us an email to [email protected] and we'll be happy to include it. And if you are traveling to Los Angeles anytime soon, you might enjoy our post titled 40+ LA Museums to Explore with Kids! Now go out there and explore the world! It's all yours!
Zoos in Orange County
OC Zoo, The Irvine Regional Park – Orange
The OC Zoo is a small and quaint zoo located within the Irvine Regional Park. You can walk through the entire zoo in less than hour and can get up close and personal with several of the zoo animals. The zoo is home to animals and plants that are native to the Southwestern United States including European Bison black bears, mountain lions, bald eagles, island foxes, ocelots, red-tailed hawks, barn owls, great horned owls, porcupines, Bighorn Sheep coyotes, mule deer, turkey vultures, coatis and bobcats.
Admission is very inexpensive. Better yet, if you plan a field trip, tour groups are able to visit the Irvine Nature Center which is normally closed to the public.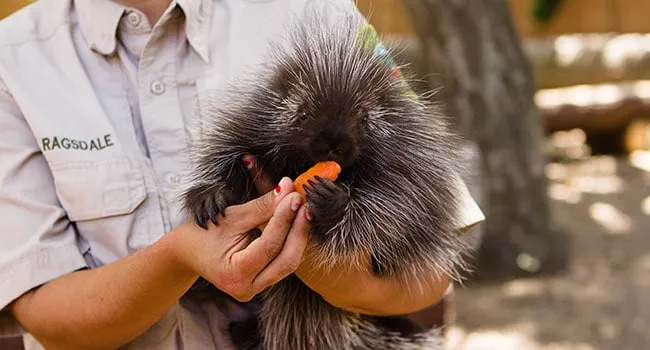 Santa Ana Zoo – Santa Ana
The Santa Ana Zoo at Prentice Park has been a unique educational and recreational resource for Orange County residents since 1952. This charming Zoo features over 80 species of animals, including the smallest monkeys in the world, the Pygmy Marmosets. When visiting, children and adults can learn about animals, plants and the environment. There is also a children's farm, train ride and carousel featuring endangered species. Get up close and personal with their Critters for Conservation animal presentation weekends in the Conservation Education Theater. Group reservation rates are available to public or private schools with a minimum of 10 people for a self guided tour.
The Reptile Zoo – Fountain Valley
The Reptile Zoo is home to more than 100 exotic species of reptiles, amphibians, and arachnids. Some were rescued and brought to the zoo, while others were born there. Adventurous guests can also visit their interactive booth for the opportunity to hold and interact with a few of their most popular pets which can include the Ball Python, Bearded Dragon, Sulcata Tortoise, Leopard Gecko, and several others. There are also opportunities to feed the fish and turtles in their 2,000 gallon indoor pond or feed their 100 lb tortoises with fruits and veggies. Groupon offers discount tickets to The Reptile Zoo.
Zoomar's Petting Zoo – San Juan Capistrano
Zoomar's is a small family-friendly owned and operated farm that opened it's doors for the first time over thirty years ago to visitors. The place is squeaky clean and officially USDA-approved for cleanliness! They have guinea pigs, Kunekune pigs, bunnies, donkeys, goats, sheep, emus, llamas and other animals on the farm that like to eat too! Additional fee based activities at Zoomar's include a mini choo-choo train ($3), horse and pony rides ($5) and the miner's gulch ($8-$10). Groupon offers discount tickets to Zoomar's Petting Zoo.
Animal Care Centers in Orange County
Magnolia Bird Farm – Anaheim
Magnolia Bird Farm is home to a large variety of birds that you can visit with while pursuing the store. They offer free tours for groups between ten and fifteen people. Smaller groups can do a self-tour. Tours are conducted Tuesday through Friday.
OMAR'S Exotic Birds – Brea / Lake Forest
Since 1984, OMAR'S Exotic Birds has upheld its excellent reputation for selling quality birds in their signature setting. Their beautiful birds are uniquely displayed on suspended perches, not cages, so visitors get a rare hands-on experience that makes birds and people alike a whole lot happier. This is a great little store to take your children to visit when they are interested in learning about specific birds, but please don't let your children touch the birds.
Pacific Marine Mammal Center – Laguna Beach
The Pacific Marine Mammal Center rescues, rehabilitates and releases marine mammals and inspires ocean stewardship through research, education and collaboration. Admission is free. They host year round field trips for schools and scout groups and offer an after school program designed for children ages 8-12 years old that meets from 4pm – 6pm, one Friday a month between September to May.
Rancho Las Lomas Wildlife Foundation – Silverado Canyon
RLLWF is a small non-profit wildlife rescue located on a very large open-air property in South Orange County. RLLWF operates from the grounds of Rancho Las Lomas in Silverado Canyon, which encompasses over 50 acres in the midst of urbanization. RLLWF is dedicated to educating and inspiring the community about the wonders of the natural world, while helping all realize every creature of this planet deserves the right to live with compassion and respect. They are home to zebras, parrots, emus and a white Bengal tiger and others. They offer group tours year round. To book a field trip, call 949.589.7900. Groupon offers discount tickets to Rancho Las Lomas Wildlife Foundation.
Aquariums in Orange County
Back Bay Science Center – Newport Beach
The Back Bay Science Center provides year-round educational programs emphasizing estuarine and marine ecology; connecting these concepts to the greater watershed. The Back Bay Science Center is open to the public on Sundays from 10 am until 2 pm for Community Day and has a touch tank where families can learn about marine life.
The Back Bay Science Center is highly dedicated to educating the students and public of Orange County about our coastal resources, especially the Upper Newport Bay. As a step towards this goal, many educational opportunities are offered on Shellmaker Island and throughout the bay. With few exceptions such as scout troups, the Science Center focuses on 7th grade through college age students for school programs.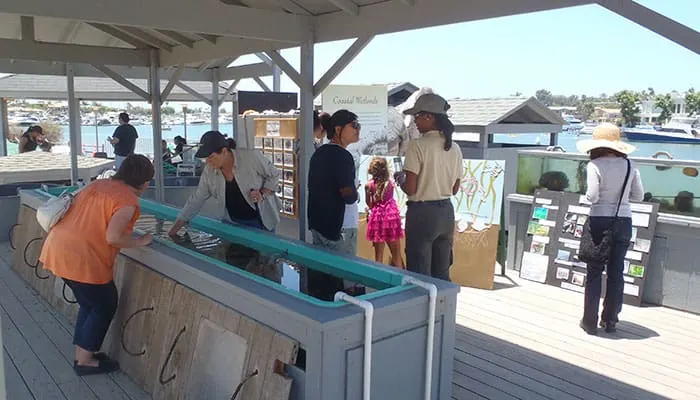 Dennis Kelly Aquarium – Orange Coast College, Costa Mesa
Orange Coast College's Dennis Kelly Aquarium is the largest and most diverse student-run aquarium in Southern California. With a total volume of nearly 4,000 gallons and more than 20 tanks representing different ecosystems, the aquarium offers OCC students the opportunity to learn about a variety of marine life and develop aquarium husbandry skills. The aquarium is open to the public during their weekly public hours and group tours are available for students, community members and visiting scholars. Admission is free. For larger groups, they encourage you to contact them ahead of time to schedule a more formal tour.
Discovery Cube's Ocean Quest – Newport Beach
Ocean Quest is one of the best places to visit in Orange County to learn about marine life and are open daily. They are dedicated to educating K-12 students about the seven principles of Ocean Literacy and have a touch tank!
Dive into marine science year-round during a field trip to Discovery Cube's Ocean Quest. Embark on a Newport Bay boat tour, explore hands-on marine environment-focused activities, visit their Science of Sailing Exhibit for a lesson on engineering with boat building, and participate in a scientific investigation of the bay's marine life from the pier and the beach (seasonal).
Field trips include hands-on exhibits and live demonstrator lead activities. All programs align with State Science Content Standards and students will receive a free "come again" pass (ages 3-17). Reservations must be made in advance.
Laguna Koi Ponds – Laguna Beach
More of a fish store, rather than an aquarium, but super fun to visit none the less. Located right down the street from The Pacific Marine Mammal Center in Laguna Beach, Laguna Koi Ponds is a great place to see and learn about Koi fish. It is free to browse through the store. However, please don't let your children touch the fish in the fish tanks.
The Ocean Institute – Dana Point
The Ocean Institute is an ocean education center that offers in-depth Marine Science, Maritime History and Outdoor Education programs. The facility includes state-of-the-art teaching labs, the spectacular Maddie James Seaside Learning Center, two historic tallships, and an oceanographic research vessel. Immersion-based field trips range from one-hour science labs to multi-day programs at sea. All programs are designed to maximize immersion, spark curiosity, and inspire a deep commitment to learning.
They offer a variety of public programs and field trips throughout the year. All of their hands-on exhibits highlight the underwater world just beneath the Dana Point Headlands. Explore their marine-themed atrium and whale court while participating in fun, family activities designed to indulge your ocean curiosity. On weekends, they offer a site-wide, immersive journey into the mysteries of the Pacific Ocean.
Art Museums in Orange County
Beall Center for Art + Technology – Irvine
The mission of the Beall Center is to support research and exhibitions that explore new relationships between the arts, sciences, and engineering, and thus, promote new forms of creation and expression using digital technologies. Free Family Day events occur in the fall and spring of each year, and are held in conjunction with each Beall Center exhibit.
CSUF Grand Central Art Center – Santa Ana
Grand Central Art Center, a unit of California State University at Fullerton – College of the Arts, is dedicated to the investigation and promotion of contemporary art and visual culture: regionally, nationally, and internationally through unique collaborations among artists, students, and the community.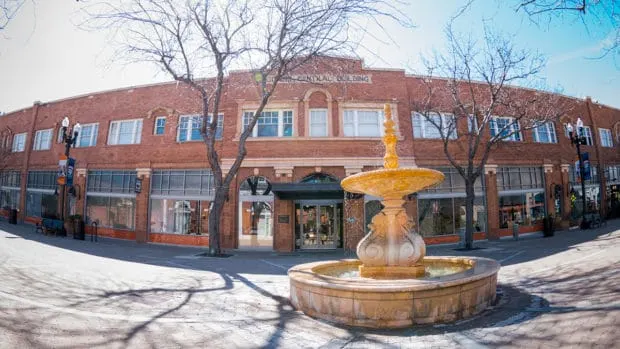 First Saturday Art Walk – Downtown Santa Ana
First Saturday Art Walk is a community gathering where all are welcomed and encouraged to appreciate the arts in Santa Ana. You'll find a plethora of visual and performing arts, live music, food, and people. You are invited to attend the first Saturday of the month from 6-10pm in the Artist Village underneath the twinkling tree lights that line the promenade. Shop and stroll the local art vendors displaying their work for you to see. Enjoy live music as you explore the open galleries and dine at any of our award-winning restaurants in Downtown Santa Ana. Very family friendly!
The Irvine Museum – Irvine
Dedicated to the preservation and display of California art of the Impressionist Period (1890-1930), The Irvine Museum is embracing a principal role in the education and furtherance of this beautiful and important regional variant of American Impressionism that has come to be associated with California and its remarkable landscape. The Irvine Museum invites you to share this experience and to enjoy the splendor and power of art as it relates directly to our beloved California.
The Irvine Museum offers a variety of tours of its exhibitions. A regularly scheduled weekly docent tour is offered every Thursday at 11:15 a.m. Visitors are welcome on this tour without an appointment. In addition, special docent tours are available to groups of ten or more on an appointment basis.
Laguna Art Museum – Laguna Beach
Laguna Art Museum is a museum of California art. It collects, cares for, and exhibits works of art that were created by California artists or represent the life and history of the state. Unlike any other museum in the state, it collects California art and only California art, and ranges across all periods and styles, nineteenth-century to present-day.
They host a free Kids' Art Studio, a hands-on art-making program, on a drop-in basis on the third Sunday of every month between 2:00 and 4:00 p.m. Children and their families create a piece of art from start to finish, inspired by one of the exhibitions on view in the museum. All materials are provided. Free admission for children and accompanying adults. Reservations are not required.
For each exhibition, Laguna Art Museum also offers interactive school tours for all grade levels free of charge. Tours are facilitated by trained docents and are designed to let students be active participants in the process of looking at, learning about, and enjoying art. Groupon offers discount tickets to The Laguna Art Museum.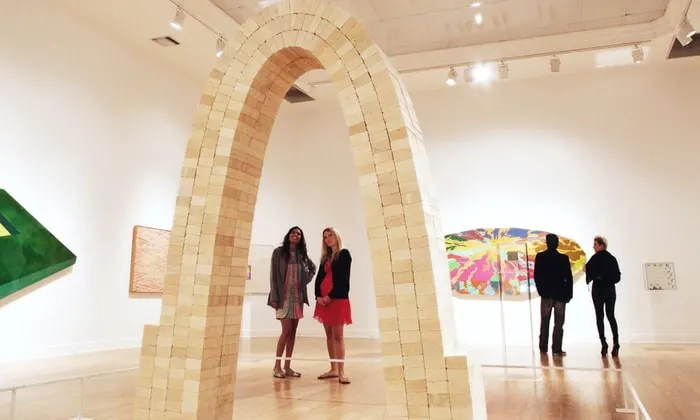 Orange County Museum of Art – Newport Beach
OCMA purpose is to enrich the lives of a diverse and changing community through modern and contemporary art. They have built a destination museum that is locally relevant and internationally significant. Children 12 and under are always free and admission is free on Fridays for the general public.
Public tours are offered every Friday, Saturday, and Sunday at 1 pm. Public tours are free with admission. Tours + Studio Process is offered to school groups of 30-60 public school students in grades 2-8. A Tour + Studio Process can be scheduled Tuesday-Friday from 10:00 am-12:00 pm on select dates.
Children's Museums in Orange County
Bowers Kidseum – Santa Ana
Bowers Kidseum, both an interactive children's museum and learning center, offers multi-faceted art and cultural experiences for young children, their families and the community. The museum is primarily dedicated to the pre-school and early elementary age children.
Visitors can enjoy free access to the museum and all activities on the first Sunday of every month, thanks to the Target Corporation. Field Trips are offered year round and they have great summer camp options for the budding archeologist.
The Children's Museum of La Habra – La Habra
La Habra Children's Museum's exhibits include a hand-carved carousel and a classic 1942 railroad car. On certain Sundays throughout the year, the museum offers free admission and family programming, sponsored by Target. Field trips are offered year round.
Discovery Cube Orange County – Santa Ana
For over 25 years, Discovery Cube has been impacting the lives of children through hands-on science education. They have more than 100 hands-on science exhibits designed to spark children's natural curiosity and just recently opened an entirely new wing at the museum.
They offer homeschool days throughout the school year and field trips year round. If you book early in September they offer extremely low field trip rates.
Pretend City – Irvine
Pretend City Children's Museum features a small, interconnected city designed to "build better brains" through purposeful play, hands-on learning experiences, role-playing, and educational programming. They offer homeschool discount days and field trip options year round for schools and scout groups.
Cultural Centers in Orange County
The Muckenthaler Cultural Center – Fullerton
The mission of The Muckenthaler is to provide the public with experiences that stimulate creativity and imagination, while conserving the heritage and architecture of the Muckenthaler Estate. The Muckenthaler Cultural Center offers extraordinary exhibitions, performances and engaging educational programs to Orange County's diverse communities and beyond.
The MUCK offers a six week after school ceramics program that teaches children the basics of hand building ceramics and throwing pottery on the wheel. They also host a weekly summer camp.
MUZEO Museum and Cultural Center – Anaheim
The MUZEO engages the community by exploring and celebrating Southern California's diverse heritage, culture and arts through creative programming and exhibitions.
The MUZEO has developed education pathways for all of exhibitions to meet California State Board of Education Content Standards. A minimum of 15 visitors are required to book a group tour and receive a discounted rate.
Casa Romantica Cultural Center and Gardens – San Clemente
Casa Romantica has developed a reputation for wide-ranging cultural programming, including music, art, dance, theater, horticulture, and a lecture series that bring international talent to south Orange County.
Casa Romantica also hosts a variety of free arts education programs for children year-round. The institution's annual Casa Romantica Music Festival and Academy has received critical praise for its comprehensive two-week music studies program in cello, piano, viola, and violin. Casa Romantica also offers a Summer Dance Workshop, a Spring Break Arts Week, various art, literature, and horticulture events to grades K-12, and welcomes children from the Capistrano Unified School District each year for STEAM-based field trips that examine the history of San Clemente and the coastal environment.
Farms in Orange County
Centennial Farm, The OC Fair & Event Center – Costa Mesa
Centennial Farm is a three-acre working farm created to educate youth about agriculture and its importance to daily life. The Farm is home to fruit and vegetable gardens, livestock, and the Millennium Barn. Children and adults can view pigs, chickens, cattle, goats and more while strolling though gardens of lush vegetation. Centennial Farm offers free tours as well as has general public visiting hours.
The Ecology Center – San Juan Capistrano
The Eco-Labs at The Ecology Center are outdoor interpretive stations with tools and activities provide systems-thinking, ecologically relevant, hands-on education through interactive explorations of what our ecosystems are and how we can live to improve them.
Focusing in the areas of Water, Food, Waste, Energy, and Shelter, The Ecology Center offers tours, field trips, content, and curriculum toolkits. Educators and students can engage with ecology in fun, hands-on ways that also satisfy the California State Standards for Science.
Farm + Food Lab, The Orange County Great Park – Irvine
The Farm + Food Lab is a unique and interactive outdoor classroom for visitors of all ages, featuring themed raised-bed gardens, fruit trees, vertical gardening, a chicken coop, a worm compost bin and solar and wind-powered lights. It is a working and dynamic organic horticulture area with a mission to educate visitors about gardening, inspire innovative and unique ideas and facilitate a thriving community of people working in partnership. Visitors can experience the Pizza and Spaghetti Garden or Butterfly Garden, witness a brood of hens provide eggs, participate in a gourd-chestra using gourds to make music, or take a class on pickling or canning.
Open seven days a week and staffed by University of California Cooperative Extension Master Gardeners, the Farm + Food Lab is the perfect place to enhance your gardening knowledge or learn the basics about starting your first garden.
Half-hour guided tours are available Tuesday – Friday at 11:00 am and 1:00 pm. Reservations are highly encouraged. To schedule a tour or field trip, please call 949.724-7418
Manaserro Farms – Irvine
Officially Manaserro Farms has been a part of Orange County for over 39 years. Today they are one of the few remaining farms left after urbanization in the 1970s. They are best known for their bountiful strawberry stands across Orange County, but they also grow a large variety of other fruits and vegetables on their small farm. Manaserro Farms offer field trips for homeschoolers, school groups and scout troops year round.
Tanaka Farms – Irvine
Tanaka Farms educate children about where fruits and vegetables come from and how they grow – so back in 1998 they started their first Strawberry Tour. They offer a variety of different tours throughout the year for families and groups including a Strawberry, Watermelon, U-Pick & Pumpkin tour.
Public Gardens in Orange County
Children's Garden Workshops, The Orange County Great Park – Irvine
This monthly workshop series is a fun and engaging interactive learning experience that brings to life the natural wonders of the Garden. Young attendees will have the opportunity to connect the natural world with their daily lives deepening their understanding and appreciation of nature followed by a craft or activity. Ages 3-9. Workshops are offered the 3rd Sunday of every month.
Sherman Library & Gardens – Corona del Mar
Sherman Library & Gardens is a 2.2 acre Corona del Mar horticultural retreat. The Gardens provide a museum of living plants, displayed amidst a setting of immaculate gardens, patios and conservatories linked together by wide brick walkways, beds blooming with seasonal flowers and bubbling tile fountains. There is also cafe on site. Tours are available upon request.
Museums in Orange County
Balboa Island Museum – Newport Beach
The museum's mission is preserve the Island heritage and its sense of community. Visitors are fascinated by the display of Island memorabilia, including classic photographs that depict the Island's captivating history.
Bowers Museum – Santa Ana
History and culture come to life through engagement with artifacts from around the world at the Bowers Museum. Founded in 1936 by the City of Santa Ana through a bequest from Charles and Ada Bowers, the Bowers Museum is one of California's finest and Orange County's largest museums. Visitors to the Bowers can enjoy free access to the museum and all activities on the first Sunday of every month, thanks to the Target Corporation.
Bring your school group to the Bowers and discover a new way to view, experience and create art. School tours are led by Bowers trained art docents, who engage students in active looking and discussion focusing on a select number of works in the collection.
The Bradford House – Placentia
The A. S. Bradford House is a historic home in Placentia, California. It was the home of Albert Sumner Bradford, who founded Placentia by arranging for establishment of a water tank along the railway. Homes and businesses within a one mile radius could get water. The modified Queen Anne Victorian-style home has two stories, 15 rooms and a full basement. It is an excellent example of an elegant turn-of-the-century home. The house is furnished in typical 1900-1920 style.
Public tours are offered 2-4 p.m. second Sunday of each month. A $3 per person donation is appreciated for these scheduled tours. Group tours on other days are $5 per person.
Dr. Willella Howe-Waffle House and Medical Museum – Santa Ana
The Dr. Howe-Waffle House was built in 1889 by Alvin and Willella Howe, both prominent Orange County physicians. Dr Willella Howe-Waffle was one of our county's first woman doctors, delivering over 1000 babies during her 38 years of practice. She and her husband came to Orange County in 1878 when doctors, in order to get to Los Angeles from Westminster, had to forge their own path through the cactus, willows, and mustard plants. There were no roads, and the winter rains brought floods too awful to recall. Many a time she had driven her horses through mud and water up to their waists, with the flood creeping around the floor of the buggy.
Currently, the house is open for tours on the first Saturday of every even month (Feb, April, June, Aug, Oct, Dec.) from 12 noon until 4 pm. Admission is $5 for adults and $3 for students.
Heritage Hill Historical Park – Lake Forest
Heritage Hill Historical Park's 4.1 acres includes, four fully restored and furnished historic buildings that span the early history of the Saddleback Valley and El Toro area from the Mexican Rancho era (Serrano Adobe, circa 1863), to the founding of the town of El Toro (El Toro Grammar School, 1890; St. George's Episcopal Mission, 1891), through the citrus farming days of the early twentieth century (Harvey Bennett Ranch House, 1908).
Guided tours through the buildings are provided for the public Wednesday through Sunday. The tours offer an interpretation of Saddleback area history through the artifacts, events and people associated with each building. Park staff and associated community interest groups offer special events each year including the annual Victorian Christmas held on the first Saturday of December.
Four free "Walk-in" tours are offered weekly for individuals and groups of seven or less. Wednesday and Thursday at 2 p.m., Saturday at 11 a.m. and 2 p.m. There are no fees for entrance or public tours of Heritage Hill Historical Park for groups of seven or less. Groups of eight or more must make advance public tour reservations and the fee is $2 per person.
A Living History program is offered to fourth grade children. The program enables students to experience a typical school day around the turn-of-the-century. A Hands-on program with an activity at each historic building is offered to third grade students. The Native American tour is available to elementary school children and features a visit to the Indian village exhibit to learn about the life of the "People of the Land Before 1769."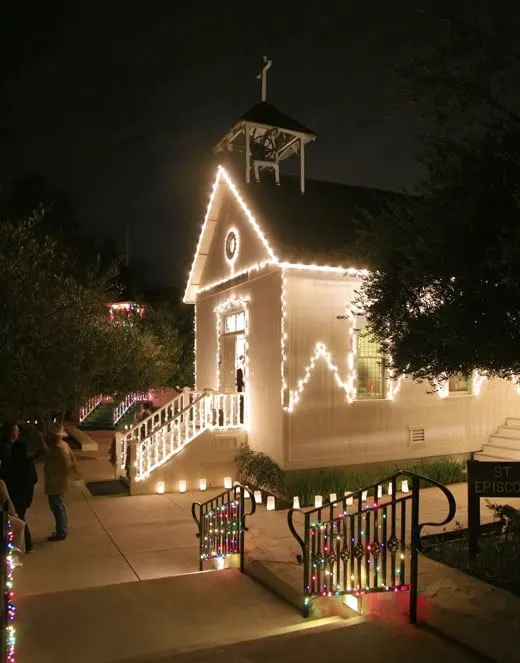 The Heritage Museum of Orange County – Santa Ana
Heritage Museum of Orange County is a cultural and natural history center in Southern California. The centerpiece of the museum, which covers nearly 12 acres in all, is a historic plaza featuring several buildings from the 1890s set amid extensive floral gardens and citrus groves.
The Heritage Museum tours, exhibits, and history and cultural related events that are designed with learning in mind. Each educational program is valued as an opportunity for enriching current curriculum guidelines as defined by the California Department of Education.
International Surfing Museum – Huntington Beach
A museum that celebrates the sport and culture that put Surf City on the map! Open Tuesday – Sunday for visitors.
Lyon Air Museum – Santa Ana
Founded by Major General William Lyon, Lyon Air Museum is located on the west side of John Wayne Airport in Orange County, California. Lyon Air Museum is collocated with Martin Aviation, an award winning jet, turbo-prop and piston-powered aircraft repair facility established in 1923 by famed aviation pioneer Eddie Martin. The Lyon Air Museum exhibit is composed of authentic aircraft, rare vehicles and related memorabilia, with emphasis on the defining event of the 20thcentury – World War II. Through captivating and thought provoking exhibits based in historical scholarship, visitors gain a better understanding of the important role the United States plays in shaping world history.
Group tours require prior arrangements be made for groups of 10 or more people and generally take about an hour.
Marconi Automotive Museum – Tustin
The Marconi Automotive Museum & Foundation for Kids opened in 1994 by founder, Dick Marconi. This impressive collection features automobiles from around the world including some very rare Ferrari's.Among the points of interest are the sapphire blue FX Ferrari, designed by Frank Williams of Formula 1 fame, Kenny Bernstein's "Louie the lizard" Top Fuel Dragster, a Jaguar XJ220, the 53rd car Enzo Ferrari built, and many, many more. This 30 million dollar car collection promises to delight your senses as you walk among many fantastic and rarely seen cars. Come see American muscle cars alongside a Foxfire firetruck, one of the oldest around. A minimum $5 donation goes to help children's charities in our community. Children 12 and under are free.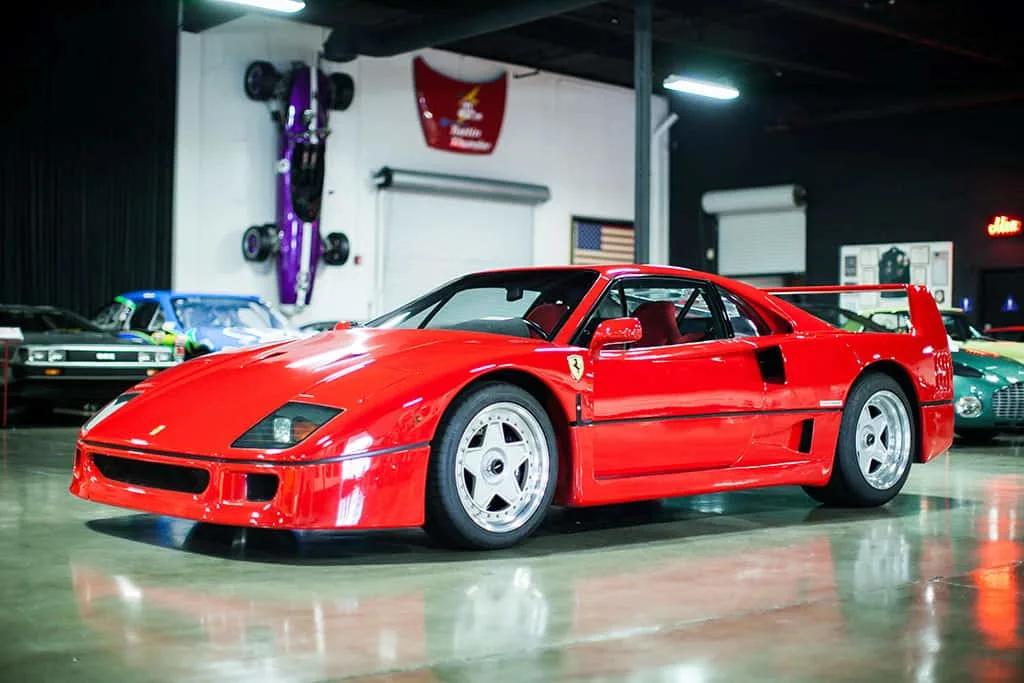 The Modjeska House – Modjeska Canyon
The Modjeska House, also known as Arden, is a house designed by Stanford White in Modjeska Canyon, California. It is significant for being the only surviving home of Helena Modjeska, a Shakespearean actress and Polish patriot. It is named "Arden" after the forest setting of Shakespeare's play As You Like It and planted gardens with olive trees, palms, English yews, white lilac, and crown of thorns. It was their home from 1888 until 1906. The property is located in a live oak grove on the banks of Santiago Creek in Modjeska Canyon.
Docent led tours of the historic house and gardens are currently offered Wednesdays and Saturdays, by advance reservation only. This walking tour will take you through the years Madame Modjeska resided in her canyon home, and along the rock lined pathways of what she so fondly called the Forest of Arden. Tours are approximately 1 1/2 hours.
Old Orange County Courthouse – Santa Ana
The Old Orange County Courthouse, formerly known as the Santa Ana County Courthouse, is a Romanesque Revival building that first opened in September 1901 and is located in Santa Ana's Historic Downtown District. During a tour visitors get to see the historic courtroom, court reporter's office and equipment, judges chambers and jury room. Tours are free to the public and they host field trips for school groups year round.
Olinda Oils Museum & Trail – Brea
The 12-acre Olinda Oil Museum and Trail is a historic park that recapture the sights, sounds, smells, and the vital role Olinda played in the development of Brea. The park features the original Olinda Oil Well Number One, a once used field office, a jackline pump and a records vault. Visitors are welcome to visit freely on their own or schedule a group visit or tour by calling 714-671-4447.
Richard Nixon Library & Birthplace – Yorba Linda
A privately supported institution which is dedicated to educating the public about the life and times of Richard Nixon, the 37th President, and encouraging interest in history, government and public affairs. The nine acre Library & Birthplace features a 52,000 square foot museum, 22 high-tech galleries, movie and interactive video theaters, the First Lady's Garden, the President's faithfully restored 1910's birthplace, and the flower-ringed memorial sites of President and Mrs. Nixon.
The library offers private, two-hour docent-guided tour of the Museum Galleries, President Nixon's original birthplace, and Marine One, that will transport you back to what Bob Dole called "The Age of Nixon." They also have several free admission days throughout the year including Memorial Day and President's Day.
Santa Ana Fire Museum – Santa Ana
Housed in a working fire station, you can view vintage equipment and memorabilia dating back to the late 1800s, alongside state of the art contemporary fire trucks and equipment. Don't miss this hands-on experience with a fully restored 1921 Seagrave fire engine and a whole variety of other original equipment. The museum hosts several free open houses for the pubic every year.
Susanna Bixby Byrant Museum & Botanic Garden – Yorba Linda
The museum consists of 2500 square feet of vintage room furnishings, from the late 1800s to 1930, including 5 museum rooms covering the history of the botanic garden, ranching, citrus, water wars, Cajon Canal/zanjeros, bee industry, Yorba family artifacts and mementos including textiles, Argentine gaucho exhibit, baby mastodon jaws, Yorba Linda Indians artifacts, transportation in the area at the time, the history of Yorba to Yorba Linda, kitchen primitives, mini medical museum, surname, subject, locality indices.
They are open for docent guided tours every Sunday from noon to 4 except holiday weekends. Admission is $2.00 for adults, $1.00 for children 5-12. Week day group/school tours may be booked by calling 714/694-0235.
California Missions in Orange County
Mission San Juan Capistrano – San Juan Capistrano
Mission San Juan Capistrano, the Birthplace of Orange County, was founded more than two hundred years ago. Today it is a monument to California' multi-cultural history, embracing its Native American, Spanish, Mexican and European heritage. A visit to the mission makes for a great California history field trip for all ages. Join the mission every 3rd Wednesday of the month for Homeschool Family Day.
Nature Interpretive Centers in Orange County
Bolsa Chica Wetlands – Huntington Beach
The Bolsa Chica Conservancy, a private, not-for-profit organization, provides services that inspire and connect all generations through community involvement and leadership in hands-on restoration and education in wetland science, watersheds, coastal ecology and environmental sustainability.
The Bolsa Chica Ecological Reserve is an excellent place for young students to get outdoors and experience wetland science and history first hand. They offer a full spectrum of educational opportunities and activities for students in grades K-12.
Caspers Wilderness Park Nature Center – San Juan Capistrano
Caspers Wilderness Park is an 8,000 acre protected wilderness preserve nestled among the river terraces and sandstone canyons of the western coastal Santa Ana Mountains. The Nature Center sits atop a hill overlooking a park and features a lookout tower to take in the beautiful views. Highlights include wildflower viewing in the spring, amazing views, and proximity to trails and the playground surrounded by oaks and sycamores.
A ranger-guided nature walk is offered at a scheduled time on Sundays. Walks during the week can be arranged by advance appointment. Guided walks and "Critter Talks" are avaliable by advance appointment and require a nominal fee. Programs may be held at the park or brought to your school or organization. Scout programs also available by appointment with Ranger.
Clark Regional Park Interpretive Center – Buena Park
Ralph B. Clark Regional Park is nestled at the foot of the Coyote Hills and offers a variety of recreational activities. The Interpretive Center contains a paleontology museum that provides an educational view of prehistoric Orange County through exhibits, programs and guided tours. Also the opportunity is provided to watch scientists and volunteers excavate and prepare fossil specimens for study and educational exhibits.
Dana Point Headlands Nature Interpretive Center – Dana Point
The Dana Point Headlands Nature Interpretive Center offers historical, cultural, and natural history exhibits. They have children's scavenger hunt checklists and other family-friendly activities throughout the year. Public walks are offered at 9 am on the 1st, 2nd, and 3rd Saturdays of every month.
The tour schedule is as follows:
Nature Tour: 1st Saturday
Whale Tour: 2nd Saturday
History Tour: 3rd Saturday
The Center is open to the public 10 am – 4 pm, everyday except closed on Mondays. At the top of the trail you have the potential for spotting whales and other sea life below.
Doheny Visitor Interpretive Center – Doheny State Beach
Take some time to visit the Doheny Visitor Interpretive Center by the entrance to Doheny State Beach. There's plenty to see including a tide pool, 5 ocean environment tanks with critters found in each area, mounted displays of the mammals and birds that call Doheny home, a park store with lots of Doheny memorabilia, and much more. Admission is free. Open 7 days a week, 10 am to 4 pm. They also offer a public fish feeding on Fridays at 1 pm with a park aquarist.
Environmental Nature Center – Newport Beach
The ENC inspires all generations to protect the natural world by serving as the community's foremost authority on ecological responsibility, sustainable practices and environmental education. They provide quality education through hands-on experience with nature. They have an indoor nature center, outdoor butterfly sanctuary and numerous walking paths. It is free to visit year round and they offer outdoor education for PreK- 12th grade.
Fullerton Arboretum – Fullerton
The Fullerton Arboretum's mission is to provide visitors the opportunity to gain knowledge and appreciation of the plant world through collections that preserve and promote stewardship of worldwide plant diversity and regional agricultural heritage.
Family-friendly nature classes are offered during Tuesday Evenings in the Garden. They also host field trips for school groups year round.
Irvine Regional Park Nature Center – Irvine
Highlights includes a lot of hands-on activities and a historical timeline of the park, historic photos and artifacts. Usually open on the weekends, depending upon volunteer availability. If you plan a student field trip to the Irvine Regional Park, they open the nature center for students.
Nix Nature Center, Laguna Coast Wilderness Center, Laguna Beach
The Nix Nature Center is the gateway for recreational users to explore a vast network of linked trails throughout the 20,000-acre South Coast Regional Wilderness. Features award-winning interpretive exhibits and an ongoing series of educational programs, guided hikes and other activities. Parking at the Nix Nature Center is $3 (all-day), lot open 9am-4 pm.
Oak Canyon Nature Center – Anaheim Hills
Oak Canyon Nature Center is a 59-acre natural park with a year-round stream, four miles of hiking trails, native wildlife and the John J. Collier Interpretive Center, a small museum with live animals and regional natural history exhibits. They offer field trips and tours year round for all ages.
O'Neill Regional Park Nature Center – Trabuco Canyon
O'Neill Regional Park Nature Center encompasses nearly 4,000 acres. Its topography and appearance varies greatly with canyon bottom land, oak woodlands, grassy meadows and shrub covered hillsides and slopes. At an elevation of 1,000 feet above sea level, the park enjoys warm dry summers and mild winters. They have a nature center for visitors and weekly family family activities such as Walk with a Naturalist and guided hikes. Paid overnight camping is also available.
The Reserve at Rancho Mission Viejo – South Orange County
The Reserve at Rancho Mission Viejo is a growing habitat reserve located in South Orange County whose mission is to preserve and enhance Reserve lands for ecological, educational, charitable, conservation, open space, scientific, and recreational uses.
Educational programs are offered throughout the year: nature walks, butterfly counts, wildflower wanders, bat walks, astronomy nights, hikes, owl pellet workshops, morning bird walks and counts, insect and arthropod explorations, family nature walks, mistletoe and plant walks, sunrise and sunset walks, mushroom searches, tracking for kids, and more. They also offer field trips for students and scout groups.
Thomas F. Riley Wilderness Park Nature Center – Coto De Caza
As a wildlife sanctuary, Thomas F. Riley Wilderness Park is home to an abundant number of native plants and animal life. This 544 acre wilderness park has five miles of multi-use and single track trails offering outdoor enjoyment for hikers, equestrians and mountain bikers. Ranger-led programs as well as self-guided hikes provide opportunities for the visitor to learn about the richness of this sanctuary.
The Ranger Station houses a hands-on classroom and a variety of interpretive displays which highlight the park's wildlife and history. Surrounding the station is a one acre native plant butterfly garden, a large deck for picnicking and enjoying the views, and informational bulletin boards.
The park's outdoor "classroom" atmosphere offers students of all ages, scouts and other youth oriented organizations, a place to experience firsthand, the intricate relationships between the park's wildlife and habitat, offering an opportunity to work on outdoor projects and fulfill classroom requirements.
Santiago Oaks Regional Park Nature Center – Orange
Lying peacefully in east Orange alongside the Santiago Creek, the 1,269-acre Santiago Oaks Regional park is a nature lover's paradise. This secluded refuge offers hikers, bikers and equestrians the natural charm of mountain vistas, an orange grove, a meandering creek and a mature forest of many different species of trees. Wildlife abounds and a series of interconnecting trails leads through shady groves and to a lookout that features an awe-inspiring view of Orange and the surrounding foothills.
The nature center, which opened in the summer of 1981, offers exhibits and programs on various natural history topics. Park Rangers provide a variety of interpretive activities including nature walks, slide programs and films. Nature programs for the general public are conducted on weekends dependent upon staff and volunteer availability. Group programs are provided for a nominal fee and must be scheduled at least two weeks in advance.
San Joaquin Wildlife Sanctuary – Irvine
The Sea & Sage Audubon at the San Joaquin Wildlife Sanctuary is a leader in creating an understanding of nature in Orange County through conservation, research and environmental education programs for children and adults.
Admission is free and it is a great place to take a family walk in nature. Each summer they offer Bat Walks where you can search for live flying bats after hours feeding at the marsh. The sanctuary is open every day from dawn until dusk. They also have a small nature center inside called the Audubon House where you check out binoculars to go bird watching. Field trips and group tours are offered year round.
Shipley Nature Center – Huntington Beach
Shipley Nature Center is an 18-acres of California Native Habitat located in Huntington Beach Central Park. The Friends of Shipley Nature Center, a nonprofit organization, manage this lovely site as an example of native habitat, water conservation and wildlife refuge. It is free to visit and walk around this beautiful property. Family programs and field trips are offered year round.
Tucker Wildlife Sanctuary – Silverado Canyon
Tucker is best known for its wide variety of native and migrating birds, especially hummingbirds. Its facilities also include a nature science center, two ponds, a bird observation porch and feeders, picnic areas, a small amphitheater, walking trails and a gift shop. They host a few community events throughout the year including Bat Night (October) and SummerFest (July) and offer year round field trips for all ages.
Turtlerock Nature Center – Irvine
The Turtle Rock Nature Center is located at the base of the San Joaquin Hills in Irvine, and serves as a community resource for environmental interest and concern. The five-acre nature preserve is both a home for wildlife and an outdoor classroom where visitors and program participants learn to protect our natural environment. There is also a beautiful park located on the property.
Group Tours are offered on a reservation basis. Tours include a guided walk on the Nature Center trail, where naturalists will delight you with information on local habitats, plants and wildlife. Common animal sightings include birds and bunnies.
Play Areas in Orange County
Adventure Playground – Irvine
This outstanding park has been around for over 25 years and recently underwent a major renovation. Guests can enjoy several park amenities including a tree house, sensory garden, climbing poles and stumps, slides, an art wall, kids fort zone and beautiful meadow and natural play area.
Adventure Playground – Huntington Beach
Adventure Playground is a wonderful summer playground experience for children 5-12 years old. Kids can raft on a small pond, navigate a rope bridge, go down a mudslide, and build forts. There is a small admission fee per child. Ages 16+ are free. Open 10:00 am to 4:00 pm, Monday through Saturday, closed Sundays and July 4th. Play ends at 3:40 pm for cleanup.
Atlantis Play Center – Garden Grove
Kids will have a blast at Atlantis Play Center playing on the concrete animals or sliding down the sea serpent slide. All of the other expected playground amenities are here as well, from swings to climbers. There are plenty of areas for picnicking under the trees and a picnic area for parties or large groups. The splash pad opens on June 9, 2015.
The cost is $2 for 3 years old and up and FREE for 2 years old and under. Closed on Mondays.
Moon Park – Costa Mesa
Moon Park commemorates the July 20, 1969 Moon landing. The 30-foot cratered gray concrete dome, which simulates the lunar surface, is a prominent feature of the park. The park is located at 3337 California Street, Costa Mesa.
Orange County Coastkeeper Natural Play Ground – Orange
The Coastkeeper Natural Play Garden is an area within the Coastkeeper Garden where children can enjoy nature in a controlled setting through fun and exploration. The Natural Play Garden includes tree stump paths to navigate, a deer grass maze for hiding, rocky hill for climbing and navigating, large tunnel built into a hillside and sitting areas for parents.
Planetariums in Orange County
Orange Coast College Planetarium, Costa Mesa
The Orange Coast College Planetarium is committed to providing an innovative, immersive, and illuminating experience for Orange County and beyond. Students in Orange County school districts who experience the planetarium are given the chance to experience core STEM concepts through exhibits that are engaging and fun. They offer shows to the public and field trip experiences for the local school community from kindergarten through high school which include spectacular star shows, spherical science, and more.
Tessman Planetarium, Santa Ana Junior College – Santa Ana
Families can see one of the planetarium's 75 minutes interactive astronomy shows and discover the wonders of the universe. All of their shows contain information about the latest discoveries in astronomy and science. Every December they present a special Holiday show called "The Star of Bethlehem" that takes a trip through time to see how the sky looked 2000 years ago. Field trips are aligned with the K-12 State of California Science Content Standards.
Happy Field Tripping!
Jilleen
More Things To Do With Kids in Southern California
Best Places To Go Whale Watching in Southern California
20+ Water Parks in Southern California
Vist a Wolf Sanctuary in Southern California
60+ Places To Explore With Kids in Orange County