Going to your local county fair is a great way to get more educational bang for your buck!  At the fair children can learn all types things such as how to grow a garden (agriculture), how to milk a cow (husbandry), how to make a bottle rocket (science) or attend a music concert (creative arts).
Recently, the LA County Fair announced that they are accepting field trip reservations for the 2017 fair season!  The best part about attending an LA County FairKids Field Trip is that admission and parking is FREE for any public, private or homeschooler in preschool – high school.  Teachers and chaperones are free as well.
This year's LA County Fair's field trip dates are set for September 1 – 24, Wednesdays– Fridays.  Gates open at 9:00 am for all field trips and attendees must arrive before 11 am to be admitted.
2017 LA County FairKids Exhibits
The LA County Fair opens three hours early at 9 am on field trip days for children to participate in controlled fun and educational activities related to agriculture, art, science, literature, California heritage, and life on a real farm.  All programs are also grade-level and subject specific.
This year's LA County FairKids exhibits for kids include:
Jurassic Planet: The Bio-Research Facility (Dinosaur Exhibit!)
There are over (35) animated Dinosaurs (reaching in at over 14 feet tall!), special effects, fantastic lighting at night, handson activities, live animals, Paleontologists, Dino Digs, Stage Shows, Dino Store and more. Come meet the walking Dinosaur and visit our dinosaur museum. Learn all about the Giganotosaurus, Dimetrodon, Saurolophus, Tyrannosaurus, Baryonyx, and many more of these fascinating creatures as you encounter them along your journey through Jurassic Planet.
America's Kids: Adventures in Literature
Some of the greatest adventures ever told take place on the pages of a book. Imagine if those adventures came to life! With America's Kids' Adventures in Literature you'll feel like you've stepped into an enchanted library where giant books, costumed characters, colorful props, and hands-on activities come together to create a literary adventure of your very own.
Garden Railroad: Ride through California History in Minature
Did you know that the fair's miniature railroad has been a Fair exhibit since 1924? This attraction, which has more than 30 individual operations running at one time, is maintained and operated by year-round dedicated volunteers and is one of the oldest and largest public Garden Railroads in the U.S. with over 10,000 feet of operating track.  Follow the garden path and you'll learn how the railroads played an important role in California History, depicted along the miniature railroad.
Flower & Garden Pavilion: Wonderland: A Floral Fairy Tale 
The experience begins from the moment you walk up to the Flower & Garden Pavilion.  Take a trip down the Rabbit Hole and be transported into anotherdimension in Wonderland: A Floral Fairy Tale!  As soon as you step foot into this exhibit you will be dwarfed by the giant displays paying homage to Lewis Carroll's enchanting novel, Alice in Wonderland, with hundreds of beautiful flowers and plants around every corner. 
Heritage Mission – Life as an Early Settler
Get a glimpse of what life was like growing up in the early days of settlers in this new exhibit in THE FARM. Learn about California's history as you go back in time in this interactive exhibit filled with some of the most beloved professions of our past. Visit with the blacksmith, leather maker and reenactors of days gone by.
Railgiants: Historic Trains
Step inside some of the largest steam engines and diesel locomotives in the world, at RailGiants, where the LA County Fair houses some of the world's most distinctive historical trains! These unique trains will intrigue students and help to demonstrate the impact of railroads on California's early history and industry. Examine our authentic historical train depot built in 1885, explore real dining and sleeping cars, and even blow the whistle in a giant engine.
Wilderness Ridge: America's Great Outdoors
Explore exhibits that teach about protecting, respecting, and most importantly, connecting with nature and the animals that call it home. Start your journey at the Ranger Station with an introduction to the site and the agencies who manage these special places. The Ranger Station is your first stop for maps and information. Meet foresters and rangers whose job is to preserve, protect, and manage our public lands. Visit with the native reptiles of Southern California; see if you can find our state reptile – the protected desert tortoise. Get to know California native plants and animals and immerse yourself in the history of the West.
NHR Motorsports Museum
The NHRA Motorsports Museum features seven galleries of one-of-akind handmade automobiles. The stories the museum tells are exciting real-life examples of the principles of a balanced education that embraces STEAM (science, technology, engineering, arts and mathematics)
The Magical World of Dragons, Wizards and Beasts
Step inside our castle that takes you to realm of fantasy and imagination and experience. Visit dragon perches and engage in interactive devices. See our nod to pop culture references like Harry Potter, Games of Thrones and Beauty and the Beast.
Join a modern day wizard to guide you through the mysterious, magnificent and mesmerizing Magical World of Dragons, Wizards and Beasts. Jim Cogan is Merlogan, the tale spinning wizard whose stories will engage you through all the exciting adventures this STEAM- focused attraction promises. Fearlessly go where few have gone before; into a realm where some of the most fantastic creatures ever imagined have roamed for centuries. In the hands of the Master Wizard, we experience face to face encounters and hear storied legends and tales of this excitingly educational world of wonder and awe.
The 2017 Art Classic: One Path Two Journeys – Judithe Hernández and Patssi Valdez
The annual Art Classic at the Millard Sheets Art Center presents One Path Two Journeys – Judithe Hernández and Patssi Valdez. The Millard Sheets Art Center is proud to announce that it has been selected to participate in Pacific Standard Time: LA/LA, a far-reaching and ambitious exploration of Latin American and Latino art in dialogue with Los Angeles and the surrounding areas. Los Four and Asco were two ground-breaking Los Angeles artist collectives speaking out for Mexican-American civil rights in the 1970s and early '80s. Their work validated ethnic and cultural practices and campaigned against discrimination, racism, and exploitation. Their unique public art and bi cultural style brought Chicano art to the attention of the mainstream art world. LACMA mounted a major Los Four exhibition in 1974, recognizing the importance of Chicano Art as a unique school of American art.
The Big Red Barn: Animals, Animals and More
The LA County Fair has added a plethora of new interactive activities in the barn including stage shows with their very own cowboy Sky Shivers.  They'll also have many of your favorite old activities back as well; guests can milk a goat, pet more than 150 animals, learn about sheep's wool, and learn about a Zonkey (donkey and zebra) and Zorse (horse and zebra).
The Land Of…Frogs, Princesses & Knights
Escape into a land of frogs, princesses, and knights and let your imagination run wild as you embark on a journey to a place full of wonder and magical allure. Once you cross the drawbridge you will enter into a world where princesses reign, knight's fight for honor, and fairytales are born. Return to a time long ago while you wander through our castle walls and train in our challenging Knight School. For you princesses-in-waiting, your fairy tale begins just over the pond.
Mojo's Wild & Crazy Lagoon
Grab your safari hat and imagination as you visit Mojo's Wild & Crazy Lagoon.  Their resident capuchin monkey, Mojo, is excited for you to visit her home on Monkey Island, where she has her very own lagoon and jungle gym! Ducking beneath the vines as you enter you will be greeted by her many friends in Fiona's Jungle Perch, Lemur Lair, Peacock Paradise, The Grasslands, Spike's Reptile Territory, Iggy's Insect Encounter, Kangaroo Cove and the Enchanted Village. Along your journey be prepared to learn fascinating facts about each and every one of our enchanted animals. Keep your eyes peeled and smart phones handy and you can scan QR codes in every area throughout the lagoon. Quick facts, extensive descriptions and even video will be at your fingertips!
The Farm
The Fair's five-acre organic working farm features more than 150 California specialty crops. This is where learning, growing and sustainability are combined in one area. Don't miss the unique hands-on agricultural adventures!
How To Register For An LA County FairKids Field Trip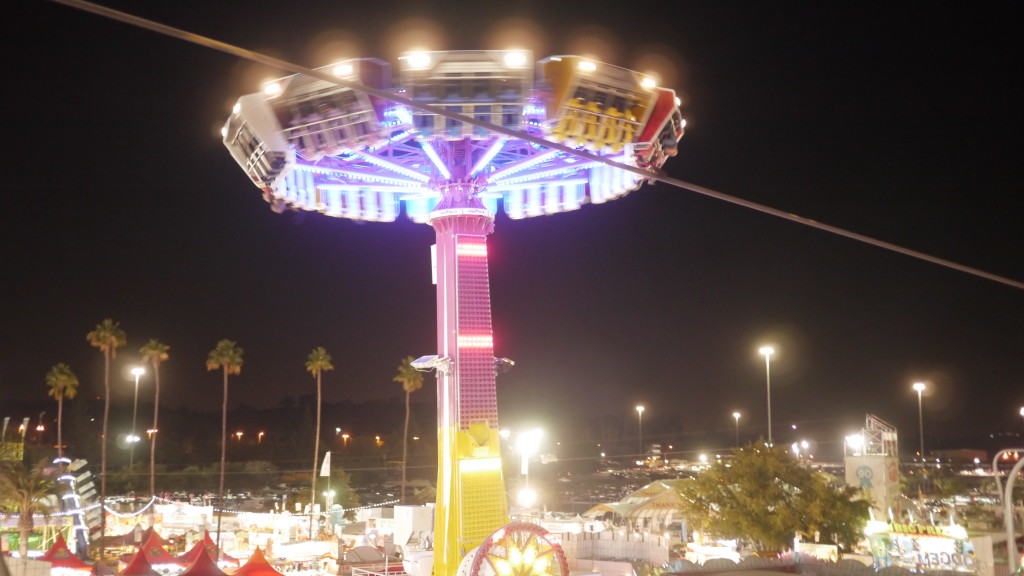 It is very simple to set up a field trip to the LA County Fair.  Simply visit the FairKids Field Trip website and click the "Register For Field Trip" button.   FairKids Field Trips are on Wednesdays through Fridays throughout the season.  If you're looking to beat the crowds, the first week of FairKids and Wednesdays have the lowest attendance.
Simply fill out the form, print your email confirmation and bring it with you the day of your field trip.   Please note, no more than 2 adults per 1 student are allowed on the field trip.  If additional adults want to go they have to purchase a full price weekday ticket to enter.
LA County Fair's Free Milk For Students Program
You might also want to take advantage of the fair's Free Milk For Students program where students receive a complimentary bottle of white or chocolate milk while in attendance.
I hope you have a fantastic time at this year's county fair.
Happy Field Tripping!
Jilleen
More Homeschool Field Trips in Southern California:
Logan's Candies Candy Cane Demonstrations
California Science Center Homeschool Classes
Homeschool Day at Six Flags Magic Mountain
Homeschool Days at the Aquarium of the Pacific