This post may contain affilate links.
How often do you feel the thrill of being drenched from head to toe? At Aquatica San Diego, SeaWorld's Waterpark, it's your absolute mission to do so! Last summer, my family and I had the opportunity of visiting this fun and adventurous water park in Chula Vista, California. Aquatica had been on our list of "must see" attractions for some time now. So, we were honored to be invited and check it out for all of you too!
CHECK OUT OUR 20+ WATERPARKS CALIFORNIA VIDEO
Top 5 Reasons to Visit Aquatica San Diego
Here are the top 5 reasons to visit Aquatica San Diego this summer!
The Ambiance
Aquatica reminds me of a whimsical South Seas vacation resort complete with pearly white beaches, lusch tropical plants and the sounds of Polynesian music playing softly in the background. You can't help but leave your worries behind when you enter the water park.
What sets Aquatica San Diego apart from other parks though, is that they offer live animal encounters. Tying into SeaWorld's sea life theme, a handful of bright pink Caribbean flamingos and dozens of freshwater turtles live at the park and contribute towards the relaxing atmosphere.
The Waterslides
In total, Aquatica San Diego has over a dozen waterslides that appeal to all different age groups and thrill-seekers. For my son, who loves "all things" roller coasters, Taumata Racer was the #1 waterslide on his list to try out. The fast moving slide, named after a famous New Zealand hill, sent him racing down a 375-foot slide complete with a 180-degree turn and multiple tunnels. The dazed look on his face afterwards said it all!
After riding Taumata Racer, Field Trip Boy and his friends decided to go on Tassie's Twister. This particular waterslide entices riders to hop on board a spin-centric tube ride which sends them crashing down 75 feet of water before entering a spiraling six-story funnel. Just make sure to hold on tight to the handles or you may find yourself seated a few inches off the tube while flying in the air. I learned the hard way!
Believe it or not, before visiting Aquatica San Diego, Field Trip Girl had never been on a waterslide before. So, imagine how surprised I was when she asked to go on HooRoo Run, where the steepest drop offers 80-feet of pure thrill down two enclosed and two open-air slides. And she not only went once, but three times!
After practicing her dare devil skills on HooRoo Run, Field Trip Girl decided to try her hand on Whanau Way. She twisted and plunged down the 60-foot water slide which contained 6 different slides, including four enclosed and two open-air slides.
My daughter chose to ride the open air slide by herself, while my husband went down on the one next to her. It was a great father-daughter moment!
Water Play Areas
A personal favorite of mine was Walkabout Waters. Here hoses, jets and geysers erupt from a gigantic four-story building, which also includes a 500-gallon bucket that douses climbers every five minutes. My kids and I patiently waited over 5 times to have water dumped on our heads. It never got old!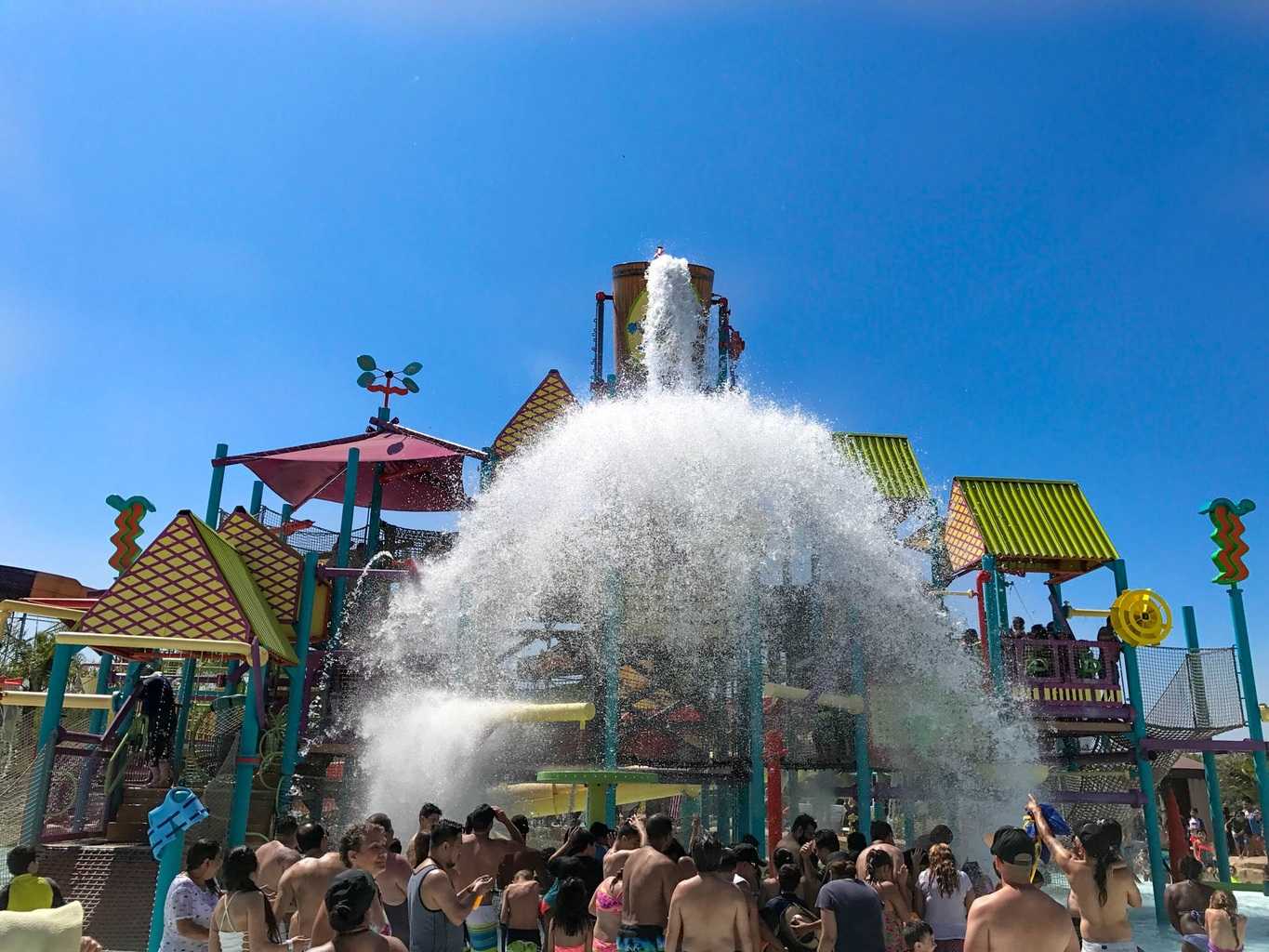 Another popular spot within the park is Big Surf Shores. It is one of the largest wave pools in Southern California and contains more than 500,000 gallons of water with swells up to 5-feet tall.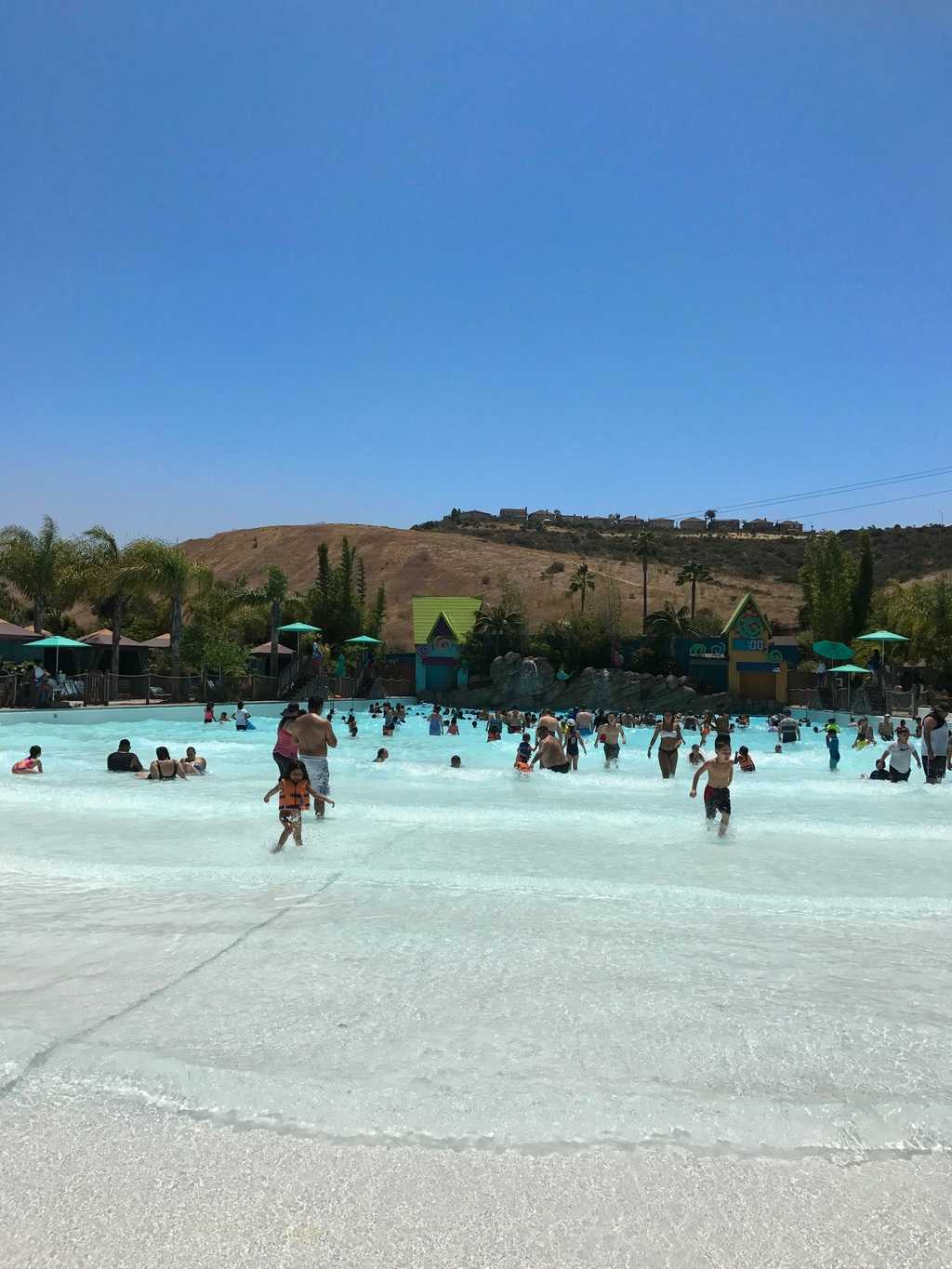 The waves go off every 15 minutes and there's a countdown clock on the wall that lets you know the next time they start. This is especially useful if you have younger children who can't tell time or a special needs child who has anxiety.
Families with younger children will also enjoy Slippity Dippity where the waterslides are smaller and easier to go down.
Yet, who doesn't love a relaxing lazy river! Field Trip Girl and I spent hours floating down Loggerhead Lane and playing in their beautiful waterfall. It was quite refreshing on such a hot summer day.
The Helpful Staff
Since I was new to Aquatica San Diego, I didn't know where anything was located in the park. That's when Aquatica's friendly staff graciously stepped in and provided me with directions to all the places I needed to go.
First, we put our backpacks in a pre-paid locker and went to the restroom to change our clothes. Then, while waiting for my husband and son to finish up, my daughter and I staked out a line of beach chairs at Big Surf Shores and settled right in.
Throughout the day, whenever I needed assistance, Aquatica's kind staff was there to help. The staff provided me with meal recommendations, complimentary life preservers and floating devices, sunscreen in the gift store and so much more. Aquatica San Diego has it all for families!
The Price Is Right
Aquatica San Diego is currently offering an amazing deal on admission to the waterpark! Get 2 Aquatica admission tickets for the price of 1 for only $29.99! You definitely want to reserve your tickets before summer is over!
Aquatica San Diego is open daily at 10:00 am during the summer. Be sure to visit the Aquatica San Diego website when planning your visit.
Happy Field Tripping!
More Things To Do With Kids in San Diego