Exploring tide pools on Orange County's beaches isn't just a fun family adventure, but a learning opportunity. Tide pools in Orange County are small pockets of water created on beaches and rocky areas during low tide. They're home to marine life, such as snails, small fish, and anemones, as well as plants. While tide pools are magnificent areas to check out, it's important to respect the animals and leave them in place, as they have to deal with heat, reduced oxygen, and predators.
While visiting the tide pools National Ocean and Atmospheric Administration recommends people bring bags with them and help clear the tide pool areas of garbage and plastic that may wash ashore.
When can tide pools be viewed?
Tides go in and out twice every 24 hours and 50 minutes (due to the gravitational forces exerted on the Earth by the moon) – typically in the early morning and in the evening. Just like sunrise and sunset, the times vary day to day throughout the year.
The best way to identify low tide is to use a tide chart or tide schedule like the one published by TidesChart or check the latest data from the NOAA station on Santa Catalina Island.
Where are the best tide pools in Orange County?
From Dana Point to Newport Beach to Aliso Beach, there are tide pools all over Orange County. While Orange County is home to beautiful beaches, tide pools add a unique experience when visiting. Here are a ten tide pools we recommend visiting.
Where are the Dana Point tide pools?
The Dana Point tide pools are located at Dana Point Headlands Beach. As a sandy beach featuring tons of rocks, Dana Point Headlands Beach is ripe for tide pools. Sea grass, tube worms, anemones, and crabs are among the things to see during your visit. Climb on the rocks or walk along the beach until you find a tide pool you want to explore.
Does Newport Beach have tide pools?
Newport Beach is home to a rocky cove called Little Corona Del Mar Beach, which has tide pools offering views of anemones, small fish, and crabs. Watching hermit crabs move from shell to shell can provide a bit of entertainment.
Where are the tide pools at Crystal Cove?
With Crystal Cove State Park home to four areas for tide pools, head to Rocky Bight, where you'll find a variety of sea creatures such as star fish, anemones, barnacles, and mussels. Rocky features add to the experience. A second beach to explore is Pelican Point. Follow the boardwalk to the trail leading to Pelican Point, where you'll find crabs, anemones, star fish, and more in the tide pools. Other tide pool areas are Reef Point and Treasure Cove.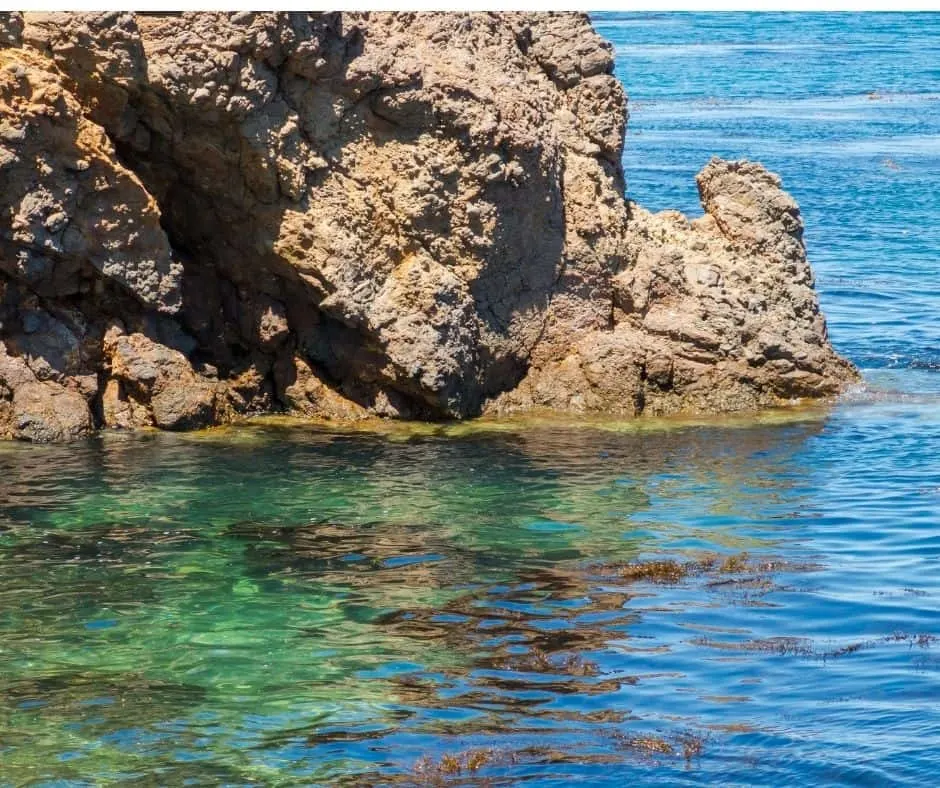 Where are the tide pools in Laguna Beach?
Unlike its neighboring cities to the north and south, Laguna Beach is known for its spectacular tide pooling. These special ecosystems in Laguna Beach are part of our Marine Protected Environment and therefore thrive since they are protected against fishing, touching or harvesting.
Does Victoria Beach have tide pools?
Offering several types of tide pools, Victoria Beach is one of the best beaches in Orange County for marine life viewing. From a flat area home to anemones, mussels, and more, to the tower, with its rocky area and channels featuring castle worms and snails, among other marine life, you can find a variety of terrain and tide pools at Victoria Beach. Other areas for tide pools include rocky features, offering more unique marine life views.
Thousand Steps Beach in Laguna Beach
While it's more like 250 steps, Thousand Steps Beach offers picturesque views of the ocean and shoreline. With tide pools featuring algae-covered rocks and a rocky bench, they're perfect for finding anemones, mussels, star fish, and other marine life. Located on the northern end of the beach, you'll enjoy the walk along the sand to the tide pools.
Crescent Bay in Laguna Beach
With level rock benches and deep slits, Crescent Bay features different views of tide pools. While the shallow tide pools are home to crabs, clams, mussels and star fish, the deep fissures contain marine life such as urchins. Crescent Bay is a large area, so you'll have opportunities to take in all types of marine life and beach combers.
Aliso Beach in Laguna Beach
Aliso Beach is home to two specific tide pool areas, separated by Goff Bay. Both areas feature marine life, such as star fish, snails, mussels, tube worms, and clams. Treasure Island is a rocky bench with its own island. Accessible only during low tide, you'll find plenty to explore, including the tide pools. At high tide, the island is completely submerged. The second location – Goff Island – has an island that remains dry during high tide. With a rocky bench, you'll enjoy exploring the tide pools.
Shaws Cove in Laguna Beach
Star fish, kelp snails, mussels, barnacles, and hermit crabs highlight your visit to Shaws Cove. With two primary areas for tide pools on the northern and southern end of the beach, beach combers enjoy exploring both sections.
Heisler Park in Laguna Beach
With beautiful views of the beach and the ocean, Heisler Park's tide pools feature star fish, urchins, and barnacles, as well as a variety of snails. With several tide pools located among the rocks on the beach, you can stroll along the way, finding a variety of marine life and plants to view.
Woods Cove in Laguna Beach
With rocky coves along the southern end of the small beach, you'll find a nice variety of marine life, such as snails, mussels, and star fish, at Woods Cove. The northern section is flat and has two large tide pools, perfect for marine life views.
Best Tips for Visiting Tide Pools in Orange County
Although tide pool creatures can survive harsh conditions, human visitors can easily disturb them. A simple act like turning over a rock and exposing the animals to the sun can harm them.
According to the Monterey Bay National Marine Sanctuary, when you visit tide pools do your part to preserve this special place:
Step Lightly. Most rocks are covered with living animals and plants. Step carefully to avoid crushing them.
Look closely. Sit quietly and watch for a few minutes. You'll see and learn much more this way.
Touch gently. If you touch an animal or plant, touch it gently.
Leave everything as you found it. Strict laws govern collecting tide pool life. Enjoy seashore life in its natural environment and leave the plants and animals exactly as you found them.
Be safe. Keep an eye out for waves, and don't turn your back on the ocean. Wear sturdy shoes or rubber boots that can get wet. Dress in layers and bring sunscreen and sunglasses.
Orange County has some of the most beautiful beaches in California. The beaches feature amazing tide pool views, offering a great family outing. As you check out Orange County's tide pools, please remember to respect the sea creatures and leave them in place. Enjoy your trip to the tide pools.
Happy Field Tripping!
Jilleen