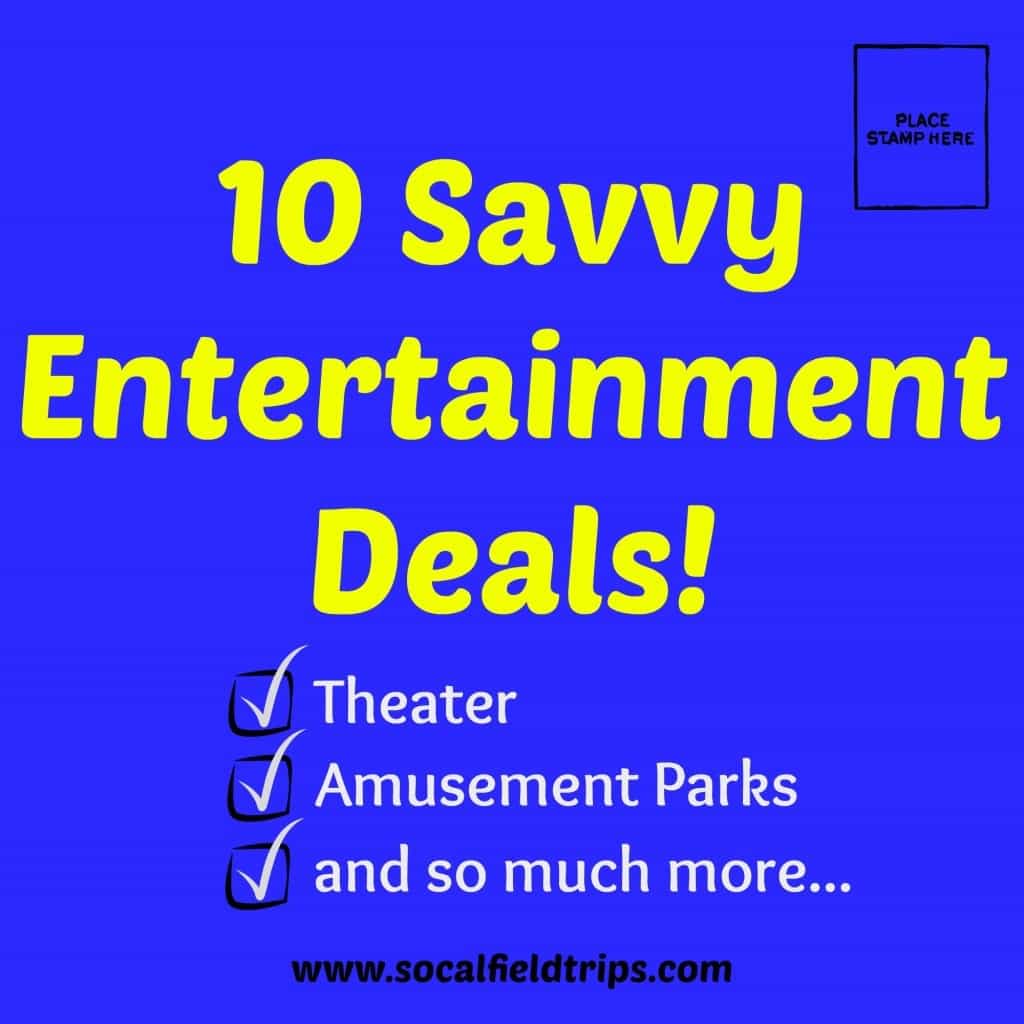 This post contains affiliate links.
Welcome to SoCal Field Trips' popular blog series titled 10 Savvy Entertainment Deals!
Up this week are numerous entertainment deals for all sorts of fun activities across Southern California.  So let's just get right to it!
1. $8 Tickets To See Disneynature's Monkey Kingdom: Documentary Screening With a Pre-Show Live Animal Showcase @ The El Capitan Theatre, Hollywood
Life is an adventure for Maya, the clever and resourceful monkey featured in Disneynature's new documentary Monkey Kingdom. Maya's world is forever changed when she welcomes son Kip into her complicated extended family of toque macaques. When their longtime home at Castle Rock is taken over by neighboring monkeys, Maya must use her street smarts and ingenuity to lead her whole family to untapped resources amidst strange creatures and unsettling surroundings in their native Sri Lanka.
Before this G-rated cinematic journey gets underway at Hollywood's El Capitan Theatre, your little moviegoers can enjoy a real-life animal adventure of their own.  Wildlife Learning Center will host a pre-screening showcase featuring exotic animals from around the world, live on stage.
2. $32 Tickets Enjoy Dinner and A Show at Medieval Times, Buena Park
Medieval Times is an exciting dinner attraction for the whole family inspired by the 11th-century world of knights, jousting and majestic revelry. Included is a four-course banquet during which you can cheer for one of six knights as they compete in the joust and other tests of skill. Medieval Times dinner and show features live jousting, sword fights, horsemanship, falconry and a "no utensils" meal, so you can feast like a king. Six knights of the realm will compete in the King's tournament, locked in battle for the honor of the crown.
3. $10 Ticket to See The Adventures of Tom Sawyer: A Musical for All Ages @ The Laguna Playhouse, Laguna Beach
Mark Twain's lovable little scamp Tom Sawyer comes alive on stage in this musical version of America's favorite book. Set in a bustling 1840s town on the banks of the Mississippi river, The Adventures of Tom Sawyer follows Tom, his best friend Huckleberry Finn and his feisty love interest Becky Thatcher as they get themselves into — and out of — one bind after another. Filled with playful, mischievous kids, funny dialogue and high-stakes action, this timeless tale taps into the child in all of us. This version of Tom Sawyer will be performed by the company's Youth Theatre actors, and is targets for audiences ages 5 and older.
4. $12.50 Tickets to See Peter Pan: New Musical Version of Classic Tale Soars @ The La Habra Depot Playhouse, La Habra
Like Peter Pan himself, J.M. Barrie's beloved tale never gets old, as those of all ages continue to be swept up in its soaring message about the power of faith, family and home. Now Peter Pan takes flight once more as an all-new musical version comes to the stage at Mysterium Theater at The La Habra Depot Playhouse. Join Peter and the three Darling children as they fly away to the magical world of Never Land, where they will encounter the Lost Boys, the cunning and evil Captain Hook, villainous pirates, a crafty crocodile and a sprightly fairy named Tinker Bell.
5. $14 for Two People To Visit The Living Coast Discovery Center, Chula Vista 
Step into to a bird's house. Get eye-to-eye with a moray eel. Greet a sea turtle as he swims up to say hello. The Living Coast Discovery Center isn't a nature museum—it's a chance to hang out with Southern California's plants and animals on their own turf. The Discovery Center's "living, breathing, flapping, buzzing, and splashing home" sits on the 316-acre Sweetwater Marsh National Wildlife Refuge, the ideal location for exploration of the region's most memorable residents in their native habitats.
6. $20 for Five All-Day Bounce Sessions at Frogg's Bounce House ($50 Value), Fountain Valley
We love Frogg's!  Founded by a mom to give fellow parents a safe, fun place for their kids to play and exercise, Frogg's Bounce House entertains all ages. Apart from its inflatable slides and obstacles, the jump emporium also boasts train tables, books, building blocks, a play house, fun cars, and a toddler gym for wee ones. Older siblings can play air-hockey, race through an obstacle course, or catch a flick in the movie lounge. Parents, meanwhile, can watch their progeny from the comfort of a seating area or they can surf the free WiFi or watch the game on TV.
7. $11 Tickets to See Buzz Lightyear, Lightning McQueen & More in Disney On Ice: Worlds of Fantasy @ The Los Angeles Memorial Sports Center, Los Angeles
Join your favorite Disney characters as Disney on Ice brings four beloved family tales to the rink in Worlds of Fantasy. From Cars, catch racing hero Lightning McQueen and his tow-truck pal, Mater; from The Little Mermaid, Ariel and her under-the-sea friends; fromToy Story, it's space ranger Buzz Lightyear and his Wild West pals Woody and Jessie; and from Tinker Bell, say hello to Peter Pan's magical pixie and the Disney Fairies.
8. $40 for a One-Year New Member Membership to The Los Angeles County Arboretum & Botanic Garden (Up to 50% Off), Arcadia
Nestled in the historic Rancho Santa Anita—a homestead originally inhabited by the Gabrieleno Tongva tribe—Los Angeles County Arboretum & Botanic Garden houses wildlife and plants from all over the globe on 127 acres. Its creators opened the Arboretum in 1947 to promote environmental awareness in a sanctuary that reflects the distinct history, flora, and culture of southern California. The grounds reflect the founders' aim—hummingbirds flutter among the colorful blooms in the Grace Kallam Perennial Garden, and wildflowers, herbs, and veggies spring to life at the hands of community volunteers in the educational Garden for All Seasons.
9. $12 for 2-Hours Trampoline Time at Sky High Sports (Up to 50% Off), San Diego
The yellow-and-black play space features a spring-loaded frame that provides more give to jumpers, with all frames and springs covered by 2-inch-thick safety pads. To take full advantage of its unique space, Sky High hosts a variety of things to do for patrons of all ages, from springy and elevated games of dodge ball to Airobics, a low-impact, fat-burning workout class that helps improve balance and coordination. Pintsize gymnasts can take refuge in a specially designed kid zone and use a rope swing to plunge into the foam pit while they brainstorm nicknames for their pro-wrestling career.
10. $31 Tickets to See Guys and Dolls: Gangsters, Gamblers, Dames & More in Acclaimed Musical @ The Segerstrom Center for the Arts, Costa Mesa
This beloved American musical transports you back in time to Depression-era New York City … with a side trip to Havana. Follow the romantic and criminal exploits of shady New York gamblers Sky Masterson, Nathan Detroit and the women who love them: Adelaide, who's been waiting for a marriage proposal for over a decade, and Sarah, an uptight missionary out to save Sky's soul. Frank Loesser's musical masterpiece brings to life the stories and characters of Damon Runyon with terrific numbers like "If I Were a Bell," "Adelaide's Lament," "Luck Be a Lady" and "Sit Down You're Rockin' the Boat." With Segerstrom Center for the Arts mounting this production, it's a sure bet you'll be entertained.
Happy Field Tripping,
Jilleen