One thing you can say about St. Patrick's Day – there certainly are a lot of pesky leprechauns running about. Fortunately, these 15 Sneaky and Adorable Leprechaun Traps will give you and your children some great ideas for catching one!
These leprechaun traps will inspire you to come up with the perfect trap of your own! The best traps use household objects in creative ways, because leprechauns get suspicious if you go out shopping for a bunch of new stuff. You also want to make sure you bait it attractive with glittering goodies, pennies, green candy, and/or cereal. Lucky Charms is a popular choice.
Leprechauns are also very sneaky and smart, so your only hope of catching one is to build a trap that is equally sneaky. Just remember, no matter how great your trap, those crafty creatures will do their best to escape. But as these traps show you, even when leprechauns run freely through your house, they often leave behind some green foot prints and tasty treats. And just remember, even if your trap doesn't quite work out, you can always try again next year!
15 Sneaky and Adorable Leprechaun Traps
Easy LEGO Leprechaun Trap For Kids by SoCal Field Trips
This easy LEGO leprechaun trap is made out of a few simple supplies – a cereal box, wrapping paper, legos, glue and some pennies. Put them all together and you have a trap not even a sneaky leprechaun can escape!
Leprechaun Trap by Mosswood Connections
This adorable St. Patrick craft brings assorted elements of nature together to trap a leprechaun on St. Patrick's Day. This creative design is perfect for a garden-side leprechaun trap.
How to Catch a Leprechaun by A Grande Life
Something as simple as a cardboard box can be transformed to make a trap! Grab a box and some paint, and this is a great one to make with the really little kids!
How Ee Celebrate St. Patty's by The Fickle Pickle
Household items can be used to make leprechaun traps too! Grab a bucket and a laundry basket to get started. Then leave a trail of treats for those sneaky leprechauns!
Cereal Box Leprechaun Trap by Crafts by Amanda
Get creative with this leprechaun trap by up-cycling a box of cereal. Leave a train of gold coins, because that's what the leprechauns are after – your gold!
Leprechaun Trap Children's Activity by Crafts Unleashed
This adorable leprechaun trap is super creative. Grab some washi tape, duct tape, stickers and markers, and you're all set to make this trap filled with gold.
Leprechaun Traps by Aggie Mania
Leprechaun Trap by A Blonde and 3 Boys
A simple leprechaun trap made our of lego blocks – build a stairway lined with gold coins, then set the trap. The "do not climb" sign almost guarantees the leprechaun will not follow your directions!
How to Make a Leprechaun Trap for St. Patrick's Day by This Mama Loves
Start with an old box and some tinfoil for this kids friendly trap. Add some feathers, a rainbow and other embellishments to trap that sneaky leprechaun.
DIY Leprechaun Trap by A Mom's Take
This leprechaun trap uses all things from around the house. You will just need a plastic storage bin, a yardstick and some tinsel to trap a leprechaun on St. Patrick's Day.
Set Your Rainbow Leprechaun Trap by Club Chica Circle
Pain some craft sticks in all colors of the rainbow for this creative leprechaun trap. Fill it with treats like cookies and rainbow pretzel rods, and you will surely trap a leprechaun.
Free Leprechaun Trap Printable by Love the Day
You'll need a box, some ribbon and a few treats to make this trap for a leprechaun. You can even download a free printable with leprechaun hands and feet for this one!
Make a Leprechaun Trap by Creekside Learning
This easy project is perfect to catch a leprechaun. Simply wrap an old box in green paper and make a ladder out of twigs, then decorate the box with coins to lure that leprechaun in.
Leprechaun Trap by DLTK's
You'll need an old tissue box and a green plaint to get started on this upcycle project. Don't forget the ladder for the leprechaun to climb!
DIY Leprechaun Trap by Home Again Creative
Free gold always lures them in! A green bucket, some gold coins and a few other supplies are all that you will need to create this trap.
Introducing Craftsy!
Love crafts? You will love Craftsy! Sign up now and get crafting! Be sure to share your photos!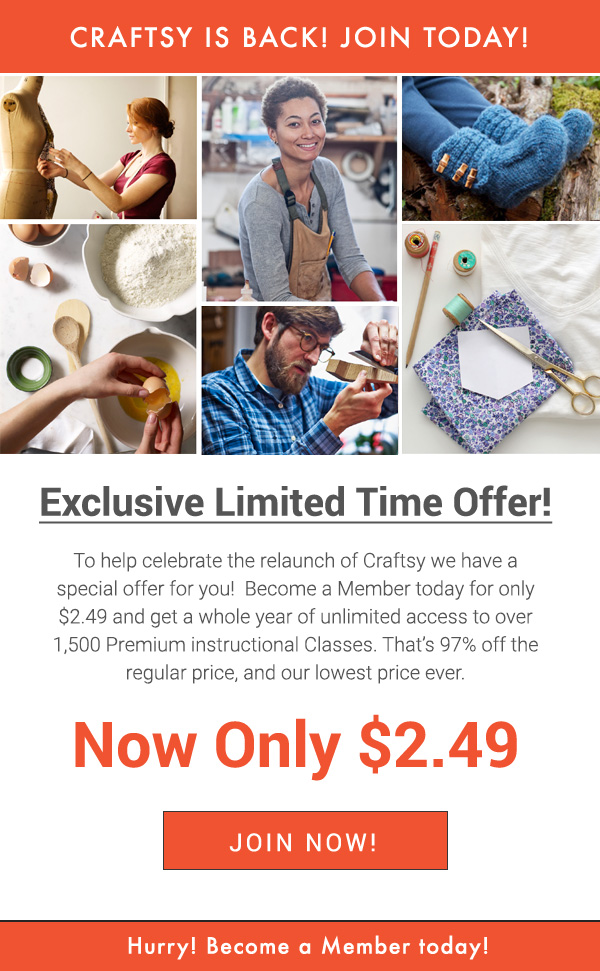 To stop Craftsy email promotions please
click here
, or write to
Craftsy
2955 Xenium Lane N, Suite 10
Plymouth, MN 55441
Happy St. Patrick's Day!
Jilleen
More St. Patrick's Day Activities For Kids
15 Wonderful Rainbow Crafts For Kids
25 St. Patrick's Day Books For Kids