Oak Glen's Apple Picking Season officially kicks off over Labor Day weekend and runs now through Thanksgiving weekend.  The apple crop is good this year and the majority of farms officially start welcoming visitors in September.
The History of Oak Glen
Oak Glen's apple orchards produce a variety of apple selections including the Vasquez and King David varieties, which are grown only in Oak Glen, as well as antique varieties no longer commercially available such as Ben Davis, Gravenstein and Pink Pearl.
Before 1940, Oak Glen mainly grew apples for export purposes.  Then several farmers got together and began to sell apples, apple pies, apple cider and apple butter at roadside stands to locals passing by.  Today growers earn the majority of their profit from visitors who pick apples directly off their trees in the orchards.
Apple Farms in Oak Glenn
Riley's Farm
My family and I have visited Oak Glen on more than one occasion.  One of our favorite spots in town is Riley's Farm.  Nestled in the apple growing foothills of historic Oak Glen, Riley's Farm is a working apple orchard and living history farm featuring pick-your-own fruit, living history education, dinner theater, group banquet facilities and extended and historically-themed overnight stays.
They also offer year round educational field trips for schools and homeschool groups.
Revolutionary War Adventure
The Civil War Adventure
Gold Rush Adventure
Old Joe Homestead Tour
Colonial Farm Life Adventure
Overnight Revolutionary War Adventure
Did you know that there are three additional apple farms in Oak Glen that are owned and operated by different members of the Riley family?
Riley's at Los Rios Rancho
Riley's at Los Rios Rancho features apple-wood smoked BBQ dishes and a bakery with homemade pies, hand-held pies, turnovers and cookies.  Picnic grounds, a petting zoo, nature trails are also on the property.  During apple season, they are open 7 days/week from 9 am – 5 pm.
Riley's Apple Farm
Riley's Apple Farm is currently celebrating 35 years of apple growing where families are entertained with old fashioned harvest fun!  Their apple picking season runs Labor Day thru Thanksgiving Weekend.  On the weekends they are open 10 am – 4 pm and weekdays by reservations only.
The 2017 Home School Days at Riley's Apple Farm are set for September 20, October 26 and November 4.  During a tour, families will enjoy a hands-on living history tour of their farm from 10 am – 2 pm.  The cost is $17 per child ages 2 to 18 years old and $14 per adult.  Advance reservations are required.  Check in time is 9:00 am.  Lunch packages are available as well for a small cost.
Riley's Stone Soup Farm & Heritage Orchard
Riley's Stone Soup Farm & Heritage Orchard is a century old, family owned and operated vintage apple orchard.  Every year they enjoy the return of visitors to their working farm on a country outing, looking for u-pick fruit and many fun family activities.  They engage in preserving a heritage community through heirloom growing, educational programs and artisan culture.  Operating hours on weekends are from 10 am – 4 pm and during the week by reservation only.
Riley's Stone Soup Farm & Heritage Orchard is hosting a Homeschool Day on September 20 where visitors will discover what life was really like by working and living on a late 19th century farm.  Enjoy the daily adventures of a homesteading family, learning from their skills and crafts in this interactive tour.
The Homeschool Program includes pioneer cooking, apple tasting, candle dipping, wool carding & farm chores, cider pressing, historical toy making & games and a visit to the corn & pumpkin patch.  The cost is $16.00 per person and reservations are accepted online.
More Apple Farms in Oak Glen
In addition to the Riley family chain of farms, there are several other smaller farms in Oak Glen that are open for apple picking including:
Snow-Line Orchard (see California's oldest Chestnut Tree here)
Top 5 Tips For Apple Picking in Oak Glen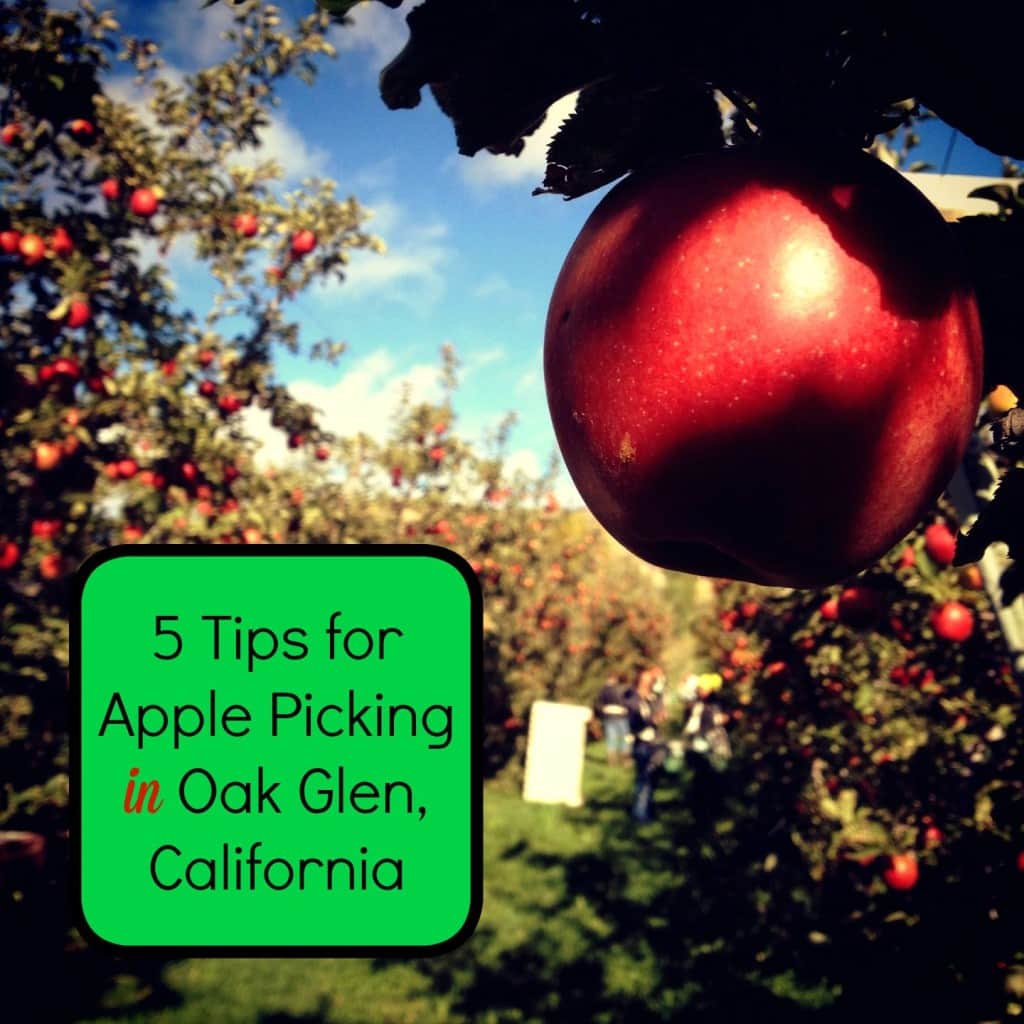 The best time to go apple picking is during the week when the farms are not as crowded.
The weather up on the mountain in unpredictable at times.  I recommend that you bring a hat, sunscreen and a jacket for all scenarios.
You can bring your own reusable bags for apple picking.
There are a few public parks in the area where you can have a picnic.
Purchase a few homemade apple pies to take home with you for Thanksgiving.  They freeze well.
Oak Glen Accommodations
In 2011, while my husband and I were visiting Oak Glen we stayed at the Serendipity Ranch.  The Serendipity Ranch is the only bed and breakfast located in Oak Glen and is surrounded by an abundance of nature and animal life.  You can sit by the koi pond and relax in the park-like setting or read a book under the wisteria-laden gazebo in the English garden.
The Serendipity Ranch is also a Certified Wildlife Habitat.  During peak wildlife season (spring through fall), woodland creatures from weasels to coyote, bobcat and bears visit the ranch.  If you are lucky enough, and visit in the wintertime, you may find snow on the mountain too.  For guests, the ranch is also home to llamas, goats, deer, ducks and more.
Happy Field Tripping!
Jilleen
More Things To Do With Kids in the Inland Empire:
Logan's Candies Candy Cane Making Demonstration
Insider Tips For Visiting Cabazon Dinosaurs
Jurupa Mountains Discovery Center
5 Great Places To Visit in the Inland Empire