We all have a bucket list of sorts.  You know, places we want to visit one day, but haven't gotten to yet.  Cabazon Dinosaurs in Cabazon, California is one of those places for me.  I've passed the iconic dinosaurs countless times while driving down the freeway, but I've never stopped to actually check them out.  Finally, one day in March, I decided to change that.
Cabazon Dinosaurs, also referred to as Claude Bell's Dinosaurs, are enormous, sculptured roadside attractions located right off the Cabazon exit of Interstate 10, a short distance west of Palm Springs.  The site features Dinny the Dinosaur, a 150-foot-long building, shaped like a larger-than-life-sized Brontosaurus (or perhaps it's an Apatosaurus), and Mr. Rex, a 65-foot-tall Tyrannosaurus rex structure.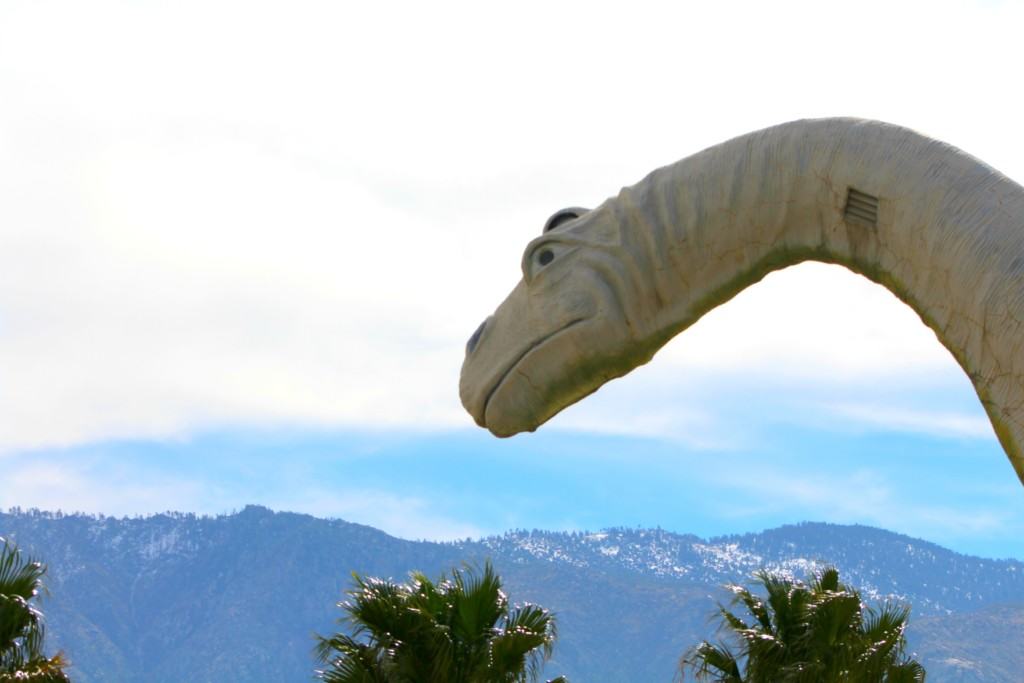 The History of Cabazon Dinosaurs
The first dinosaur to appear at Cabazon Dinosaurs was the Brontosaurus, built by former Knott's Berry Farm theme park artist and sand sculptor Claude Bell.  Bell decided to build the steel-and-concrete dinosaur in order to attract more visitors to his now permanently closed Wheel Inn Diner next door.  Construction on Dinny the Dinosaur began in 1964 and was completed 9 years later.  Mr. Rex was completed in 1981.
Since their construction, Bell's dinosaurs have been featured in commercials, music videos, and the 1985 film Pee-Wee's Big Adventure.  When Bell passed away in 1998, his family sold the property to its new owners named Young Earth Creationists.
Cabazon Dinosaurs is a fun roadside attraction close to Palm Springs
Cabazon Dinosaurs has over fifty dinosaurs, a dinosaur dig and fossil panning.  It is the perfect pit stop along interstate 10 to stretch your legs, snap some pictures, and be on your merry way.  The location also adds to the experience, because you are far away from any major city.  So it looks like the dinosaurs are living in their natural habitat.
I spent about an hour walking around the museum by myself and taking pictures.  The short walk along the dinosaur exhibition trail gives you a rare chance to see the dinosaurs up close and personal.  Don't worry though, I promise they don't bite!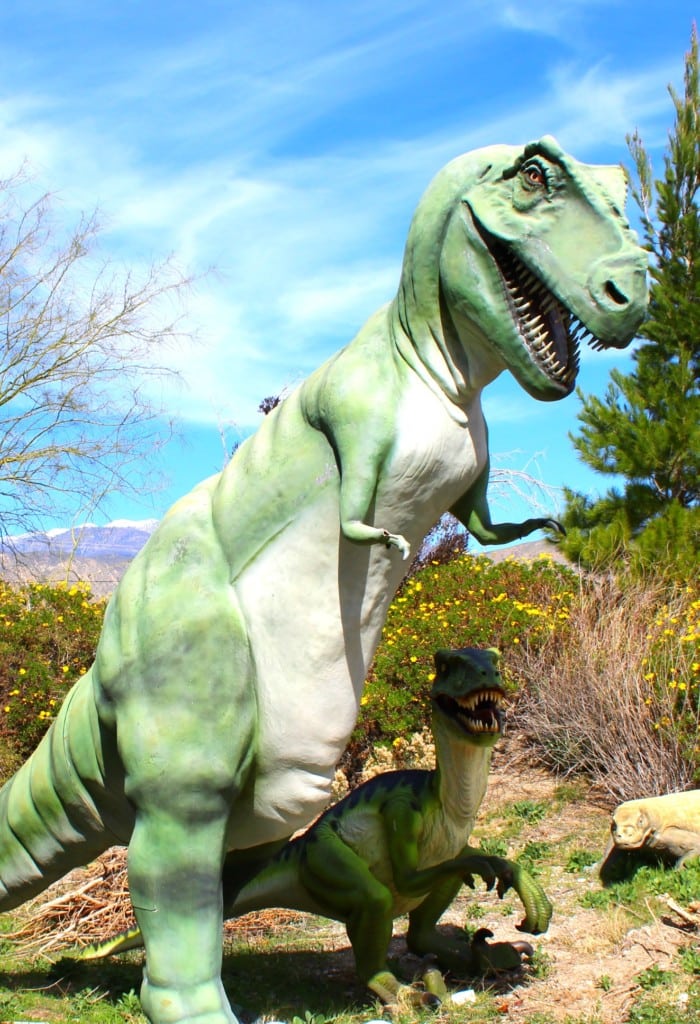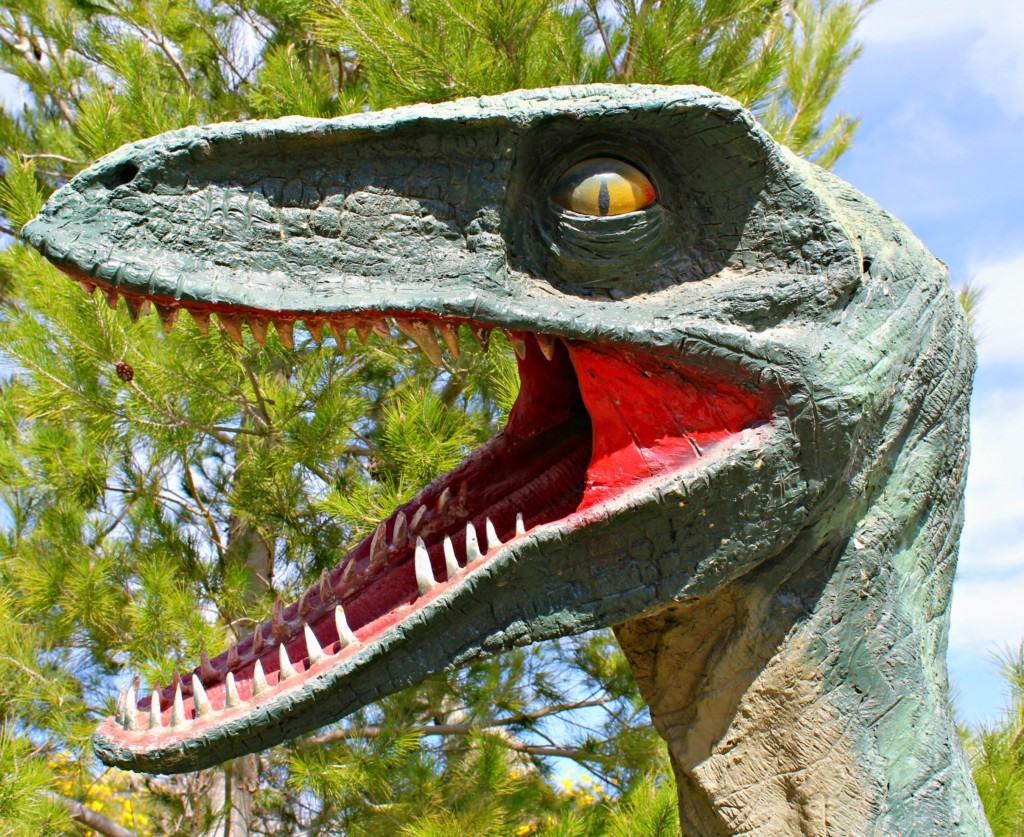 Along the pathway, you can also do gemstone and fossil panning, which is included in the price of admission.  My children would have loved this!  It reminded me of the time when my kids went panning for gold at World of Dinosaurs in Laguna Hills, California.
Furthermore, visitors are invited to excavate dinosaur fossils outside in the Dino Dig.   If you are lucky enough and find the marked quartz rock, you might just win a prize!  See the gift store for details.
What I liked the most about my visit was the opportunity to climb inside the gigantic Tyrannosaurus Rex at the end of the pathway.  It is a bit scary at first, especially if you are claustrophobic.  It is very tight inside the T-Rex's mouth and only one or two people can go in at a time.  But once you reach the top, it is well worth the view!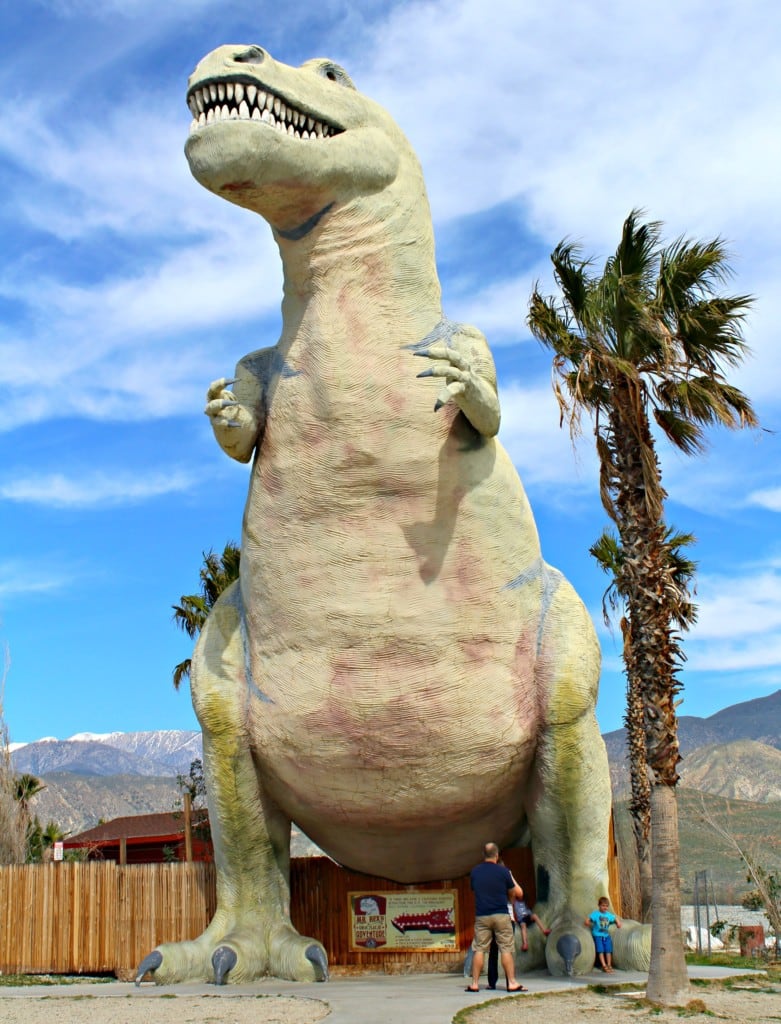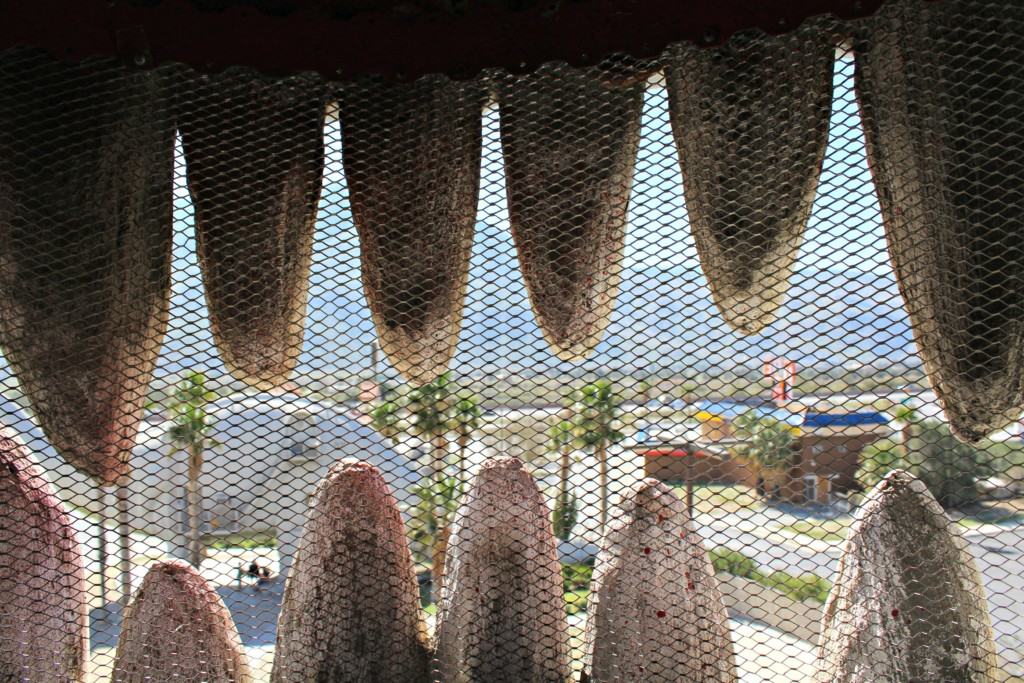 After you exit the T-Rex, you are led into a cave-like-gift-store, which has a few robotic dinosaurs.  They even have a dinosaur you can ride on!  The store has a wide variety of dinosaur souvenirs, memorabilia and trinkets that you can purchase.  So I got my son a dinosaur fossil kit!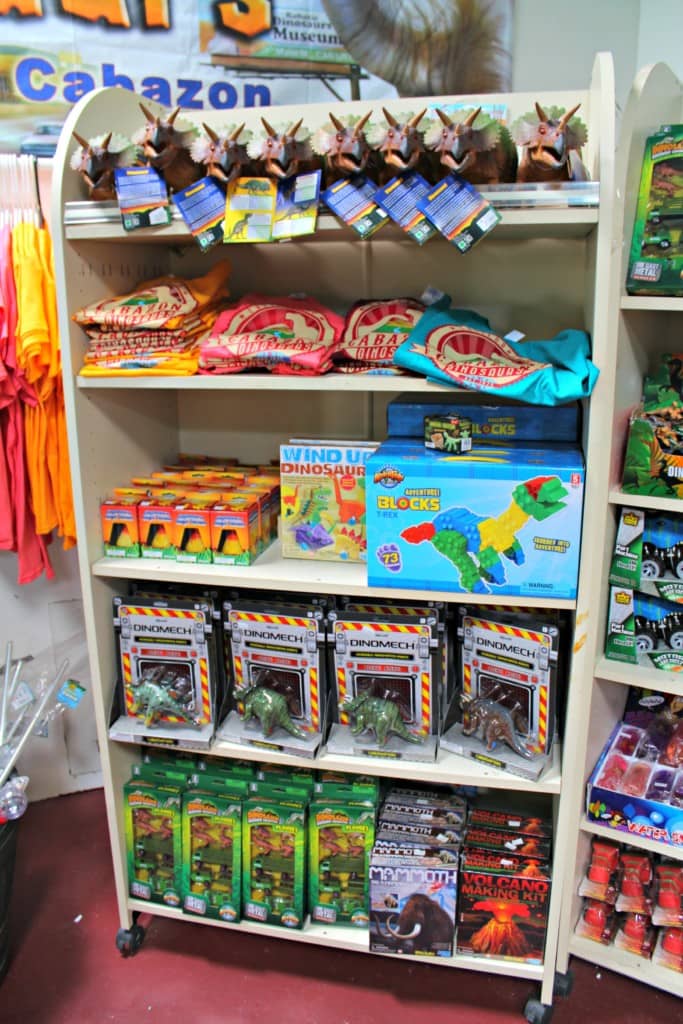 Cabazon Dinosaurs Admission Price
Visitors are able to climb inside the 150 foot Brontosaurus for FREE, which leads you to the gift shop.  Paid admission provides entrance into the museum and a visit with the Tyrannosaurus Rex and other ancient dinosaurs.   Cabazon Dinosaurs cost of admission is $10 adults, $9 kids, $7 military w/ id & seniors, 2 and under are FREE.
Cabazon Dinosaurs is located at 50770 Seminole Dr, Cabazon, CA 92230.
Happy Field Tripping,
Jilleen