Imagine driving down the California freeway and seeing row and rows of sunflowers that you can roam through and explore on a beautiful sunny day. Did you know that Southern California has several U-Pick Sunflower Fields in Southern California where you can do just this? These sunflower fields in California are worth exploring on a day trip or weekend adventure.
Best Time For California Sunflowers
The best time to enjoy and pick California Sunflowers depends upon the year's temperature and rain fall. Sunflowers usually peak towards the end of June, early July. However, several of the sunflower farms in Southern California have late-blooming sunflowers, which means September or October is the ideal time to visit. It's also the perfect time to visit a local apple farm or pumpkin patch.
The History of Sunflowers
Did you know each giant Mammoth sunflowers can grow up to 12 feet tall and produce up to 2000 seeds?
The big, bright yellow petals attract bees to pollinate the flowers. Once the flowers are pollinated, the plant puts all of its energy into producing seeds. The petals will shrivel up and fall off and the flower's center will begin to bulge and grow as the seeds develop.
The flower head will become so heavy with seeds that it will fall over from the extra weight. Once the flower looks like it is completely dead, and the white "fuzz"is gone from the flower head, revealing the black and white seeds, the flower is ready to harvest.
Sunflowers have been harvested for over 4000 years all over the world! Each crop is peak bloom for only about two weeks.
How To Cut and Display Sunflowers
How do you know when sunflowers should be harvested or cut? And how should they be preserved to prolong their shelf life? According to GardenZeus.com these are the best tips for cutting and displaying sunflowers:
Cut sunflowers early, just when the outer petals or ray flowers are beginning to rise off the face, and the disk flowers in the center have not yet opened. As sunflowers mature and senesce, more and more disk flowers will progressively open.
Harvest cut sunflowers early in the morning, after any dew has dried but before the temperature warms and before the sunflower plant's transpiration rate increases.
Use high quality bypass pruners. A sharp blade will ensure a clean cut, helping to prolong the vase life of your flower. Cut stem at desired length, at a 45° angle, to prevent the stem from resting flat on the bottom of the vase.
Avoid placing too many heads in one bucket while harvesting; crowded heads may damage each other.
Strip cut sunflowers of all leaves, except for those next to the flower head.
Place cut flowers in water immediately after harvest.
If using sunflowers for an event the next day, consider storing in your refrigerator to prolong their life. If cut sunflowers are exposed to ethylene producing items for a long period, the ray flowers or outer petals are more likely to drop.
Maintain clean water in your vase, changing water every 2 to 3 days to prolong the life of your cut flowers.
Garden Zeus does not recommend using floral preservatives to prolong the life of your cut flowers. Preservatives often contain heavy metals and germicides that damage to the environment. To prolong the life of your flowers, consider making a homemade floral preservative using sugar, water, and bleach: combine 1 tablespoon of sugar with ¼ tablespoon of bleach, mixed thoroughly in a gallon of water.
Display cut flowers in an area with cool temperatures and high relative humidity, out of direct sunlight.
Tips for Visiting the California Sunflower Fields
If you have questions about a specific farm or location then you should always call before visiting.
All of the Sunflower fields in California are located on private property. The owners of these fields rely on these Sunflowers to produce income for their farms. It is best to view the Sunflowers right from the side of the road so that you don't accidentally damage the flowers.
Don't go into the fields unless you have permission from the owner. Also, don't trespass, and make sure that you respect the flowers.
U-Pick Sunflower Fields in Southern California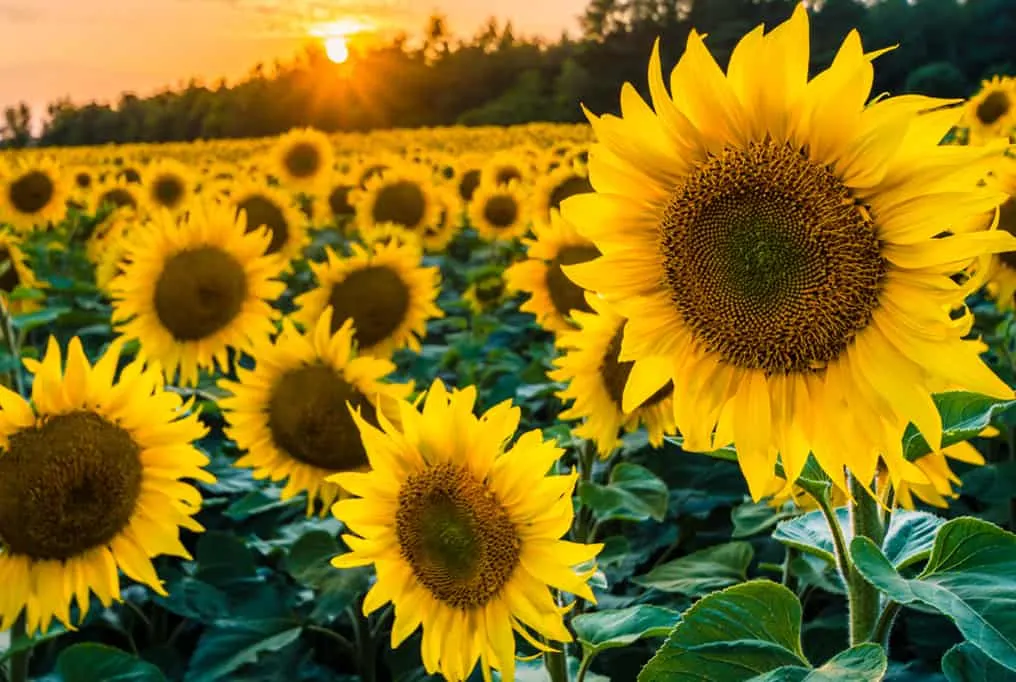 The Rancho Bernardo Pumpkin Station, Escondido
The Rancho Bernardo Pumpkin Station plants over 75,000 sunflower seeds in the summer. By the first of October rolls around, they are starting to bloom and ready to picked. The U-Pick sunflowers are $2 for each stem, and you can take some photos while you're in the fields. The farm provides sheers for cutting the flowers.
In addition to sunflowers, the farm has fun hayrides, a corn maze and small petting zoo. And don't forget to pick your favorite pumpkin while on the farm!
1st Fruits Farm, Temecula
1st Fruits Farm like to call themselves Temecula Wine Country's Neighborhood Farm. Located in Temecula, they have u-pick sunflowers that are available to pick spring through early fall. Call ahead to make sure they have sunflowers blooming.
In addition to sunflowers, they are a fully working farm and have a pot belly pig, chickens, alpacas, offer farm tours and sell fresh fruits and vegetables to the community.
Carlsbad Strawberry Company, Carlsbad
Even though you can not pick sunflowers here, the Carlsbad Strawberry Company in Carlsbad has a gigantic sunflower maze that you can explore and walk through during strawberry picking season, which runs March – July. The maze is also a great place to take family photos.
When their pumpkin patch is open in October, they have fall-color sunflowers that you can take photos in front of. Just remember you can not pick sunflowers at this location!
Riley's at Los Rios Ranch, Oak Glen
Riley's at Los Rios Ranch is first and foremost an apple farm. They are open 7 days a week for apple picking. On the farm they also have a small field of sunflowers that you can pick for a fee. They provide the shears for you to cut the flowers. The ideal time to pick the sunflowers are the end of September, early October.
In addition to apples and sunflowers, they offer u-pick fruit, u-press cider, a corn maze, petting, carriage rides and more as a part of their fall festival. They are open seven days a week for visitors.
Tanaka Farms Hana Field, Costa Mesa
Hana means flower in Japanese, and Hana Field by Tanaka Farms, in Costa Mesa, has acres and acres of beautiful Sunflowers, Zinnias, herbs, and pumpkins! The farm is located at the corner of Sunflower and Anton. Entry to parking and check-in is located on Anton Blvd.
Admission is $20.00, which includes your choice of a U-Pick Pumpkin or Flower Keepsake Souvenir Cup to fill with up to 15 flowers – available only when flowers are available to pick. Advance reservations are required.
You must bring your own cutting utensils. Sunflowers have very thick stems, so bring a sharp cutter or serrated knife and gardening gloves, especially if you have sensitive skin.
Tanaka Farms Hana Field can get quite muddy, so closed-toe shoes that you don't mind getting dirty are a must. The owners also recommend that you wear long pants, or long socks, as stinging nettles (weeds) grow all around the farm.
Also, bees love sunflowers, so if you have an allergy, beware that there will be a lot of bees on the premises. In addition to bees, farms do attract a lot of insects. If this is something that might bother you, make sure to use bug spray, or dress accordingly.
Check out their Facebook page for regular updates on the status of sunflowers.
South Coast Farms, San Juan Capistrano
South Coast Farms is located at Tree of Life Nursery at 33201 Ortega Hwy., San Juan Capistrano. This is where they grow fresh, pesticide-free produce.
As a part of their authentic harvesting experience, you can pick sunflowers, strawberries, veggies and pumpkins. They are open Friday, Saturday and Sunday from 9-4 thru October.
Happy Field Tripping!
Jilleen