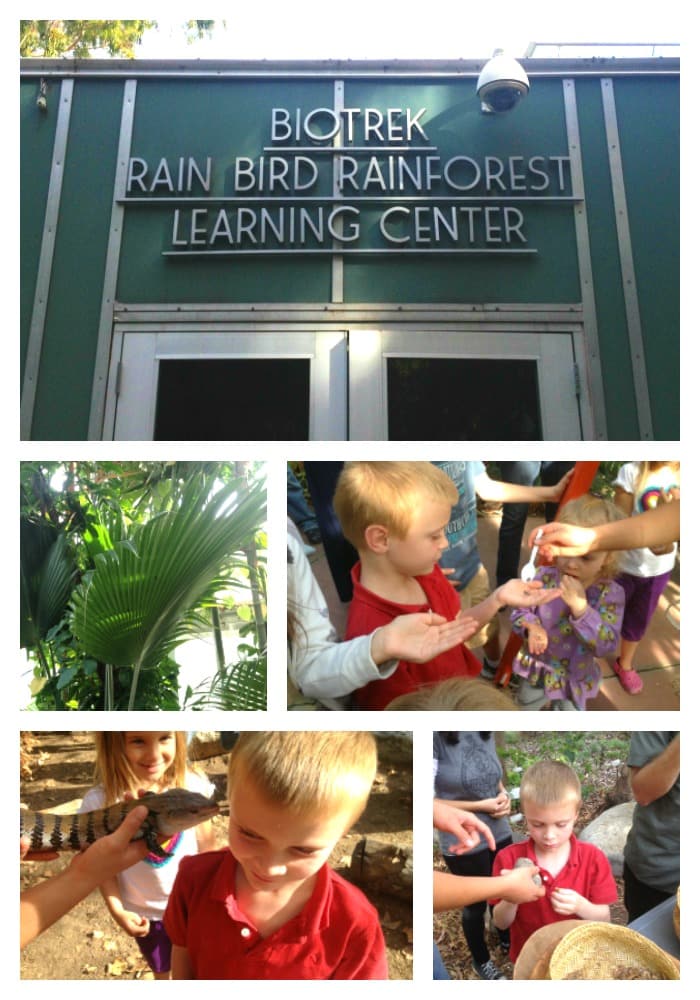 A few years ago I had the opportunity to lead a field trip to visit Southern California's only living rainforest called the BioTrek Rain Bird Rainforest Learning Center.
BioTrek is an educational enterprise of the Biological Sciences Department of California State Polytechnic University, Pomona. Through its greenhouse, garden, and labs, BioTrek brings students and the public both hands-on and electronic educational experiences of the tropical rainforest, aquatic environments of the tropics and California, and California indigenous plants and people.
When we first arrived, a group of University students introduced themselves and explained what we would learn about on the tour. The first visitor of that day that we met was "Mr. Crocodile", otherwise known as a spectacled caiman. Our children were very interested in "Mr. Crocodile". However, he had no interest in us. The children tried to no avail to get him to move in his cage, but he refused. I think he was a smart crocodile!
Next, our tour guides introduced us to the plant life that lives within BioTrek. We learned all about the new and exciting plant life that we had never seen before and the different weather patterns of the rainforest. Personally, my favorite plant was the Red Fairy Duster. It's the original dust buster!
After learning about the plant life, we visited with some of the animals that live at the BioTrek. My children's favorites were touching the snake and getting kissed by the gecko.
We also learned about where chocolate comes from and got to taste real coco beans.
At the end of the tour, our guides showed us how the California Indians use to grind acorns to eat.
BioTrek Field Trips
BioTrek is able to host tour groups of all ages. To schedule a group tour or learn more about BioTrek's monthly open house events for the public, please visit their website.
Happy Field Tripping!
Jilleen
More Things To Do With Kids in Southern California:
40 LA Museums to Explore with Kids
Behind The Scenes Hippo Encounter at The LA Zoo
How To See A Free Concert at The Hollywood Bowl
Best Places for a Tea Party in Southern California
Explore the Back to the Future Car at The Petersen Automotive Museum