Would you like to enjoy the soothing sounds of the LA Philharmonic in the grand setting of the Hollywood Bowl for free? This summer the Hollywood Bowl invites folks to attend one of L.A. Philharmonic's open rehearsals for free without having to pay the price of a ticket. This is a great opportunity to hear some amazing classical, baroque, and opera music complimentary of the LA Philharmonic.
It's also a wonderful opportunity to wrangle up the kiddos, enjoy a night out on the town and experience the sights and sounds of the Hollywood Bowl in a whole new way. So, we've the scoop on LA's best-kept secret: Here's how you can see summer rehearsals for free at the Hollywood Bowl.
Watch A Free Rehearsal at The Hollywood Bowl
Open rehearsals typically run on Tuesdays and Thursdays from 9:00 am – 12:00 pm. But that's not all! Rehearsals may also be available for certain shows on additional days. So your best bet to catch a free LA Phil rehearsal is to call ahead of time, ask for the Hollywood Bowl Schedule and make sure they are allowing guests in on that particular day.
Discover Your Next Adventure With SoCal Field Trips
Loads of free parking is another major incentive for visiting the Hollywood Bowl during rehearsal mornings. No stack parking to fret over or pricey pay lots to break the bank over. Simply pull up and park directly behind the amphitheater and enter via the artist's entrance. Helpful Hollywood Bowl staffers will show you right where to go so you can kick back and enjoy the show.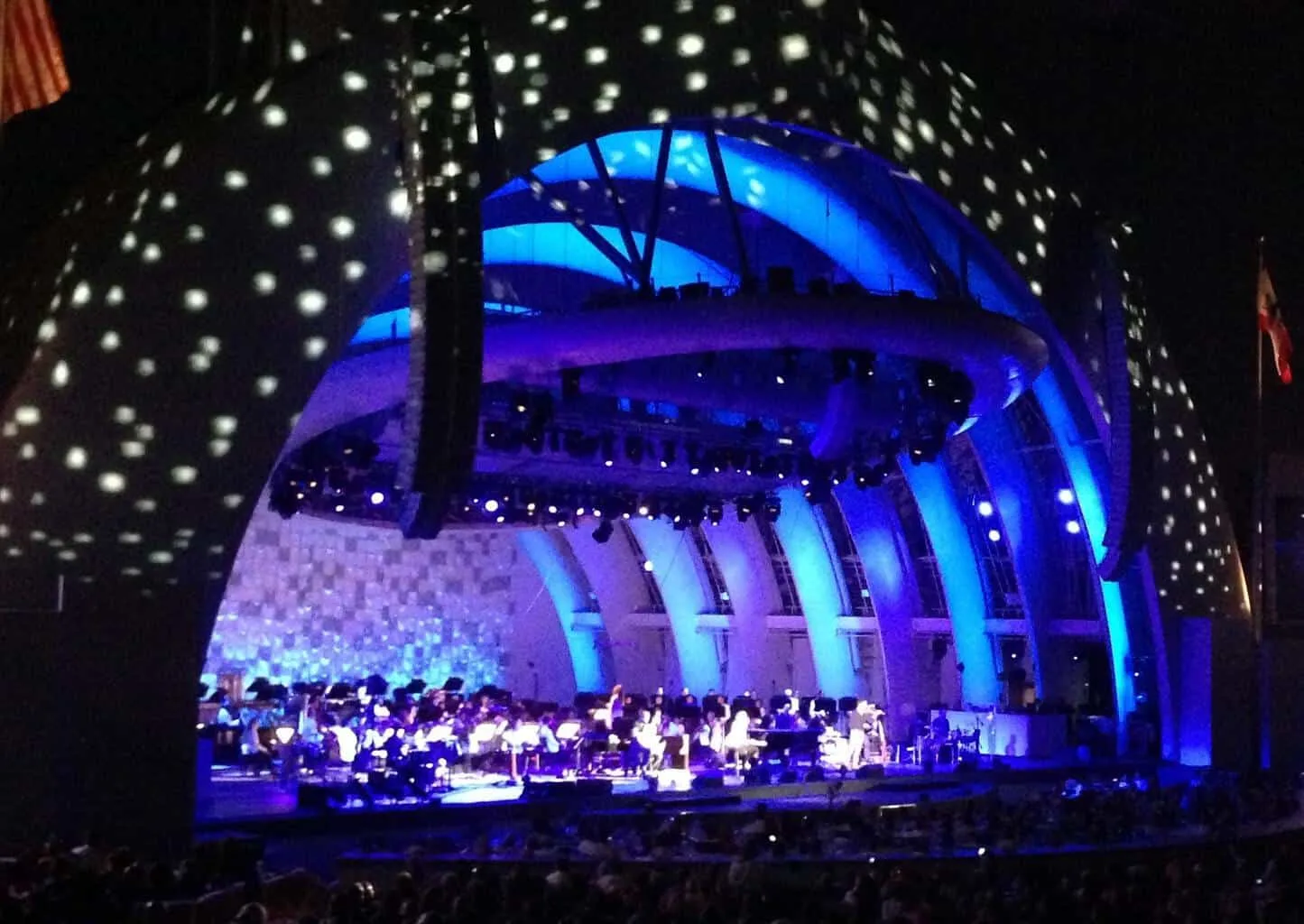 With zero crowds, there is open seating for miles and unobstructed views for pint-sized music lovers. Your kids will love watching the conductor and orchestra rehearse for their upcoming evening concert and will receive free lesson in music and teamwork listening to different sections practice their individual parts then collaborating to make music magic.
While the LA Philharmonic happily welcomes the public to their rehearsals, out of respect to the musicians, they ask that parents please remind children to use low "inside" voices while artists are on stage.
Free LA Philharomic Rehearsal
Another added bonus of attending a free LA Philharomic rehearsal is that families are permitted to bring a picnic lunch along as they watch and listen to the classical sounds. So, take a look at the L.A. Phil schedule and if your calendar is flexible, it's the perfect way to enjoy a summer concert at the Bowl for free!
The Hollywood Bowl is located at 2301 N. Highland Avenue, Los Angeles, CA 90068.
Happy Field Tripping!
Jilleen
More Things To Do With Kids in Los Angeles
40 LA Museums to Explore with Kids
Explore Kidspace Children's Museum
Behind The Scenes Hippo Encounter at The LA Zoo
Best Places for a Tea Party in Southern California
Explore the Back to the Future Car at The Petersen Automotive Museum