Affiliate link
The Aquarium of the Pacific in Long Beach, California has added 3 new sizzling exhibits just in time for Summer!  Last week, my family and I had the chance to check them out as guests of the aquarium.
Archerfish Exhibit
Archerfish, normally found in Asia and Australia now have their own outdoor exhibit at the Aquarium of the Pacific.   These fish hunt insects near the surface of the water by shooting a powerful spray of water out of their mouths.  La  This knocks the unsuspecting prey into the water where the Archerfish eat them.   One of the habitats of the Archerfish is the Mangrove forests of coastal intertidal zones.  These habitats are under threat by human development and climate change.   My children learned that supporting sustainable development is one way to make a difference in protecting the Mangrove forests where Archerfish live.
Our Water Future Exhibit
In the new Our Water Future exhibit, kids will enjoy a monarch butterfly garden, digital displays and many interactive features.  My daughter especially enjoyed the interactive model of the Los Angeles and San Gabriel River watersheds.  She liked pushing the buttons to make it "rain" over the map and watch how water flows over land and into the ocean.  Other displays include information about indoor water usage, making California lawns water friendly and our future water supply.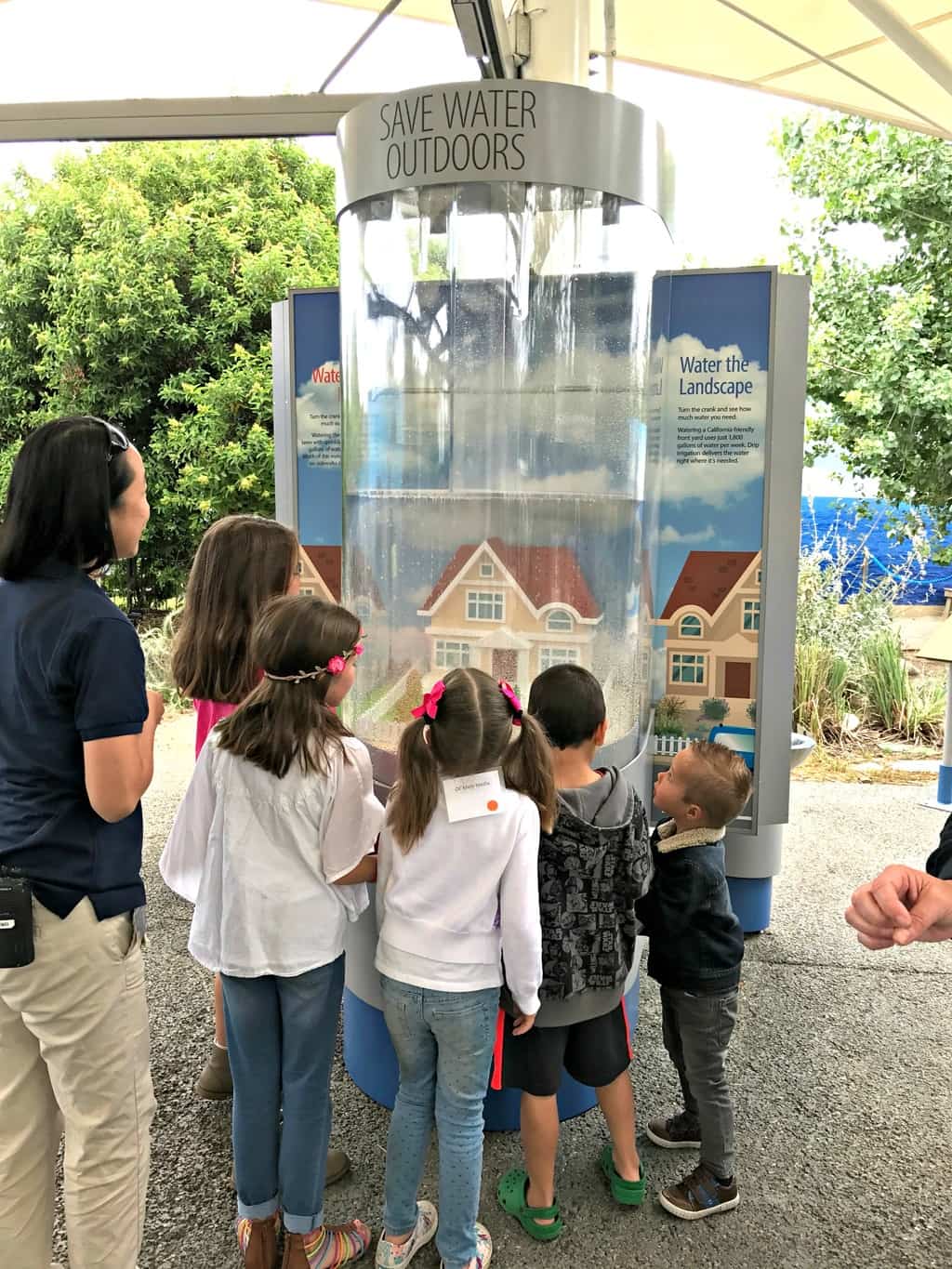 Frogs: Dazzling and Disappearing Exhibit
Our favorite exhibit though was the new Frogs: Dazzling and Disappearing, which features roughly two dozen species of frogs and amphibians.  We learned that amphibians are disappearing faster than they are being discovered in some parts of the world, the causes and what we can do to help.  The new thematic displays are gorgeous and will keep kids hunting for frogs for a long time.
Frogs and amphibians that can be found include; Panamanian Golden Frog, Northern Pacific Tree Frog, Red-Backed Poison Dart Frog, Mexican Salamander, Tricolor Poison Dart Frog, Green and Black Poison Dart Frog, Splashback Poison Dart Frog, Blue Poison Dart Frog, Variable Poison Dart Frog, Mossy Frog, Solomon Island Leaf Frog, Magnificent Tree Frog, Golden Mantella Frog, Eastern Hellbender, African Reed Frog, Rio Cauca Caecilia, Sonoran Desert Toad, Kaiser's Mountain Newt, California Newt, California Tiger Salamander, and Eastern Tiger Salamander.
The Aquarium also has a frog cart that travels around the grounds, giving the visitors an up close and personal look at various frogs.  They have a new mascot, Axel the Axolotl, who stars in a new puppet show as well.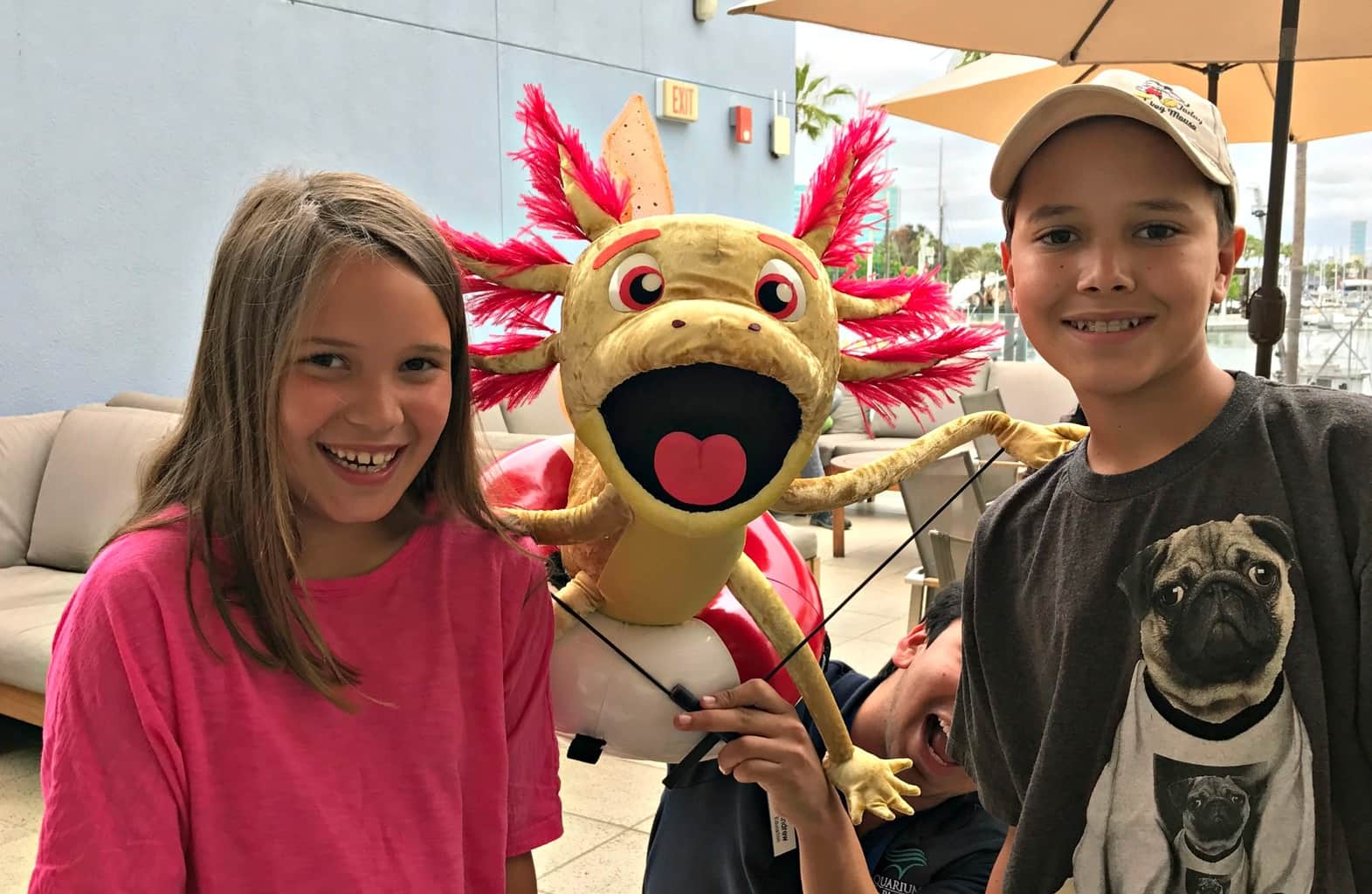 These 3 new exhibits really add to the fun at one of our favorite Southern California attractions, The Aquarium of the Pacific in Long Beach!
Discount Tickets to the Aquarium of the Pacific
Aquarium of the Pacific Discount Coupon
Are you looking for discount tickets to the Aquarium of the Pacific in Long Beach?  With this special offer, you can choose any weekday during afternoon hours (3:00pm-6:00pm) to visit this world-class aquarium featuring a wide array of hands-on activities, live and video presentations and much more.  Children's admission is $9 and Adults's admission is $15.
The Aquarium of the Pacific is located at 100 Aquarium Way, Long Beach, CA 90802.
Happy Field Tripping!
Felice
SoCal Field Trips Blog Contributor
More Things To Do With Kids in Southern California:
60+ Places in Orange County to Explore with Kids
40 LA Museums To Explore With Kids
ChocXO Offers Real Chocolate Factory Tours in Irvine
75 Places To Explore in San Diego with Kids