Affiliate link
Have you ever stayed at the Great Wolf Lodge Garden Grove in Southern California? Once you visit, you'll want to howl for more! Great Wolf Lodge Southern California is an all-inclusive family resort, or as the General Manager likes to tell you, it's Las Vegas for children!
First of all, it's a hotel, so you can stay overnight. Second, it's a bubbling entertainment center with a vast array of games, foods and stores for all ages. Finally, it's 5-star attraction with an both an indoor and outdoor water park!
Let's start with the decor. As soon as you enter the Grand Lobby, you find yourself transported out of the Southern California heat and into a huge wood lodge reminiscent of a Northern California forest, home of all kinds of woodsy creatures.
With our complimentary wolf ears on, we headed straight to Main Street, where games such as the Ten Paw Bowling Alley and the 24-hour Northern Lights Arcade await guests.
Our family particularly enjoyed playing a round of golf at the glow-in-the-dark Howl at the Moon Mini-Golf as everything was dark and lit by black lights. It was like playing at night in a forest, surrounded by friendly creatures and even bats.
Next, we traveled over to the MagiQuest Wand Store to choose our wands and toppers. Kids are able to customize their own wands by choosing between gems, unicorns, orbs, dragons and other mystical creatures. Then they can go on a MagiQuest, a mystical interactive game.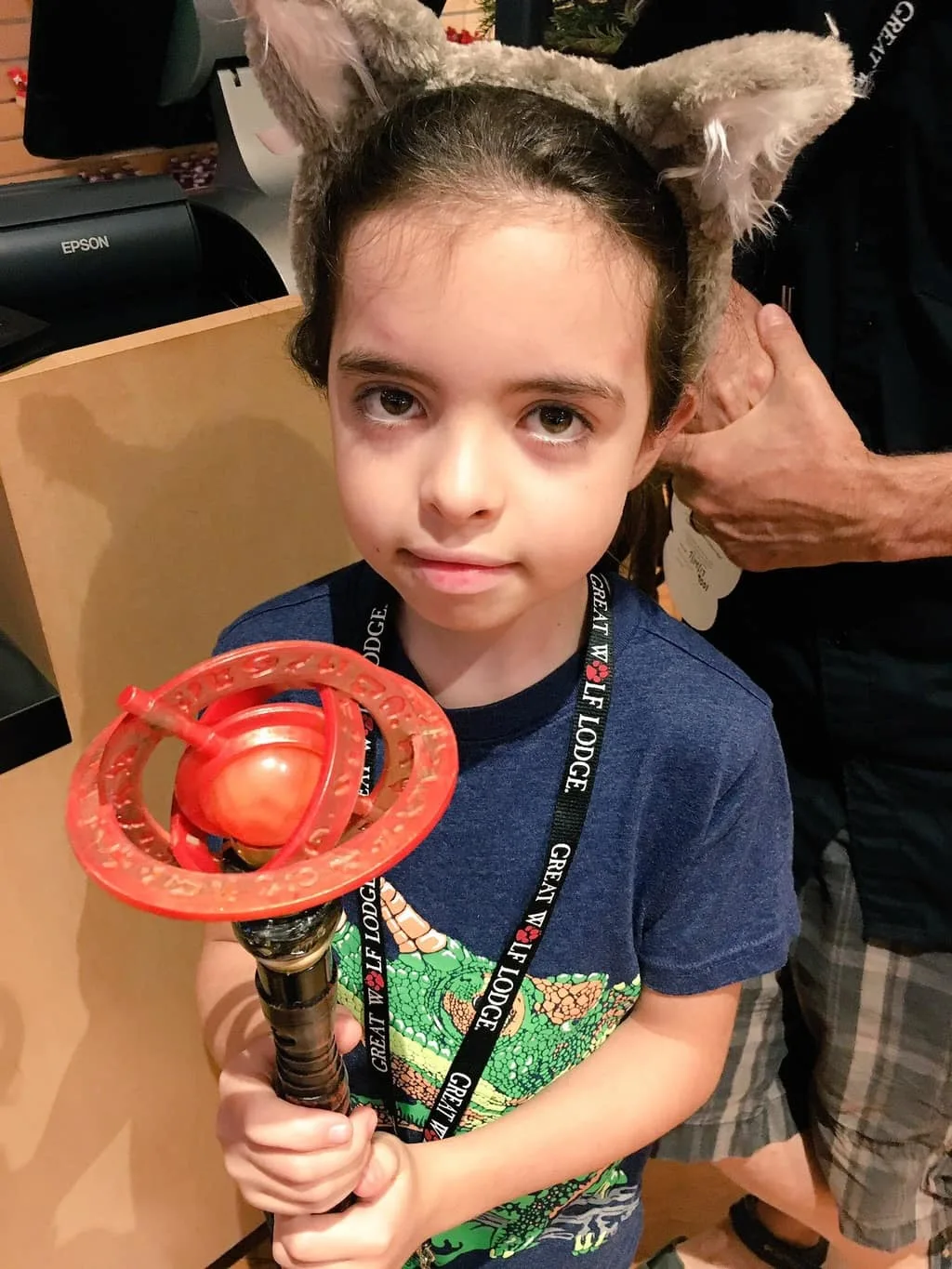 By waving your wand, you can active portals located throughout the hotel and collect magical items. You can bring your wand every time you come back to continue your journey to reach the dragon but be ready, it will take 6 to 8 hours to complete. In the future, the dragon will talk and shoot smoke out!
Great Wolf Lodge Meal Options
After all the day's activities, we were hungry like a wolf! Thankfully, Great Wolf Lodge Anaheim had an amazing 4-course gourmet lunch prepared for us. As we feasted on buttersquash soup, baby arugula salad with a 25-year old balsamic vinegar dressing, duet plate of sake sea bass and 24-hour braised veal over risotto and apple tart with balsamic glazed strawberry ice cream, the General Manager Phil Cunningham told us about the exceptional benefits offered by the hotel.
Great Wolf Lodge Southern California only uses fresh fruits and vegetables in season. The chicken is organic and for kids, the nuggets are fried in brown rice oil. For our lunch, the kids were treated to gourmet corn dogs and gifted with a jar of delicious cookies, brownies and candies to take home with them. It was a nice keepsake!
Great Wolf Lodge Food Allergy Program
The General Manager also explained how Great Wolf Lodge's food allergy program has been expanded. Now, if you are diabetic, allergic to nuts or anything else, the restaurant will assign you a personal chef – either the main chef or a sous-chef – who will personally prepare your food to your specific needs.
New Great Wolf Lodge Wine Down Service
Great Wolf Lodge also offers a new Wine Down Service for parents, which allows adults to "wine down" after a day of play with children. Pairing of chocolate, wine and chocolate will be delivered to your door and guests will receive a text message instead of a knock on the door to let them know the delivery has arrived.
Great Wolf Lodge Anaheim Accomodations For Big Families
On the hotel side, a new Deluxe Wolf Den King Suite has been added to the resort to accommodate larger wolf packs of 8. The fun part is the built-in wolf's den with bunk beds just for the kids! Children also get their own TVs and will find elements of MagiQuest in the room as well.
Great Wolf Lodge Anaheim Indoor Water Park
By far, the real star attraction at Great Wolf Lodge Southern California is the amazingly popular 100,000-square-foot indoor water park. We spent nearly 6 hours swimming, splashing and sliding non-stop!
My son especially enjoyed the wave pool. A howling wolf lets you know when the waves are coming so you don't miss them.
My husband tried all of the big slides and was left breathless by the Wolf Tail. Starting in a pod, the floor drops out from under you as you're hurled into a nearly vertical 20-foot free fall, followed by a 360-degree, high-speed loop.
However, I'm not that brave, so I settled on the indoor surf simulator, the Wolf Rider Wipeout. That was enough for me!
If you're staying at the lodge with smaller children, you will find plenty of play areas that are perfect for toddlers, indoors as well as outdoors. Furthermore, the lazy river is a delight for guests of all ages. Just check out my son happily floating along!
Great Wolf Lodge Seasonal Celebrations
Did you know that Great Wolf Lodge in Garden Grove is always creating new ways to entertain and every holiday brings new fun! In the summer, guests will soon be treated to family flicks in the outdoor pool with popcorn and specialty cocktails available for purchase. During "Howloween", you might see a huge spider made of balloons. In the winter, the main lobby turns into a traditional snowland with snow falling dow. And in the spring, Springpalooza is in full effect.
There's even more fun coming soon! Later this year, the resort will add the the Great Wolf Lodge Candy Company, a new candy store offering various treats, and the Lodge Wood Fired Grill will extend its bar area to accommodate its popularity.
Great Wolf Lodge Southern California Discounts
Are you looking for a discount to Great Wolf Lodge in Southern California? From time to time, you'll find a great deal on Groupon or LivingSocial.
I've also found reasonable room rates for as low as $189 per night on TripAdvisor. So, just keep an eye out and eventually you'll find a good deal.
Great Wolf Lodge Anaheim is located at 12681 Harbor Boulevard, Garden Grove, CA 92840.
Happy Field Tripping!
Fran
SoCal Field Trips Blog Contributor
More Things To Do With Kids in Southern California:
60+ Places in Orange County to Explore with Kids
40 LA Museums To Explore With Kids
ChocXO Offers Real Chocolate Factory Tours in Irvine
75 Places To Explore in San Diego with Kids