Hosted by Dana Wharf Sportfishing & Whale Watching
A few weeks ago, my best friend from childhood and I took our sons out on a deep sea fishing trip with Dana Wharf Sportfishing & Whale Watching. Since our boys are nearly the same age, 12 years old, we thought a good old fashioned afternoon of fishing in Dana Point would create some great memories together. Personally, I haven't been fishing in years. So for me, I was almost a newbie and that goes for my friend too. After doing some research on day fishing trips in Orange County, we came across Dana Wharf Sportfishing & Whale Watching located in Dana Point, California.
Dana Wharf Sportfishing & Whale Watching has been around for over 50 years and no one knows better the local fishing spots than these guys! Their dock side location is super easy to find, in Dana Point Harbor off Golden Lantern and there's ample free parking everywhere. When the four of us arrived, we were set up with high quality fishing gear and fishing licenses. I'll admit in the recesses of my mind, I was dreading that someone might actually get "hooked" on this excursion!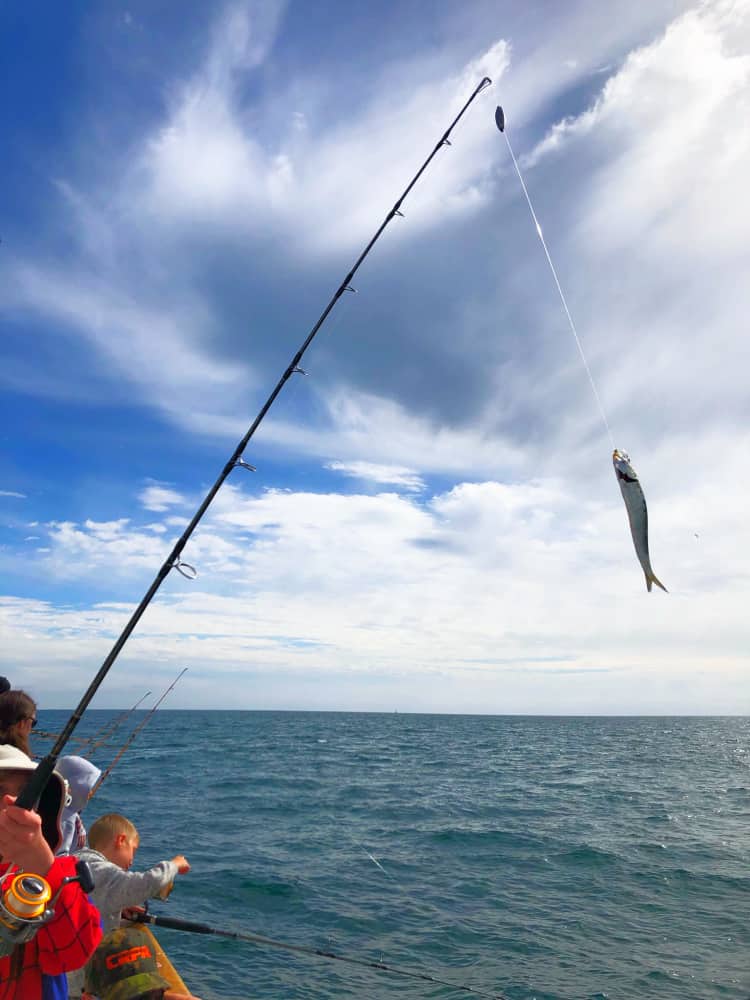 Dana Wharf Sportfishing & Whale Watching
One of the great features about Dana Wharf Sportfishing & Whale Watching is that the company provides free fishing clinics to kids who want to learn the basics of fishing and the type of fish that can be caught off our local coast. The instructor of the clinic is an accomplished fisherman with years of experience. He showed the kids in the clinic the types of bait that is used to catch fish and let them handle the sardines and squid themselves…the joy of tactile learning! He also showed those in attendance how to tie a hook on the line and the mechanics of how a fishing line and reel operate. My friend and I were also paying close attention so we could use the same pointers on our imminent fishing excursion.
Once the clinic was over, the deck hands expeditiously prepared the boat for departure. Before we knew it, we were leaving the bay to find a fishing spot. It was a beautiful cool spring day. The boat was well appointed with fishing stations around the perimeter of the deck and ample bait. The boat also had a mess hall, serving drinks and tasty burgers and other sides.
The deck hands were incredibly helpful and attentive to those not so versed in fishing, such was the case for my friend and I, and the boys. If anyone needed assistance in tying a hook on the line, casting bait or unhooking fishing lines caught in the rocks below, the guys were there to help out right away. The deck hands were also informative as they pointed out the different types of jelly fish we saw floating on the surface and told us how sea lions were stealthy bait nabbers and tricky enough to not get caught on the lines.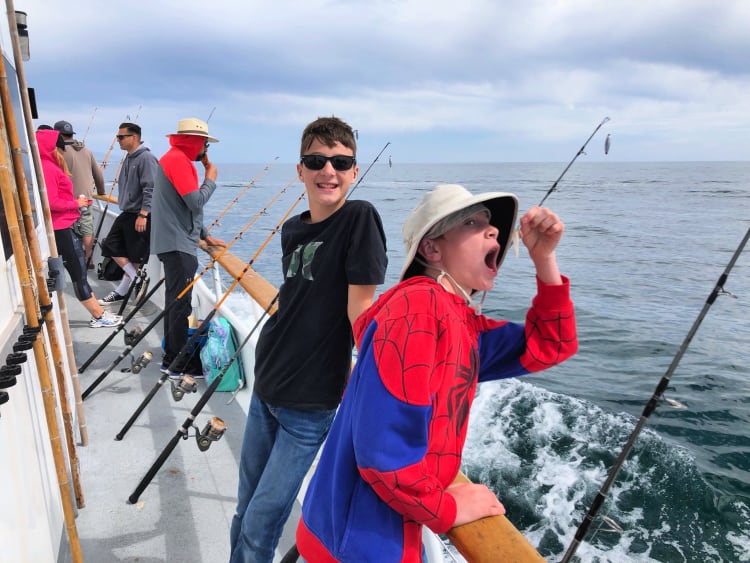 A few lucky people on our trip caught some fish, mostly of Mackerel and what looked like Rock Cod. Our boys also caught some fish, but since they didn't weigh more than a couple of pounds, we released them right back into the water. I, on the other hand, caught a Sculpin, such an interesting looking fish! With all this said, even though we didn't catch any big fish, we had a great time with the kids that Sunday afternoon out at sea. The ones that were "hooked" on our fishing excursion were the two boys, who said they wanted to go out again next weekend!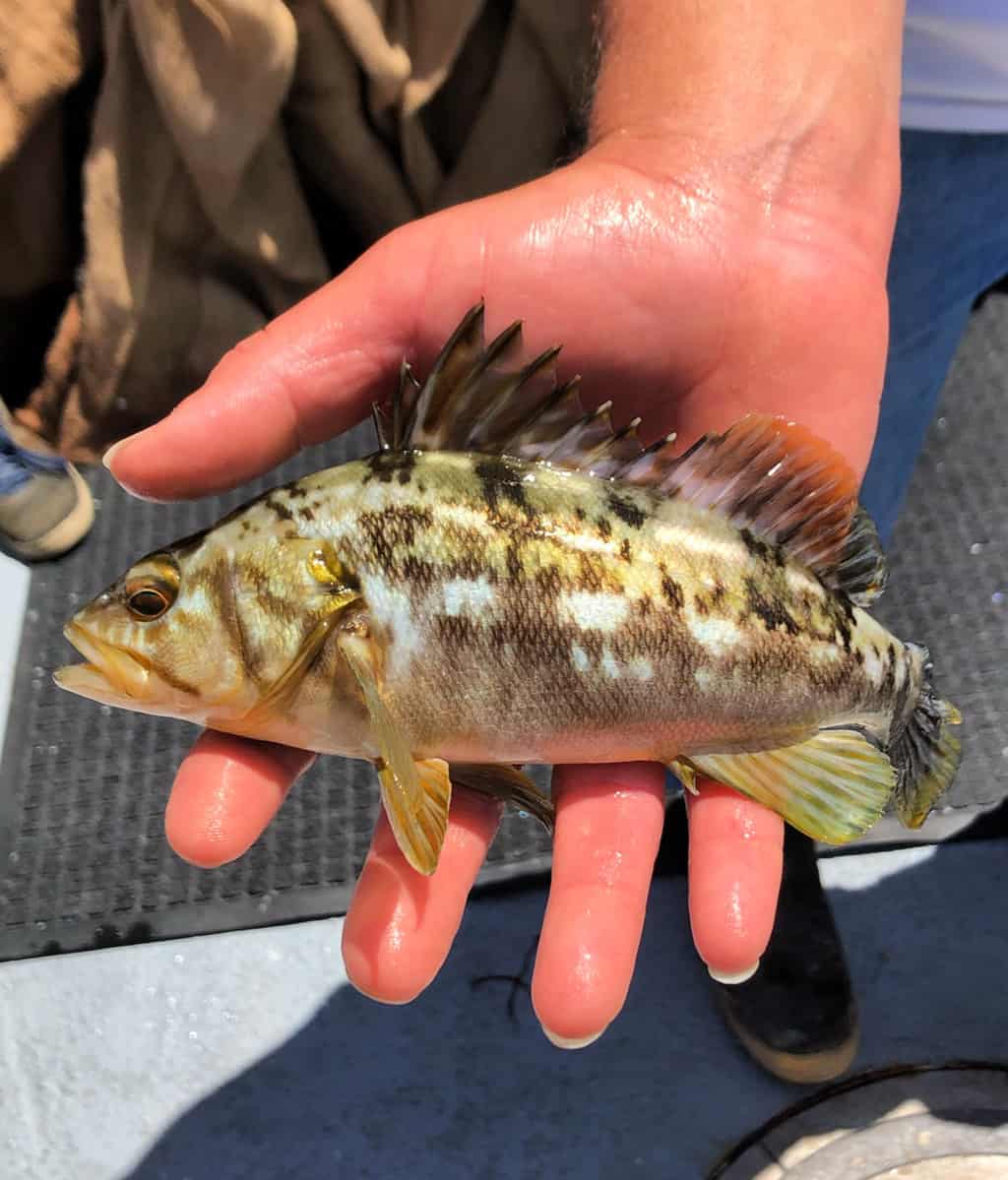 Dana Wharf Sportfishing & Whale Watching Discount Coupon
Are you looking for a discount coupon for Dana Wharf Sportfishing to take your kiddos out on a fantastic adventure? Look no further! You can go on a Dana Wharf Twilight Fishing Trip starting at only $14 per person with this Dana Wharf Twilight Fishing Trip.
So, for your next outing with kids, consider the coast and a sea-side adventure with Dana Wharf Sportfishing & Whale Watching. You'll not only enjoy the marvelous coastal views, but have an amazing time bonding with your children in the great outdoors. Who knows, you might even catch some fish or two in the process!
Happy Field Tripping!
Mr. SoCal Field Trips
More Things To Do With Kids in Orange C0unty
60+ Places To Explore with Kids in Orange County
Top 5 Reasons to Visit Adventure City in Anaheim
Where To Go Whale Watching in Southern California
The Best To Visit Mission San Juan Capistrano