Bring your family to the all new Knott's Summer Nights taking place June 7 – August 11 in Buena Park, California. Knott's Summer Nights is sure to be a family favorite for all ages.. Beginning at 6:00 pm, around the Knott's midway area – between the Calico Square Stage and the Board – the excitement kicks into full swing! You can enjoy a variety of traditional summer experiences including live music, food and games during this year's biggest backyard barbeque of the season. They even have a planning committee that you are welcome to join!

Knott's Summer Nights Entertainment
Bring a friend or two, sit around the camp fire and listen to some great music from bands like the Suburban Legends, Hiatus and Suffragettes among others that rotate nightly during the event. Furthermore, guests are encouraged to rock out to a top 40's band at the Calico Mine Stage or bop to beats of the Boardwalk DJ around Charleston Circle Fountain. Music starts nightly at 7:00 pm.
Knott's Summer Nights Activities
The Knott's Party Crew encourages good ol' fashion fun with games and competitions that brings out the competitor in everyone. If you see Ivanka Drink, please make sure to say "Hi!" to her for me. She is my favorite character in light of her whimsical personality and go lucky attitude. Yet, Sal Monella comes in a close second! Most definitely, my kids favorite activities at Knott's Summer Nights are the oversized classic games like cornhole, miniature golf and jumbo jenga on the large area of astroturf.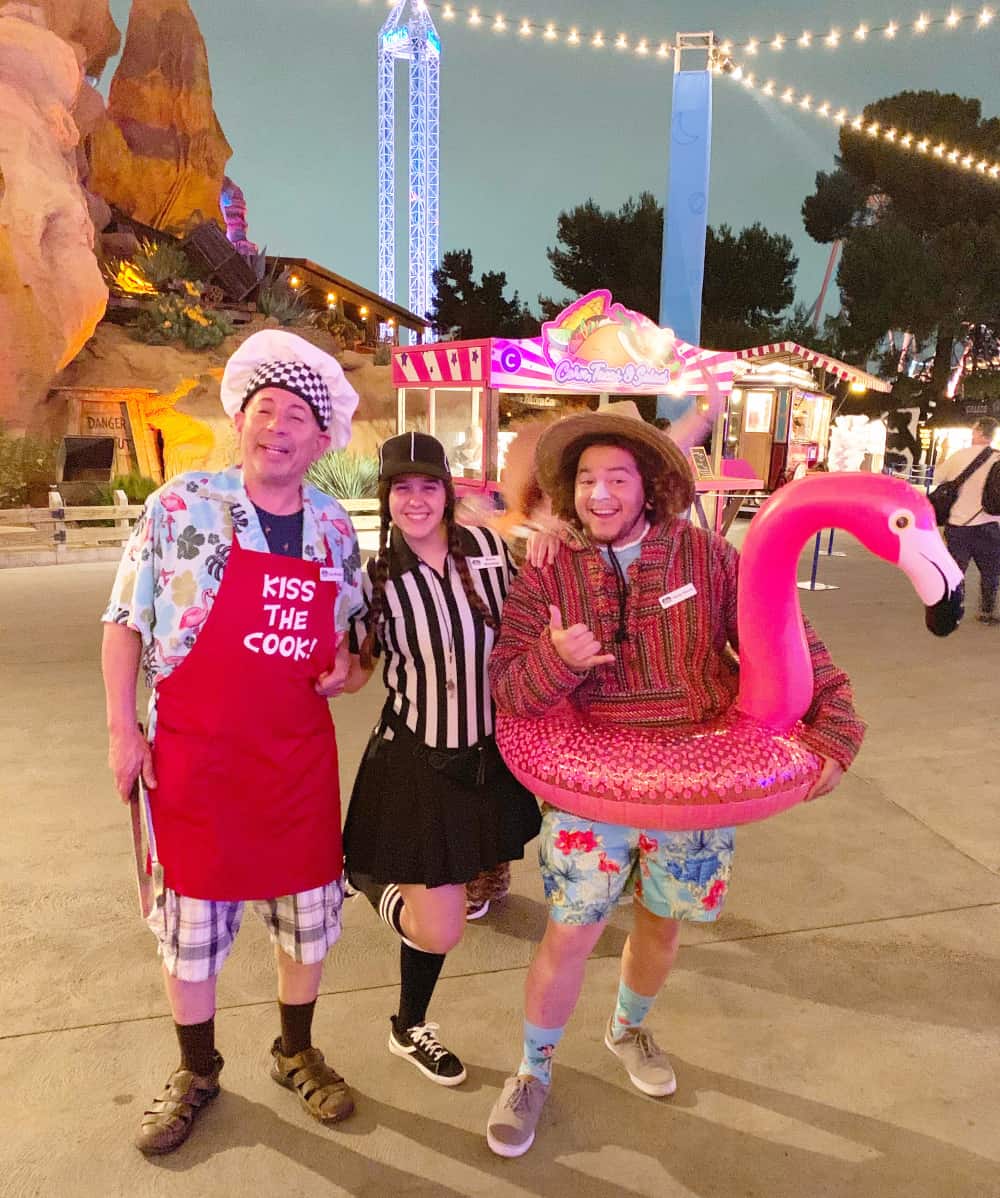 Knott's Summer Nights Food Options
A summer night party is not complete without an abundance of food and drinks, and no theme park does food quite like Knott's. The best way to enjoy all the new summer favorites is to purchase a Knott's Summer Nights Tasting card. The tasting card provides samplings of delicious one-of-a-kind summertime items at select locations throughout the midway for only $35.
There are eight food booths in all serving everything from chili in a cornbread bowl to corn cups (esquites) to fudge dipped apples. Most locations and items are available from 6:00 p.m. until park closing. Must be 21 and older for alcoholic beverages. Here's a look at just a few of the tasty food offers at Knott's Summer Nights.
With a hub of live music, unique summer food offerings, Instagram-able photo opportunities, interactive experiences, and family-friendly games, Knott's Summer Nights is an event to remember!
Knott's Summer Nights Tickets
I have some good news for you! Knott's Summer Nights is included in the price of a regular admission to Knott's Berry Farm. So, now you can come for the day and stay for the night! Plus, right now get discount tickets to Knott's Berry Farm starting at only $44 on Goldstar.com!
I look forward to seeing you on the farm!
Jilleen
More Things To Do At Knott's Berry Farm
A Knott's Berry Farm Season Pass Offers No Black Out Dates
Beat the Heat at Knott's Soak City
Ride The New HangTime Roller Coaster at Knott's
Visit Ghost Town Alive at Knott's Berry Farm