Updated For 2022
Just because it doesn't snow in San Diego and the temperature rarely drops below 60 degrees, it doesn't mean that San Diegans don't know how to get into the holiday spirit! In fact, there are multiple neighborhoods known for their stunning light displays that you'll want to add to your holiday to-do list.
So, grab a comfy sweater and a cup of hot chocolate and take your family out to see some of the Best Christmas Lights in San Diego! If you know of any amazing light displays we should add to this list, please send an email to [email protected].
Also, please check websites ahead of time to make sure communities and cities are still hosting their annual Christmas light displays!
Best Holiday Lights in San Diego
6646 Elegant Tern Place, Carlsbad
There is a full size Santa mailbox set up out front so kids can drop off their personal letters to Santa. And he writes back to everyone of them! There is also a plethra of holiday lights and characters to enjoy. Lights go on 5:30 – 9:30 pm every night.
Carlsbad Christmas House, Carlsbad
Walk to see animated window display, swimming penguins, dancing Santa, three snow machines and Surfing Santa. Food drive donations accepted. Located at 7607 Romeria St., Carlsbad, CA 92009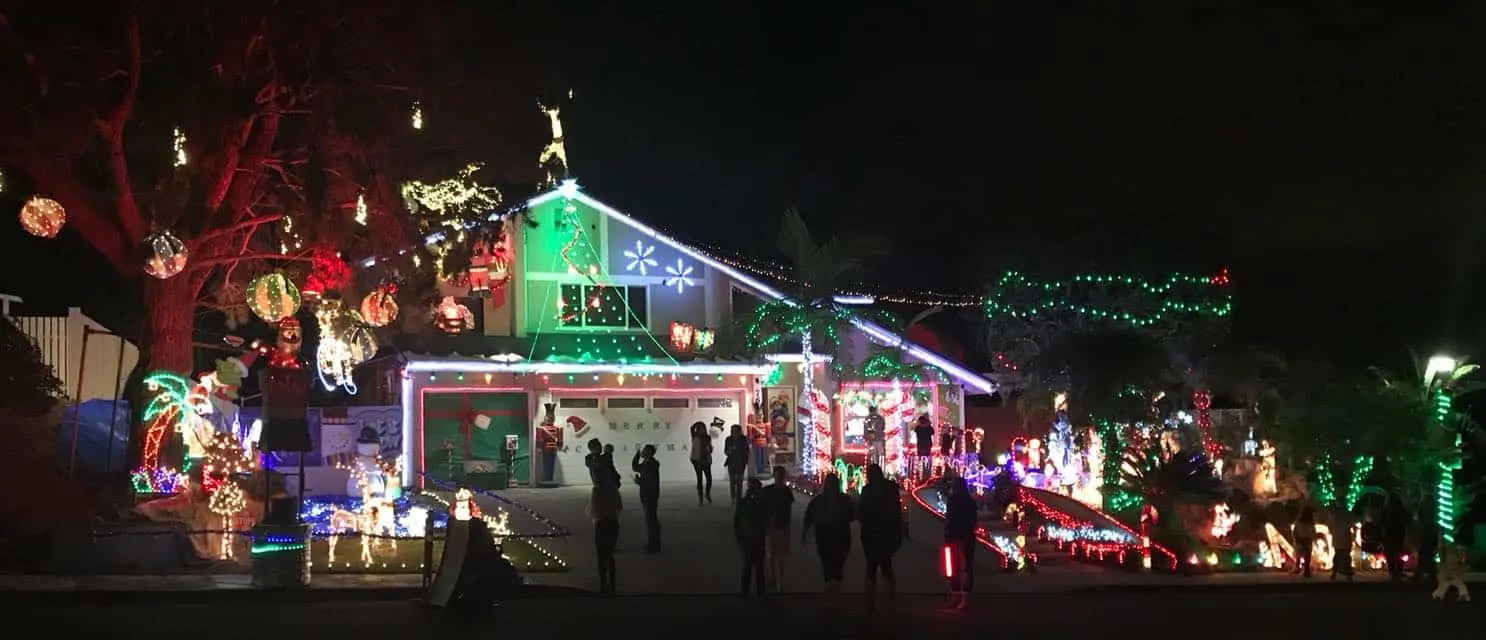 Christmas Circle, Chula Vista
Nearly 60 bedazzled homes will glow with lights galore. Among the candy canes, Nativity scenes, and blinking Rudolph noses, expect at least one old-fashioned Snoopy scene, one house bedecked in the Pixar character of the moment, and a couple of sneaky rooftop Santas. For the best views, it is recommended that you park your car and walk the neighborhood.
Christmas Park, Clairemont
View more than 40 homes decorated with holiday lights along Lana Drive and Jamar Drive in Clairemont. The circular street, located off Mount Abernathy Avenue, started this holiday tradition in 1977 and will be lit up again this year from December 1 to 25.
Jingle Bell Hill, El Cajon
Jingle Bell Hill, formally known as Pepper Drive, is located in Santee, off State Route 67 and Bradley Avenue. So many homes participate in the annual event that the area is better known as Jingle Bell Hill during the holiday season.
From comic book characters to nativity scenes, there's something for everyone on this El Cajon street. Drive around the neighborhood nightly from 6-9 pm (till 10p on Fri/Sat) or better yet walk around the neighborhood to really take in all the beauty.
1552 Cajon Greens Pl., El Cajon
Light-o-rama with a 20 ft. tree, thousands of lights, leaping arches over the driveway, yard decorations, entire roof slopes of lights and video projector with Santa. Lights are on Sun-Thurs, dusk-10 pm and Fri-Sat, dusk-midnight.
1838 El Pico Dr., El Cajon
There is a 20-foot twinkling star on a tower that stands 100-feet off the ground, which you can from all over the El Cajon valley. They also have a giant Christmas tree of 10,000 lights standing 80-feet high and a 55-ft. automated train. Lights are up from Thanksgiving Sunday through New Years Eve, dusk to 10 pm.
Lightscape, San Diego Botanic Garden, Encinitas
Following sold-out runs in the world's largest cities, Lightscape illuminates San Diego Botanic Garden with more than one million lights, tunnels, fire, sculptures and artistic installations that come to life after dark with color, imagination, and sound. Reserve your tickets and parking today to celebrate the holidays with SDBG!
2021 Best Holiday Gifts For Kids on Amazon


Peace Family Lights Show, Escondido
Every night the Peace family puts on the eight-minute light show at their house on Dundee Glen. There's a pirate adventure, complete with a pirate ship, music from "Pirates of the Caribbean" and even a cannon that fires a big plume of steam! Featured on the TV show "Great Christmas Light Fight" in 2018.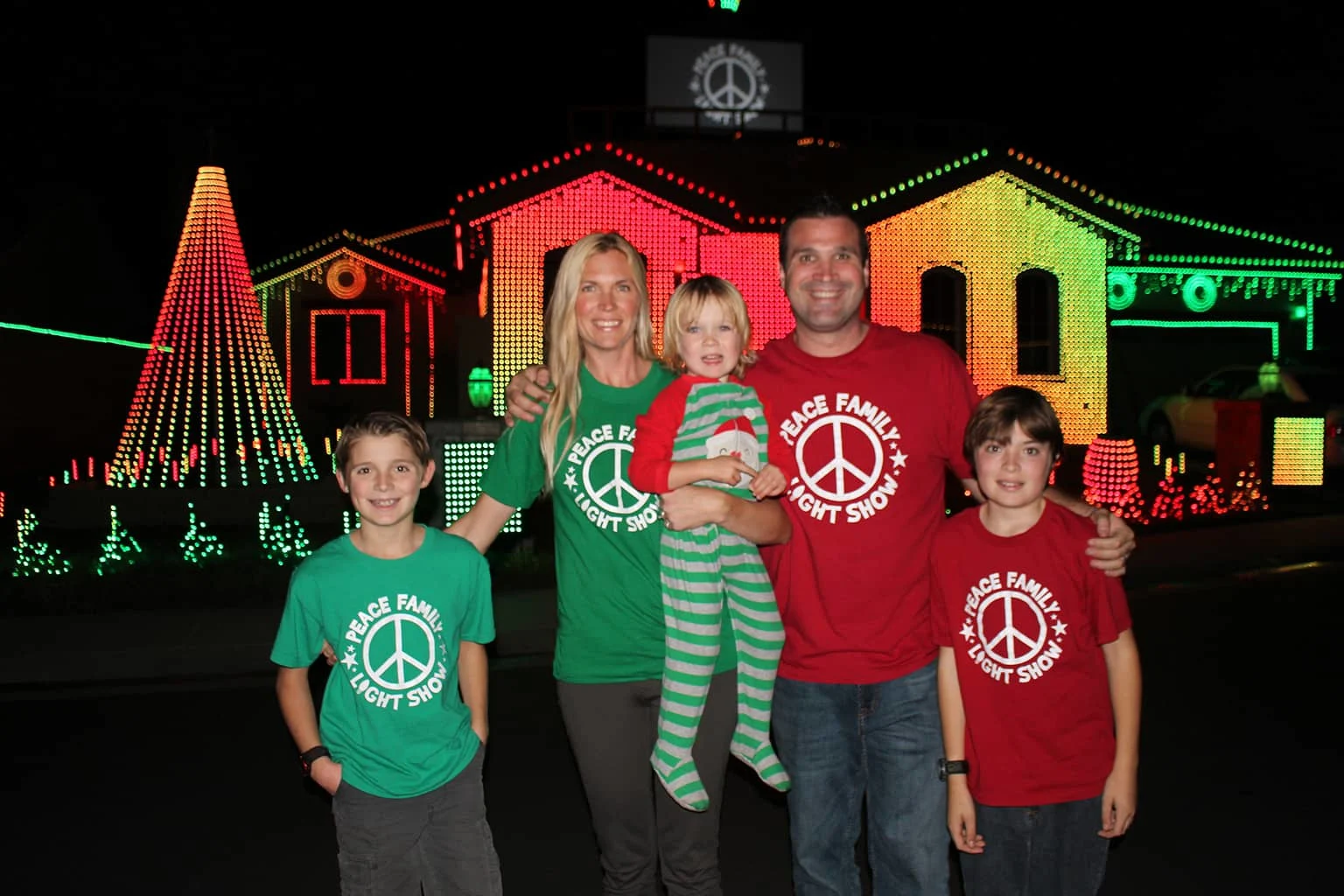 Fallbrook Lights, Fallbrook
Over 100,000 lights, lasers and fog that is choreographed to music that you can listen to on radio station 90.5FM. There even are snow machines to add to the effect. Lights are on from Thanksgiving thru New Years night. Also includes a food-drive, please bring canned or non-perishable food items that directly benefits the Fallbrook Food Pantry. Located at Reche Road just West of Green Canyon.
Holiday in the Village, La Mesa
The Village is transformed into a Victorian Wonderland during La Mesa's Holiday in the Village. Walk the streets of La Mesa's historic downtown and enjoy live music and dance, cozy fires, craft vendors, food, and a kids' area with holiday movies and activities.
Holiday Hill, La Mesa
Several homes on Stadler Street participate in the annual Holiday Hill display, featuring lights, decorations, icicles, animated displays, music and candy cane giveaways. Holiday Hill may not be the biggest display, but it's got a lot of heart, attention to detail and entertainment value. From dusk to 10 p.m. nightly through Jan. 1. Located at 8065 Stadler St., La Mesa.
4729 Newport Ave., Ocean Beach
The Olson family's gift to the community, their home's lights are synchronized to Music (FM 89.7). Monday – Thursday, and Sunday from 6 to 10 p.m. and Friday and Saturday 6 to 11 p.m.
Christmas on Quiet Hills, Oceanside
Lights synchronized to over 10 songs on 87.9 FM and on display from 5-9 daily from December 1st to December 31st. Located at 615 Quiet Hills Dr. in Oceanside.
2329 Snead Dr., Oceanside
If you're looking for the ultimate display of lights in Oceanside, Snead Drive will not disappoint. Walk into the garage to see a holiday village complete with everything from elves to a nativity. If you're lucky, Santa will arrive from the sky in a hot air balloon.
Garrison Street Lights, Point Loma
Garrison Street Lights has proven to be a popular holiday destination for over 30 years and is eye-catching enough to attract holiday light bus tours to the street. From the homes to the trees, the neighborhood lights up and captures the spirit of the season nightly until 10 p.m.
Candy Cane Lane, Poway
Made up of three neighboring cul-de-sacs, Candy Cane Lane is an impressive array of festive lights and holiday cheer. The majority of homes are lit up by the second week of December and continue nightly through Christmas Eve from 6 p.m. to 9 p.m. Since Candy Cane Lane is located on a dead end street, it's recommended that you park your car and walk to see the lights. Located off of Hickory Street in Poway.
The Griswold's Christmas Lights, Poway
For over 25 years, The Griswold's Christmas lights has mesmerized local residents and visitors alike. With over 12,000 lights on one house, come see why this attraction has earned their infamous name. Located at 12631 Stoutwood St. off of Twin Peaks Road and Deerwood Street.
Happy Lights Ramona, Ramona
Happy Lights Ramona with 30,000+ lights animated to music on 106.9 FM using 996 computer channels to control the lights. Located at 23542 Bassett Way in Ramona.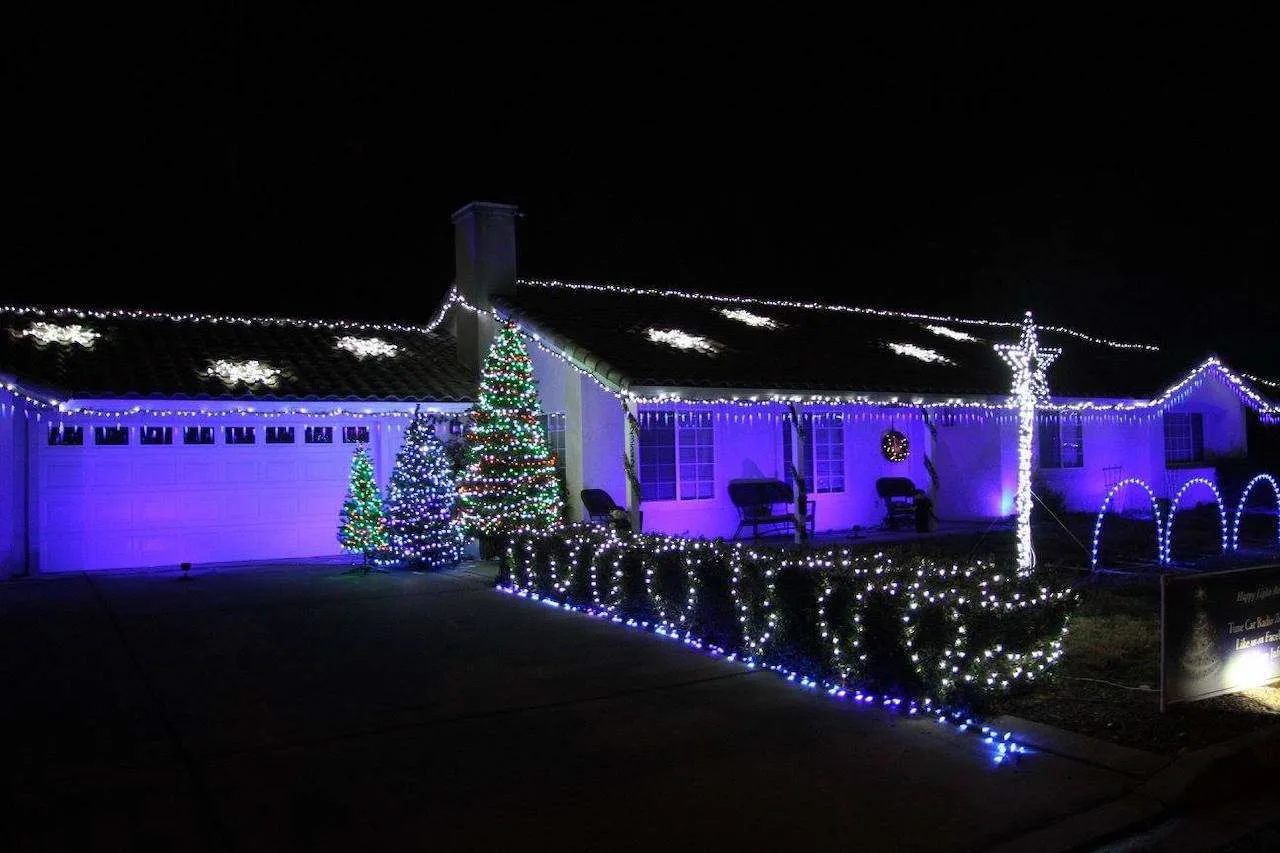 Rancho Bernardo Winery Holiday Nights, Rancho Bernardo
For one week the winery is open late, lit up with twinkling lights and holiday magic. Enjoy a romantic carriage ride around the vineyards, sip hot mulled wine or something off their wine list, enjoy carolers and music nightly in the village. Free admission and parking.
10921 Elderwood Lane, San Diego
If you are crazy about Christmas lights as we are drive by 10921 Elderwood lane for our Christmas light show. The display was the winner of the 1st ever Scripps Ranch Holiday Lighting Contest that started in 2020 and we have added more since. The show is all run by computer and is coordinated to music so tune your radio to 106.9. You don't need to stay in your car, get out and interact. We have chalk out for you to leave a picture or message on the driveway. Don't be surprised if we come out with Candy Canes!
Belardo Lights at Tierrasanta, San Diego
Belardo Lights, tucked in Tierrasanta, off Via Valarta at Via Playa De Cortes, includes a dazzling display of more than 100,000 lights and decorations, animated to music. The light display was originally started by a father who wanted to create a special holiday tradition for his two sons with autism.
Today, you can listen to the synchronized music to the light display on radio station 106.1 FM from inside your warm car as you slowly drive through this neighborhood. The best place to park and view the display is across the street heading down the hill.
Guests are encouraged to sign the family's guestbook near the mailbox and take a pamplet. If it's raining more than a sprinkle, the display will be shut down for safety reasons. The lights are up nightly through December 28, from 6 p.m. to 10 p.m. Although it's free to view the home's holiday display, a donation to the National Foundation for Autism Research is appreciated.
Built in 1905 for Mayor John Forward Sr., The Forward House lets you experience all the sights and sounds of the holiday season. It's a beautiful, two-story house, and essentially every inch is covered in lights. Located on First Avenue and Ivy in Bankers Hill, the decorations are up through New Year's Eve, from 5 p.m. to 10 p.m.
10927 Baroque Ln., San Diego
A Winter Wonderland themed Christmas with 25-ft drummer boy on the roof, animated ski village, snowmen, and an RC Train that kids can drive. Lights on 6-10 pm.
Jungle Bells at the San Diego Zoo, San Diego
During Jungle Bells at the San Diego Zoo is transformed into a wild wonderland of twinkling lights, merry-making performances, and festive foods. Beginning in December and through the New Year, special displays, shows and scheduled events fill the Zoo and guests with holiday cheer.
28th Street, San Diego
Matthias residence in a North Park yard packed with light-up geese, penguins, Santas, reindeer and more than 40 Christmas trees, all of them flashing in time to pre-recorded Christmas tunes.
Christmas Card Lane, San Diego
This Rancho Penasquitos neighborhood brings together over 200 families for a wonderful Christmas holiday light display. Take a drive or walk down Christmas Card Lane. Enjoy the large holiday themed cut outs and beautifully displayed yards that seem to go on for blocks. Rumor is that Santa and Mrs. Clause have been spotted on occasion. Located on Oviedo Street and Black Mountain Road in San Diego. Best time to visit is between 7-8 p.m.
5404 Mt. Burnham Dr., San Diego
The home owner runs a computerized show with 96 channels of lights synced to music and transmitted on 98.5 FM. They also have a life size Santa on the porch next to a Christmas tree for photo ops, animated characters, a Virtual Santa in the window and a garage display with a Dept. 56 North Pole village and more. Open Dec. 4 – 31, dusk – 10:00 p.m.
Hotel del Coronado, San Diego
Hotel del Coronado Celebrate the magic of the holidays as America's beachfront legend transforms into a winter wonderland of ice and lights, sparkles and snowflakes. With its magnificent outdoor ice skating rink and DELights, The Del is celebrating all things shiny and bright.
Fairway Village in Carmel Mountain Ranch, San Diego
Nothing's merrier than a Christmas light display, especially one where almost the entire street is lined, house after house, lit to the hilt, with thousands of colorful twinkling Christmas lights and displays. Fairway Village started this tradition many years ago, and continues it every year. Light shows can be found up from December 1st through January 1st, and the "normal" operating hours are dusk to 10:30 pm each night.
Balboa Park December Nights, San Diego
December Nights is the perfect way to begin this year's Christmas Countdown. The festival is ideal for adults and children alike. The event includes lights, music, food and musical choirs. Arrive early for best viewing and seating.
Merry-tage Court in Scripps Ranch, San Diego
The Scripps Ranch streets of Stonebridge Parkway and Merritage Court get creative with their lighting displays, including homes themed to pop culture hits like Star Wars and Cars. View these magnificent holiday lights the entire month of December from 5:30 to 9:30 pm.
South Park's Luminaria Season, San Diego
Luminaria is South Park's very own season of lights! From mid-November to New Years Day, come experience the sparkling tree-lined streets in their business community and celebrate the holidays. Trees, lamp posts, roofs and courtyards are all decorated with lights along 30th St. and Fern St. from Juniper to Grape to Beech.
San Diego Bay Parade of Lights, San Diego
The annual San Diego Bay Parade of Lights has been a holiday tradition in San Diego since 1971. The procession of approximately 80 lavishly decorated boats is one of the most iconic events in the region. The parade starts at 5 pm and follows a predetermined parade route. The best spots to get a good view are Shelter Island (at the start of the route), Harbor Island, The Embarcadero, Seaport Village and the Ferry Landing on Coronado.
SeaWorld's Christmas Celebration, San Diego
Christmas on Knob Hill, San Marcos
Christmas on Knob Hill began in 1988 and is now one of the largest Christmas light displays in San Diego county. Over the last 30 years the display has grown to over 85,000 lights that is powered 100% by solar power. For about a week before Christmas, Santa stops by nightly to visit with children who want to share their Christmas Lists. Check the schedule for Santa visit dates.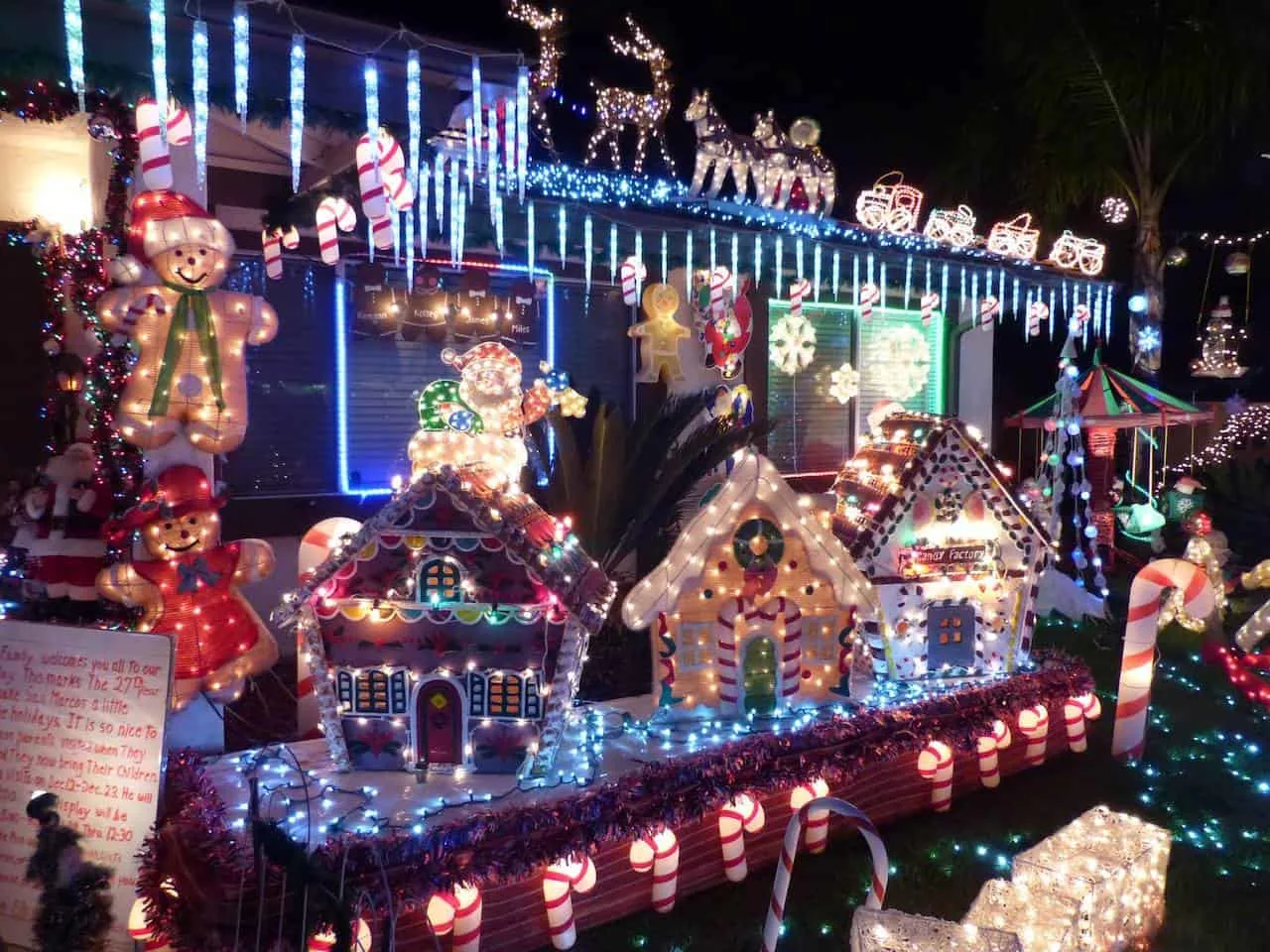 The Davidson House located has over 24,000 lights and is located at 2516 Rockdale Place in San Marcos.
Starlight Circle, Santee
In Santee, this massive lights display known as "Starlight Circle" draws crowds year after year. Located on East and West Glendon circles off Magnolia Avenue, visitors can see elaborate, handmade Christmas displays spanning dozens of homes.
Many of the displays follow a theme – from "Star Wars" and superheroes to "Toy Story" and "Sesame Street." Sometimes, the residents will sell hot cocoa, kettle corn, cookies and other holiday treats, for visitors to enjoy as they stroll the neighborhood. The lights are usually on from 5:30 p.m. to 10 p.m. nightly.
DB Christmas, Santee
DB Christmas is a dazzling display created by Michael Balazs each year at his home at 9773 Roe Dr. The lights – in honor of Balazs' late father, who died from cancer in 2009 – include thousands of multi-colored strings, spiraling Christmas trees, lawn displays that read "HOPE" and "CURE," and even holograms of Santa Claus projected on the windows of the home. Balazs' display is synced to holiday music played on 98.5FM. The lights are on nightly from 5 p.m. to 10 p.m.