Updated For 2023
Simplify your search for Christmas lights in Los Angeles with these must-see neighborhoods and landmarks. While the glammy glitz of Rodeo Drive is fun, there's particular magic to those over-the-top holiday light displays created by your favorite neighbor who wants to attract the entire population of Los Angeles to their front doorstep. Even better is when a whole street made up of holiday lights glistens in the night sky.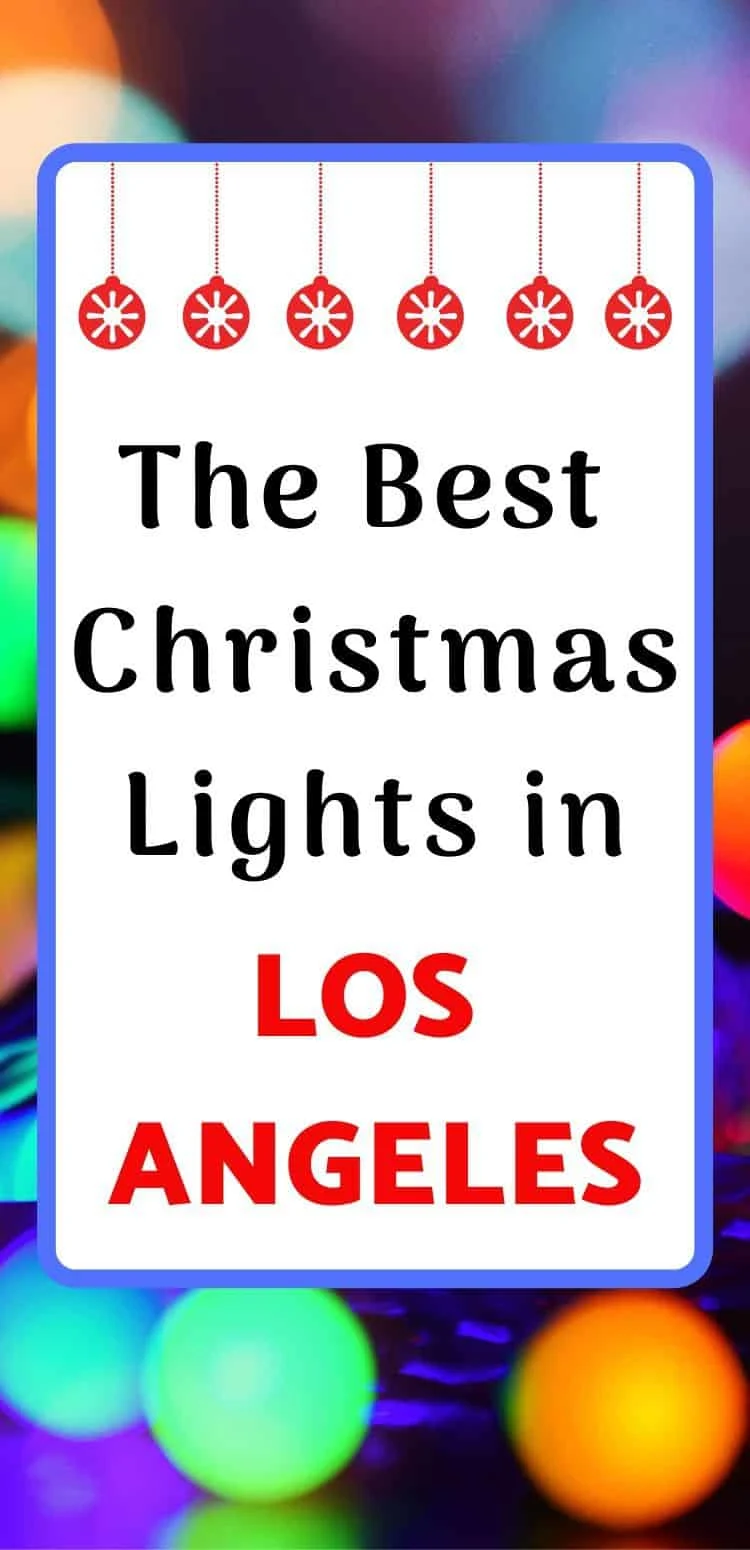 Los Angeles has plenty of community treasures hidden in plain view; from the return of The Grove, where snow magically falls twice nightly to Ziemkowski's Lights on Display, which easily rivals any professional light and music show you'll ever see. There are hundreds of holiday lights on display for all types of holiday fans to enjoy.
In between a deluge of Christmas events and frantic shopping trips take the time to check out these twinkling neighborhoods. Just make sure to bring along an extra sweatshirt and a cup of hot chocolate for the kids!
Also, please check websites ahead of time to make sure communities and cities are still hosting their annual Christmas light displays!
What are the best Christmas lights near me in LA?
Enchanted Forest of Lights, Descansco Gardens, La Cañada Flintridge
Descanso Gardens, one of my all-time favorite public gardens in Southern California, hosts Enchanted Forest of Light during the holiday season. As the sun sets, Descanso Gardens is transformed into a holiday wonderland with thousands of lights. It is simply mesmerizing! Some other words that come to mind to describe the light display are captivating, riveting and and amazingly beautiful. Our favorite part is The Symphony of Oaks walk-through exhibit, which lets you manipulate lights and sounds in the garden's historical Oak Grove.
LA Zoo Lights, Los Angeles
LA Zoo Lights is a great way to spend an evening at the zoo while walking around with hot cocoa in your hands! The zoo is transformed into a magical winter jungle complete with a disco ball forest, whimsical 3-D animations, a glowing "Northern Lights" featuring animal constellations that come to life, a picturesque kaleidoscopic savanna where glowing, large-scale animals roam and the very popular Twinkle Tunnel. Guests can see the world's largest illuminated pop-up storybook!
Lightscape, The LA Aboretum, Arcadia
Enjoy an enchanted evening of lights and music at the newest holiday event called Lightscape at The LA Aboretum. Direct from its sold-out run in London, Lightscape makes its West Coast debut this holiday season! Don't miss this must-see spectacular holiday light show!
Experience a one-of-a-kind, immersive night adventure, wandering into a festive world of wonder with thousands of twinkling lights in the various attractions from the Cathedral of Light to the Star Tunnel and the Fire Garden.
Grand Park's Winter Glow, Downtown LA
The Downtown park is taking advantage of winter's ever-shortening daylight with a light-up activation that brings a bit of warmth to the area. Winter Glow complements the park's traditional holiday decor with hands-on displays of all sizes. For the second year, the art, projection and light display will feature works from local artists and organizations. Grand Park's Winter Glow runs , from sunset to 10pm each night and admission is free.
Westlake Village Inn, Westlake Village
Thousands of twinkle lights bring holiday cheer to this charming European-style inn, set on seventeen acres in Westlake Village. Christmas trees and poinsettias are scattered throughout the property, creating a winter wonderland.
Lights on Display, Sherman Oaks
Ziemkowski's Lights on Display, which he builds annually at his home in Sherman Oaks, easily rivals any professional light and music show you'll ever see. Over the years Lights on Display has become more and more elaborate, with additions including computer controlled lighting, DMX controlled intelligent light, and a bevy of animatronic characters synched to a pre-programmed playlist of holiday tunes. And the best part?
It's free and open to the public, with showings taking place nightly at 5 p.m. The address is 3901 Longview Valley Rd, Sherman Oaks.
Winter Wonderland, Simi Valley
This open house features many of traditional decorations, but dog lovers will appreciate the "dog land" section, in which light-up canines (including a boxer and a sleigh-riding dachshund) lend some ruff appeal to the Christmas cheer. Be sure to check the Facebook page for the schedule. While Winter Wonderland is free, the owners gladly accept donations for Relay for Life (American Cancer Society), Casa Pacifica, and For the Troops (FTT).
Christmas Tree Lane, Altadena
Christmas Tree Lane in Altadena is the oldest large-scale Christmas lighting spectacle in the United States. Every December, this grand, mile-long driveway of cedars in Altadena becomes blanketed with over 10,000 holiday lights as it transforms into Christmas Tree Lane. Take a majestic cruise down the hill after it lights up the second Saturday in December. Christmas Tree lane is located on Santa Rosa Avenue, between Woodbury Avenue in Altadena.
Winterlit Celebration, Santa Monica
Elaborate light displays of Christmas trees, jutting icebergs, and icicles serve as the background for strolling carolers, a visit from Santa Claus and even a snowfall on opening day.
Naples Canals, Long Beach
Long Beach's Naples neighborhood is lovely any time of the year, but it shines in December, when the fancy waterfront houses are decked out in lights and other kitschy and crazy Christmas decorations. One house is even known to look like the set of the best-ever Christmas movie, National Lampoon's Christmas Vacation. As with the other light displays, the canals draw big crowds, so prepare to stand in line as you walk around to see the lights.
The Getty, Los Angeles
The Getty Center comes alive with festive holiday lights on Saturday nights beginning the day after Thanksgiving. Visitors can sip complimentary mulled cider as they take in the twinkling lights of the city between viewing the exhibits.
Rodeo Drive, Beverly Hills
The ritzy, world-famous shopping icon is decked out this time of year, offering live holiday entertainment on weekends and occasional visits from Santa. There's no fake snow like at The Grove, but cruising a shopping district to enjoy the lights also presents the opportunity to pick up a last-minute gift along the way. Lights are up through New Years.
Upper Hastings Ranch Holiday Lights, North Pasadena
Upper Hasting Ranch Holiday Lights began in 1952 when residents set up paper bags in front of their houses with candles inside called luminaries to light the way for Santa to find each home. The tradition grew as blocks began making parkway displays to represent each street, and homeowners began to compete for the best lights. Today, 66 years later, it's nice to drive down multiple streets and see all different h0liday lights on display.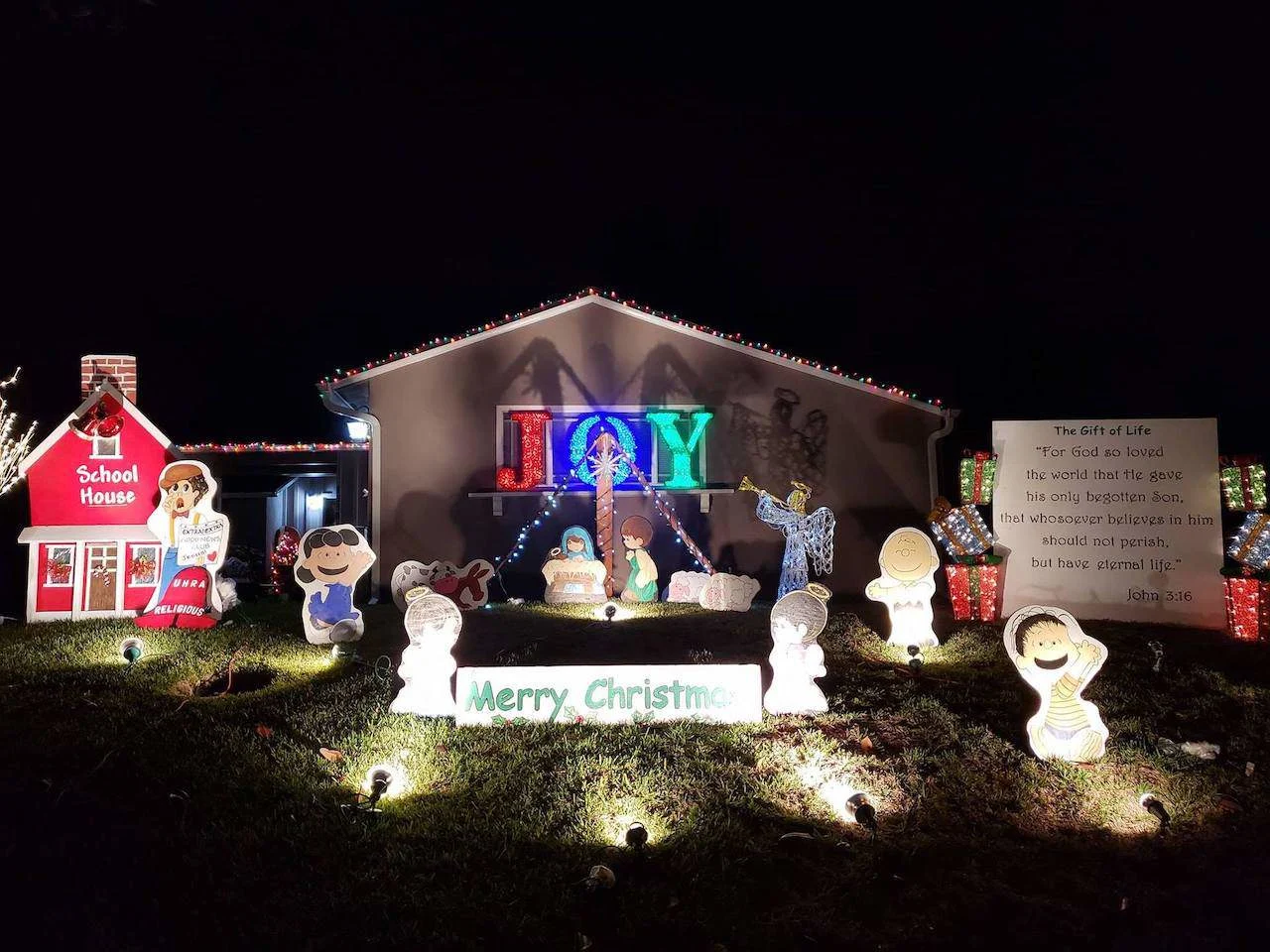 Timberdale & Pinedale, Moorpark
This isn't one of those neighborhoods with a Facebook page, a special street sign, or even a kitsch name, but if you're on a search for holiday eye candy, this is a sweet spot to check out. The neighborhood is across from Moorpark High School (head east on Countrywood Drive until you hit Timberdale), and it's just house after house of sparkling delights.
Griffith Park & Southern Railroad, Griffith Park, Hollywood
Hop aboard the mile-long track of the Griffith Park Train Rides for the Holiday Light Festival Train Ride. Magical scenes and tens of thousands of lights will captivate you and your family and set the mood for a wonderful Holiday season.
Candy Cane Lane, Woodland Hills
Candy Cane Lane is a group of homeowners at Lubao & Oxnard Streets in Woodland Hills who collectively decide each year to put on an amazing holiday display of lights and decorations. It has been a traditional since 1952 and the residents try to outdo each other with their light displays every year. Santa has even been seen posing for photos with children, while some of Santa's elves roam around. Candy Cane Lane begins on the 2nd Saturday of December and lasts through the end of the year. It's located at the intersection of Lubao and Oxnard Streets (by Pierce College) in Woodland Hills.
Montgomery Road and Janss Road, Thousand Oaks
This home doesn't have a fancy name or a flashy website, but folks in Thousand Oaks love to drive by this family's extravagant display every year. It's just one house, but no corner goes unlit, and the decorations are generally up and flashing their seasonal cheer by Thanksgiving weekend.
The Grove, Los Angeles
Topping the list of L.A.'s most festive experiences are the seasonal events at The Grove, where snow magically falls twice nightly, holiday music fills the air and two of the West Coast's tallest trees each gleam with 25,000 lights and ornaments.
Venice Canals, Venice Beach
The Venice Canals is an idyllic neighbourhood near Los Angeles, beautiful at any time of the year. However, they are especially charming with shimmering lights over wooden framed bridges. A stroll through beautiful Venice Canals Christmas lights is a great way to get into the holiday spirit. If you come by car, make sure to park a couple of blocks away, since the neighbourhood gets quite busy during the holidays.
Sleepy Hollow Christmas Lights, Torrance
Tucked in a South Torrance neighborhood is one of the most spectacular display of Christmas Lights in the South Bay. It's a neighborhood tradition where folks can walk or drive through to get in the holiday spirit. Sleepy Hollow Christmas Lights Extravaganza (also know as Candy Cane Lane) is located on Roberts Rd. off Pacific Cost Highway.
There is always a diverse array of themes on display from military, Christian, Jewish, Spongebob, Chicago Cubs, etc. so you're bound to find something you like. SHCLE is on display from 6-10 p.m. every night starting December 1st until the evening of New Year's Day. Walking offers a much more relaxed, up-close view of all the displays, without worrying about holding up the cars behind you.
Christmas Tree Lane, San Marino
St. Albans Drive decorates its massive pine trees for the Christmas season and is really best taken in by walking. The towering trees lining the road get decked out like giant Christmas trees and the effect makes you feel as if you are a miniature character in some fun, surreal, Christmas spectacle.
Daisy Avenue Christmas Tree Lane, Long Beach
In 1953, Long Beach resident Gertrude Whittle petitioned the city council for permission to beautify a piece of land with a holiday-themed display. Now, Daisy Avenue Christmas Tree Lane has grown from a modest Nativity scene to accommodate a wide variety of glittering displays. Today, visitors can expect marvelously illuminated conifer trees and a variety of small-scale holiday tableaux.
Yolanda Lights, Reseda
Yolanda Lights is a winter holiday Christmas light display like no other. Incandescent tunnels of warm light straddle the sidewalk on both sides of the street and extend almost the entire block. The lights are up until the weekend after Three Kings Day, (aka Día de los Reyes Magos) from dark to midnight. Located on the 7300 block of Yolanda Ave south of Valerio in the city of Reseda.
Candy Cane Lane, El Segundo
The eastern block of Acacia Avenue is announced by a Candy Cane Lane sign, marking a tradition of more than 60 years. Houses are alight with trains, reindeer, giant characters, and music, plus frequent appearances by Santa Claus in a covered sleigh at the end of the cul-de-sac.
The lights go on at 6pm; Santa usually sits down in his sleigh at about 7pm. Opening night is a big celebration each year, after which the cul-de-sac is lit up for pedestrians every night through December 23rd. Candy Cane Lane itself is closed to cars, but parking is available throughout the neighborhood.
Manhattan Beach Pier, Manhattan Beach
Here, it's not about the volume of lights but the location. What says Christmas in California more than a pier along the beach all dressed up with lights? Not much. Manhattan Beach is a walkable, fun town. Go out to dinner, then walk the picturesque pier after the sun sets.
Index Street, Granada Hills
It's surprising to think that a street named after a humble 3×5 card could be so ostentatious, but drive along Index Street between Louise and White Oak on any December evening and you'll be dazzled by the number of houses with elaborate, twinkling Christmas light displays. The show continues as you wind through the neighborhood on Donmetz, Lahey, Encino, "Candy Cane" Lasaine, and Jellico streets.
Wakefield Winter Wonderland, Saugus
In the aftermath of the 1994 Northridge earthquake, a Saugus neighborhood came together. So starts the tale of camaraderie, community and cheer that literally lights up a Santa Clarita neighborhood every night for most of December. Wakefield Winter Wonderland consists of a double cul de sac street with 41 houses decorated, as well as a ceiling of lights strung across the street from house to house. Located off of Copperhill Drive via Courtland Way. Lights shine brightly from 5pm – 10:30 pm, Dec 1 – Dec 31.
A Magical Blvd Christmas, Lancaster
Enjoy the sights, sounds and feel of the holiday season with A Magical BLVD Christmas, Lancaster's winter wonderland celebration. Be dazzled with a brilliant display of lights, wreaths, decorations and numerous holiday scenes.
Nortons Winter Wonderland, Burbank
This fellow Dick Norton is about as Christmasy a neighbor as anyone could want—and he lets everyone feel like his neighbor by sharing both the lengthy construction process and his nightly holiday light show via a string of webcams. His website has plenty of info, including ongoing progress toward his target opening date of the first Saturday in December. The website also has a link for sending email to Santa. Note that on wet evenings, much of the display is turned off.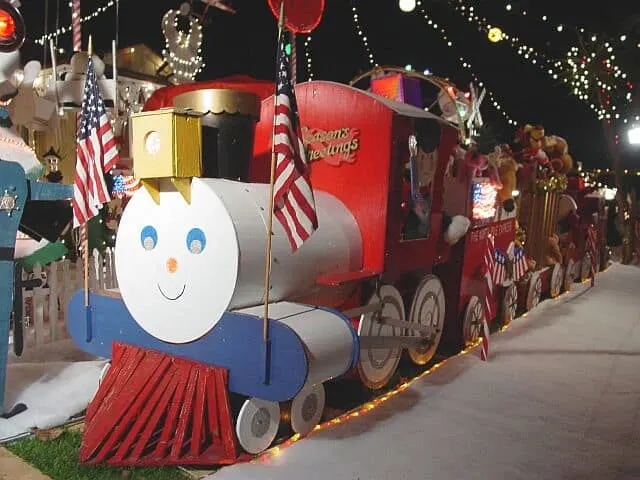 Winter Snowland, Burbank
Creating an elaborate Christmas display has been a tradition of Keith's for 30+ years. He built his first Christmas display in 1987. Each year the holiday display has grown in size and in power. Today the Christmas display covers just about every inch of his front yard and most of the roof.
The holiday display has won lots of awards over the years and has been featured on several major television shows including the NBC Today Show (Weekend Edition), CBS's Early Show with Brian Gumble and HGTV.
I hope you enjoy this spectacular list of Christmas Lights throughout Los Angeles and I wish you and your family a very Merry Christmas!
Jilleen
More Family Holiday Events in Southern California