This post contains affiliate links.
Here in Southern California, Halloween is not over and fall fun abounds! So let's get right to it and share with you The Best Family Friendly Halloween events and fall festivals taking place across the southland this season. Prices and dates vary. Please visit individual websites for full details. Happy Fall!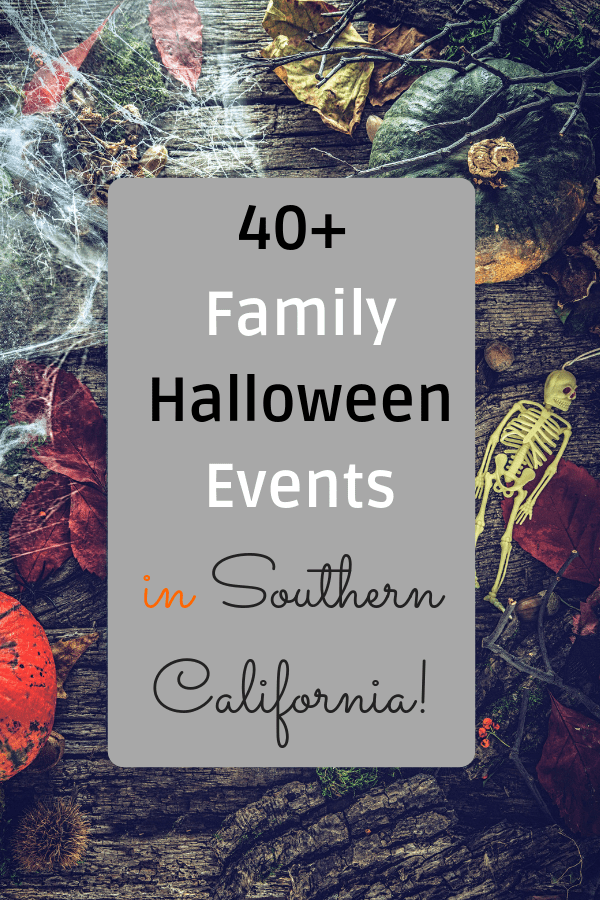 Family Halloween Events in Los Angeles
Halloween at Descanso Gardens, La Canada Flintridge (all month long in October)
Throughout the month of October, join us for Halloween at Descanso! Guests are invited to safely wind their way through socially-distanced, pumpkin-themed displays in the most popular sections of Descanso Gardens. Halloween activities includes a Pumpkin house and children's hay maze, wooden jack-o-lanterns, a pumpkin arch and and pumpkin mandalas.
Children 14 and under are invited to wear their costumes – and masks – as they explore and enjoy autumn in the Gardens. The Kitchen at Descanso will have a variety of warm, fall-inspired drinks and soups available, along with such seasonal favorites as caramel corn and churros.
Advance admission is required for non-members and can be purchased here.
Halloween at the Arboretum, The Arboretum, Arcadia (all month long in October)
Experience the spooky side of the LA Arboretum throughout the month of October by exploring our Ghoulish Gardens path! While engaging in a safe, self-guided tour of our creepier collections, guests are invited to learn about trees that strangle other plants, the ingredients in common witches potions, flowers that are pollinated by bats, and other fun, eerie plants while winding their way through the garden.
Fun for adults and children alike, guests exploring Ghoulish Gardens on October 31st are encouraged to wear costumes to the Arboretum.
Stranger Things: The Drive-Into Experience, Los Angeles (10/7 – 10/31)
This Stranger Things-themed experience will bring the Netflix series to life with an hourlong adventure that transports visitors to Hawkins and the Starcourt Mall circa 1985. And as the name implies, you'll be able to take it all in from the safety of your own car. The experience will take groups of 24 cars at a time through a world of tunes, mullets and monster hunts including sets complete with actors in costume and special effects. Not recommended for children under 13.
The Gentle Barn's Halloween Experience, Santa Clarita (9/21 – 10/11)
This is a whole new exciting way to experience The Gentle Barn, and be able to dress up, get candy from our safe cast members and see all of the Halloween themed decorations around The Gentle Barn.
This new drive-thru experience will take you behind the scene to areas of our California property that is normally not open to the public. Starting with a tour of our Sun Chlorella: Healing Center in Agua Dulce, just 10 miles up the road. Then down to the main Gentle Barn property, and ending with you casting a wish in our wishing well.
Nights of the Jack, King Gillette Ranch, Calabasas (10/1 – 11/1)
Their new extended driving trail will feature thousands of hand-carved and illuminated Jack O' Lanterns as attendees make their way around King Gillette Ranch. Immerse yourself in an instagrammable Halloween wonderland and experience what everyone is talking about! Ticketed event.
Freeform's 31 Nights of Halloween, Heritage Square Museum, Los Angeles (10/2 – 10/5)
Freeform's 31 Nights of Halloween returns! And this year we're taking our annual Halloween event on the road – literally! … Cause, even ghosts need to stay socially distant. It's an outdoor immersive experience all behind the wheel of your car! Drive-thru (if you dare) the worlds of "Tim Burton's The Nightmare Before Christmas", "Hocus Pocus", "Ghostbusters" and other spooktacular surprises filled with games, performances and prizes! And the best part is that it's free!
THE BITE LA: Halloween Food Crawl and Creature Safari, Legg Lake, Los Angeles (all month October long)
This unique twist on the drive-thru/drive-into haunted attraction offers a delectable Halloween food crawl that snakes its way around eerie Legg Lake, includes 8 Bites, campfire dessert, fall-favorite warm beverage and immersive entertainment that guests can enjoy from the safety of their own vehicle.
The BITE is open select dates throughout October. There is no age restriction for this event, but there will be a few frightening creatures lurking about.