This post contains affiliate links.
It's pumpkin season. Better yet, it's pumpkin patch season! Now's the time to load up the kids and head out to one of Southern California's 30+ pumpkin patches in the area!
Annually, my family ventures out to the Irvine Park Railroad's Annual Pumpkin Patch in Orange, for a good time. Field Trip Girl especially enjoys this pumpkin patch because of the face painting, tractor rides and carnival games. The Irvine Park Railroad also does a great job at creating a classic pumpkin patch feeling, along with a few games and activities. This season we also plan to visit Peltzers Farms in Temecula to go through their gigantic corn maze. Field Trip Boy loves mazes!
Best Pumpkin Patches in Southern California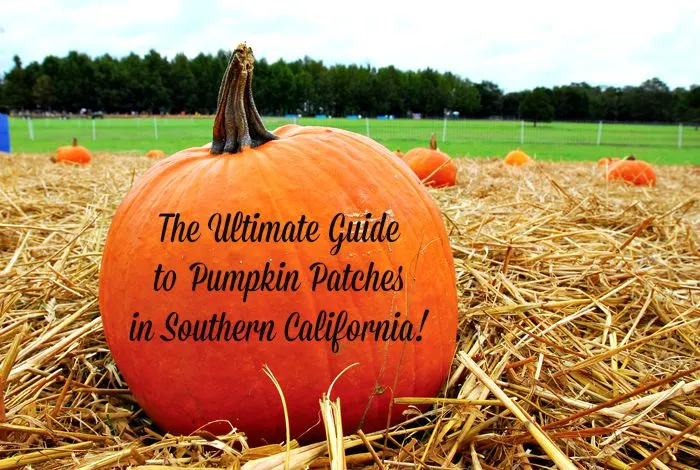 In preparation for the fall, I complied a list of 30+ Pumpkin Patches in Southern California. I surveyed several my friends who live in the area to find out which pumpkin patches they like to visit with their families. The majority of them said that they like to go to the old-fashioned, classic type pumpkin patches. However, I've compiled a list of a variety of pumpkin patches that are sure to please everyone in the family!
If you know of a pumpkin patch in your area that you really like and should be added to this list, please send us an email!
Best Pumpkin Patches in Los Angeles
Pumpkin Patch & Fall Festival at Santa Anita, Arcadia
The Infield comes alive for the last two weekends in October with the Fall Fun Fest. Bring the whole family to experience Bounce Houses, Games, Pony Rides, and more! There's something for just about everyone to enjoy. And just in time for the spooky season, grab yourself a pumpkin from the Santa Anita Pumpkin Patch.
Pasadena's Pumpkin Patch, Pasadena
Pasadena Pumpkin patch has been in business for over 20 years. They provide the best pumpkins of all shapes, colors, and sizes at the best prices. They also have pony rides, jumbo bouncing slides, themed bounce houses, and a petting zoo.
Calabasas Pumpkin Festival, Calabasas
This festival takes place in October. Admission includes Inflatables & Giant Slide, Live Bands & DJ Zone, Contests & Saturday Morning Costume Parade, Reptile, Bugs & Nature shows, Youth Halloween Carnival, Business Expo, Car Show and Exhibits. Pumpkins, pumpkin treats and halloween decorations are an additional price.
Debbie and Jeff's Pumpkin Patch, Redondo Beach
This classic pumpkin patch has animals, a jumper and a slide. The staff is also very friendly and helpful.
Enchanted Country Pumpkins and Trees, San Dimas
They offer pumpkins of all sizes and styles, various inflatable slides and bounce houses, games, a petting zoo and baby chicks.
Forneris Farms, Mission Hills
An annual pumpkin patch with gorgeous varieties of pumpkins grown and harvested by the local farmers. Get lost in their 4 acre Super Farmer Corn Maze or take a narrated tracotor tour around the farm.
Santa Monica Farmers Market, Santa Monica
On the Wednesdays leading up to Halloween, pumpkins are added to the bounty along the 3rd Street Promenade.
Mr. Bones Pumpkin Patch, Culver City
Founded in 1987, Mr. Bones Pumpkin Patch is a family-owned and operated business that focuses on bringing the farm to the city and celebrating the magic of Halloween. Becky and David Campbell, drawing inspiration from their farm in Silverton, Oregon, originally opened the patch in Westwood when they realized how few opportunities there were for Los Angeles-area children to experience farm life at an urban pumpkin patch. Mr. Bones focused on creating a spooky, fun space for families wherein kids could learn more about nature and the environment while celebrating the more traditional side of Halloween.
The Mr. Bones student field trip package includes:
Interactive talk on How Pumpkins Grow from a designated Mr. Bones staff member
1 baby pumpkin
1 Baby Spider OR Dancing Spider Bounce House
1 Petting Zoo
Unlimited Straw Maze
Unlimited time in the Pumpkin and Tipi Villages
Unlimited time on Giant Rocking Horses
Check Out The Best Halloween Costumes For Kids!
Morph Alien Pick Me Up Inflatable Blow Up Costume
Disney Fairies Tinker Bell The Pirate Fairy Girls' Costume
Marvel Spider-Man Toddler Costume
Disney Mary Poppins 2 Pc. Girls Costume, with Hat Size: Med
Star Wars: The Force Awakens Child's Stormtrooper Costume, Medium
Shawn's Pumpkin Patch, Torrance
Hunting for that perfect, long stem, "chubby face" pumpkin? Come to Shawn's Pumpkin Patch, right in the middle of the city! With lots of straw bales, corn stalks, mountains of pumpkins, gourds, and more, they're sure to give you a little of the "country" feeling.
Farm Lot 59, Long Beach
Pumpkins are available for purchase starting in October. Farm Lot 59 demonstrates a small-scale model of sustainable agriculture using current best practices with the 2016 USDA-funded high tunnel extension. Their working to change the future of food by proving that vacant property can be transformed into a sustainable urban farm scape.
Pa's Pumpkin Patch, Long Beach
Pa's Pumpkin Patch offer a large variety of pumpkins to choose from, as well as haystacks, corn stalks and gourds. They also have fresh cooked food which includes a snack bar for all your sweet treats, pony rides, a petting zoo and a variety of games and rides. A fun place for the whole family, and a great getaway for school groups, scout groups, birthday parties and special events!
Tina's Pumpkin Patch, Sherman Oaks
The pumpkin selection is great and there's so much for the kids including pony rides, a petting zoo, and multiple bounce houses.
Tapia Bros. Farm, Encino
Tapia Bros. Farm is a family-owned and operated produce stand in the San Fernando Valley. They grow and sell fresh seasonal produce. During the fall, they have a terrific pumpkin patch, corn maze, hayride, petting zoo and pony rides.
Tahoe Scotty's Pumpkin Patch, Pasadena
Home of the large stem pumpkins.
Best Pumpkin Patches in Orange County
Zoomar's Petting Zoo, San Juan Capistrano
A small petting zoo in San Juan Capistrano with a cute little pumpkin patch for kids. Great for toddlers and preschoolers.
The Pumpkin Corral at MainPlace Mall, Santa Ana (TBD)
Family-friendly event features a variety of attractions, including a petting zoo, inflatables, rollercoasters, slides, and more
Enchanted Country Pumpkins and Trees, Brea
They offer pumpkins of all sizes and styles, various inflatable slides and bounce houses, games, a petting zoo and baby chicks.
The Pumpkin Patch, Placentia
This pumpkin patch has a ton of pumpkins and activities for the kids including jumpers, pony rides, a petting zoo, kids tractor ride, gold panning and more.
Irvine Park Railroad Pumpkin Patch, Irvine
The Irvine Park Railroad Pumpkin Patch's activities include train rides, hay rides, panning for gold, a child-friendly haunted house, a hay maze, a moon bounce, pumpkin ring toss, carnival games, cookie decorating, John Deere tractor racers, face painting, picture stands, great food and a lot more. The Pumpkin Patch also has thousands of pumpkins in all shapes and sizes to choose from.
The Ecology Center, San Juan Capistrano
The Ecology Center offers a local, certified organic, family farm choice right in south Orange County. They have a small, charming pumpkin patch open during the fall.
Tanaka Farms Pumpkin Tours, Irvine
The Tanaka Farms Pumpkin Patch is open every day starting at the end of September through October. Monday thru Friday, they have a continuous wagon ride, petting zoo, corn maze, sunflower field, U-Pick vegetable patch and acres of traditional pumpkins to choose from. Every Saturday and Sunday in October, they also have games, ATV rides, face painting, the Pumpkin Cannon, food and interactive activities for kids.
The Pumpkin Patch Field Trip for groups is a completely self-guided tour. The complete itinerary takes about 1 to 1.5 hours depending on group size. The package experience includes:
Wagon Ride: Once everyone has been checked in and stickers put on, the first stop is the Wagon Ride! The wagons run continuously every 10 minutes or so and takes you around our 30 acre farm to see all the pumpkins and crops growing.
Petting Zoo: When the wagon returns, the next stop is the Petting Zoo. There are goats, sheep, even an alpaca or 2 to pet. Make sure to supervise all children to take good care of the animal friends. Hand sanitizing stations are available outside the cages.
Corn Maze: Right next to the zoo is the Corn Maze. Enter the maze and try to find your way to the center and back out. The maze is not too complicated for younger children but definitely makes you feel lost among the cornstalks!
U-Pick Veggies: After gathering your group out of the maze, head on over to the Vegetable Patch! A friendly Patch helper will pass out bags and tell you all about the vegetables and how to pick them. Each child can take home 4 of each kind of veggie – carrots, radishes, green onions, and cilantro. Extra veggies can be picked and purchased for an additional price per pound (pay in the Market Stand)
Pumpkin Patch: Last stop but certainly not least is picking a pumpkin! Walk on over the pumpkin patch to choose which pumpkin to take home. Flat one, tall one, skinny one…bumpy one? Orange, white, green?
Pumpkin City's Pumpkin Farm, Laguna Hills
What started with a pick-up load of pumpkins in 1978 has now grown into Orange County's largest premier Harvest Festival. Since first opening their gates, Pumpkin City has been dedicated to celebrating the October Halloween season with wholesome family fun and entertainment—creating a charming farm atmosphere in the heart of the city.
Pumpkin City is one of the oldest pumpkin patches in California. Annually, visitors are delighted to interact with dozens of cute barnyard animals in their petting zoo, ride a pony at the Pony Corral, sit back and watch a puppet show and take pictures with costumed characters. In addition, enjoy a host of amusement rides, activities and game booths all while strolling through thousands of pumpkins of all shapes and sizes. Admission costs a few dollars. Parking is free. Rides costs a few dollars each.
Best Pumpkin Patches in Riverside & San Bernardino
The Pumpkin Factory, Corona
Come experience the wonder of The Pumpkin Factory's pumpkin patch in Corona with fantastic rides, slides, ponies, an ATV Train, petting zoos, games, food and more. Share the excitement and anticipation as your child carefully selects just the right pumpkin, grown on their own family farm, for you to take home and carve together.
Riley's Farm, Oak Glen
Whatever type of pumpkin you're searching for, Riley's Farm has them all! The owners love to plant and try out new varieties every year, and make sure to keep all of their old favorites around. Guests get to hike out to their pumpkin fields and pick out whatever pumpkins they like.
The Pumpkin Patch at Live Oak Canyon, Redlands
Come experience the wonder of The Pumpkin Factory's pumpkin patch at Live Oaky Canyon with fantastic rides, slides, ponies, petting zoos, games, food and more. Share the excitement and anticipation as your child carefully selects just the right pumpkin, grown on their own family farm, for you to take home and carve together.
Check out their amazing corn maze! Its corn-fusing with 2.5 acre of pathways that twist and turn challenging you for an average of 30 minutes.
Greenspot Farms, Mentone
Greenspot Farms' Pumpkin Patch is bursting with colorful pumpkins of every different shape and size! They have all sorts of pumpkins including Blue, Ghost, and Cinderella's. The entire farm is alive with the colors of the fall harvest. Stock up on Gourds, Indian Corn, Stalks, and Straw Bales while visiting, to give your porch that Fall touch!
Cal Poly Ponoma's Pumpkin Festival, Pomona
Cal Polly Pomona's Pumpkin Patch is known as one of the largest in California. Over 40,000 Cal Poly grown pumpkins fill the huge patch. Admission tickets are available online only this year.
Take a fun Tractor-Pulled Wagon Ride around the Maze and Pumpkin Field with a College of Ag tour guide to answer your questions. Keep an eye out for our local wildlife, rabbits and squirels, and learn about the new Apiary class at Cal Poly Pomona. The Kid's Pumpkin Patch and Farm Kids Activity Zone have been expanded them with more Old-Time games and activities. They've also added a mini Kids Corn Maze, perfect for the little ones! After the festival, the pumpkin patch will be open through October 31.
Tom's Farms, Corona
Join the fun at Tom's Farms Pumpkin Patch with contests every weekend during the month of October. They also have a petting zoo, tractor and train rides, an old time carousel, pony rides and more every weekend.
Peltzer Farms, Temecula
Peltzer Pumpkin Farm offers gold mining, pig races, pony rides, a petting zoo, and more to make picking out your favorite fall pumpkins a great family experience.
Best Pumpkin Patches in San Diego
Julian Autumn Jubliee at Fort Cross Old Timey Adventures, San Ysabel (near Julian)
Fort Cross is a family owned and operated outdoor education center with a focus on hands-on activities. Every weekend beginning in September thru the end of October, they host the Julian Autumn Jubliee. Admission includes entry into their U-Pick Veggie & Pumpkin Garden.
Carlsbad Stawberry Company Annual Pumpkin Patch, Carlsbad
The Carlsbad Strawberry Company is a family run grower of fruits and vegetables. Now in its third generation, they have been farming in this area since 1948. Their annual pumpkin patch opens in September.
Bates Nut Farm, Valley Center
Start an annual tradition! Bring your class, group, family or organization to the pumpkin patch and enjoy over 8 acres of pumpkins, squash and gourds. Visit the goats, sheep, chickens, pigs, miniature donkeys, llamas and other farm animals at the Farm Zoo. Enjoy the straw maze and tractor hayride. Bring a picnic, plan games, and enjoy the open space. Free admission, plus the cost paid parking on the weekends in October.
They also offer school tours during the month of October. Learn how pumpkins are grown and cared for, their nutritional value, uses, and their squash cousins.
Oma's Pumpkin Patch, Lakeside
The pumpkin patch runs every Tuesdays – Saturdays. General admission for each child receives a water bottle, Jack Patch Pumpkin and participation in all of the farm's activities.
The farm's "How Pumpkins Grow" presentation is for reserved weekday morning groups only. Please nquire regarding their field trip rates. Groups must have at least 20 kids, 1 year and older, to qualify for the group rate.
Mr. Jack-O-Lantern's Pumpkin Patch, La Jolla
Mr. Jack O' Lantern's Pumpkin Patch's goal is to create an unparalleled family experience when visiting any one of their locations. They have premium pumpkins, games, activities, and attractions, all of which will not break the bank!
They also welcome school field trips and will develop a plan that meets your group's requirements.
Pumpkin Station, Del Mar, Mission Valley, National City, & El Cajon
Let the adventure begin at one of Pumpkin Station's locations. They have pumpkins, kiddie rides, giant slides, inflatable play centers, petting zoos, game zones, school tours and party packages.

Pumpkin Station Farms, Rancho Bernardo & Bonita
Enjoy the time-honored tradition of a real pumpkin farm. Stroll through their living pumpkin patch, explore a real corn maze and take a hay ride through the Christmas Tree farm. Educational school and group tours are also available at these locations.
Summer Past Farms, Flinn Springs
Wonder in the pumpkin patch during the week and pick your favorite pumpkin! Featuring their selection of field grown pumpkins of all shapes and sizes. Fill your wheelbarrow with your favorite pumpkins. Fun filled days for everyone. Bring your cameras, family and friends. Snap a picture of the kids having fun in the "jumpy" on the grassy area. There is something for all to enjoy! Open Wednesday – Sunday each week of October.
Fran's Original Farm Stand, Escondido
They are scheduled to reopen on October 1 for their annual pumpkin patch.
Best Pumpkin Patches in Ventura & Surrounding Areas
McGrath Brothers Great Pacific Pumpkins, Ventura
McGrath Brothers Great Pacific Pumpkins knows how to create truly colossal pumpkins. The fifth-generation farmers churn out huge orange specimens every year, each ready to be carved or painted just in time for Halloween. And the farm rounds out a happy-Halloween experience with a hay bale maze, tractor-drawn hay rides, and visits to the farm animals.
Underwood Family Farms, Moorepark & Somas
Underwood Family Farms Fall Harvest Festival run every weekend during the fall season. Weekend Festival admission includes tractor-drawn wagon ride, corn maze, corn stalk labyrinth, Pig Races, Animal Show, Pumpkin House, Pumpkin playhouse, live music and entertainment, access to Pick-Your-Own fields and Pumpkin Patch, Animal Center including Bee Barn, hay pyramids, Fun Hill, Kid's Corral, Farmer Craig's Chicken Show, Combine Slide and more!
Student Farm Tours are either a strawberry or a vegetable picking tour where everyone will pick either a 1lb basket of strawberries or a bag of assorted veggies to take home. Both tours feature a vintage tractor drawn wagon ride around the farm, a shaded picnic area to enjoy your snacks or sack lunch, a visit to our Farm Animal Center, and a farm activity coloring book for every child. When in season, Farm Tours are $6 per person (children & parents). Teachers & Aides are FREE! There is a minimum price for each tour based on 20 participants. Approx. 2 hours including picnic and Farm Animal Center.
The Painted Pony, Santa Paula
Groups of 20 or more are invited to come and pick pumpkins in October at The Painted Pony, an educational family farm in Santa Paula. Their popular Pumpkin Picking Field Trip is full of Educational information and fun. It is truly a hands on experience when you cut your own pumpkin off the vine. Advanced reservations required.
Happy Fall Field Tripping!
Jilleen
More Fall Events in Southern California:
50+ Fun Festive Fall Events in Orange County
40+ Family Halloween Events in Southern California
5 Tips for Apple Picking in Oak Glen
Where To See Fall Leaves in Southern California