This post may contain an affiliate link for LA Zoo discount tickets.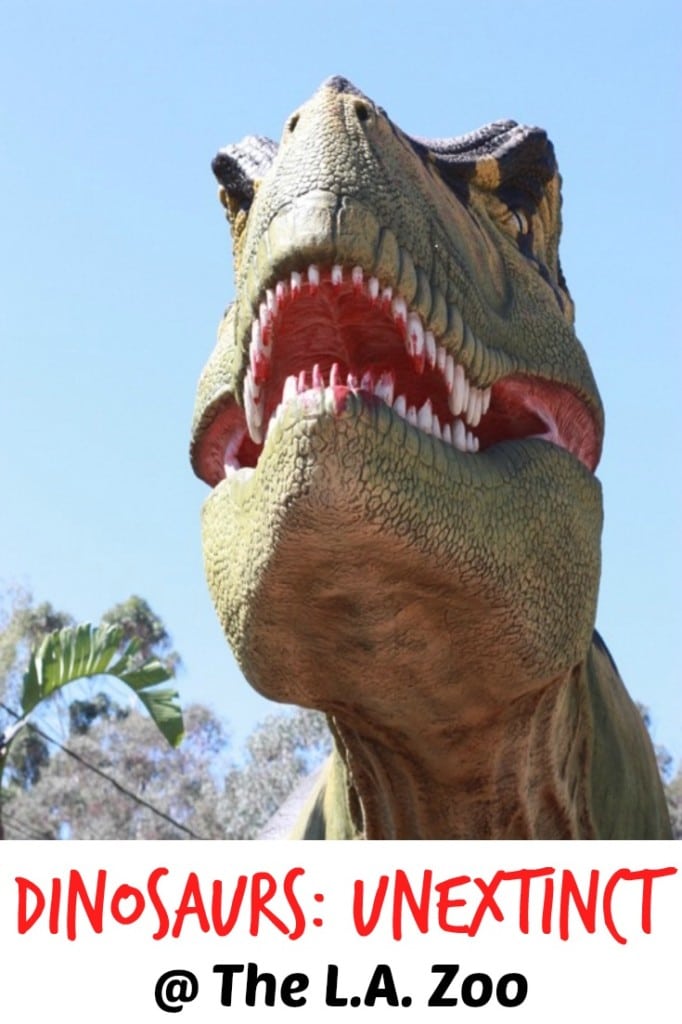 Do you believe dinosaurs are extinct? Well, think again! Recently, my family and I had the pleasure of seeing 17 life-size, life-like prehistoric dinosaurs brought back to life at Dinosaurs: Unextinct at the LA Zoo in Southern California.
Dinosaurs: Unextinct at the LA Zoo is made up of animatronic dinosaurs with electronic "brains" that take visitors back in time for a colossal adventure, providing a rare chance to discover a lost world from millions upon millions of years ago, while warning about the very real threat of extinction faced today by many endangered species.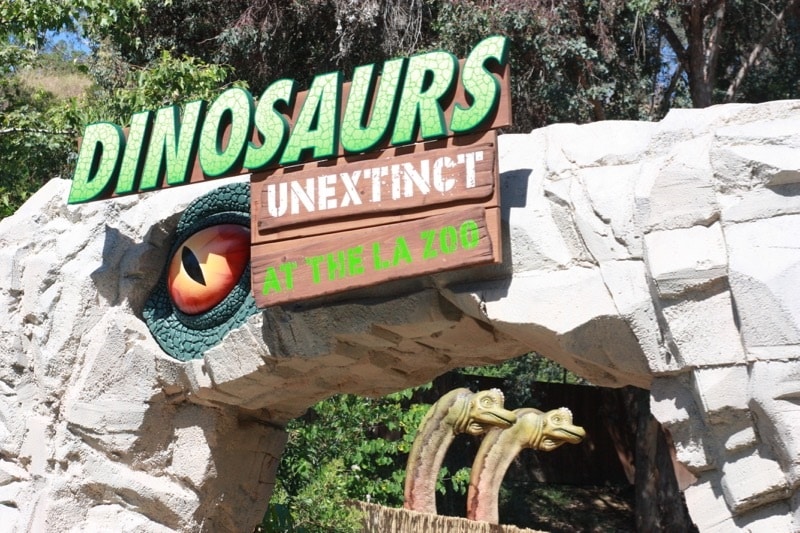 Dinosaurs Unextinct at the LA Zoo Kid's Activities
There are a lot of hands on activities for children to education themselves and learn about the extinction of dinosaurs. Among the exhibit's most popular features are:
A fossil dig where children can brush away sand to uncover "bones" made from a fiberglass mold taken from an actual juvenile Maiasaura fossil, a large, herbivorous hadrosaurid that lived in the area currently covered by Montana during the upper Cretaceous period about 76 million years ago.
A Stegosaurus robot with hands on controls. My kids got to go behind the scenes and activate the robotic legs and arms to make it actually move. They thought this was thrilling!
A Pachyrhinosaurus, a dramatic-looking cousin of the Triceratops, with massive flattened growths over its nose. Here visitors are able to climb on top of the giant dinosaur and take a picture, or if you prefer, stand in front of a green screen instead and find yourself in the middle of a dinosaur stampede. Just beware of your surroundings…you've been warned!
A free downloadable "Dinosaurs: Unextinct at the L.A. Zoo " augmented reality app to access special content, including 3-D views of all the dinosaurs.
As you stroll along the Dinosaurs: Unextinct at the L.A. Zoo trail, you will be shocked with gargantuan levels of awe, as well as learn fascinating facts about the featured dinosaurs and their similarities to the L.A. Zoo animals. In fact, some of the dinosaurs reminded me of the hippos that we saw during our visit to the Hippo Encounter at the LA Zoo.
As the animated dinosaurs move their heads, some like to scream, while others spit water at bystanders. So watch out, you might get wet! There is also nothing more precious than seeing your child's face light up when they encounter a "real" dinosaur for the first time! My daughter was especially enthralled with the babies. She asked to go back time and time again.
Featured Dinosaurs at Dinosaurs Unextinct at the L.A. Zoo
My 7-year-son was quite impressed by the hyper-realistic scene with a T-Rex eating a Triceratops, but his favorites were the Diabloceratops and the feather-covered Utahraptor.
Others dinosaurs on display include:
Suchomimus, complete with a fierce crocodile-like mouth, from the Cretaceous period some 110 million years ago.
Brachiosaurus, from the Jurassic period 156 million years ago, whose 18-foot-long neck required a gigantic heart to pump blood up to the top.
Two Coelophysis dinosaurs, from the Triassic period 210 million years ago
Citipati from the late Cretaceous period, which used its feathers to protect and warm its eggs, just like modern-day birds do.
Carnotaurus, a bipedal carnivore covered in small scales and bony lumps from the late Cretaceous period.
Edmontonia, an herbivore with heavy body armor to defend itself, from the late Cretaceous period.
The iconic Triceratops from the Cretaceous period 72 million years ago.
Utahraptor, the alpha predator of the early Cretaceous period 124 million years ago, whose most unique feature was an extra-long, sickle-shaped claw on the second digit of each foot used to pin down and tear apart prey.
Dilophosaurus and baby Dilophosaurus, fast moving bipedal carnivores from the Jurassic period 201 million years ago.
Diabloceratops, its baby and a Diabloceratops nest, representative of the dinosaur from the late Cretaceous whose name means – and aptly describes – its "devil-horned face.
Tyrannosaurus, better known as a T-Rex, one of the largest and most powerful dinosaurs, from the Cretaceous period 65 million years ago.
Admission to Dinosaurs: Unextinct at the L.A. Zoo
Best of all, entry to Dinosaurs: Unextinct at the L.A. Zoo is just $5 per person, in addition to regular zoo admission, and FREE for wee ones under age two. Sometimes you can find LA Zoo discount tickets on LivingSocial.com or Groupon.
Dinosaurs: Unextinct at the L.A. Zoo is on display from April 15 – October 31, 2016.
Happy Field Tripping!
Fran Sawyer
More Los Angeles Family Activities
40 LA Museums to Explore with Kids
Behind The Scenes Hippo Encounter at The LA Zoo
How To See A Free Concert at The Hollywood Bowl
Best Places for a Tea Party in Southern California
Explore the Back to the Future Car at The Petersen Automotive Museum