This post may contain an affiliate link for LA Zoo discount tickets.
If you are a nature lover or animal enthusiast, than most likely you are familiar with Earth Day. But obviously, protecting our natural resources and honoring our earth, doesn't stop after a one day celebration. That's why the L.A. Zoo founded "Wild For the Planet" for the first time this year.
From Earth Day (April 23) until Endangered Species Day (May 22) from 10 am to 4 pm, the L.A. Zoo is hosting a series of activities, entertainment and resources relating to the importance of protecting our planet and its animals. SoCalFieldTrips was invited to opening day and treated to a bevy of informative fun for the family.
As soon as we entered, we were greeted by the L.A. Zoo's new animatronic dinosaur exhibit called Dinosaurs: Unextinct. If you haven't checked it out yet, I highly recommend it and the exhibit runs through October 2016.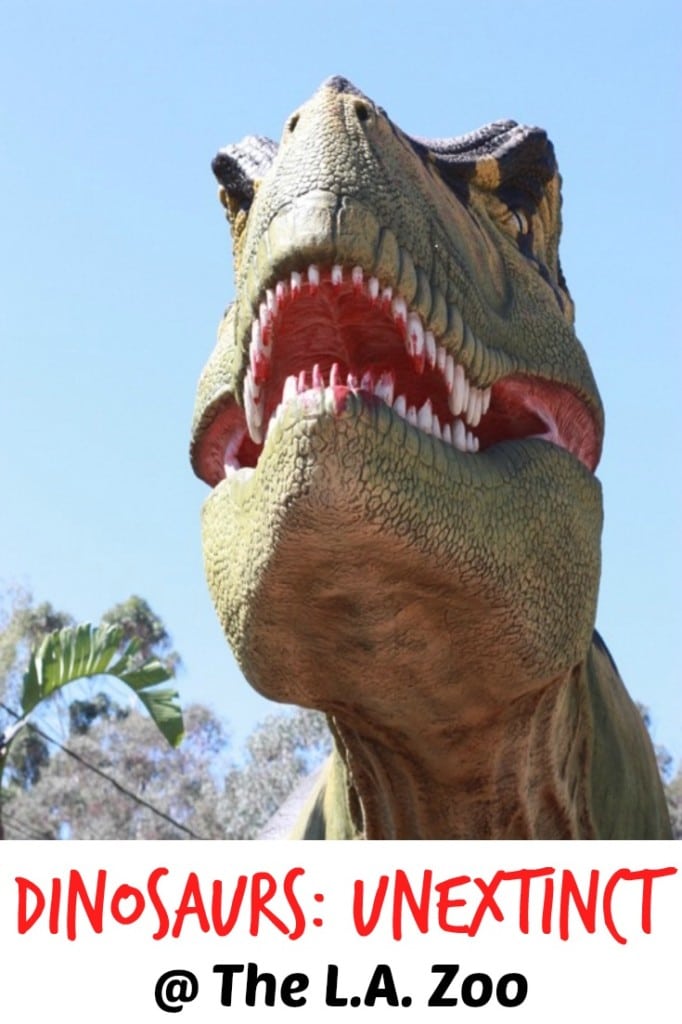 Wild For The Planet Activities
Next up, the LA County Department of Public Works talked to our children about the Los Angeles' storm water program and waste management system. We learned the importance of not throwing anything in the gutters, because once it goes down the pipes, the items end up in the ocean and hurt our local sea life. It is best to put trash where it belongs – in the trash can!
Additional education stations were set up throughout the zoo, educating children and grown-ups about the steps we need to take in our urban environment to protect the wildlife. Suggestions included recycling, upcycling, composting and setting up wildlife corridors to allow the wild animals living in parks to go under the roads and avoid getting run over.
We also learned that the L.A. Zoo has an electronic device recycling program which helps benefit other animal conservation programs. If people have any unused electronics at home, they are encouraged to bring them with them to the zoo.
The L.A. Zoo is home to a diverse collection of 1,100 animals and 250 different species, many of which are endangered. During Wild for the Planet, special animal feedings are scheduled and animal keepers give talks underscoring conservation. During our particular visit, we saw the Tasmanian Devils eat dead mice. I know, it sounds gross, but my kids were excited to see these unusual animals up close and personal for the very first time.
Docents are also present throughout the zoo to introduce children to specific animals that are endangered. In fact, my kids got to touch a gopher snake and see a very shy bearded dragon.
Furthermore, my kids were enthralled with watching the Zoboomafoo show (affiliate link) and seeing a real-life Sifaka lemur jumping around like on the actual television show.
Other activities at the zoo include a children's puppet show starring a brave raccoon leading a quest to save an endangered species helped by the audience and a colorful wildlife-themed RuckusRoots' Wild Art sculpture with local threatened species, like the mountain lion, created by 200 underserved Northeast Los Angeles youth.
By far, our favorite part of Wild For The Planet at the L.A. Zoo was when we made a symbolic conversation pledge to help our planet. My kids promised to"save animals" and "love animals". Then visitors are encouraged to post their pictures on Facebook, Twitter and Instagram using the hashtag #WildForThePlanet for a chance to win a great set of prizes.
Wild For The Planet Dates and Times
Wild for the Planet at the L.A. Zoo takes place on April 23/24, April 30/May 1, May 7/8, May 14/15 and May 21/22, from 10 am to 4 pm. All activities are included with paid zoo admission.
Regular admission to the Los Angeles Zoo is $20 for general admission (ages 13 to 61); $17 for seniors (ages 62+), and $15 for children (ages 2 to 12). Admission for children under 2 and Greater Los Angeles Zoo Association members is FREE. Sometimes you can even find LA Zoo discount tickets on LivingSocial.com or Groupon.
Happy Field Tripping!
Fran Sawyer
More Los Angeles Family Activities
40 LA Museums to Explore with Kids
Behind The Scenes Hippo Encounter at The LA Zoo
How To See A Free Concert at The Hollywood Bowl
Best Places for a Tea Party in Southern California
Explore the Back to the Future Car at The Petersen Automotive Museum