This post may contain an affiliate link.
Knott's Berry Farm is all decked out for the holidays!  The wreaths are hung on the doors, the lights are shining bright all around the park and the tree is sitting proudly in the middle of Calico Park.  Starting November 16 through January 6, guests can enjoy Knott's Merry Farm at their favorite Southern California park with all-new seasonal decorations. 
Here are 5 ways to celebrate the holidays at Knott's Merry Farm with your family!
Quick Link: Discount Tickets to Knott's Merry Farm
Spectacular Holiday Shows
Knott's Merry Farm offers several family-friendly Christmas-themed shows.  The key attraction is Snoopy's ice-skating show, Merry Christmas, Snoopy!  Snoopy and a cast of ice-skaters glide through the ice-covered stage of the Charles M. Schulz Theater in dazzling costumes to the rhythm of holidays tunes.  I was especially touched by the homage to the 1940s with Wartime lovers separated and reunited.  I was also mesmerized by the grand finale with snow falling and a flock of white doves dashing above the public to the stage.
Be transported back in time to a Victorian Christmas by the Calico Carolers as they perform the songs of the season throughout Ghost Town.  Warm up your vocal chords and join in on the fun by singing along to both classic and contemporary Christmas music presented in a timeless way.
Cameo Kate and Dakota Dan invite you to their musical turn of the century holiday celebration in the Calico Saloon.  Grab a Boyseberry Soda as you watch a classical Old West revue show and take in plenty of laughs on this toe-tapping, knee-slapping journey.
Come watch the Peanuts Gang in "It's The Merriest Christmas Show Ever, Charlie Brown" at the Calico Mine Stage. The Peanuts gang is at it again, this holiday season they have put on the greatest Christmas pageant ever with Charlie Brown directing, of course. Charlie's one wish is to spend the holidays with his family, especially with Snoopy, who is visiting his family around the world. Will Snoopy make it home in time for Christmas? Join Charlie and the gang for a charming Christmas show as they perform traditional upbeat holiday classics and spread Christmas cheer. Find out if Snoopy returns home in time for a magical and festive holiday season to celebrate Christmas with Charlie, Sally and the rest of the Peanuts.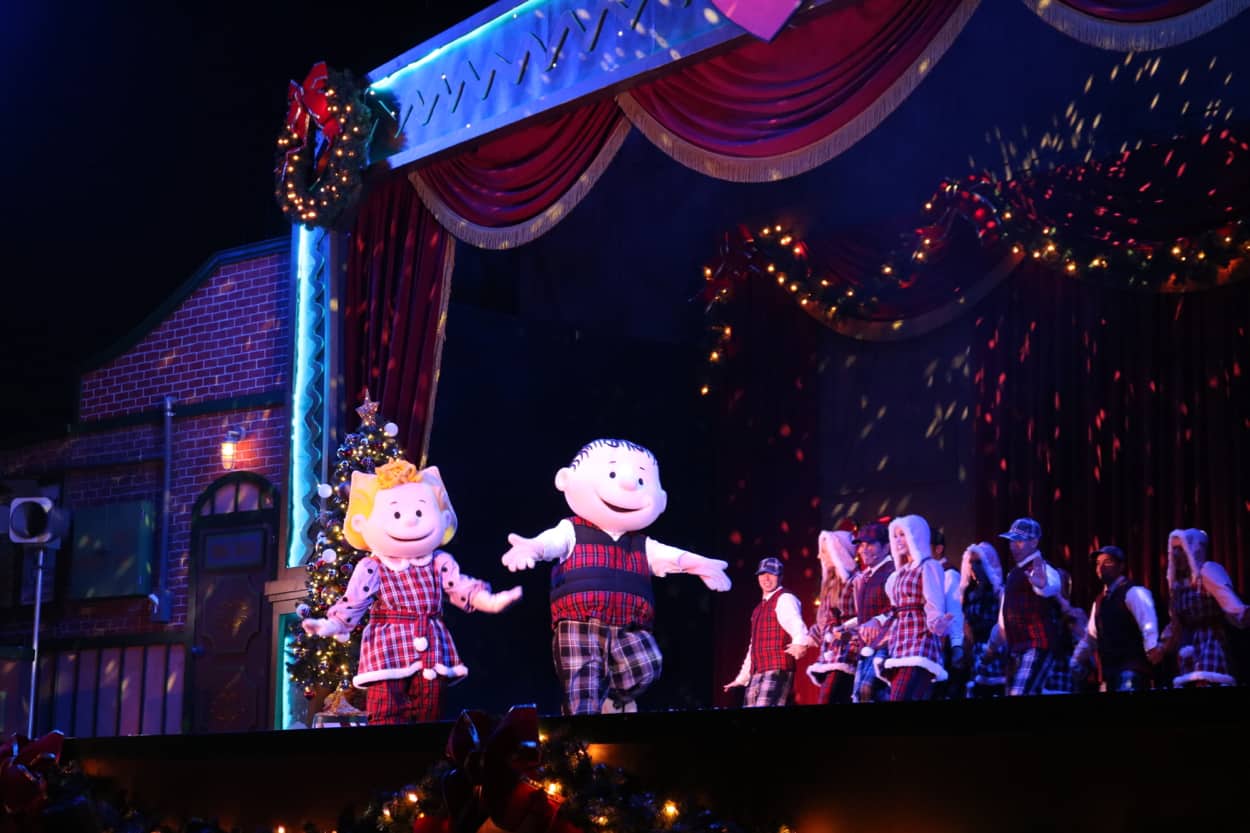 In the intimate setting of Ghost Town's historic Bird Cage Theatre, Knott's melodrama company brings to life Charles Dickens' A Christmas Carol and O. Henry's A Gift of the Magi performances available on select dates during Knott's Merry Farm.
The younger audience will enjoy seeing the Peanuts gang characters at the Camp Snoopy Theater for a performance of their show, A Peanuts Guide to Christmas.  Characters in costumes come on stage to tell a Christmas story to the wee ones.  They all love it and leave with a big smile.
As soon as night falls, head to the Christmas Tree near the old schoolhouse for a nightly Tree Lighting Ceremony.  Stairs are set up in front of the tree, which makes a great photo op.  
Plus every night during Merry Farm, when the sun sets on the Farm, the buildings and paths in Ghost Town's Main Street and School House Road are filled with glow and snow!  Thousands of sparkling lights dance to the beat of Christmas music while snow gently falls in this spectacular one-of-a-kind moment.
Sugar, Spice and Everything Nice
The food is just as spectacular during Knott's Merry Farm.  If you have a sweet tooth, you may have a hard time choosing between candy-cane shaped Churros, Snoopy cookies, hot cocoa with marshmallows and candy cane powder, colored popcorn, chocolate-covered cheesecake, peppermint cotton candy and boysenberry/chocolate crepes.  
Boysenberry being the park's specialty, grown-ups with also get to enjoy boysenberry wine or boysenberry cider, just as I did.  The cider was not too sweet or too bitter, perfectly balanced.  All of these treats are available for purchase in Santa's Christmas Cabin at the Wilderness Dance Hall.  
Picture-Perfect
Since the park is all decked out, you will find several picture-perfect spots for photos ops that will make great Christmas cards to send to family.  A flurry of colorful seasonal flowers welcome visitors once they first pass the front entrance gate.  Wreaths hang on doors and pretty pine decorations on pillars.
You can take the traditional photo with Santa Claus at Knott's Merry Farm as well.  Jolly Saint Nick awaits children and adults alike in a festive decor to take pictures.  You can choose to have these picture printed with a snow-filled border for a nominal fee.  
Behind the Camp Snoopy Theater, you will find various characters from the Peanuts gang ready to meet and greet the audience throughout the day in a larger-than-life Snoopy decor.  At night, the Christmas-themed lights come to life in the park, still buzzing with energy and make for great pictures.
Shop 'Til You Drop
Your little ones will enjoy shopping for old western-themed toys and Snoopy merchandise in the regular park shops but for the holidays, you can stroll through the merry streets of Calico for a variety unique treats.  Vendors have set their shops in every corner and sell their home-made goods to willing customers.  The smell of the soaps were exhilarating, the Christmas ornaments were adorable, and comics-lovers will also find art that will surely please them.  There is something for everyone and it's great to see Knott's support small businesses.
Discount Tickets For Knott's Merry Farm
You can get discount tickets to Knott's Berry Farm starting at only $39 for kids and adults on Goldstar.com.
Knott's Season Pass Options
Guests can enjoy even more fun with a 2019 Knott's Season Pass!  Buy now and you can use your pass for one free admission into the theme park this year too.  What a great deal!
Knott's Berry Farm is located at 8039 Beach Blvd, Buena Park, CA 90620
Happy Field Tripping!
Fran Sawyer
SoCal Field Trips Blog Contributor
More Holiday Events in Southern California:
100 + Family Festival Holiday Events in Orange County
Where To Cut Your Own Christmas Tree in Southern California
20+ Drive Thru Nativity Scenes in Southern California