Simplify your search for holiday lights in Southern California with these must-see light displays at historic landmarks, public gardens and community gathering spaces. So, pile the family into the car and make your way to one of these bright spots to behold gorgeous Christmas lights in Los Angeles, Riverside, Orange County or San Diego. We've found many displays that are aglow with festive twinkling lights that will make everyone's eyes sparkle. From seeing dazzling Chinese lanterns in the garden to walking through an enchanted forest to watching zoo animals sleep underneath sparking lights, read on for more information on where to see the best holiday light displays in Southern California.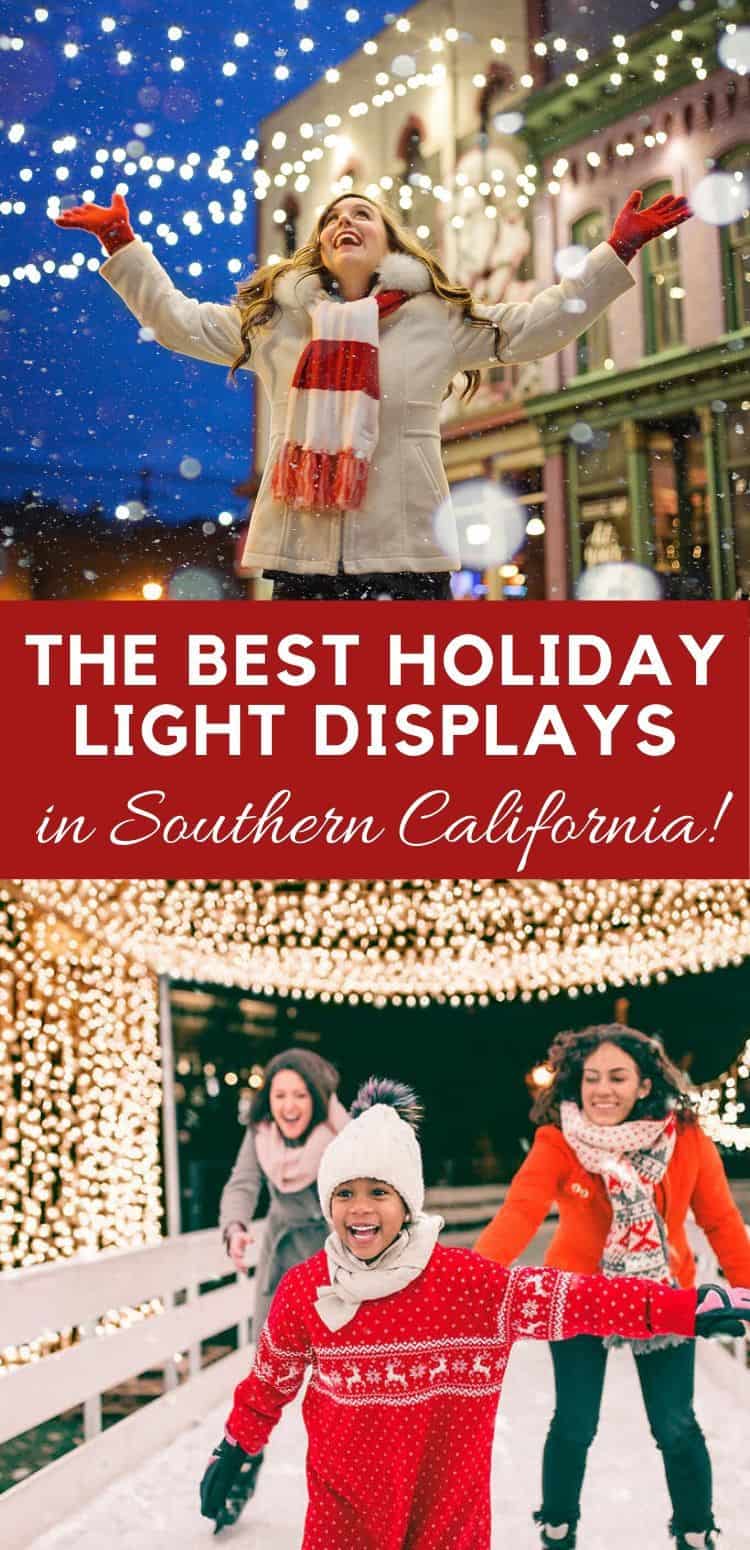 Enchanted Forest of Light
Enchanted Forest of Lights, Descansco Gardens, La Cañada Flintridge
Descanso Gardens, one of my all-time favorite public gardens in Southern California, is hosting Enchanted Forest of Light from November 17 – January 5. As the sun sets, Descanso Gardens is transformed into a holiday wonderland with thousands of lights. It is simply mesmerizing! Some other words that come to mind to describe the light display are captivating, riveting and and amazingly beautiful. Our favorite part is The Symphony of Oaks walk-through exhibit, which lets you manipulate lights and sounds in the garden's historical Oak Grove. Get Enchanted Forest of Light discount tickets starting at $20.00 per person on Goldstar.com.
LA Zoo Lights
LA Zoo Lights, Los Angeles
LA Zoo Lights is a great way to spend an evening at the zoo while walking around with hot cocoa in your hands! The zoo is transformed into a magical winter jungle complete with a disco ball forest, whimsical 3-D animations, a glowing "Northern Lights" featuring animal constellations that come to life, a picturesque kaleidoscopic savanna where glowing, large-scale animals roam and the very popular Twinkle Tunnel. New for the 2019/2020 season, guests can see the world's largest illuminated pop-up storybook. Get LA Zoo Lights discount tickets starting at $11.95 per person on Goldstar.com.
The Magic of Christmas at Hogwarts Castle
The Magic of Christmas at Hogwarts Castle, Universal Studios Hollywood, Los Angeles
This state-of-the-art projection-mapping nighttime show, called The Magic of Christmas at Hogwarts Castle, transforms Hogwarts Castle into a holiday wonderland, bringing Christmas moments inspired by the Harry Potter series to life. The show wraps the ancient building in the sights and sounds of the season, including a majestically-large Christmas tree, the Hogwarts ghosts singing carols, a recreation of the Yule Ball, and students riding broomsticks and creating snowmen.
Capistrano Lights
Capistrano Lights, Mission San Juan Capistrano, San Juan Capistrano
Celebrate the holidays at Mission San Juan Capistrano, historic landmark and museum with 30 days of holiday fun. Capistrano Lights brings together people of all faith traditions during the holiday season. Join us for a nightly tree lighting in the Ruins of the Great Stone Church. The Mission grounds will be decked out in lights and features a 10-foot wreath and community Christmas trees. From time to time during this period, community musical groups, choirs and orchestras may join the Mission with pre-tree lighting performances. Don't miss out on the Mission at Night experience where history meets holiday! The nightly celebration runs from December 8 – January 5. Get Capistrano Lights discount tickets starting at $4.00 per person on Goldstar.com.
Moonlight Forest
Moonlight Forest, LA Aboretum & Botanical Garden, Arcadia
Moonlight Forest at the LA Aboretum is a fantasy of lights that takes you to new places. Dive under the seas with exotic fish and a giant shark in the new Ocean Visions exhibit. Next, step into a winter wonderland with the new Polar Dreams experience featuring playful penguins and cuddly sled dogs. Enjoy other themes and live entertainment by acrobats, dancers and other performers plus free parking. If you're looking for illuminating entertainment for your holiday guests, bring them to Moonlight Forest! Get Moonlight Forest discount tickets starting at $14.00 on Goldstar.com or for $18.00 on Groupon.com.
Amaze Light Festival
Amaze Light Festival, SilverLake Sports Park, Norco
Amaze Light Festival at SilverLakes Sports Park in features over 1,500,000 lights, decor pieces standing at over 30ft tall, a 56ft light show tree, a 100ft walk through light tunnel, ice skating, two gigantic Christmas obstacle courses, an immersive light show every hour and so much more magical amazement for those of all ages. Amaze will be a magical experience you wont forget! Open Nov. 22nd – Dec. 29th from 5:00 pm – 10:00 pm. Santa is on-site nightly from 5:00 pm – 10:00 pm. You purchase Amaze Light Festival discount tickets on Costco.com.
Magical Chinese Lantern Festival
Chinese Lantern Festival, Pomona Fairplex, Pomona
The Chinese Lantern Festival returns for the holiday season at the Pomona Fairplex with its brand new illuminated theme Blooming Seasons. Bigger and brighter stunning lanterns are inspired by nature and the art of Chinese lantern making, dating back to 2,000 years ago. Each lantern is hand-crafted of modern materials and eco-friendly colored LED lightbulbs, as well as visual moving parts to create larger-than-life imaginative displays.
Experience exhibits up to 30 feet high, an 85-foot-wide Arch,100-yard-long breathtaking Ceramic Chinese Dragon, 20 feet high gigantic flower basket springs over the hillside. Explore vibrant lanterns depicting the Amazon Jungle, discover giant Python, spider, and carnivorous plants. Journey deep into a vast wonderland from exotic trees, plants, insects to reptiles. It's the four seasons of nature, plus an assortment of animals that correspond to their given environment. Get Chinese Lantern Festival discount tickets starting at $13.00 on Goldstar.com.
Annual Festival of Lights
Annual Festival of Lights, The Mission Inn Hotel & Spa, Riverside
The Annual Festival of Lights, recently named "Best Public Holiday Lights Display in the Nation" by USA Today, creates a magical, Disneyland-like experience in the heart of Riverside and attracts more than 500,000 visitors each year. The castle-like hotel is illuminated with 5 million holiday lights.
Highlights of Festival of Lights include 200 animated figures including angels, elves and Dickens carolers; appearances by Santa Claus, the world's largest man-made mistletoe, horse-drawn carriage rides, elf tuck-ins, freshly fallen snow, elaborately decorated Christmas trees; and delectable holiday confections at the famous Casey's Cupcakes, among other festive offerings. The annual event runs from Nov. 28 – Dec. 31. Admission is free to walk around and enjoy the lights.
Are you looking for even more holiday light displays in Southern California? Check out our additional guides to the best holiday lights in Los Angeles and the best Christmas lights in San Diego!
Happy holiday field tripping!
Jilleen
More Holiday Events in Southern California
200+ Holiday Events in Orange County
Visit Santa's Village in Lake Arrowhead
50+ Nutcracker Performances in Southern California
Discount Tickets to Knott's Merry Farm