Updated for 2023
There's something about strings of tiny, twinkling bulbs that puts you in the holiday spirit! While there are several Southern California Christmas events taking place this year, many outdoor displays of Christmas lights in Riverside stand the test of time and shine brightly in the Inland Empire.
Just to name a few, you'll find plenty of lights strung up at the Mission Inn, along Candy Cane Lane in Corona, outside at Operation Christmas Lights in Chino Hills and others.
Where to see Christmas Lights near Riverside
There are also several drive-thru displays in the suburbs, offering shimmering sights you can see from inside your car. Most of these events only stick around until New Year's Eve, so plan your festive excursion to some of the best Christmas lights in Riverside with our guide to the brightest spots in and around the city.
Also, please check websites ahead of time to make sure communities and cities are still hosting their annual Christmas light displays!
Cathedral City Christmas Lights
Candy Cane Lane has 50 homes in a residential neighborhood decorated on Minerva Rd. in Cathedral City. Runs the last week of November through January 1. Take your family and friends, park your car nearby and walk this area for all kinds of fun and surprises.
Corona Christmas Lights
Candy Cane Lane is a great neighborhood tradition that has been going on for years. The starting point is 103 Pueblo Ave. in Corona. Every house has lights and they're usually up by the first weekend in December. It is best to walk to see all the lights. At the end of the walk there is a bin to collect toys for the Corona Children's Center. Bring an unwrapped new present for a child in need.
Chino Christmas Lights
WowLights on Spur Court treats you to 20 beautifully decorated houses that you can enjoy in the comfort of your car – while listening to holiday music on the radio, FM 90.5. Located at 3400 block of Spur Court in Chino, off Branding Iron Place, south of Chino Avenue.
San Antonio Lights has cul-de-sacs and whole streets lit up Christmas lights and cheer, so you can take your time and enjoy many of the decorations these homes have to offer. Located at Cypress & San Antonio Street & Walnut and the 60 Freeway.
Chino Hills Christmas Lights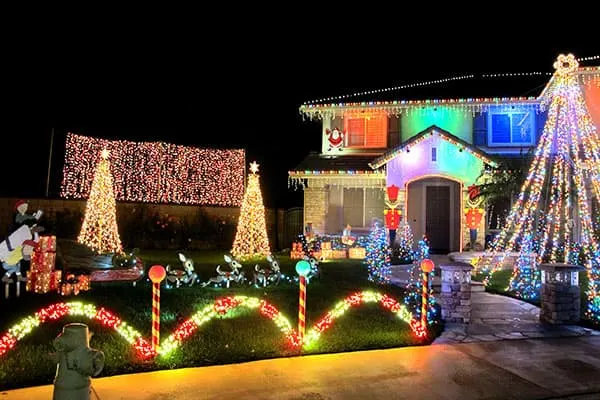 It may be only one house, but this extravagantly decorated home packs a big punch! The Nehmans use their holiday light show called Operation Christmas Lights as as an opportunity to raise money for children of a fallen soldier. There is a donation box in front of the home. Located at 5386 Buttonwood Court in Chino Hills.
Fontana Christmas Lights
Tune into 91.3 FM to stream music as you watch an array of animated Christmas lights. Located at 11311 Homewood Drive, Fontana.
A giant Christmas light extravaganza located at 9697 Locust Avenue in Fontana. The Scotts' celebration with all sorts of lights and moving objects has become a tradition in the area for more than 20 years.
Highland Christmas Lights
Dancing Lights, located on Crest View Lane in East Highlands Ranch, is a popular interactive light display that takes place every year in the Inland Empire. This year they also had a Halloween lights display that was featured on ABC 7 news channel.
Murrieta Christmas Lights
Bainbridge Circle Holiday Extravaganza is festive neighborhood where every house goes all out (think the Griswolds!). The lights shine brightly every night from 6-10pm, rain or shine. You can drive or walk through and listen to music tuned to 88.5 FM. They have also have a Christmas lights scavenger hunt you can download on their Facebook page.
Rancho Cucamonga Christmas Lights
Langston Street Christmas Lights is an animated light show with over 125,000 LED lights and approximately 400 channels being controlled by Light-o-Rama boxes.
Alta Loma Christmas Lights is is located along Thoroughbred Street and other adjacent roads in Rancho Cucamonga. With many streets participating, the neighborhood in this area goes all out! Several houses offer hot chocolate and cookies for you to enjoy. Only drive thru is allowed at this time.
Daybreak Light Show is located at 7195 Daybreak Pl in Rancho Cucamonga. The lights are synced to the music broadcasted via FM. It is re
Riverside Christmas Lights
Mission Inn Festival of Lights has more than 4 million dazzling holiday lights. The hotel features dazzling lights on the exterior of the hotel, interior lighting and holiday décor that captures the true essence and history of the award-winning Mission Inn Hotel & Spa. Located at 3549 Mission Inn Ave. in Riverside.
134 Gracefield Way in Riverside has plenty of lights and Christmas cheer! There are several traditional holiday figures to enjoy including Santa and his sleigh, playing penguins, a nativity scene, kissing Santa and more. There are over 20,500 lights in all! The lights shine brightly every night from 5 pm till 9:30 pm.
Kolde Christmas Lights Show located 2993 Gertrude St consists of 60,000 lights and over 2 miles of extension cords. Now that's a record! There's even a cute spiral Christmas tree on the driveway to brighten your day!
Lights on Clearwood is a home in Mission Grove that puts on holiday light shows for Christmas. You can drive on over and tune into our local radio station to listen to the show as you watch! Tune in to 93.3 nightly from 6:30-9:30 pm.
Xtreme Light Wizards Holiday Display located at 8381 Deercreek Dr. offers a free light show synced to music. FM transmitted from garage (89.7 FM). You can visit their website and vote on which songs you want to see synch to lights. Runs every night 5:00 pm to midnight.
Upland Holiday Lights
A long standing holiday tradition from Thanksgiving past New Year's Day, the Upland Christmas Star shines brightly at the top of Euclid Avenue in San Antonio Heights. The star dates back to the 1950s when it was first built by Mr. and Mrs. Hostetler and stands as a holiday fixture today.
Did we miss any beloved streets or cities? Let us know in the comments below! Also, if you are in the nearby San Bernardino area, check out our guide to the Best Christmas Lights in San Bernardino too.
Merry Christmas!
Jilleen