You don't have to live in Los Angeles to enjoy delicious tamales. Orange County is home to dozens of great Latino restaurants, but when it comes to tamales for the holiday season, you want to buy the best. While there are amazing tamales everywhere, if you're looking for the best tamales in Orange County, you've found the right list. Whether it's pork, chicken, or cheese and jalapeno, you'll know you chose the perfect tamales to celebrate the holiday season.
The Best Tamales Near Orange County, California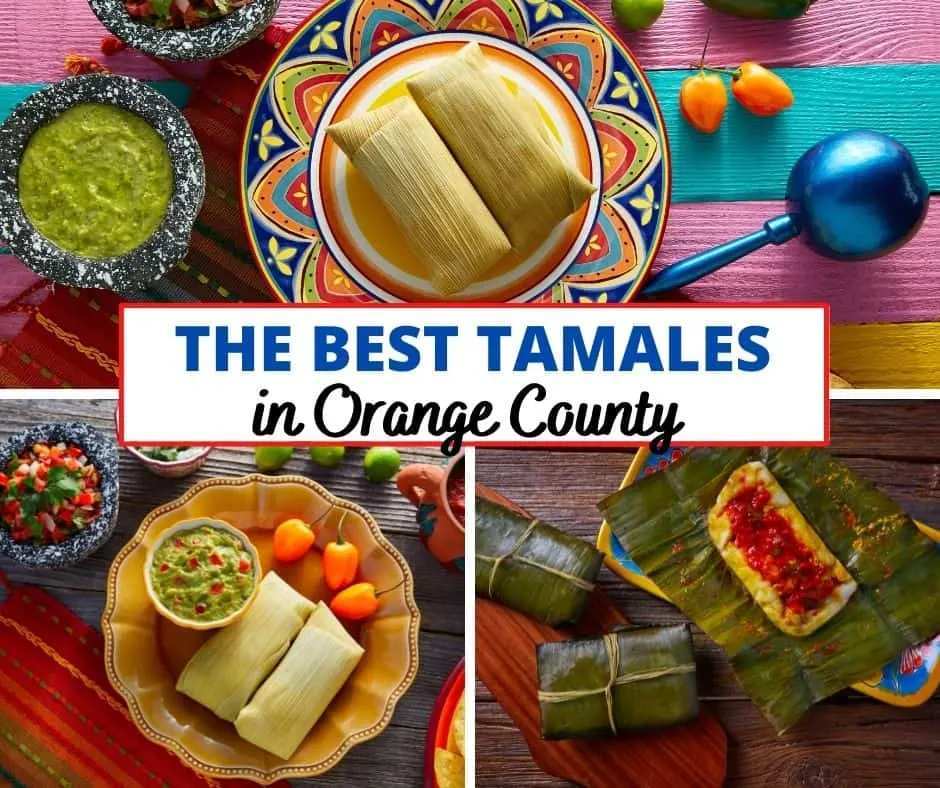 Siranana's Tamale Factory, Santa Ana
Selling homemade tamales on the street in 1939, Juan and Felipa Siranana saw their little business grow to become one of Orange County's oldest and most popular family-owned restaurants. While Siranana's Tamale Factory offers fresh tamales year-round, the holiday season (October-December) sees an increase in tamale requests. Wrapped in their fresh corn husks, tamale flavors include beef, pork, chicken (with red or green sauce), raja (green chile and cheese), and sweet corn.
Julian's Mexican Food Restaurant, Hawaiian Gardens
For more than 35 years, Julian's Mexican Food Restaurant has been serving outstanding meals. During the holiday season, it is a must for tamales, with pork, chicken, and beef (each with red chile), and green chile with pepper jack cheese. During the season, enjoy a dessert tamale (pineapple, raisins, cinnamon, and sugar). The restaurant makes a limited number of tamales of each flavor, so you'll want to call ahead.
Olamendi's, Dana Point
For nearly 50 years, Olamendi's has served some of the best tamales in Orange County. With chicken, beef, and pork tamales steamed in banana leaves, they're smothered with red or green sauce and melted cheese. Order a couple dozen for your holiday celebrations.
Tamaleria Rincon Sinaloense, Orange
Selling more than 200,000 tamales a year, Tamaleria Rincon Sinaloense on Tustin Street in Orange offers some of the best tamales in Orange County. You can enjoy pork, beef, and chicken tamales, as well as spicy cheese. During the holiday season, add its pineapple tamale for a tasty dessert.
Ricardo's Place, San Juan Capistrano
What began with their Mamacita's homestyle recipes in Mexico grew over several decades into Ricardo's Place. Offering a variety of freshly-made Mexican dishes, Ricardo's Place opened its doors in Orange County in 2003. Today, you can order some of the best tamales in Orange County at Ricardo's. With red or green sauce, order a dozen or so of the pork or chicken tamales. For extra measure, add some cheese to the toppings. You'll be glad you did.
El Molino de Oro, San Juan Capistrano & Orange
With three locations in Orange County (Lake Forest is a bakery only), you can enjoy great Mexican food at El Molino de Oro. You'll have a nice variety of tamales with beef, pork, and chicken, as well as rajas (cheese and jalapenos). Consider grabbing a few dessert tamales to cap your dining experience.
El Zarape, Cypress
The El Zarape location in Cypress features pork tamales on its daily menu. However, when it comes to the holiday season, the 30-year-old restaurant adds beef tamales. Both are served with red sauce. Unfortunately, the restaurant doesn't offer dessert tamales.
La Poblana Bakery, Orange
Among the amazing pastries and breads baked daily, La Poblana Bakery in Orange makes tamales that challenge for the best in Orange County. You can expect large portions of pork, beef, and chicken tamales. Vegetarian options include sweet corn and cheese with jalapeno. Don't leave without taking their signature strawberry tamales for dessert. La Poblana Bakery also offers a pineapple tamale.
La Ranchera Mexican Food, La Habra
La Ranchera Mexican Food prides itself on serving fresh ingredients in its entrees. Offering takeout or delivery, La Ranchera Mexican Food's menu features pork tamales with red sauce or chicken with green sauce. If you prefer, La Ranchera also offers elote – sweet corn tamales – and cheese tamales.
Sabroso! Mexican Grill, Garden Grove
A favorite among locals, the family-owned Sabroso! Mexican Grill offers a different take on its tamales. Serving chicken and pork tamales in banana leaves, Sabroso! adds sour cream and queso fresco (fresh cheese) sprinkled over the tamales.
Regardless of how you prefer your tamales, you'll find delicious options throughout Orange County. The special touches these restaurants add to their dishes and the flavors they create are among the reasons they're considered the best tamales in Orange County. As you plan your holiday menu, you can be assured that the tamales on your table are among the best in California.
Happy holidays to you and your family!
Jilleen