This post may contain an affiliate link.
Knott's Soak City in Buena Park is officially open for the summer.  With last year's addition of 2 new water slide towers with 7 new water slides, visitors are bound to have fun all summer long!
Waterslides at Knott's Soak City
In 2017, Knott's Soak City underwent some major renovations.  The theme park repainted all the existing water slides including Banzai Falls, which has 6 multi-lane speed slides where riders are dispatched head first on a mat from a platform over 41 feet high.   Just watching the riders soar down Banzai Falls makes my knees shake!
The team also gave the Laguna Watch Storm Tower a nice makeover.  Look at how brightly it beams in the sun!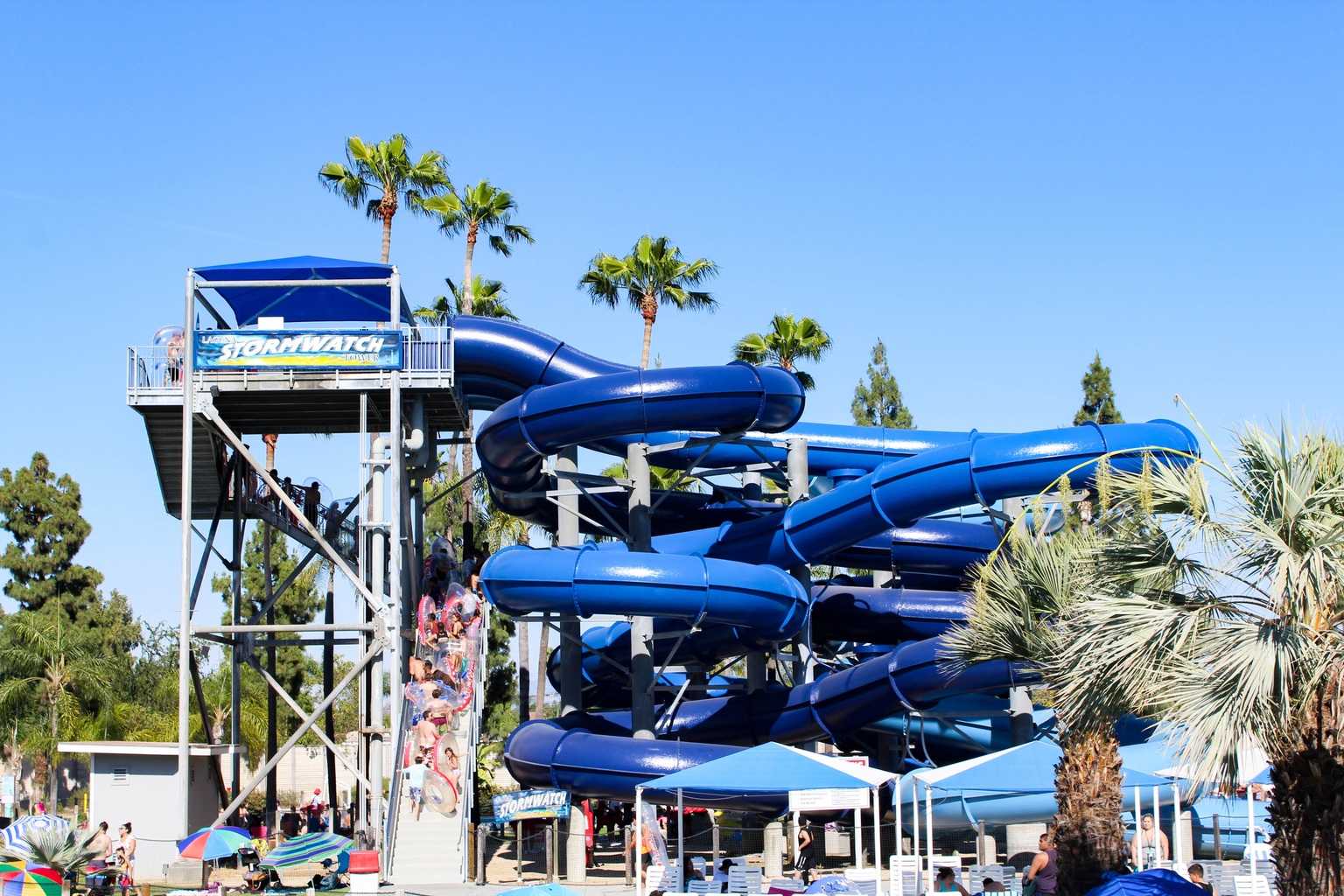 Next, Knott's Soak City added 7 new water slides throughout the park.  My son's favorite ride is the "The Wedge", a family-oriented water slide that holds up to six people at one time and descends down navigating twists and turns at a very fast pace.
Nearby is "Shore Break" which towers over 7 stories high and features 6 different thrilling water slide experiences.  4 of the slides start with guests climbing inside an Aqua-Launch chamber and waiting for the floor to drop out from underneath their feet.  Eek!
My favorite part of Knott's Soak City is the laid back atmosphere.  I really enjoy spending time with my family and floating down their classic lazy river called Sunset River.  At one-third mile in length, Knott's giant figure-eight waterway is the widest and one of the longest water park lazy rivers in the world.   It takes approximately 20 minutes to go around the entire river on a complimentary intertube.
Whenever we go with friends to Knott's Soak City, Field Trip Girl likes to explore the Beach House with them, a hands-on water fun area that includes interactive water guns, nozzles, faucets and other surprises.  But beware!  Every 5 minutes the water bucket unloads 500 gallons of water on anyone below!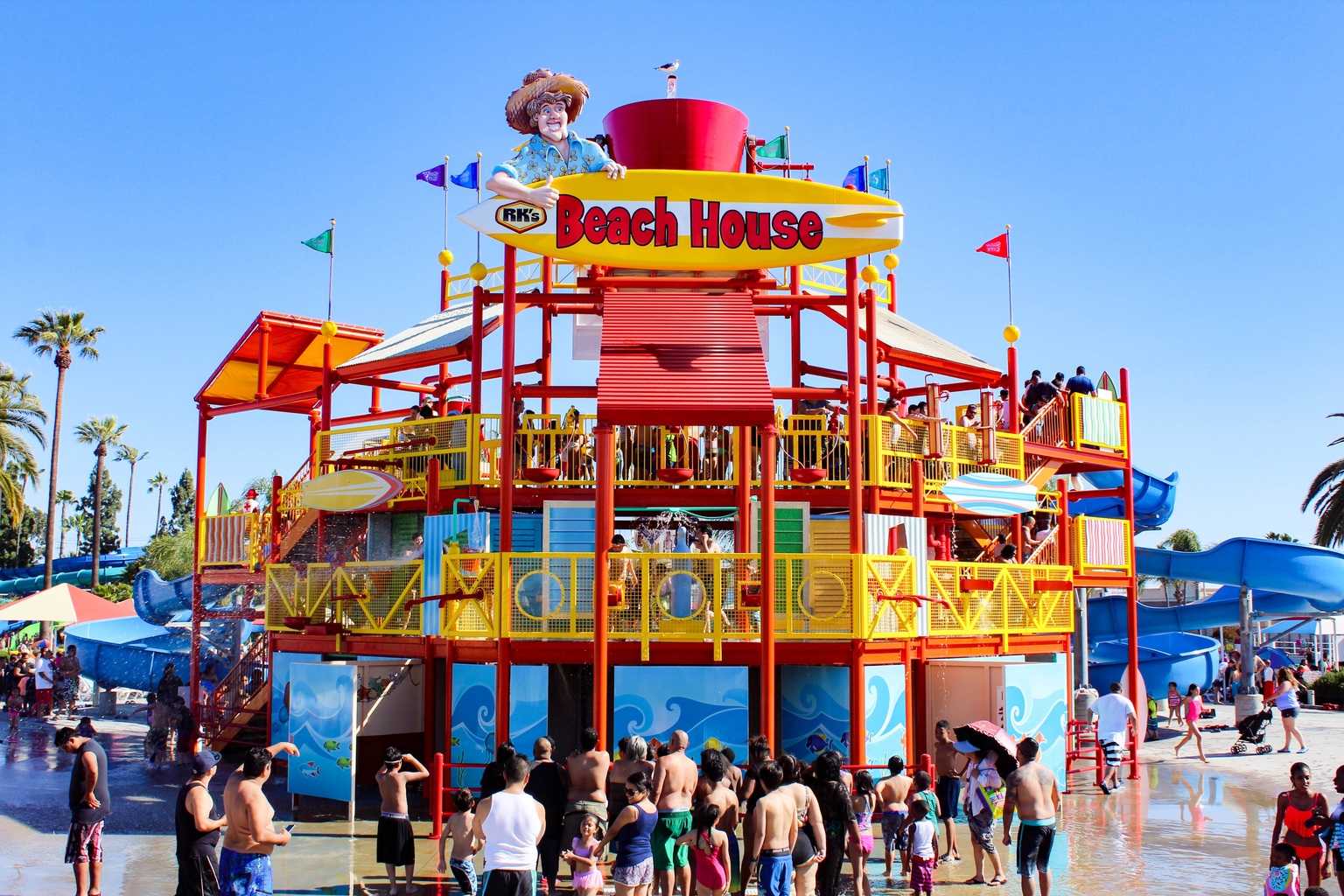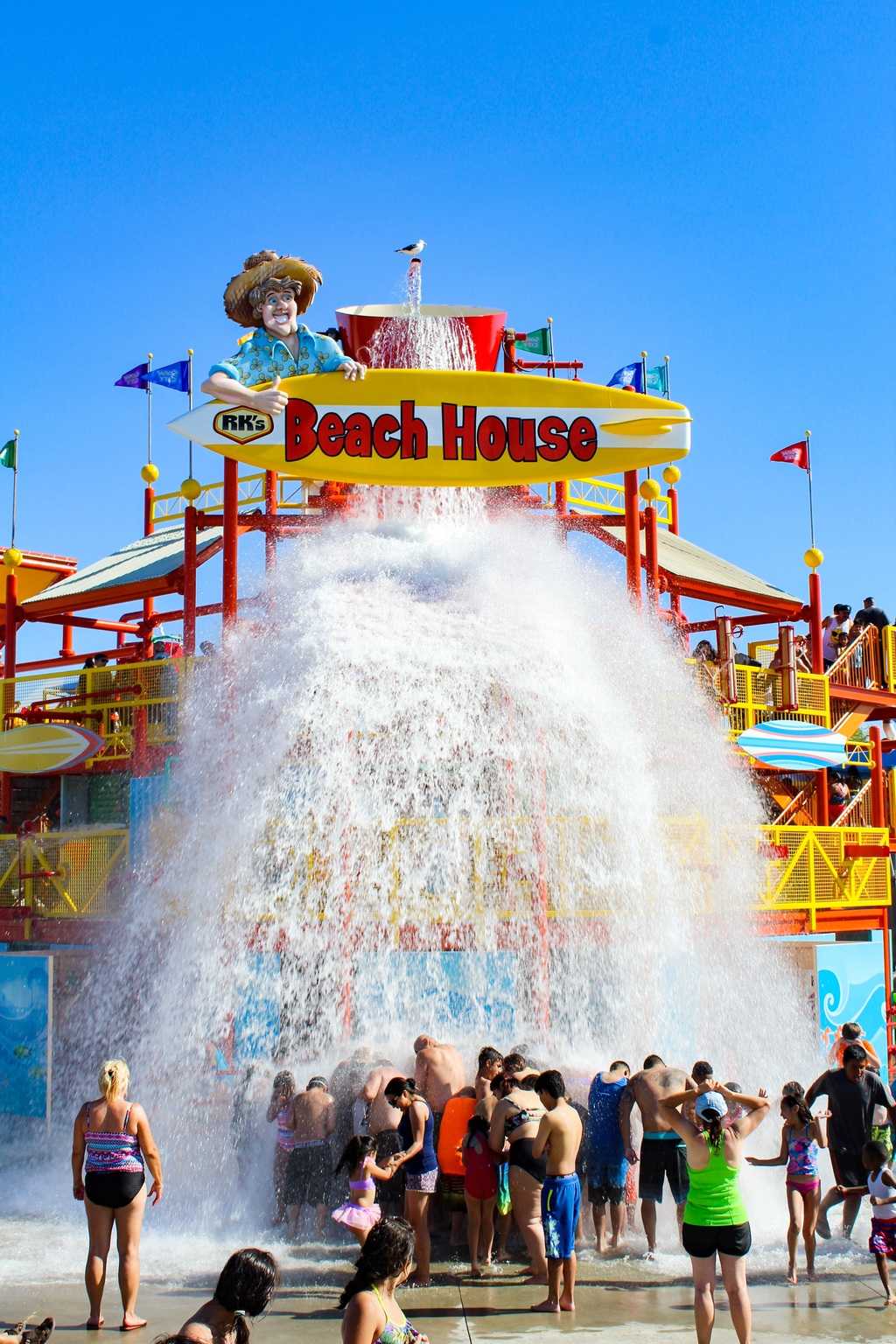 Knott's Soak City Cabana Rentals
Knott's Soak City offers plenty of private cabanas and shaded areas for their guests.  First, you have make it a day in the shade with your very own semi-private cabana.  Each cabana reservation comes with up to 8 non-transferrable wristbands and includes extra amenities like a table with umbrella, 4 inner tube rentals, and waiter service.
Second, if you want a good spot in the public area, you need to arrive as soon as the park opens, and bring your own umbrella to put in the grass.  This way you can come and go all day from your semi-reserved spot.
Food at Knott's Soak City
For lunch, my family and I ordered from the Cabana Menu.  I especially enjoyed the moist chicken sandwich served with a tasty basket of fries and side of ranch dressing.  Another place to eat at Knott's Soak City is at Longboard's Grill.  Here, they offer an extensive menu of breaded chicken tenders, fish & chips, and a variety of wraps and fresh salads.
On a side note, unopened water bottles, baby food and food for guests with special dietary restrictions are allowed inside the park.
Knott's Soak City Discount Tickets
The best deal for tickets to Knott's Soak City is to purchase a Knott's Berry Farm Season Pass.  This way you can visit the park all year long with no black out dates.  You also purchase single day Knott's Soak City discount tickets on Goldstar.com for only $32.00 per person!
Hotels Near Knott's Berry Farm
If you're looking to stay at a hotel near Knott's Berry Farm, here are a few place that I recommend that are close to the park.
Next to Knott's Berry Farm Amusement Park, this hotel offers free shuttle service to Disneyland Theme Park, 6 miles away. It features a restaurant and spacious rooms with free Wi-Fi.  Every guest room at Knott's Berry Farm Hotel comes with cable TV and coffee maker. All rooms are warmly decorated with carpet floors and include a safe and air conditioning.  Guests of this hotel have free access to recreational activities, including an outdoor pool, a hot tub and a sauna. A sports court for basketball and tennis is available, along with a small gym.  A daily breakfast buffet is available for an additional charge at the Knott's Berry Farm Hotel. Amber Waves Restaurant and Bar serves American cuisine all day and features a daily visit from the character Snoopy.
One of our bestsellers in Buena Park!Located less than 2 miles from Knott's Berry Farm Amusement Park, this hotel offers comfortable accommodation, friendly service, and is located between motorway I-5 and I-9.  The Good Nite Inn Buena Park ideally places guests moments from many popular points of interest. Disneyland, Soak City Water Park and the Pirates Dinner Theater are a short drive away.  Guests at the Buena Park Good Nite can start the morning with coffee or tea at the lobby area or visit the hotel's concierge desk to find information about the surrounding area.
Fairfield Inn & Suites Anaheim North/Buena Park
Only 1 miles from Knott's Berry Farm and Soak City, this Buena Park hotel features an outdoor pool and free Wi-Fi. Disneyland Theme Park and California Adventure Park are 6 miles away.  A flat-screen TV, microwave, fridge and coffee maker are provided in all rooms at the Fairfield Inn & Suites Anaheim Buena Park/Disney North. Each room is decorated in bold colors and includes a work desk and sitting area.  Free access to the fitness room and the outdoor hot tub is provided to all guests. The front desk staff is available 24/7.  The Anaheim Buena Park/Disney North Fairfield Inn & Suites have a continental breakfast each morning.  Knott's Berry Farm theme park is just over one mile from this hotel, and La Mirada Golf Course is 4 miles away. The John Wayne Airport is a 20-minute drive from the hotel.
Featuring free shuttles to Disneyland theme parks and only minutes from Knott's Berry Farm amusement park, this hotel provides on-site dining options and spacious rooms with free wireless internet.  Every stay at the Holiday Inn Buena Park is sure to be enjoyable with amenities such as a spacious outdoor pool and modern fitness facilities. In addition to in-room coffeemakers, the hotel also serves breakfast, lunch and dinner at Ventanas restaurant.  With on-site car rental services, guests at the Buena Park Holiday Inn can easily discover nearby attractions such as Soak City water park, the Anaheim Convention Center and beautiful beaches.  The completely non-smoking hotel also offers free shuttle service within a 5 miles radius.
Located a 5 minute walk from Knott's Berry Farm, this hotel features a year-round sparkling outdoor pool and a daily hot breakfast. Free Wi-Fi and free guest parking are also provided.  A 40-inch flat-screen cable satellite TV with DirecTV channels is provided in each air-conditioned guest room at Best Host Inn. For convenience, rooms include a microwave, a small refrigerator and a coffee machine.  A 24-hour front desk greets guests at the Best Host. Offering Disneyland tickets, a virtual tour desk is on site. A guest laundromat is available. Free shuttle services to Disneyland and the Anaheim Convention Center are available.  Soak City Water Park is a 4-minute walk from this hotel. Disneyland is 8 miles away.
Knott's Soak City is open now through September 3!
Happy a great summer!
Jilleen
More Things To Do In Buena Park California:
Ride The New HangTime Roller Coaster at Knott's
A Field Trip to Medieval Times in Buena Park
Visit Ghost Town Alive at Knott's Berry Farm
20+ Water Parks in Southern California