Did you hear the news? There's a new theme park ride in town! Calico River Rapids at Knott's Berry Farm in Buena Park, California is now open! The white water raft ride, formally known as Bigfoot Rapids, takes eager explores on a whole new expedition into uncharted territory with new animatronics, themed show scenes, a new story overlay and plenty of dynamic water effects. The arrival of Calico River Rapids, in additional to Knott's Summer Nights or Knott's Soak City, is one of the many exciting experiences that Knott's guests can enjoy this coming summer.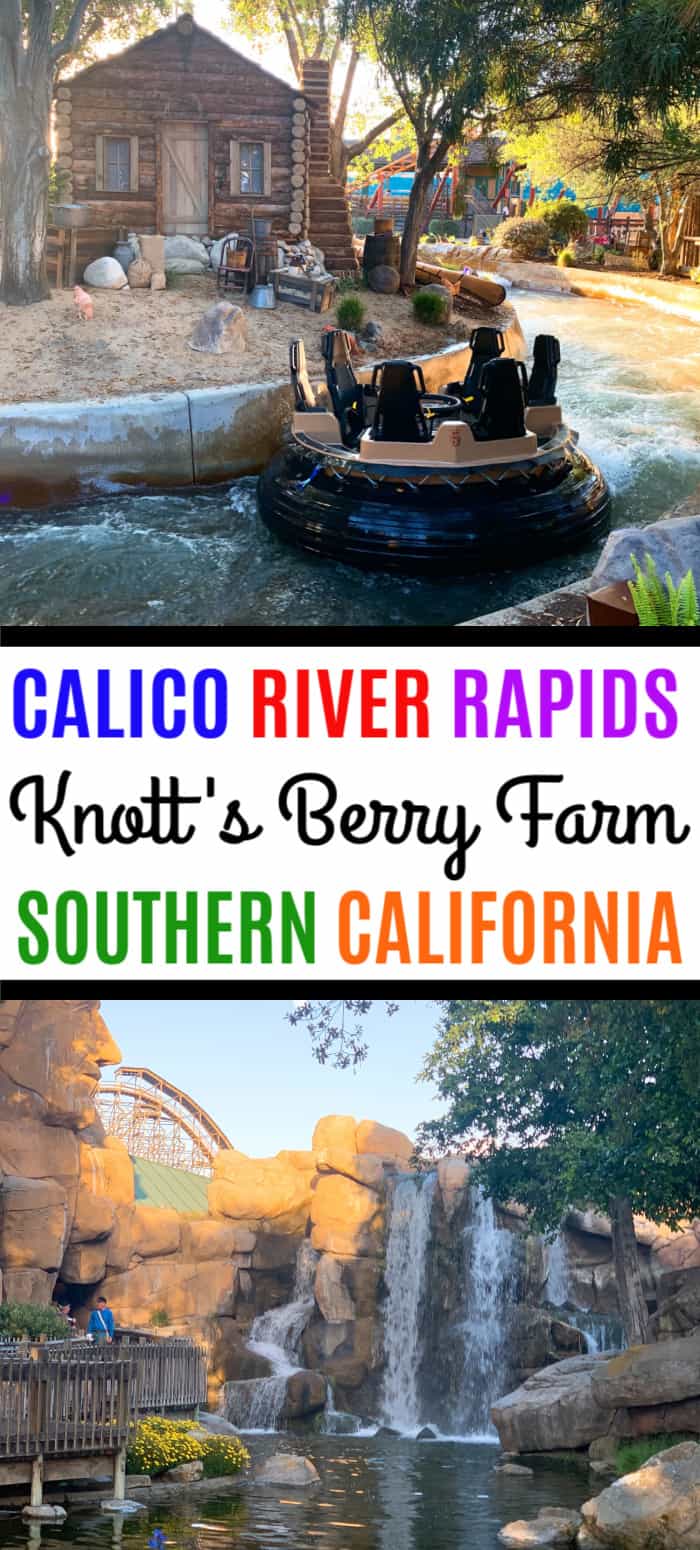 While riding on Calico River Rapids, guests can journey through the authentic setting with the help of legendary frontiersmen who have plotted the path for settlers to explore. Rafters encounter a variety of wild surprises along the way such as roaring rapids, indigenous wildlife, and peculiar homesteaders. There's even a new monster awaiting guests called the Skunk Ape!
Calico River Rapids' circular raft ride seats six passengers and traverses through unexpected twists and turns, rushing waters and rapid currents as it navigates the unexplored river path. Earlier this month, I had the opportunity to be one of the first guests to ride the new thrill ride and report back to you on my experience. Here are the Top 5 Things To Know About Calico River Rapids at Knott's Berry Farm.
Top 5 Things To Know About Calico River Rapids at Knott's Berry Farm
You will get wet! The real question is how much. Take a look at my Facebook Live from the day I rode the Calico River Rapids to see how much I got wet. In general, you have a 50/50 chance of getting wet, especially if your friends decide to spray you with the water canyons from up above on dry land. If you want to avoid getting wet altogether you can either purchase a poncho on Amazon ahead of time, buy a poncho at Knott's Berry Farm or bring a change of clothes with you.
The scenery around Calico River Rapids is beautiful. Take some time to enjoy the lovely waterfall, the tall lush trees, and the many sounds of nature including chirping birds.
There are many Instagram-worthy photos ops around Calico River Rapids. There is new signage at the entrance of the ride, along with tall pine trees around the area that make you feel like you are walking around Mammoth Lake or Lake Tahoe! Plus, if you are at the park near sun set, the water turns a beautiful shade of orange with the reflection from the sun.
The minimum height to ride Calico River Rapids is 46 inches.
No cell phone recording is allowed on the ride. However, you are able to use a GoPro camera that is tightly secured to either your head or chest.
Discount Tickets to Knott's Berry Farm
Are you looking for discount tickets to Knott's Berry Farm? You can get discount tickets to Knott's Berry Farm starting at only $44 for children and adults on Goldstar.com.
Happy Field Tripping!
Jilleen
More Things To Do In Buena Park California:
A Knott's Berry Farm Season Pass Offers No Black Out Dates
Beat the Heat This Summer at Knott's Soak City
Ride The New HangTime Roller Coaster at Knott's