This last March, I took my children on an epic vacation to San Diego, California. We visited all sorts of cool places such as the Living Coast Discovery Center in Chula Vista, Edna Harper's Topiary Garden in Mission Valley and the Flowers Fields of Carlsbad.
For the first time, we also stopped by The New Children's Museum, located along the waterfront in downtown San Diego. I had heard such extraordinary things about this particular museum, that I wanted to take my children to experience it first hand.
The New Children's Museum's mission is to stimulate imagination, creativity and critical thinking in children and families through inventive and engaging experiences with contemporary art. The Museum offers opportunities for children of all ages to experience the arts in ways that are meaningful to them – not just for adults. What's unique about The New Children's Museum is that they regularly commission new art pieces from leading contemporary artists from around the world. The art pieces are designed for children to interact and explore them, rather than stand off to the side, and simply observe them.
There are 3 stories to The New Children's Museum in San Diego. Each level contains endless opportunities for children ages 0-9 to imagine, discover, play and explore. Everything in the museum is experiential. Generally, the more children play with the exhibits, the more they will learn.
The museum's newest exhibit on display is called Eureka which is all about the great state of California. The exhibit includes such amazing works of art like:
A monumental balloon shaped out delicate tissue paper and built by the people of both Tijuana and San Diego.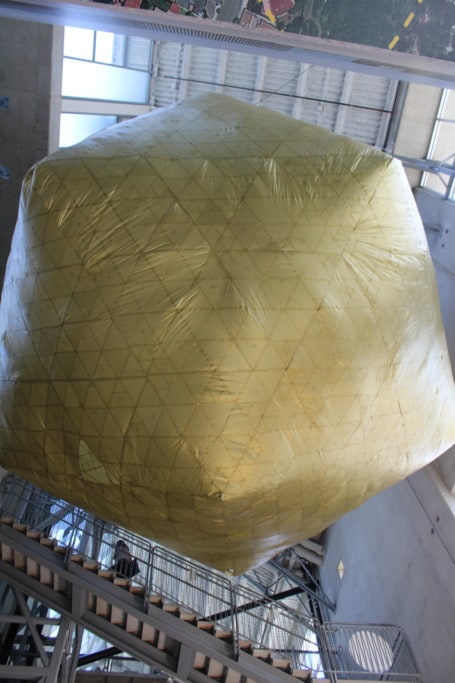 Car-a-oke in which the artists transformed an old car into a place for children to sing and express themselves, while listening to some of the classics. My son had a fantastic time playing inside the car and then appearing 'live' on the green screen outside.
Another nice part of the Eureka exhibit is Desert Derby – a landscape of reservoirs and roads inspired by Southern California's desert like climate and surroundings. Children can play on the highways and byways with miniature hand-carved vehicles. Field Trip Boy spent over 30 minutes in this area. That's how much he loves his cars!
My favorite part of Eureka was the 40-foot, climbable tower called HOME. HOME is a four-story house featuring California architectural styles from different time periods and locales throughout the Golden State. It is made up of steel, wood, salvaged architectural ornamentation, cedar, fennel, metal pulleys, buckets and braided rope. Children ages 5 and up are free to roam around the house and truly discover what 'home' means to them. It was so mesmerizing that I didn't want to leave. I wanted to move in!
Outside of the New Children's Museum, they have an Outdoor Art Studio where children are encouraged to imagine, experiment, and explore the world the around them through art. My kids also made cute figurines out of clay that we were able to take home.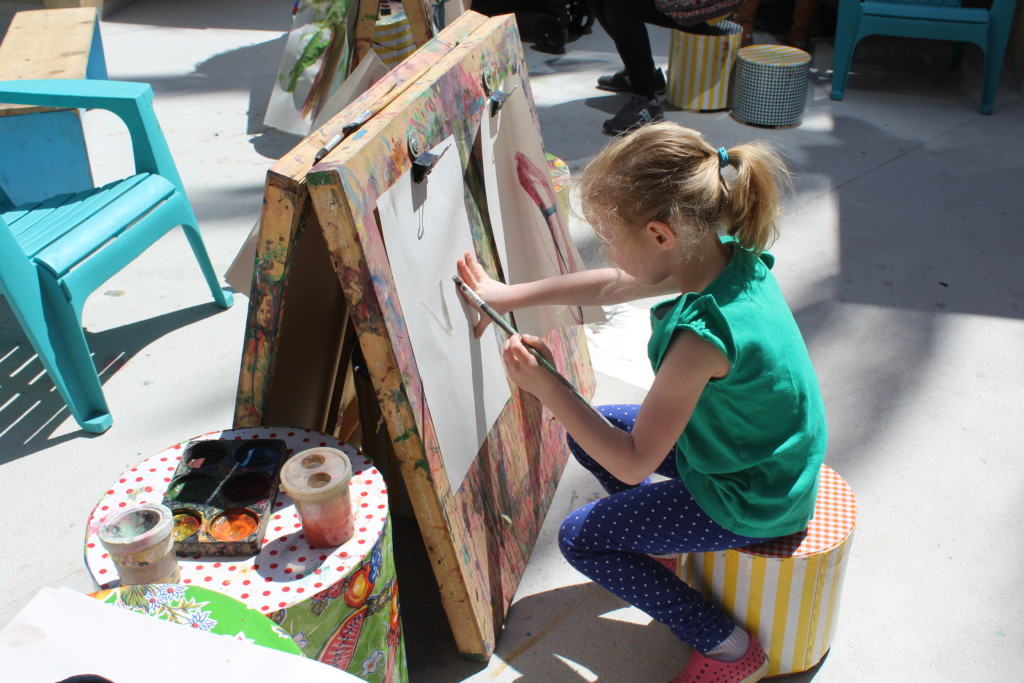 While Field Trip Girl did water color painting in the Outdoor Art Studio, Field Trip Boy spent a good of his time in the museum's Innovators Lab building catapults and trapezes out of recyclable material.
In between exhibits, my kids enjoyed taking energetic romps through the museum's climbing structures. It's generally an indoor playground with endless opportunities to get your wiggles out!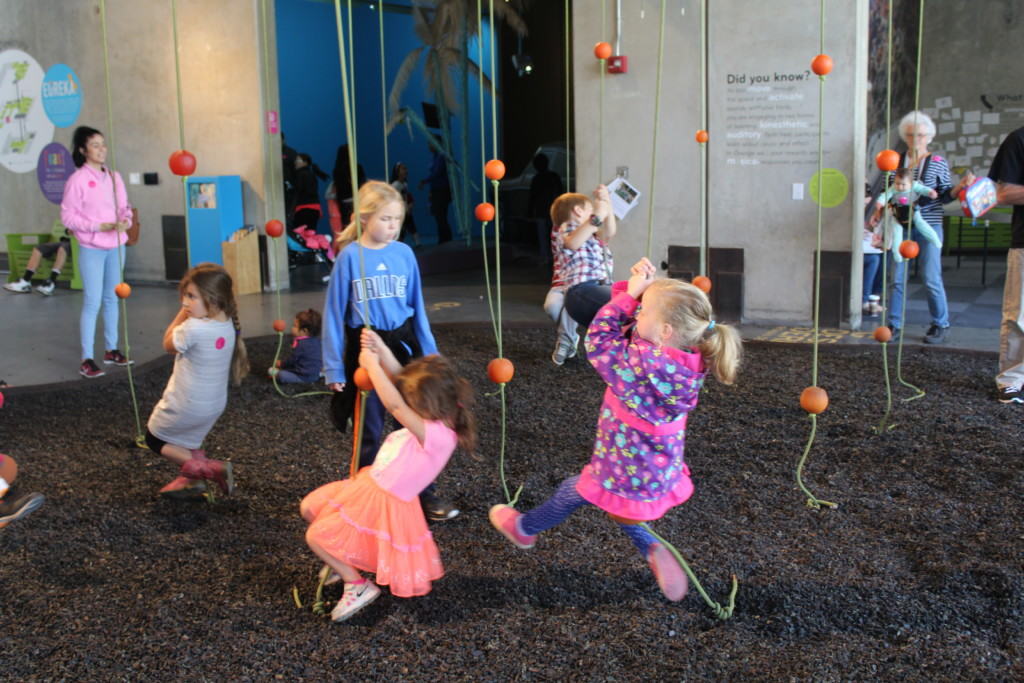 There are so many exhibits at the New Children's Museum that you need approximately 3-4 hours to get through everything. But if you do get hungry, you can always pick up a bite to eat at their cafe called green bellies.
Other exhibits we explored while at the museum include Missing Links created by Felipe Dulzaides – affectionately called the "Rainbow Jumpy"— for Animal Art. This colorful bounce house is a playful way to teach children the idea of constant transformation.
We also saw the The Rain House created by Ernest "Ernie" Silva (1948-2014). Originally commissioned in 1994, the current structure was built in 2008 and is the second incarnation of this artwork. The Rain House evolved from the idea of offering a contemplative and creative space where children could explore and play as they might on a rainy day at home. Children are free to go in and out as they wish.
Field Trips to The New Children's Museum
The New Children's Museum offers tours for schools and other groups for pre-kindergarten through high school. The Museum has three different styles of school tours, each emphasizing one component of the Museum's motto; THINK, PLAY and CREATE! The price per student is $5 – $8. The Museum requires one chaperone per every seven students on the CREATE and THINK tour and one chaperone per every five students on the PLAY tour. Complimentary admission is extended to those adults.
The museum also offers field trips for high school students such as CREATE exploration, where students discuss and experience the interactive art pieces created by contemporary artists in the current exhibition, then create a unique artwork with a Museum Teaching Artist. The guided tour and hands-on art making activity builds students' problem solving and critical thinking skills as they delve into the artistic process.
The New Children's Museum Admission
Adults / Children 1+ $12 each
Children (under 1): FREE
Seniors 65+: $8
Military w/ ID: $6
The New Children's Museum is located at 200 West Island Avenue, San Diego. Parking is on a first-come, first served basis in their private garage for $10 per vehicle.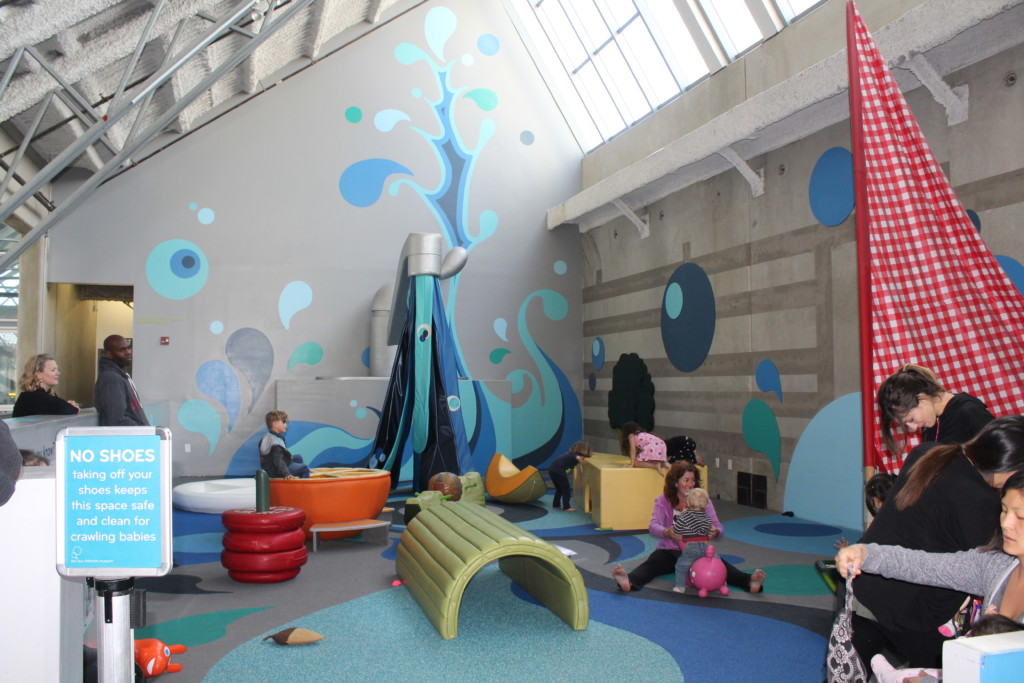 Happy Field Tripping!
Jilleen
More Things To Do With Kids in San Diego:
75 Places To Explore in San Diego with Kids
Living Coast Discovery Center is one of San Diego's Best Family Attractions
The Best Time To Visit The Flower Fields in Carlsbad
A Visit to the Museum of Making Music in Carlsbad